Why You Almost Never See Barron Trump In Public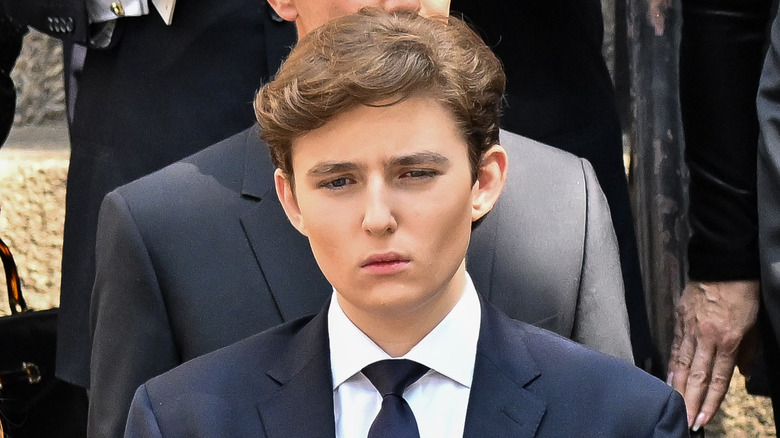 James Devaney/Getty Images
Barron Trump, the youngest son of former president Donald Trump and his wife Melania Trump, is rarely seen in public. Despite having famous parents — and living in the White House for four years — the teenager lives a very private life. Since moving to Florida with his family, Barron still manages to keep a very low profile. Turns out, that's by design.
In March 2023, an insider suggested that Melania is the driving force behind her son's private life. "She is a doting mother to Barron and very protective of him. This is nothing new," the source explained to People. As his father is facing 34 felony counts of falsifying business records which could lead to him being jailed, Melania's focus remains on her son. "Barron has always been a first priority in [Melania's] life. Of course she is worried and concerned about the legal issues but she has not done anything more to protect Barron now than she ever did. She has always put him first. She is a good mother," they added.
Meanwhile, another source told Page Six something similar, adding that Melania is also doing her best to stay out of the spotlight these days. "Melania is lying very low. She hasn't been coming out for the dinners and events at Mar-a-Lago. He is acting like everything is normal, but she hasn't been social." However, Barron's absence from the public eye stems back even further than 2023.
Barron Trump attended private school in Maryland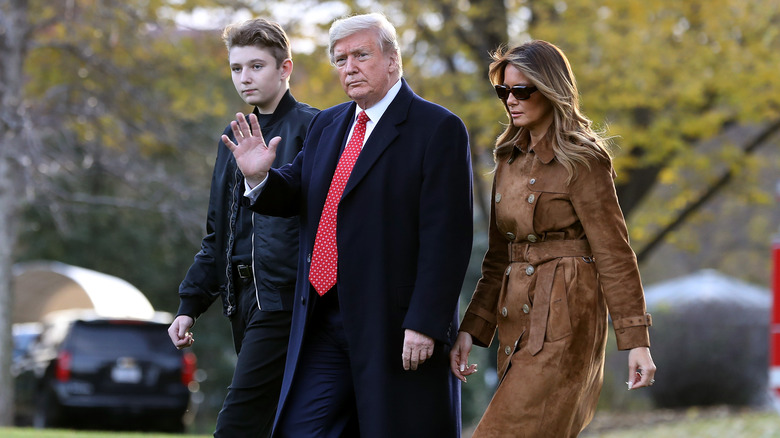 Chip Somodevilla/Getty Images
When Barron Trump was a baby, he often appeared alongside his parents on many public outings, even appearing with his parents in 2007 when his dad was honored with a star on the Hollywood Walk of Fame. As the years have gone on, however, Barron has drifted out of the public eye. When Donald Trump was elected president, Barron's safety, security, and privacy seemed to be of utmost importance. For example, Barron didn't move into the White House straight away. In an effort to keep him on track with school, he finished up the year at Columbia Grammar and Preparatory School before moving to 1600 Pennsylvania Avenue with his parents, according to Reuters. From there, Donald and Melania Trump enrolled Barron in St. Andrew's Episcopal School in Potomac, Maryland.
When Barron became a target on "Saturday Night Live," the White House was quick to respond. "It is a longstanding tradition that the children of Presidents are afforded the opportunity to grow up outside of the political spotlight. The White House fully expects this tradition to continue. We appreciate your cooperation in this matter," the White House press office said in a statement following the inauguration (via Deadline). Barron's privacy was so important that Donald and Melania decided to leave him out of the White House Christmas cards. In 2017, Romper reported that people were confused as the presidential holiday card featured the POTUS and the FLOTUS, but not their son. 
What about Barron Trump now?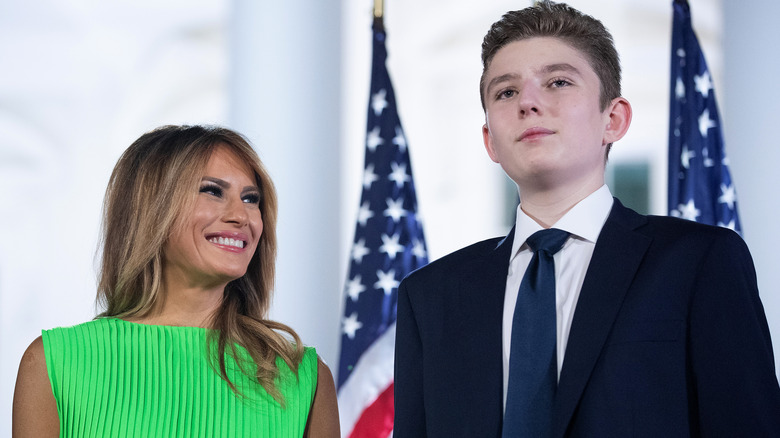 Chip Somodevilla/Getty Images
Barron Trump did make a couple of public appearances during his father's presidency. Whether it was the annual White House Easter Egg Roll or a photo-op on the Truman Balcony at the White House during the 2017 eclipse, Barron was with his family — when it was safe, planned, and appropriate. The one thing that people seemed to notice most whenever Barron was pictured with his family is how tall he is. While his exact height is unclear, he certainly towers over his mom and his dad, the latter of whom stands at 6 feet, 3 inches.
These days, Barron Trump is enrolled at Oxbridge Academy in Palm Beach, and is set to graduate in 2024. Secret Service personnel are on-hand to ensure that the former first son is safe as he continues his studies. "They want to have little impact on our day-to-day operations. They've done this for other former presidents' kids. They're fantastic," the school's Director of Advancement Scott Siegfried told The Palm Beach Post (via People). And although he's almost a legal adult, Barron doesn't have any forward-facing, public social media accounts. It seems as though he still chooses to live his life out of the public eye, which may now be by his own design.