Whoopi Goldberg Doesn't Have Eyebrows - Here's Why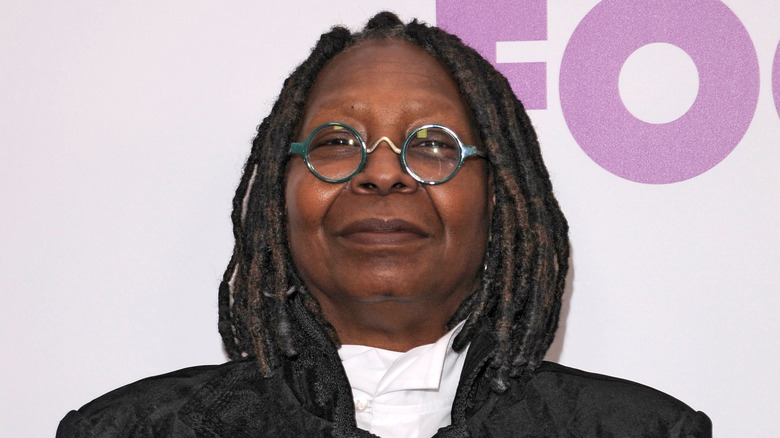 Ron Adar/Shutterstock
If you're a movie buff neck deep in entertainment, you likely have at least one or two Whoopi Goldberg movies on your favorites list. The award-winning actor isn't considered one of the greats for nothing. From her pivotal roles in "The Color Purple," to the Whitney Houston-produced classic Disney remake of "Cinderella," and even her work as a host on the daytime talk show, "The View" which was created by TV legend Barbara Walters, it's no wonder that Goldberg is one of only a handful of actors who have reached EGOT status as well as a Hollywood big shot.
Not only is she a talent in her own right, but the "Sister Act" actor is one of the most recognizable celebrities with her dreadlocks and perpetually amused expression. However, looking closely at her, you may find she is missing something you hadn't noticed before. Yup — eyebrows. If that little fact caught you unawares, then you're not alone. The talk show host hasn't had a pair of fuzzy brows in a long time, and there's a reason for that.
She shaves her brows off because it's what she's used to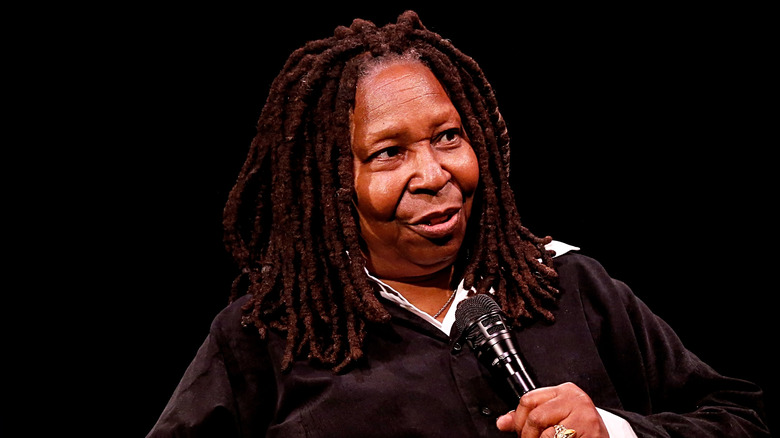 Dominik Bindl/Getty Images
Whoopi Goldberg's lack of eyebrows has gone unnoticed by virtually everyone, which is a testament to her phenomenal acting skills because depicting emotion depends a lot on the brows.
According to People, the critically-acclaimed actor spilled the beans on an episode of "The View," where she drew attention to her bare brows, to everyone's surprise. While going eyebrow-less is one of the latest beauty fads, Goldberg revealed that hers stemmed from a childhood condition instead. "I had eyebrows as a little kid, and you know how men get those bumps?" she asked. "I started to get them on my face, so my mother removed them." The "Sarafina!" star also disclosed that her on-screen eyebrows stay on screen. "I just keep doing it because I don't know my face with eyebrows unless I'm working — they put them on and take them off."
Goldberg's co-hosts were the definition of gobsmacked to realize she didn't have her own brows. Film producer Sara Haines commented on this discovery: "I look right into your eyes, and I did not know this." If the "Eddie" actor's co-hosts never noticed she was brow-less, then the rest of us are off the hook.
Whoopi knows a thing or two about strange beauty practices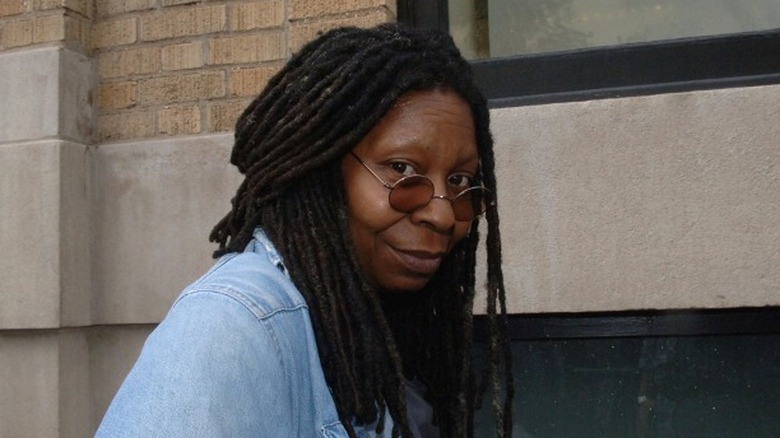 rblfmr/Shutterstock
Knowing now that Whoopi Goldberg routinely shaves off her eyebrows out of habit may seem uncanny, but apparently, the star isn't a stranger to weird beauty procedures. One of her earlier pre-fame gigs had a pretty unsettling job description that involved makeup and hair.
The "Rat Race" actor is not only an EGOT winner, but she's also a licensed beautician. Goldberg shared this life achievement with Oprah's Master Class and chipped in that she used her license to land a job at a mortuary making up dead people to look nice and casket sharp. While most people wouldn't be caught dead at this job, pun intended, the icon proved she had the liver for it. "It's a rough gig, I think," Goldberg explained. "You have to be a certain kind of person. And you have to love people in order to make them worthy of a great send-off."
According to Goldberg, her funeral home boss played a terrifying prank on her during her first day on the job by pretending to be a dead guy to come back to life. This sent her hightailing it out of the room... and into the door, which ultimately gave her a concussion. The actor explained that the scary prank banished all the irrational fear from her mind, a quality we are certain she imbues in her entertainment career.