The Royal Family's Best Wimbledon Looks Ever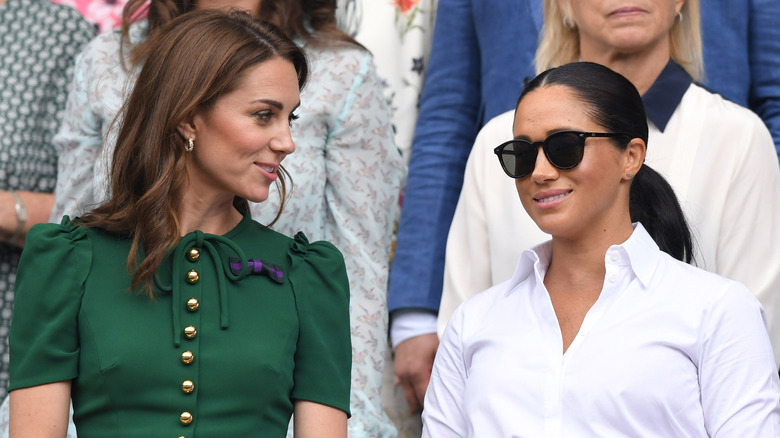 Karwai Tang/Getty Images
In the world of tennis, few events rival Wimbledon. The oldest tennis tournament in the world, Wimbledon is seen as the most exclusive and prestigious tennis championship, with wins capable of solidifying an athlete's standing.
As it is rooted in history, it's not surprising to learn that Wimbledon has a set of rules players must adhere to. Not only does the event take place in the same location, but those taking part are required to sport ensembles of white — yes, white, even though they're sweating in the hot sun and surely getting dirty in the process. Clad in white shirts, shorts or skirts, socks, shoes, and sweatbands, the athletes dress the part. The players aren't the only ones having to pay attention to their attire, though. As a hotspot for England's high society, celebrities, and athletes alike, Wimbledon regularly sees members of the royal family in their stadium box, looking perfectly styled while taking in the sights.
Princess Catherine and Prince William are two fixtures commonly seen at Wimbledon matches. Meghan Markle is also a tennis fan and even attended Wimbledon before she was married to Prince Harry. For every Wimbledon appearance, the royals have struck the perfect balance between daytime casual and royal outing.
Princess Catherine's retro look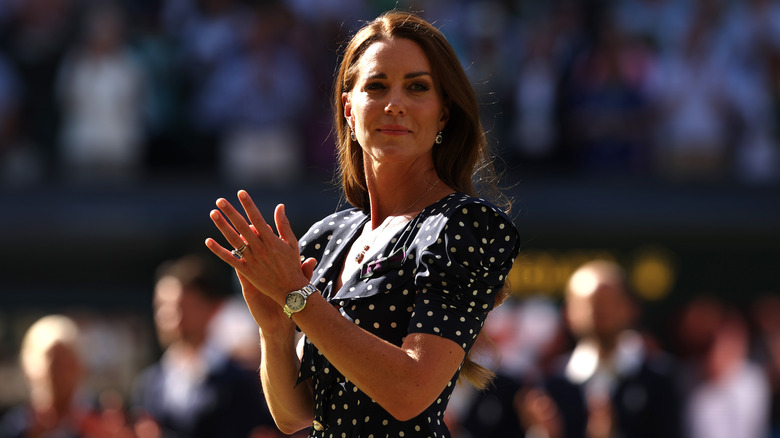 Julian Finney/Getty Images
To say that Princess Catherine has impeccable style is a bit of an understatement. The royal is almost always the picture of sophistication, and her choice of ensemble while presenting the Men's Wimbledon Singles trophy in 2022 was no exception.
Taking center court to hand out the most prestigious award to tennis icon Novak Djokovic, Catherine looked lovely in a dark blue and white polka dot dress by designer Alessandra Rich, a favorite of hers. What really made the outfit stand out was its styling. The dress itself offered a very retro-inspired feel thanks to the bustled sleeves, the 1980s-esque shoulder pads, and the fitted waist. Featuring a delicate tie at the bust, Catherine's dress was the epitome of daytime-appropriate sophistication. As it turns out, this outfit was just as practical as it was beautiful, which only makes us love it more. Style expert Susie Nelson told Express that polka dots have the "advantage of not showing creases as much as a plain colour, and so are useful for events such as Wimbledon that can involve a lot of standing up and sitting down."
Choosing poignant accessories also suitable for the event, the princess opted for a drop-down necklace paired with sapphire and diamond earrings. She paired her dress with Alessandra Rich slingback heels featuring a leather toe box, perfectly completing her vintage-inspired look. Catherine kept her auburn hair in its usual curled trusses and kept her makeup simple and minimal. 
Prince William and Princess Catherine's coordinated outfits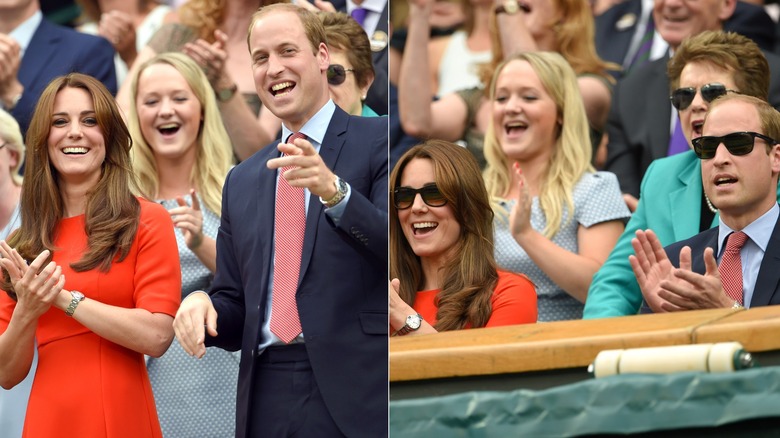 Karwai Tang/Getty, Getty Images
There's nothing better than a coordinated royal moment, and Princess Catherine and Prince William got the memo in 2015. Sitting in the box on day nine of Wimbledon, the duo looked effortlessly chic, with William in a day suit with a tie nodding to the bold red of Catherine's dress. The princess' red Cayla Long Dress from brand LK Bennett was a bolder ensemble for the young duchess and, naturally, it sold out online in a matter of minutes. We loved the color coordination of the couple — and the fact that they both wore Ray-Ban sunglasses — and we also appreciate the reason behind this matching ensemble.
"Mirroring your partner's fashion choices is related to having a keen sense of empathy, and signifies a high level of happiness and content within a relationship," relationship consultant Mairead Molloy told Hello! magazine of Catherine and William's coordination. She continued, saying, "It demonstrates the couple's emotional unity."
Molly Elizabeth Agnew, founder of fashion site Eternal Goddess, told Cheat Sheet that the Princes and Princess of Wales' choice to match each other "[shows] themselves as a team." And what better place to present a united front than Wimbledon? 
Meghan in sophisticated stripes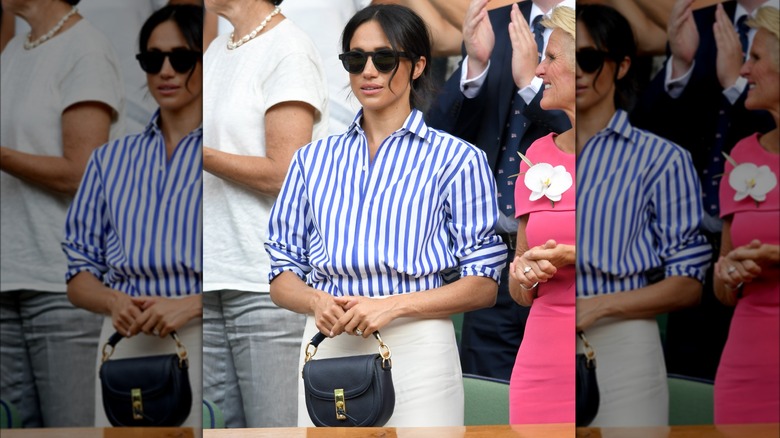 Karwai Tang/Getty Images
When Meghan Markle came onto the royal scene, so many people were talking about her fashion choices. Even in her early days within the firm, the Duchess of Sussex brought an effortless approach to fashion, relying on business-casual looks, designer ensembles, and chic silhouettes to do most of the talking. Wimbledon 2018 was no exception, as she descended down the stairs to the royal box to watch her pal Serena Williams battle it out on the court.
For the occasion, Meghan was joined by Princess Catherine, but many were focused on the duchess' outfit. Not only did she wear her hair up — which is a bit of deviation from royal rules — but she kept things chic with a blue and white striped button-down shirt, white trousers, effortless makeup, and a trendy pair of sunglasses. We love this look because of how well it fits the occasion — and it's not stuffy, unlike many other Wimbledon outfits we've seen. 
Relying on designer Ralph Lauren to complete her look for the day, Meghan looked the part of the perfect Wimbledon spectator. Topping off the daytime look by adding a touch of British royalty, Meghan chose a large white hat. She tied the look together with a dark blue Altuzarra bag with a dainty handle.
Princess Margaret's iconic '60s getup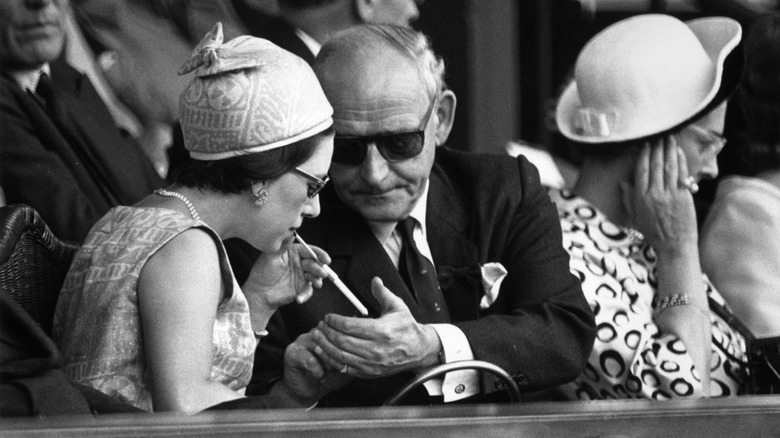 Central Press/Getty Images
While Queen Elizabeth II was the star of the royal family, it was her sister, Princess Margaret, who truly marched to the beat of her own drum. Margaret was by most accounts a royal maverick, the bolder of the two sisters and a rebel that captured the press' attention well before Princess Diana or Meghan Markle came onto the scene. Margaret was not only known for her opulent lifestyle, but for her unabashed indulgence of the finer things. From fancy vacations to luxurious fashion choices, Margaret captured attention whether she wanted it or not.
Cassie Davies-Strodder, curator of the royal fashion exhibition, Fashion Rules, told Grazia, "Margaret was a distinctive fashion icon because she was so glamorous — with all the beauty of a Hollywood film star, she brought a new kind of style of the Royal Family."
We love Margaret's 1966 Wimbledon look because it is the epitome of Hollywood glam mixed with royal sophistication. She donned a bold-patterned shift dress with a matching pillbox hat — both of which were huge trends at the time. She accessorized her getup with a pair of dainty sunglasses and flashy earrings. Margaret certainly did not leave her title of "princess" at home with this look — but it was her final accessory, her long cigarette holder, that truly made for a full-picture moment.
Meghan and Catherine united in fashion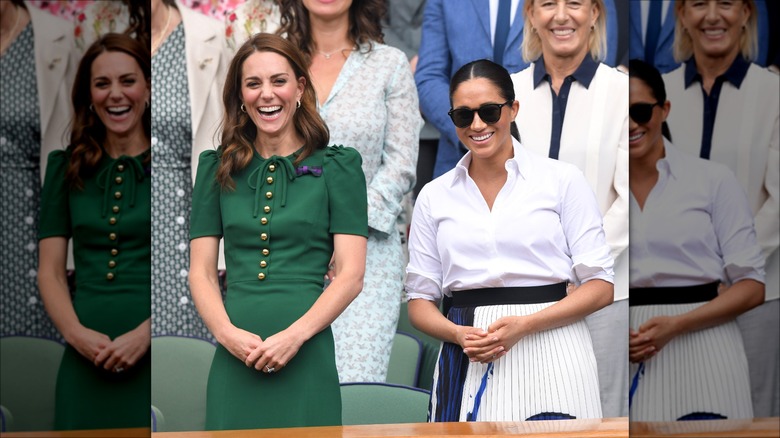 Karwai Tang/Getty Images
While Wimbledon 2018 saw Meghan Markle in a gorgeous Ralph Lauren ensemble, accompanied by Princess Catherine in the stands, 2019 painted a different picture. The two royal women put on a united front amid whispers about a schism, and while some were focused on the drama, others were captured by their radiant ensembles.
Not only did Catherine and Meghan shine bright amid the Wimbledon crowd, but their two completely different senses of style were on perfect display — Catherine was the epitome of classic British nobility, while Meghan was the picture of Hollywood elegance. Together, they created a master class in high-society fashion, even though their outfits couldn't have been more different.
For her part, Meghan wore a Givenchy blouse and a pleated skirt from Hugo Boss. Her daytime-appropriate ensemble was chic — and we love that her collared top was a nod to her 2018 Wimbledon appearance. Catherine, meanwhile, struck a more royal chord with her green Dolce & Gabbana dress. 
Princess Anne mixed bold patterns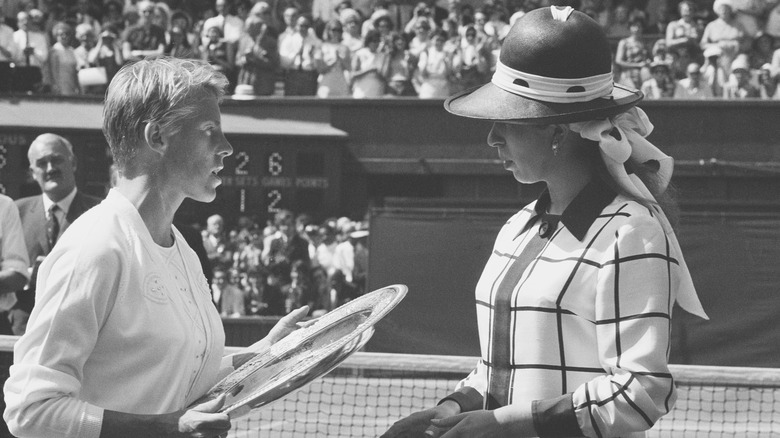 Evening Standard/Getty Images
Princess Anne was once the royal family's fashion "it" girl. Not only has she always been incredibly stunning, but Anne played with her fashion sense as a young woman in a way that was fresh, exciting, and very on-trend. From her canary yellow suit dress to the bold mix of patterns, Anne always kept royal fashion watchers on their toes.
While presenting tennis player Ann Jones the trophy for the Women's Singles Final at the Wimbledon Championships in 1969, the princess took a huge fashion risk by mixing patterns — but it paid off. Anne paired her bold dress coat, which featured a grid pattern, with a hat adorned with a polka-dot scarf. Part of why we love this outfit so much is not just because it works but because it's quintessentially Anne.
"I don't think Princess Anne takes inspiration from any other style icon, but simply makes the rules up as she goes along to suit herself," celebrity stylist Miranda Holder told Woman & Home. "This kind of self-assurity is magnetic – other women want to feel this inner strength too, which is why they follow her fashion sense."
Prince William blended traditional and modern at Wimbledon in 2014
Karwai Tang/Getty Images
While it's not unusual to see Prince William in a suit, we love the sleek, fitted navy suit he wore to Wimbledon in 2014. He paired the suit with a lighter blue tie, which popped against his crisp white shirt. William's decision to wear blue was likely intentional.
Analyzing the royal family's color choices in her book, "The Royal Wardrobe," Harte noted, "Blue is a more palatable alternative to the colors traditionally associated with royalty, being far less aggressive than red and significantly more conservative than purple. It has associations with peace and also modernity, making it a perfect representation of the Waleses' quest to appeal to both traditional and progressive values in society."
Walking the line between traditional and progressive was likely on William's mind while attending Wimbledon. The royal family has been attending the storied tennis championship for generations — William thus needed to strike a balance between ceremony and contemporaneity. 
Meghan stunned in Ralph Lauren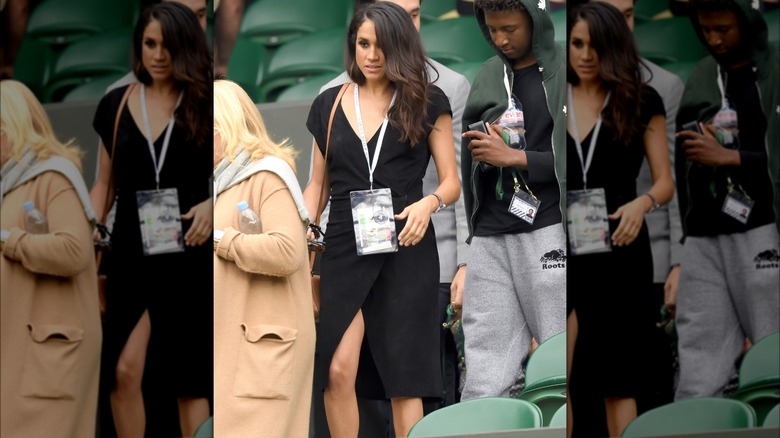 Karwai Tang/Getty Images
It might come as a surprise to some, but Meghan Markle was already familiar with Wimbledon before she married Prince Harry. In 2016, two years before she and Harry tied the knot, she traveled to London to watch the games. Meghan looked beautiful while taking her seat on day 8 of the tennis championships. At the time, Meghan was enjoying success as an actress thanks to her leading role in "Suits," which was filming in Canada. As she was a staple on the red carpet scene, she had garnered attention from designer Ralph Lauren, who invited her to Wimbledon that year as the label's guest.
Meghan wore her hair down and kept her makeup classic while sporting a leggy Ralph Lauren dress featuring a wrap-around silhouette. Women in the royal family are known for their more conservative style of dress, so it's unlikely we'll see a skin-baring outfit like this reappear on a royal at Wimbledon. Of course, that only makes us love and appreciate this chic ensemble that much more.
Catherine's hair flip was almost as iconic as her yellow ensemble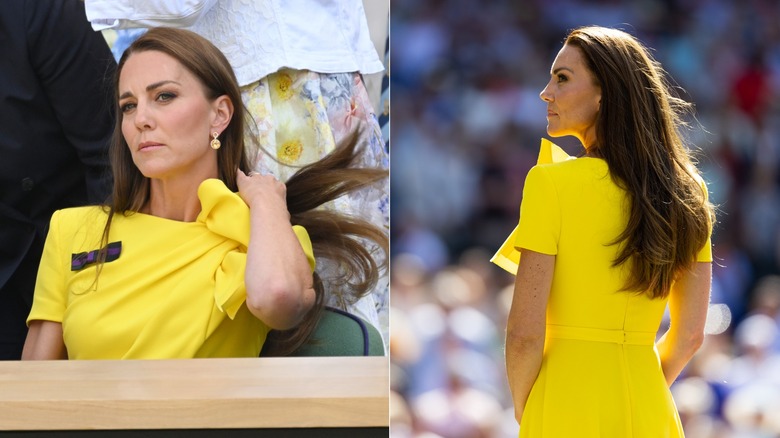 Simon M Bruty/Getty & Karwai Tang/Getty Images
Princess Catherine has had a number of iconic moments throughout her time on the royal scene, but few rival the hair flip that was captured on camera during Wimbledon 2022. Watching the championships unfold during the Women's Singles Final, Catherine looked stunning in bright yellow, letting her hair flip to the talking as she sat in the royal box.
Yellow hasn't always been in Catherine's color repertoire, but it should be. The asymmetrical dress in question is a Roksanda design, with fabric gathered to one shoulder. As she was mostly in the sun, Catherine accompanied her look with a pair of sunglasses and a straw sunhat, though she was only seen wearing it during the Men's Doubles Final. We're not entirely sure how she did it, but Catherine did survive the entire day in pumps.
She chose a pair of white heels and eventually made her way down to the court to give the Women's Singles trophy to winner Elena Rybakina of Kazakhstan. No matter what color Catherine wears or what it might symbolize, we're convinced that yellow should be in her day-to-day styling no matter the occasion.
Queen Elizabeth II looked radiant in robin's egg blue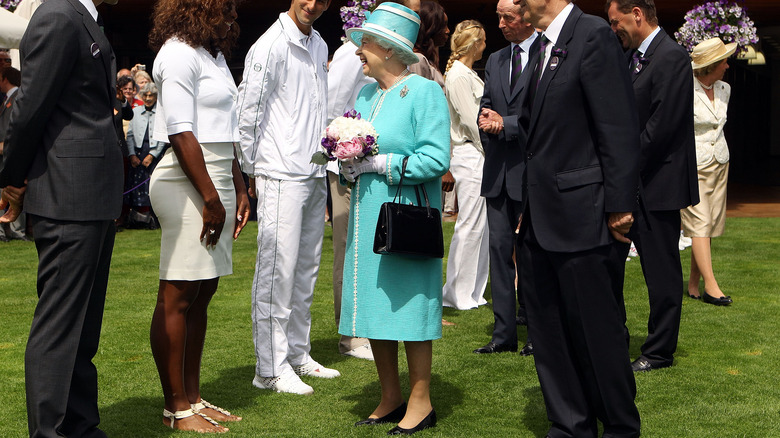 Oli Scarff/Getty Images
Of all the royals that are staples on the Wimbledon scene, Queen Elizabeth II was not one of them. While she made appearances earlier on in her years as monarch, she often skipped the tennis championship tournament. However, that changed in 2010 when the queen stepped out of the car on day four of the event, her first time attending Wimbledon in 33 years.
The queen looked lovely in electric blue for the occasion, choosing one of her signature bright colors to no doubt stand out from the crowd. Her classic black handbag was along her side, and Elizabeth paired the look with a coordinated hat and her signature white gloves.
Not only do we love how vibrant and regal the queen looked, but we love that she wore what may have very well been her favorite color. Elizabeth frequently wore the shade, with Vogue even estimating in 2012 that the hue made up 29% of all her formal appearances. For every occasion, the queen put in time and effort to ensure that she was confident and comfortable in her attire. The late queen's personal assistant Angela Kelly opened up to The Telegraph about her intentional approach to fashion, saying, "The Queen loves clothes and is a real expert on fabrics. I do think she values my opinion but she is the one who is in control. She always makes the final decision."
Princess Catherine was the picture of perfection in polka dots
Karwai Tang/Getty, Neil Mockford/Getty Images
During Wimbledon 2022, the Princess of Wales took inspiration from the queen's color of choice 12 years prior, wearing a stunning blue and white polka dot dress by Alessandra Rich on day 9. We love this look not just because it's flowy, thanks to the fabric, yet structured, due to the belted waist and pleated bodice. "Pleating ... [adds] more edge and elegance to an outfit," fashion expert Karine Laudort told Express.
As it was her first appearance at Wimbledon that year, Catherine definitely needed to make a splash — and she didn't disappoint. Catherine accessorized the dress with a pair of drop-down pearl earrings. She kept her makeup classic and her hair straight — a departure from her usual bouncy curls. She topped off the look with a white bag from Mulberry and a pair of white heels with a splash of black on the toe box, matching the polka dot details of the dress. "Kate is effortlessly able to pair the best accessories when dressed in general but even, more so, when she wears polka dots," Laudort said. "She loves matching clutches and stilettos."
What made Catherine's sartorial choice even better, though, was the fact that she had worn it before — we love a sustainable queen princess. She stepped out in the ensemble during the queen's jubilee weeks prior, bringing an air of relatability — and daytime-appropriate fashion — to the table.