Princess Margaret Once Got Too Close For Comfort With Brian Cox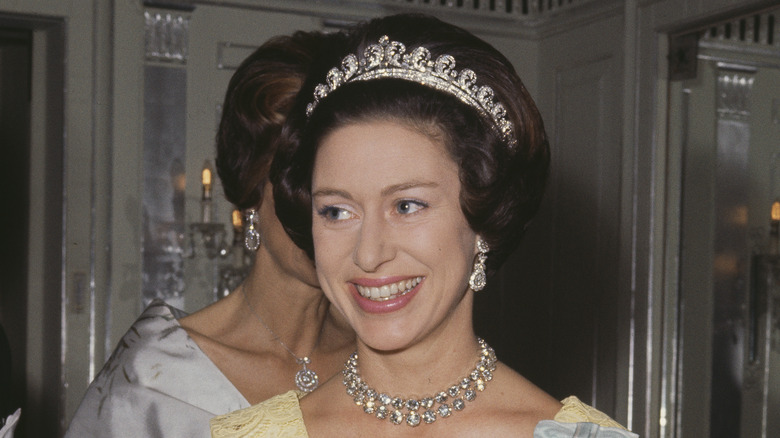 Keystone/Getty Images
Princess Margaret was known for her cheeky and playful sense of humor, but her bold attitude sometimes went too far. She once had a very out-of-the-box encounter with "Succession" actor Brian Cox.
As part of an excerpt from his book "Putting The Rabbit in the Hat," Cox shared with the Daily Mail a very uncomfortable story about the time Princess Margaret's hand went where it shouldn't. Cox set the scene, telling readers that the story took place on his birthday in 1969 at the Royal Court, where he had just finished a performance. "I was wearing a red shirt, given to me as a present by the director Lindsay Anderson, and looked very swish as I was introduced to HRH in a corner of the room," he wrote. "'I thought you were so wonderfully hooded,' she said to me. 'I really wanted to know more about you. I didn't know who you were and, as a result, I was transfixed by you for the whole evening.'"
Cox went on to say that he thanked the princess, and the pair found themselves talking about his new shirt. The princess appeared to very much like Cox's shirt, with the actor writing that she called it "a lovely shirt" in an admiring tone. The story doesn't stop there.
Brian Cox got more than he was bargaining for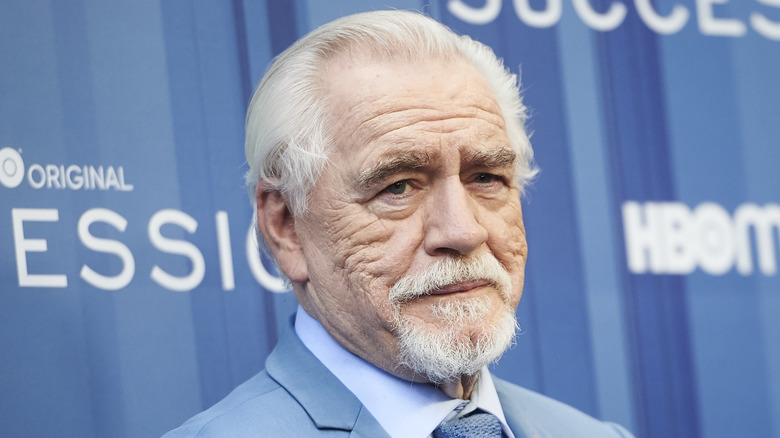 Borja B. Hojas/Getty Images
Shockingly, Brian Cox went on to write (via the Daily Mail) that the princess "put a hand to my chest, undid one button and slid her hand inside. I froze. Her hand was inside my shirt and travelling in the direction of my left nipple, yet the princess was just chatting away as though this was something she had done a hundred times before."
Unfortunately for Cox, who shared that he was beginning to feel panicked, he and the princess were positioned in a way that they could be not be seen, nor could the princess' odd behavior. He continued, "And with the whole terrible surreality of the situation threatening to engulf me, I found some semblance of composure and blurted out, 'Oh, Ma'am, I have to return to my dressing room. I've left something there.'"
Cox finished the story by saying he "beat a hasty retreat, bowing and scraping, and sliding past Jimmy Bolam to head for the door and out to safety."
Princess Margaret was considered something of a troublemaker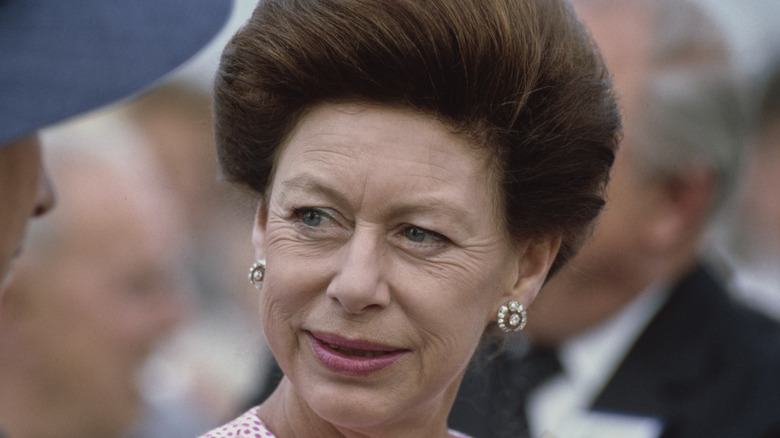 Tim Graham/Getty Images
Brian Cox didn't reveal whether or not he met Princess Margaret again, but it's safe to assume he felt very awkward about the interaction considering the speed with which he left.
Margaret had a busy life and was considered the wild child of the royal family. Speaking to The Cut in 2019, her authorized biographer Christopher Warwick revealed the princess loved to hang out with celebrities like Mick Jagger. "She was great fun. She had a lovely sense of humor. She could be very naughty," he shared.
However, Warwick also revealed that the princess could easily switch tempers and become icy cold if she felt out of place or threatened — one can only wonder how she interpreted Cox's quick exit after her inappropriate behavior. Whatever her reason was for slipping her hand inside his shirt, we don't think that her actions would go over particularly well if she pulled a similar stunt today.