Jennifer Garner's Daughter Violet Comes For Ava Phillippe's Crown As Celeb Mini-Me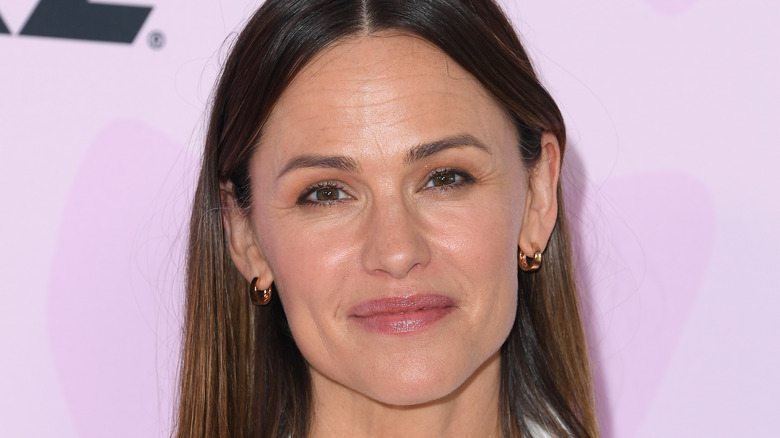 Steve Granitz/Getty Images
Jennifer Garner's daughter Violet Affleck attended the hottest Fourth of July party alongside her dad, Ben Affleck, and his wife Jennifer Lopez. The star-studded event was held at the Hamptons home of Fanatics CEO Michael Rubin, according to People. As photos from the evening started surfacing online, some fans had to do a double take when they spotted Affleck and Garner's oldest daughter. The 17-year-old wore a white maxi dress, clear rimmed glasses, and her hair in two low pigtails. In some of the shots, Violet wore a face mask — but there was no mistaking who she was. It didn't take long for social media to fill up with people pointing out just how similar Violet looks to her famous mom.
Violet is just the latest celebrity kid who seems to be a clone of one of their parents. Ava Phillippe, for example, looks exactly like her mom, Reese Witherspoon, and almost always makes headlines whenever she's spotted on social media or in public. And, after seeing the latest pics of Violet at Rubin's soiree, it's clear that she's totally going to steal the celeb mini-me crown.
Fans can't believe how similar Violet Affleck looks to Jennifer Garner
Ben Affleck and Jennifer Garner, who were married from 2005 through 2018, have three kids together: Violet, Seraphina, and Samuel Affleck. Indeed, Violet has the most resemblance to her mom and appears to have the same facial features, including Garner's signature cheek dimple. After photos of Violet at the white party surfaced online, dozens of people started comparing her to her mom and some people even thought that Violet was her mom. "If you told me this is Jennifer Garner — and not her daughter — I would have 5,000% believed you, no question," one person tweeted. "Ben Affleck's daughter is LITERALLY her mother's (Jennifer Garner) twin," read another Twitter user's reaction. "It took me a hot second to realize that's his daughter and not Jennifer Garner. Baby stole her mama's entire face," a third Twitter user said.
It's hard to guess how Violet would react to the comparisons that the internet has been drawing, because the teen apparently thinks that her famous mom is "extra," which Garner shared in an interview with Entertainment Tonight. "I think my children live feeling that way. They would tattoo it. They don't even need to say it. It is fact," she said. Well, we think Violet looks extra like her mom.