How Robin Roberts And Amy Robach's Friendship Really Began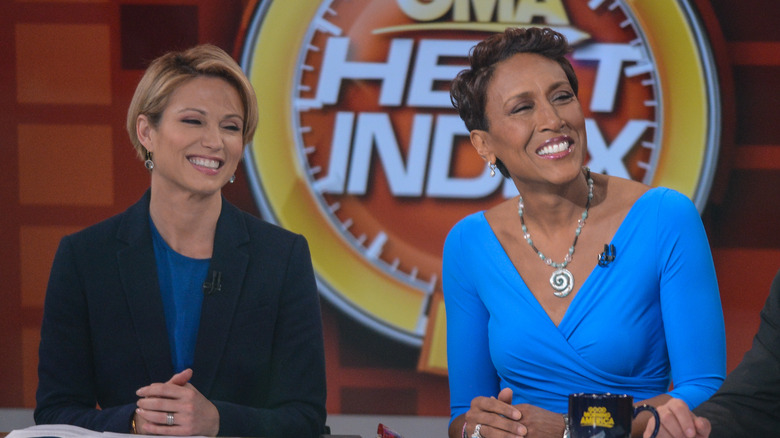 Ray Tamarra/Getty Images
The catalyst for the great friendship between Robin Roberts and Amy Robach was a mammogram test. When long-time "Good Morning America" anchor Roberts convinced her fellow anchor Robach to have her first mammogram — an X-ray examination of the breast that doctors often use to detect breast cancer — it proved to be a step in the right direction. The American Cancer Society released a document that showed men and women make up a combined number of nearly 1.9 million new cancer cases in 2021 alone. Despite cancer affecting millions of people, including the family and friends of those fighting the disease, there is still a stigma about being tested for early detection.
At first, Robach was reluctant to do the exam, citing that she was healthy and had zero family history. However, Roberts took this as a sign to urge Robach to have the mammogram. "She looked at me and she said, 'You're exactly the person who should do it. She said, 'Because did you know, Amy, that more than 80% of breast cancer survivors, patients, have no family history? You're the one who thinks you don't need the test — and I hope you don't, and you probably don't," Robach told People.
Robach was beyond grateful for Roberts' persistence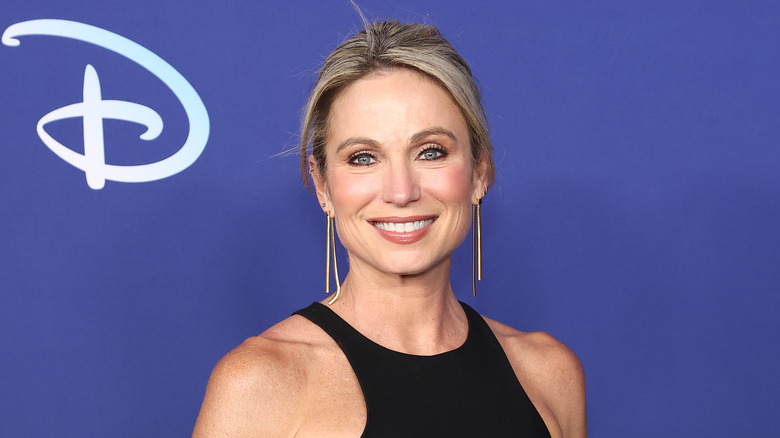 Arturo Holmes/Getty Images
The words Robin Roberts said resonated with Amy Robach, and the younger anchor underwent her first mammogram on air in October 2013 as part of "Good Morning America" Goes Pink Day to kick off Breast Cancer Awareness Month. "Robin and I instantly became sisters, because I think anyone who's walked down that path knows there's just a camaraderie that you can't explain ... she and I both know how integral her role was in me getting that mammogram, which I completely credit with saving my life. We are forever bonded," the "20/20" anchor further told People.
Despite Robach's earlier statement about having no family history of breast cancer, the results of her live mammogram a month later revealed she actually did have breast cancer. In a personal note that Robach penned on ABC News, she shared, "While everyone who gets cancer is clearly unlucky, I got lucky by catching it early, and there are so many people to thank for making sure I did ... The doctors told me bluntly: "That mammogram just saved your life."
If not for the mammogram, the anchor wouldn't have detected the breast cancer earlier. Although there are several breast cancer symptoms every woman needs to know, a mammogram can immediately diagnose cancer before any actual symptoms show. 
Cancer, by the numbers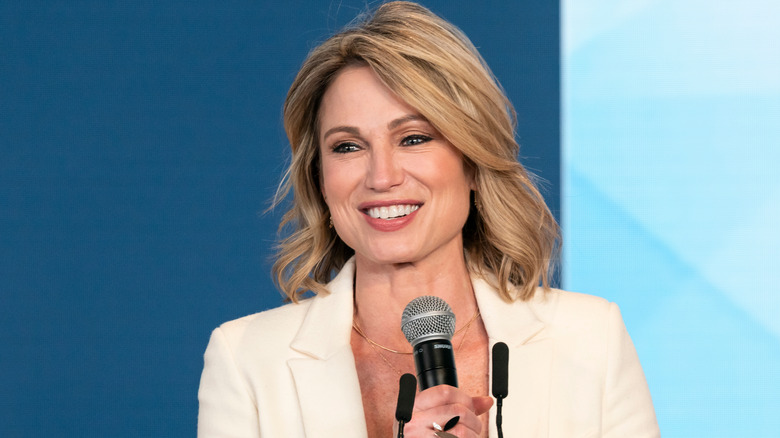 lev radin/Shutterstock
Amy Robach is just one in millions of people diagnosed with cancer. In the United States alone, the Centers for Disease Control and Prevention (CDC) has determined cancer as the second leading cause of death with 605,213 deaths, just behind heart disease with 695,547 deaths in 2021. Many celebrities and personalities have come forward with their own cancer diagnosis in the hope of raising awareness, including actor Dame Maggie Smith (breast cancer), singer Kylie Minogue (breast cancer), rock star Rod Stewart (thyroid cancer), and comic Ben Stiller (prostate cancer), among others.
"I can only hope my story will do the same and inspire every woman who hears it to get a mammogram, to take a self-exam. No excuses. It is the difference between life and death," Robach concluded in the ABC News blog post. The reporter also emphasized during her interview with People that the commitment is not just a "one-and-done thing," reminding people to properly schedule their appointments and "[put] your health first."
The American Cancer Society has a 24/7 hotline that offers information, help, and emotional support regarding one's own cancer experience or even a loved one's. Interested individuals can call 1-800-227-2345.