Jennifer Lopez's Peachy One-Piece Pairs Perfectly With Her Cocktail Line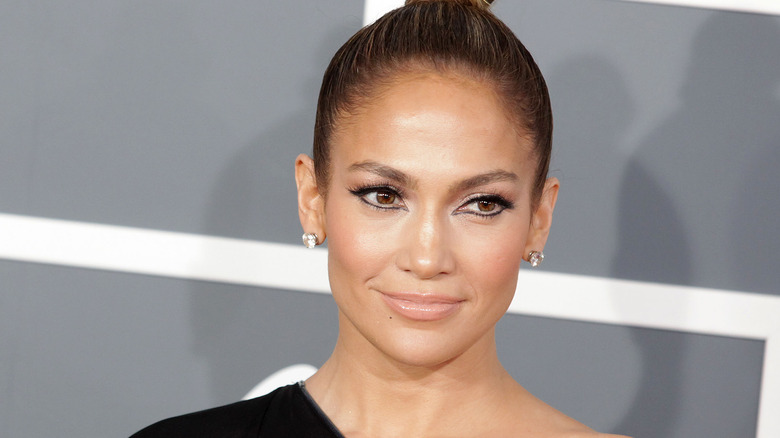 DFree/Shutterstock
Peach seems to be the color of choice this fourth of July, at least for the stunning Jennifer Lopez. 
The musician and actress, who was holidaying in the Hamptons, New York with her husband Ben Affleck over the weekend, posted a series of photos of herself by the pool on Instagram. The 53-year-old looked sun-kissed and spectacular in her peachy one-piece that closely resembled one flavor from her cocktail line — the Delola Paloma Rosa Spritz. 
The carousel-style post featured a selfie of Lopez in the first image, along with some wider shots and some celebratory videos that showed fireworks and partying. The "On The Floor" singer captioned it, "Hope everyone had a great holiday weekend filled with love, family, friends and fun 🤍☀️🎆."
This is not the first time Jennifer Lopez opted for a peachy hue while at the pool
Peach is such a flattering color on almost any skin tone, which is probably why Jennifer Lopez is a fan of the hue. The "Love Don't Cost a Thing" singer donned another peachy-hued pool number when she took a break from the final leg of Las Vegas concert back in 2018, although this one-piece was more of a tangerine-peach. 
Her most recent Instagram post, unsurprisingly, had fans complimenting the "Marry Me" actress on how youthful and gorgeous she looked. "The curious case of Benjamin Button..." joked one commenter, while another quipped, "THE PRETTIEST WOMAN ALIVE." 
Lopez also used her July 4th post to promote her new alcohol line. Lopez's low-calorie, gluten-free alcohol line is available in three flavors – Bella Berry, L'Orange, and Paloma Rosa. The peach-colored tequila cocktail features tequila, grapefruit, and elderflower. What you probably didn't know about Jennifer Lopez's venture was that the launch of Delola caused some controversy, with critics commenting that it was odd of the dancer and singer to go into the alcohol business considering that she doesn't drink herself. Lopez addressed the comments when she told People, "I do drink responsibly. I don't drink to get s—faced. I drink to be social and have a good time and just kind of relax and let loose a bit, but always responsibly."