Kate Middleton's Brother Announces His First Baby On The Way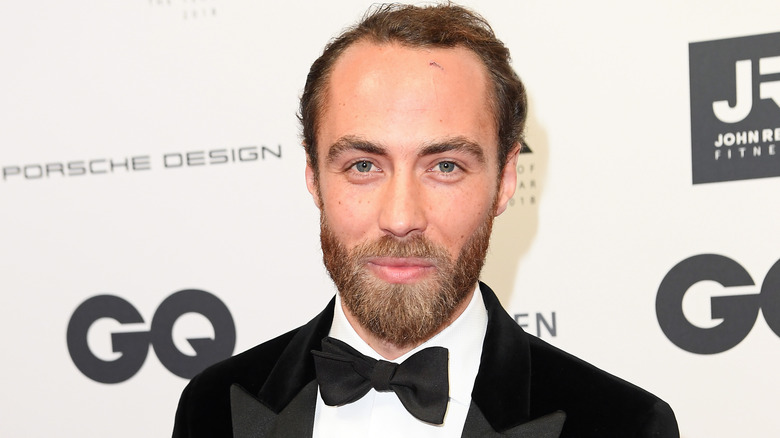 Matthias Nareyek/Getty Images
The following article includes mention of suicide.
Catherine, Princess of Wales is mum to three adorable kids and she's currently aunt to five — her sister Pippa Middleton has three children and Prince Harry has two. But that number is about to go up! No, Kate and William, Prince of Wales aren't going to have a fourth child, but they will be getting a new niece or nephew. Kate's younger brother James Middleton announced on Instagram that he and his wife, Alizee Thevenet, are expecting their first child.
This will be the couple's first human child — James' Instagram profile says that he is: "Dog Dad to Ella, Zulu, Inka, Luna, Mabel, Nala & Isla." And fittingly, the announcement came with a picture of Thevenet clearly pregnant alongside their golden retrievers and the caption: "We couldn't be more excited ... well Mable [sic] might be." James also shared the news of the baby on the way on his company's Instagram where the comments are filled with well-wishers.
James Middleton acknowledged a deeply felt personal loss in the announcement
In both Instagram posts about the new baby on the way for James Middleton and Alizee Thevenet, he acknowledged the loss of one of their fur babies: "It was a very difficult start to the year after losing my beloved Ella however we will end the year with the most precious little addition to our growing family." Ella was more than just a pet; the cocker spaniel was his therapy dog and a part of his family for 15 years — he got her when he was 20 and she was four weeks old. Ella was also the mother to Lupo, who William, Prince of Wales and Catherine, Princess of Wales had as a pet for nine years. Lupo was even the guest star in Prince George's third birthday portrait.
Kate Middleton's brother has been open about how having a dog has impacted his mental health. After Ella's death, he wrote for The Times about the value that she brought to his life. "I have thought about suicide but never actually contemplated it," James wrote, "My thoughts were stopped short because Ella got in the way." And he named his company Ella & Co, which sells dog food and treats, after her. While nothing can take the place of a beloved pet, we're excited that James' "pack" has a new member on the way! And we second the many congratulations being sent to the happy couple.
If you or someone you know needs support now, call or text 988 or chat 988lifeline.org.