Body Language Expert: Federer Falls In Line After Protocol Break With Kate Middleton - Exclusive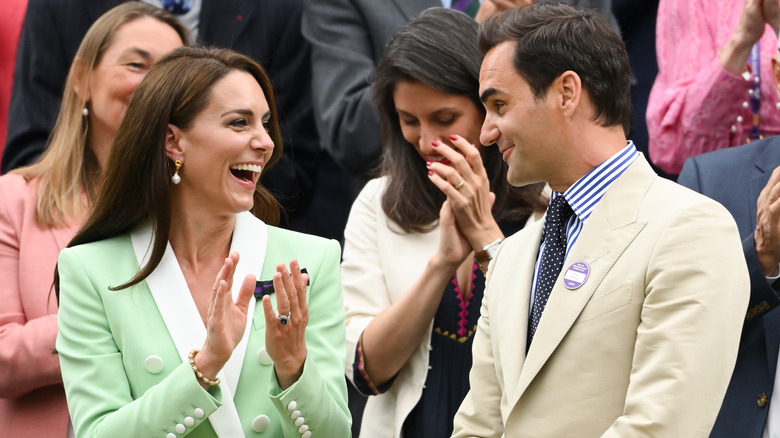 Karwai Tang/Getty Images
Tennis star Roger Federer was spotted chatting up Kate Middleton at Wimbledon on July 4, however, their encounter has sparked a bit of internet chatter. As evidenced by video and photos from the event, Federer was seen placing his hand on the Princess of Wales' back upon greeting her, which is a major no-no when it comes to royal protocol. As far as the rules go, no royal family member should be touched in public unless they make the first move, so to speak, according to Sky News. As Middleton was standing at her seat and clapping, Federer approached her with a friendly greeting. While Middleton didn't appear too bothered by the royal faux pas, her body language may have sent Federer a message that his forward act wasn't appropriate. 
In an effort to get a better read on the situation, The List chatted with body language expert, communication coach, and author of "A.W.E.S.O.M.E.," Jess Ponce III. "Roger Federer definitely intended to have a familiar, and friendly, exchange with Princess Kate. He not only motions towards her with his hand, he reached behind to her lower back. This typically is a sign of someone who's going to hug another," Ponce explained, adding that Federer "seemed to break protocol unknowingly." Ponce was also able to dissect Middleton's reaction for us, and we have to admit, we're pretty impressed with the princess' cool demeanor.
Kate Middleton had the perfect reaction
Although Roger Federer and Kate Middleton appear chummy — Federer has been giving Prince George private tennis lessons, according to Hello! magazine — Middleton had to ensure that she was keeping in line with royal protocol, even if Federer wasn't. Jess Ponce III tells The List that Federer genuinely seemed happy to see his friend, perhaps even forgetting that she is the Princess of Wales. As we expected, however, Middleton handled things with class. "She, without breaking protocol or appearing to be upset did not respond or encourage the friendly exchange," Ponce notes. "She lives in a world of appropriate behavior, so she's always very aware of protocol, where he is not," she added.
As we see in the videos of the interaction, Middleton did not lean into Federer or encourage him to go through with the hug, which, Ponce says, should have sent a clear message to him. "In the end, she treated him kindly, and did not correct him. But, he got the point, and seem to quickly fall in line. I doubt he'll do it again," the body language expert predicts.