Chris Evans And His Brother Scott Are Total Sibling Goals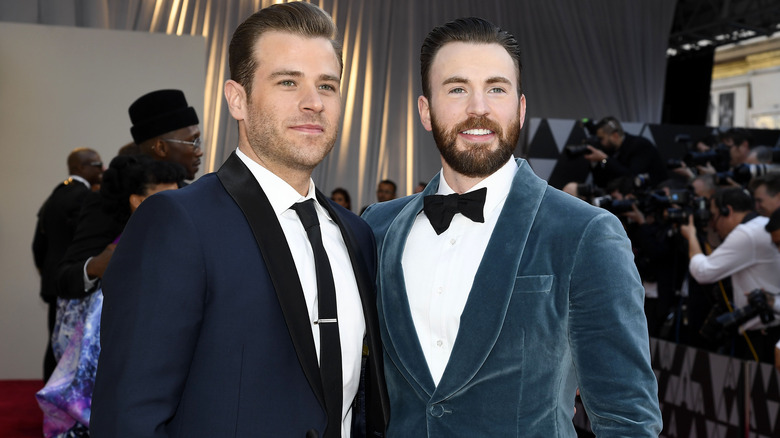 Kevork Djansezian/Getty Images
Chris Evans may be Captain America, but his younger brother, Scott Evans, also has quite an impressive resume that includes shows like Netflix comedy "Grace and Frankie" and ABC soap "One Life to Live." Not to mention, Scott will appear as a Ken in the highly-anticipated "Barbie" movie that's set to hit theaters on July 21, 2023. 
Chris, 42, is two and a half years older than Scott, who is 39. The brothers had a great relationship when they were growing up together in Sudbury, Massachusetts, and they're equally close to this day. Despite all the trouble Chris used to convince Scott to get into when they were younger, Scott still calls his older brother his "best friend" and only has positive things to say about him. The "Barbie" actor and the Marvel star have spoken about their special bond and silly memories during interviews, and Scott also loves to celebrate his brother on social media. These two have the sibling relationship of dreams! 
They're best friends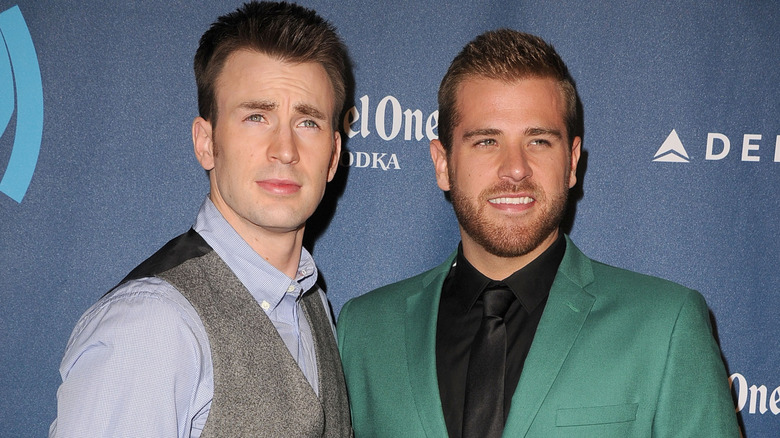 Steve Granitz/Getty Images
During a June 21, 2023 interview with Attitude magazine, Scott Evans opened up about his close relationship with his big bro. "We were each other's first friends when we were kids," the actor shared. "Up until we were older, too." Scott added, "There was never a time where it didn't feel like he wasn't my best friend. And he still is." He explained that he and Chris have a "really, really, incredibly unique bond" that he loves. The "Grace and Frankie" actor noted that brotherly relationships are special because a brother feels like your best friend rather than someone you "have to love" simply because they're related to you.
Scott always shares his love for Chris on Instagram with adorable birthday tributes, too. On the "Captain America" star's 41st birthday in June 2022, Scott posted a few photos and a video of him and Chris as young kids. "Happy birthday to my big brother!!" He wrote in the caption. "I love you so much and I promise to never get as jealous as I did in this 3rd slide the next time you're opening presents." (In the clip, baby Scott can be seen yelling and looking upset when Chris opens a gift.)
They have some crazy stories from their childhood
Chris and Scott Evans may both be Hollywood professionals now, but the brothers got into a good amount of trouble when they were kids. During a November 2019 appearance on "The Tonight Show Starring Jimmy Fallon," they shared some wild childhood memories. Scott recalled that when he was eight or nine years old, he was watching TV with a friend when Chris shoved him into a coffee table. "I cracked my head open," he told Jimmy. "And I ended up getting four stitches." The actor remembered shouting "Blood!" and Chris pleading with him, "Please don't tell." 
Chris revealed on the show that when he was a senior in high school and his brother was a freshman, he made Scott cut school. "We went and did a lot of bad things," Chris lightheartedly admitted. Scott noted that he got in trouble for skipping class when they went back. That wasn't the only time Chris influenced Scott to make a bad decision, either. When Scott was around nine or 10 and had to go to the bathroom, Chris suggested that they both just go outside. "He was like, 'Why don't we just go right now, like in our pants?'" Scott said during an April 2014 appearance on the same show. Of course, after Scott already started wetting his pants, Chris laughed and said, "I didn't go."