Lisa Marie Presley Initially Rejected Michael Jackson's Proposal To Date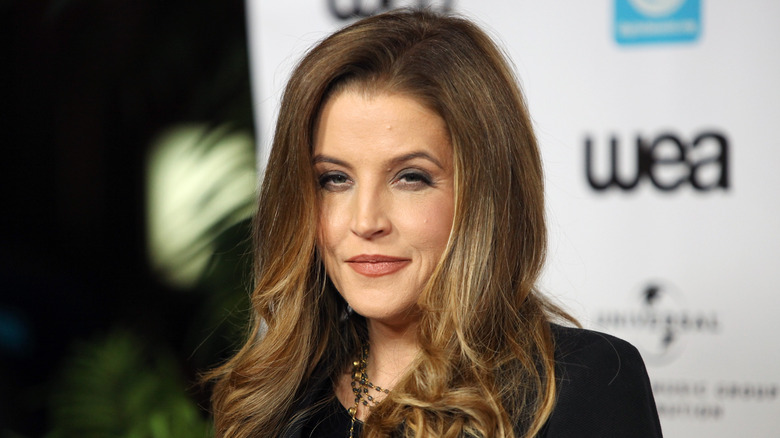 Michael Tran/Getty Images
In her 54 years on this earth, Lisa Marie Presley often made headlines for her newsworthy love life. Presley was married four different times. However, her nuptials to the King of Pop, Michael Jackson, still fascinate fans today. Presley and Jackon are said to have first crossed paths when Presley, then a child, attended a Jackson Five concert in 1975. The pair went on to marry in May 1994 after Presley divorced her first husband, Danny Keough. In a 2003 interview with Rolling Stone (via Elvis Australia), Presley revealed that Jackson had been interested in her long before they tied the knot.
She told the publication that Jackson tried contacting her through her lawyer, who told her, "He wants to meet you; he thinks you're very pretty." Presley declined this invite saying, "I was completely in love with Danny, and I thought he was weird, and I had no interest in meeting him." Despite this rejection, Presley and Jackson developed a friendship in 1992. He later proposed to Presley over the phone, and the two married in the Dominican Republic. While many believed that the couple's marriage was a sham, Presley maintained throughout her life that her relationship with Jackson was very much real.
Lisa Marie Presley and Michael Jackson's short-lived marriage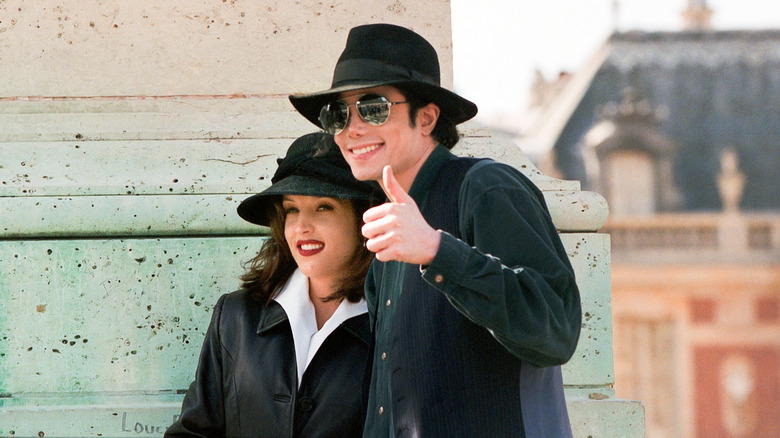 Stephane Cardinale - Corbis/Getty Images
The media was astounded when Lisa Marie Presley confirmed she had married Michael Jackson. People reported that she released a statement that read, "I am very much in love with Michael, I dedicate my life to being his wife. I understand and support him. We both look forward to raising a family." Shortly after, Presley and Jackson had a PDA-filled moment at the 1994 VMAS. Nevertheless, rumors swirled the pair had married for publicity and nothing more to take away from sexual abuse allegations about Jackson.
In 1995, Presley and Jackson did an interview with Diana Sawyer, where Presley denied these allegations. That same year, Presley was featured in Jackson's music video for "You Are Not Alone." However, by 1996, the marriage was over. Per Entertainment Weekly, the pair cited "irreconcilable differences." In 2003, Presley told Rolling Stone that she filed for divorce because Jackson became distant and refused to speak to her. She also told the publication that their divorce took a physical and emotional toll on her.
In a 2010 interview with Oprah, Presley discussed her marriage to Jackson, who had died the year prior. She said, "I loved taking care of him." She noted, "It was one of the highest points in my life when things were going really well, and he and I were united. It was a very profound time of my life."
Lisa Marie Presley had regrets over her relationship with Michael Jackson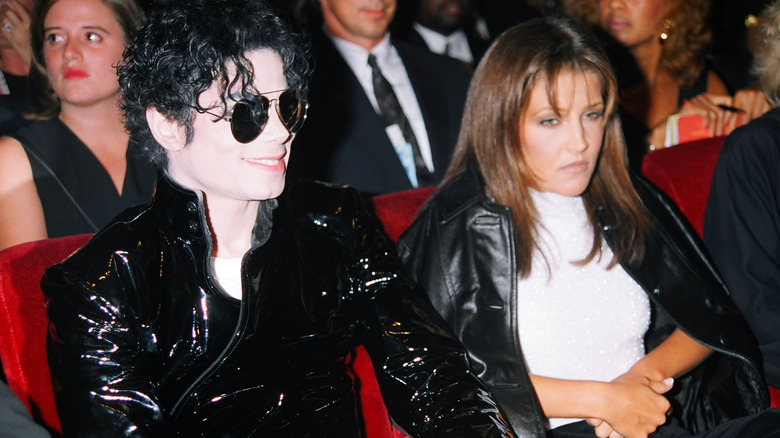 Jeff Kravitz/Getty Images
Although Lisa Marie Presley had fond memories of her marriage to Michael Jackson, she acknowledged that she also had regrets. When asked by Marie Claire in 2007 what Presley's biggest mistake was, she said it was leaving Danny Keough, the father of her two oldest children, Riley and Benjamin, for Jackson. After Jackson's death, Presley told Oprah that she had guilt for how she treated Jackson. Presley said that Jackson and her father, Elvis Presley, had too many similarities. 
She noted that the two had people around them that did not have their best interests in mind. In Jackson's case, they were supplying him with drugs, which would lead to his death. Presley told Oprah, "When we were together, we were really in love, and then we had the rough patches. And I had to make a decision to walk because I saw the drugs and the doctors coming in, and they scared me. They put me right back into what I went through with my father. That ended it."
She revealed that the two continued seeing each other four years after their marriage ended, but eventually, Lisa Marie made little effort with her relationship with Jackson. Despite this, she attended his funeral and said that she wished that she would have helped him instead of distancing herself from him. When Lisa Marie died in January 2023, the Jackson estate released a statement on Instagram with their condolences to her family.