Everything We Know About Aristotle Onassis, Jackie Kennedy's Second Husband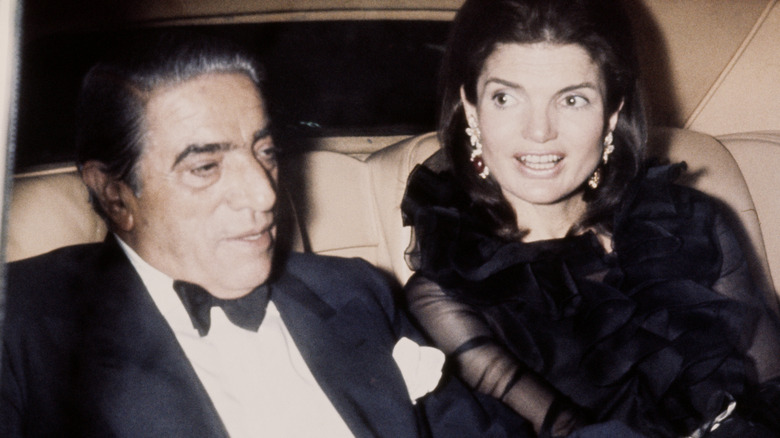 Alain Dejean/Getty Images
Jackie Kennedy is best known as the former first lady and widow of John F. Kennedy, the 35th President of the United States. However, JFK wasn't her only husband, as she remarried five years after his death and has since been known as "Jackie O." Her second husband, the Greek billionaire Aristotle Onassis, was one of the richest businessmen of the 20th century.
The magnate made a fortune from his oil-shipping businesses, but also invested in hotels, casinos, real estate, and airlines throughout his life. He was married before Jackie and also had a high-profile affair with the same woman throughout both of his marriages. His business methods were pretty controversial, and the way he had amassed his net worth was even noticed by the FBI.
Despite their combined wealth, the nature of Jackie's second marriage was quite arduous. She and Onassis didn't have children together, but he did have two kids from his first marriage. Both of them passed away, and Onassis' granddaughter is the sole heir to his fortune.
The FBI took notice of his dubious business practices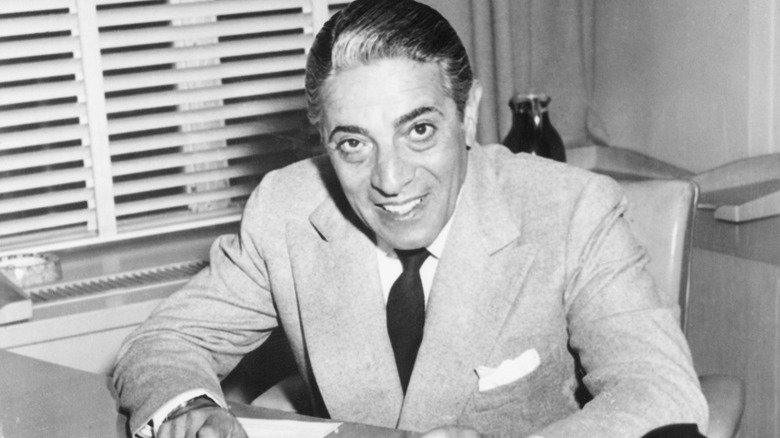 Bettmann/Getty Images
Aristotle Onassis was one of the wealthiest Greek men in history. Long before self-made billionaires were a phrase thrown around in pop culture circles, Onassis was one. Born in 1906 in the small Greek town of Smyrna, he sought refuge in Argentina during World War I, where he ultimately started to amass his fortune by importing Turkish tobacco. By the time he was 25 years old, according to Britannica, he had made his first million.
During the Great Depression in the 1930s, Onassis went into the shipping business, moving his base from Buenos Aires to New York, per the Greek Reporter. He eventually owned over seventy vessels, including freighters and tankers, which mostly sailed tax-free under flags of convenience, allowing Onassis to operate at low costs. He mostly worked in the oil industry, transporting fuel for a number of companies around the world.
According to The National Security Archive, the Greek tycoon got into trouble with the U.S. authorities once he tried to establish an oil-transporting company with Saudi Arabia during the early stages of the Cold War. American oil companies had a monopoly on Saudi oil at the time, which Onassis' interference would have ended. The transportation deal was ultimately obstructed by the U.S. government, and the FBI took an interest in the magnate's questionable business methods. In the mid-1950s, he was investigated for tax fraud and held culpable. In his FBI Vault File, it says Onassis pleaded guilty and paid $7 million to avoid prison time.
Onassis had an affair throughout both of his marriages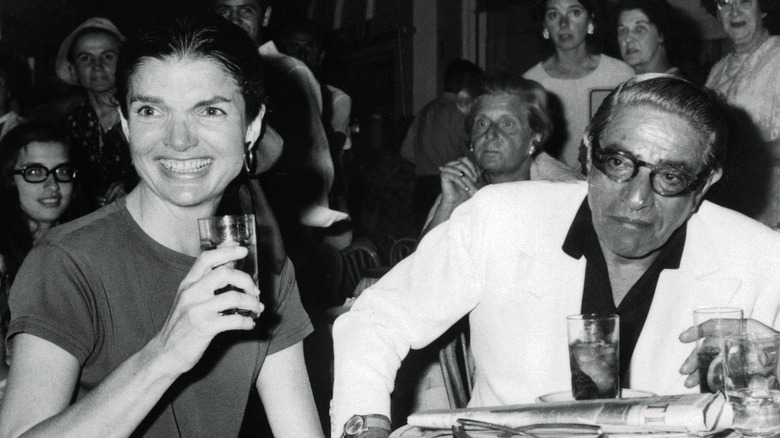 Bettmann/Getty Images
Jackie Kennedy was Aristotle Onassis' second wife. He was previously married to the English-born Greek-French heiress Athina Livanos, with whom he welcomed his only two children, Alexander and Christina Onassis, per the Greek Reporter. The billionaire had a very publicized affair with American-born Greek opera singer Maria Callas towards the end of his marriage with Livanos. Despite their passion, according to The New York Times, Onassis and Callas never married, but did have a lasting affair.
Jackie, at the time the widow of U.S. President John F. Kennedy, was at first only a friend of Onassis'. The pair initially met through Jackie's sister, Caroline Bouvier, as stated by India Today. While Jackie was never the same after JFK died, she tied the knot once again in 1968 and was known as Jacqueline Onassis (hence Jackie O) from then on. She married Onassis on Skorpios, his private island in Greece.
However, their marriage was far from a bed of roses. The Daily Mail reported that Onassis was emotionally neglectful of Jackie for years and had, at one point, even tipped off the paparazzi on where to get nude shots of her. He was also publicly accompanied by Callas on various occasions while still married to Jackie. Even though they filed for divorce in 1972, it was never finalized, and Onassis passed away in 1975. His only living heir is his granddaughter, the equestrian Athina Onassis.