Michelle Obama Used A Clever Parenting Tactic To Talk Sasha And Malia Out Of Tattoos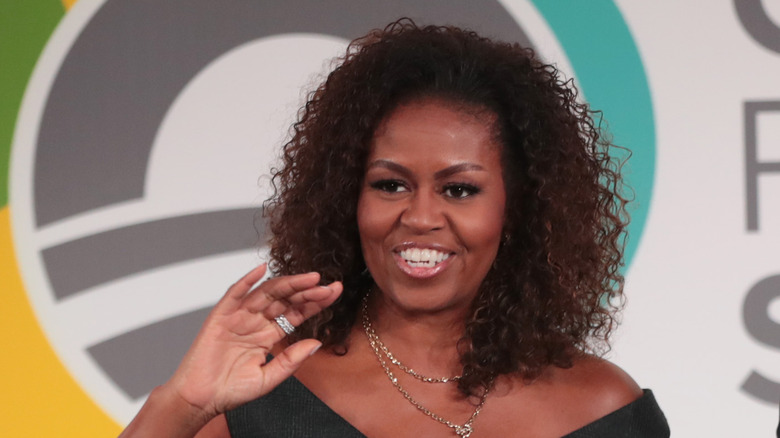 Scott Olson/Getty Images
Michelle Obama is a lawyer, a bestselling author, the former first lady, a podcast host, and a mother, to name just a few. The latter is arguably her most difficult job. But with Michelle's daughters, Sasha and Malia Obama, old enough to vote and past the legal drinking age, she is on the other side of parenting. As the mother of two reflected on her tactics for raising young women in the public eye, Michelle shared how she would outright threaten them.
It may sound a bit out there, but the former first lady made a threat of embarrassment. It was how she and her husband, Barack Obama, dissuaded their children from getting body art. For Michelle, growing up in the late 20th century, tattoos were taboo. There are many big reasons you should never get a tattoo. You can get a reaction or have an inexperienced artist. However, for Sasha and Malia, it was a shivering image of twinning with their famous parents.
The threat of matching family tattoos kept them ink free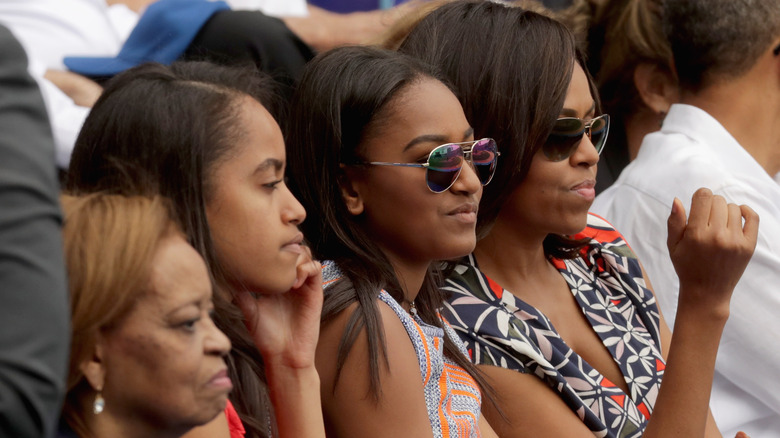 Chip Somodevilla/Getty Images
As Michelle Obama revealed on "The Kelly Clarkson Show," "We used to threaten our kids — If you get a tattoo, we're going to get exactly the same kind and show it on TikTok or whatever." When your parents have more followers than you, it might not be worth calling their bluff. "We're going to make it so uncool," the former first lady continued, "Barack Obama is going to have a heart on his shoulder." Thankfully, she and the 44th president were a united front on this topic.
Years earlier, on NBC's "Today" show, Barack referred to it as a "family tattoo." He explained, "Our thinking is that might dissuade them from thinking that somehow that's a good way to rebel," (via Reuters). However, their views on body art have changed in the intervening time. "It shouldn't be politicized," Michelle told Clarkson. "Most kids who are wearing tattoos, piercings, they've got long nails, their value system is about individuality."
The Obamas lightening up about body art might've saved them from getting inked. Their youngest, Sasha Obama, went under the needle. She has a hot air balloon tattoo on the back of her arm. Not a bad design for a family tatt. Although Michelle and Barack aren't getting matching ones to embarrass their daughter, Clarkson called the tactic "the greatest mom tip of the day." And there are a lot more in the first lady's parenting toolbox.
Michelle Obama has tons of helpful parenting advice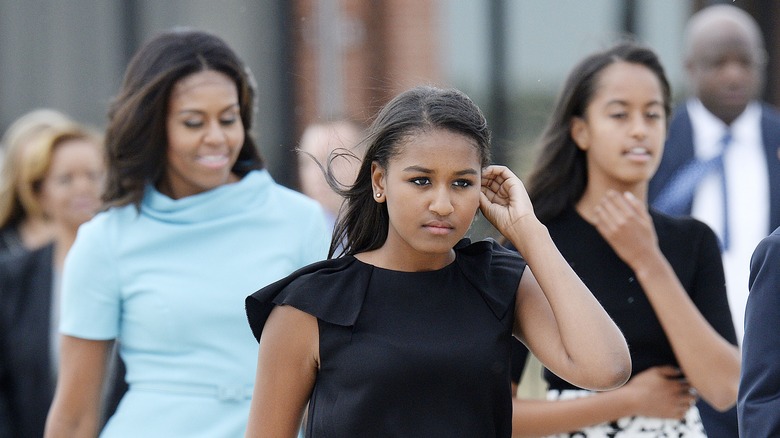 Pool/Getty Images
Michelle Obama has learned a few things after parenting in and out of the White House. For "The Light Podcast," the former first lady sat down with friend and broadcast journalist Hoda Kotb to offer some parenting advice that tops scaring your children out of tattoos. As Michelle noted, "We've got to be careful with how we communicate with young people." 
The mother of two pointed to her own experience to illustrate her point, recalling seeing her daughter and fixating on the wrinkles in her clothing before greeting her with love. "What Toni Morrison says is that our kids just want our gladness, they don't need us to fix them," the former lawyer pointed out. 
Michelle called on the words of the acclaimed author, best known for "The Bluest Eyes" and for being the first Black woman to win the Nobel Peace Prize in literature. She asserted, "They don't need us to point out the thing that is wrong first." So, mentioning the hot air balloon tattoo can be saved for after dessert.