Did Anna Kendrick And Jake Gyllenhaal Date? Here's What We Know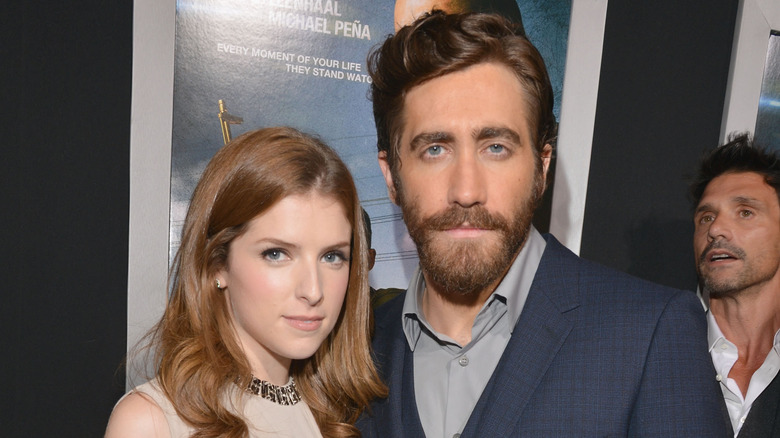 Lester Cohen/Getty Images
As is the case for most Hollywood A-listers, Jake Gyllenhaal's relationship timeline is suitably star-studded. Over the years, he's been linked to celebs like Kirsten Dunst, Natalie Portman, and (of course) Taylor Swift — he's even the inspiration behind her hit song, "All Too Well." A year after ending things with the superstar singer, Gyllenhaal was rumored to be dating another musical talent, "Pitch Perfect" star Anna Kendrick. The pair connected on the set of the 2012 police thriller, "End of Watch."
"We were shooting on tiny cameras with very little lighting and a very small crew. There was a lot of improv. It felt incredibly intimate," Kenrick told E! News in 2012, adding, "You're in character all the time because you're shooting all the time. So Jake and I would be holding hands and suddenly we'd be like, 'Oh, we're not filming.'"
Hand-holding aside, a real-life relationship was never confirmed. Gyllenhaal went on to explore connections with Sports Illustrated models Emily DiDonato and Alyssa Miller, and Anna Kendrick dated cinematographer Ben Richardson before making things official with comedian Bill Hader. Although it wasn't meant to be for Kendrick and Gyllenhaal, their on-set chemistry was undeniable, so it's no wonder that people have wondered if they were secretly involved.
Anna Kendrick and Jake Gyllenhaal went on a fake first date
Some directors think outside the box — David Ayer, director of "End of Watch," is one of them. "My rehearsals with Jake [Gyllenhaal], we didn't actually rehearse anything that we intended to film," Anna Kendrick explained to PopSugar, adding, "We rehearsed like our first date which would take place before the film starts, or before we meet Janet, anyway." Although the actors may never have gone on a real-life date, their characters certainly did. What's more, as Kendrick told Extra TV, Gyllenhaal is a pretty good on-screen kissing partner.
Director David Ayer chose to shoot "End of Watch" chronologically, blending art with real life in the process. "Jake has such a commitment to getting people to open up and be present and give all themselves on set," the "Twilight" star explained, adding that she was very proud of her "husband." As well as going on pretend dates with Kendrick, Gyllenhaal prepared for his role by riding along with the Los Angeles Police Department for five months. "[Michael Peña and I] did probably over 50 ride-alongs with law enforcement in Los Angeles," Gyllenhaal recounted on "Conan," adding that the experience taught him the ins and outs of being a cop. 
The "Brokeback Mountain" actor was also quick to point out Anna Kendrick's impressive dance skills, remembering how he followed her lead during their (fake) wedding reception and even tried his hand at break-dancing. 
Anna Kendrick and Jake Gyllenhaal like to keep their private lives private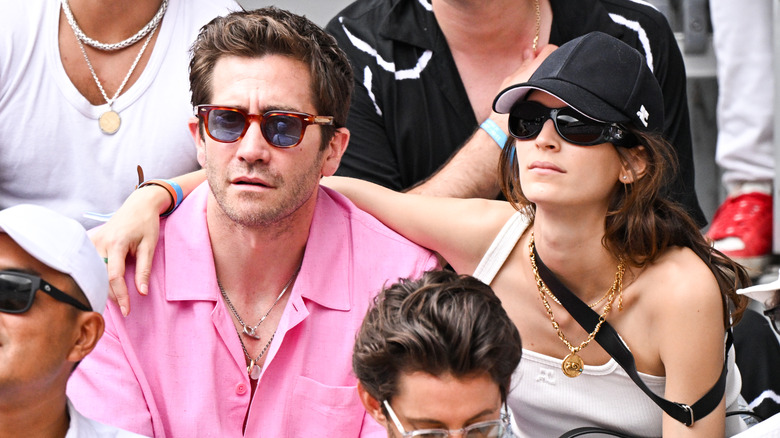 Stephane Cardinale - Corbis/Getty Images
Anna Kendrick and Jake Gyllenhaal share one major similarity: neither actor likes to talk about their personal life. "Well, as far as keeping it private, it isn't easy, as you are proving right now," the "Alice, Darling" star quipped in an interview with The Sydney Morning Herald. When Kendrick began dating filmmaker Edgar Wright in 2009 (they met on the set of "Scott Pilgrim vs. the World"), she was shocked by the amount of public interest in their relationship. "I started crying immediately [when I saw paparazzi photos with Wright]. It was like someone emailing a picture of you sleeping. It felt scary and dangerous," she told The Guardian at the time. 
The pair broke up in 2013, and the actor went on to date her "Drinking Buddies" cinematographer, Ben Richardson, for six years. Considering the timeline of her past relationships, a Jake Gyllenhaal side plot in 2012 seems pretty unlikely.
Anna Kendrick's "End of Watch" costar has also expressed interest in keeping his relationships private. "I'm not necessarily guarded, but I consider intimacy to be very important and I don't think everybody needs to know about my family or my personal details. I'm old school in that way," Gyllenhaal explained to The Guardian. However, especially considering his role in the Taylor Swift multiverse, privacy has gotten pretty complicated for the actor.