How Dwayne Johnson Planned A Special Surprise For Adele At The Grammys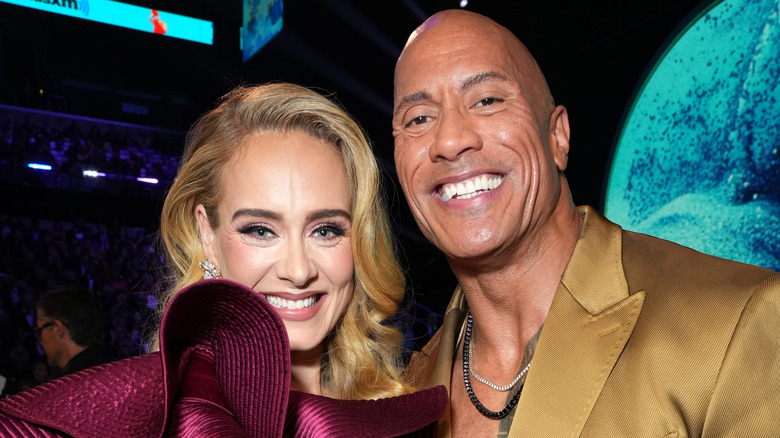 Kevin Mazur/Getty Images
Adele is a fan of Dwayne "The Rock" Johnson. Through her stunning transformation over the years, she's made this one thing clear. On an appearance on the YouTube channel NikkieTutorials, she revealed that she was a huge wrestling fan when she was young and watched Johnson in the sport and later on as he also underwent a stunning transformation from pro wrestler to actor. She also said that she found the way he painted his daughters' nails to be adorable and wished that he were her father. "I haven't got a crush or anything like that," she said on the episode. "It's just that he's amazing, he's incredible, I just want him to be my mate, want him to be my friend." When Johnson couldn't make one of Adele's shows in 2021, he sent her flowers. She was happily surprised, claiming that she "nearly fell off [her] chair" when she received the flattering gift.
Earlier this year, Adele's dream of meeting Johnson came true during the Grammys. The host this year, South African comedian Trevor Noah, gave an intro before the two met during the award ceremony. "This is one of the strangest things I found out," Noah said, according to Variety. "The person that Adele has always wanted to meet, but never has, is Dwayne Johnson . . . I found out he's a huge fan of yours, too."
A delightful surprise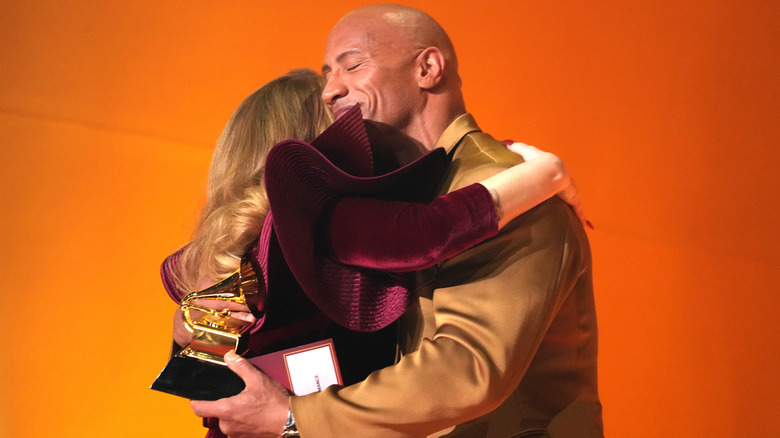 Kevin Mazur/Getty Images
Adele's surprise was intentional. Johnson, who said he was a big Adele fan, wanted to do something kind and big for the British singer. "We wanted to do something special for Adele," Johnson told Variety. "I know that she is a very big fan of mine and has made that clear publicly many times. But I've got to tell you, I am a huge fan of hers, as well — her music, her journey, her openness and directness in how she speaks. I've always admired that about her."
The Grammys' telecast executive producer Ben Winston came up with the idea of Johnson surprising Adele at the beginning of the ceremony. He knew they were fans of one another and hadn't had the opportunity to meet. He figured the Grammys would be a great venue for the introduction.
Adele smiled widely when Johnson made his way over to his table and the two immediately embraced. She looked delightfully shocked. Later on, Johnson presented her with the award for Best Pop Solo Performance and addressed her as "best friend," per Variety. Once again, Adele gave Johnson a hug before turning to the microphone to give her acceptance speech.
A special night and budding friendship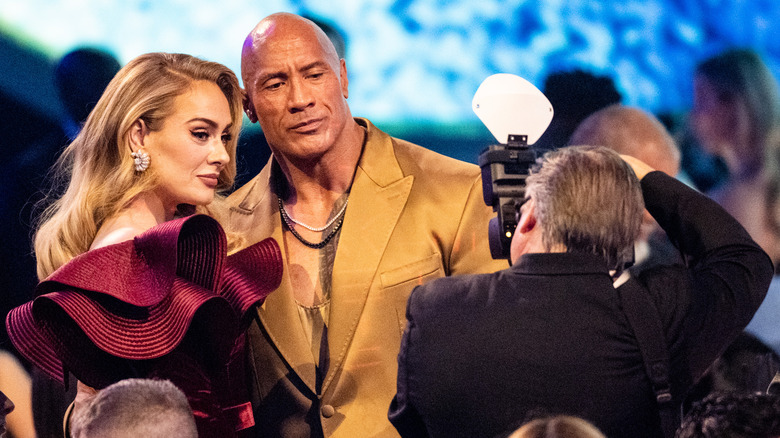 Timothy Norris/Getty Images
The hardest part of it all, Johnson explained, was staying quiet about it during the days leading up to meeting Adele. "The key to a surprise like that is to actually keep it a surprise," he told Variety. "Myself and the Grammys went to great lengths to make sure that Adele was authentically surprised in the moment, and she was."
Johnson had the chance to talk with Adele and her boyfriend Rich Paul after the cameras were off of them and back on the main stage. He said they discussed how the Universe enabled them to meet, as well as their excitement over the opportunity. "It was such a special night," he mentioned to Variety. "And she's such a special iconic brilliant inspiring artist who has inspired a generation and who will continue to inspire generations to come. I love that woman. We had a really great time tonight. I think probably the best part about it is she's just cool — and I had never met her before."