Photo Of Prince Harry's Girl Dad Moment With Lilibet Couldn't Be Cuter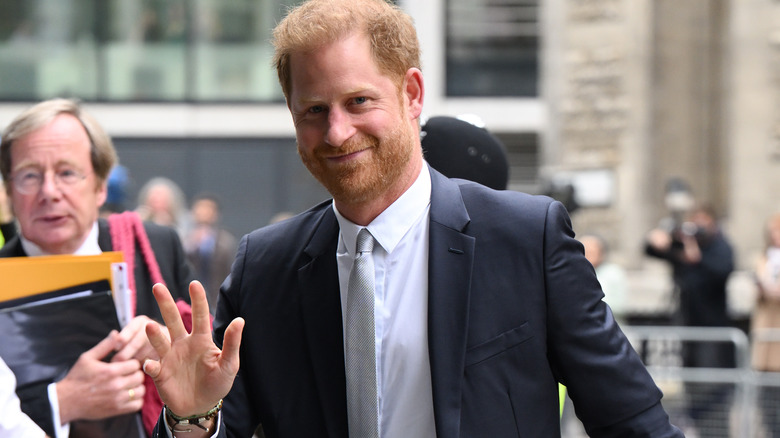 Karwai Tang/Getty Images
Since Prince Harry and Meghan Markle, Duke and Duchess of Sussex, stepped down as working royals and moved across the pond to the United States, they have broken with countless royal traditions. And this week, the couple was spotted celebrating a holiday it's safe to say they would not be celebrating if they were still living in London: the uniquely-American Independence Day, which takes place on July 4th and commemorates the signing of The Declaration of Independence. That independence, of course, came at the price the Revolutionary War, which American colonists fought against their motherland: England.
Considering Meghan Markle is American-born, it makes perfect sense that she would have a tradition of attending Fourth of July celebrations, but it still stood out to see her and her British Royal husband, Prince Harry, at an Independence Day parade this past Tuesday in their California hometown of Montecito (via Hollywood Life). In 2022, the family was also spotted at a Fourth of July parade in Wyoming. This year, the famous couple was seen with their children, Archie, 4, and Lilibet, 2, smiling and taking in the festivities of their hometown parade as it passed by.  
And it was Harry's sweet moment with Lilibet at the parade that has fans talking the most.   
Lilibet wore red, white, and blue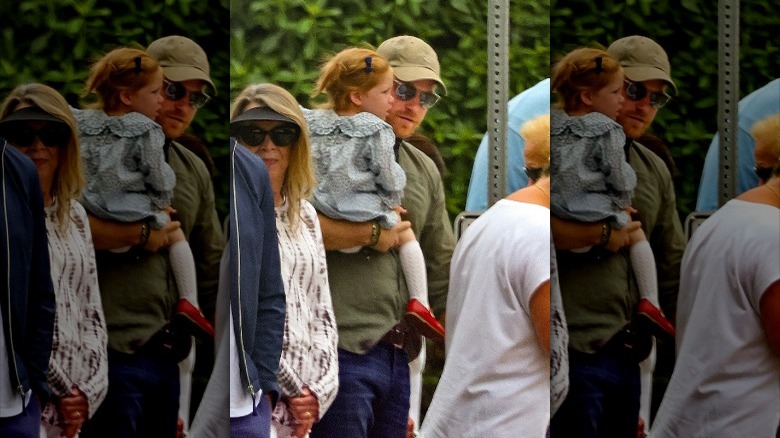 Backgrid
Princess Lilibet has rarely been seen out in public with her parents, and royal fans were delighted to catch a glimpse of Harry holding his little girl as they watched the Fourth of July parade (via Page Six). With flaming red hair just like her father's, Lilibet was dressed in a blue-and-white floral dress, white knee-high socks, and bright red shoes. Her hair was in pigtails with a black barrette. 
Cradling his toddler daughter, Prince Harry wore jeans, a green t-shirt, a green baseball cap, and sunglasses. Meghan wore light blue in coordination with her daughter and was seen kneeling down to Lilibet's height and watching the parade with her before Harry picked her up and held her with one arm against his chest, presumably for a better view.   
Prince Harry has been a doting and proud "girl dad" since the moment Lilibet was born on June 4, 2021. At the time, he and Meghan released a statement that said, "On June 4th, we were blessed with the arrival of our daughter, Lili. She is more than we could have ever imagined, and we remain grateful for the love and prayers we've felt from across the globe." And ever since, Harry has been saying sweet things about his "Lili."
Harry and Lilibet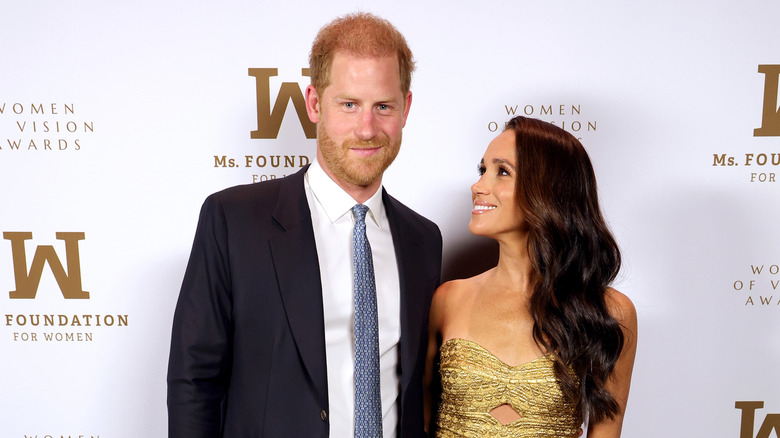 Kevin Mazur/Getty Images
In a holiday message in late 2021, Harry and Meghan released a card that said, in part, "This year, 2021, we welcomed our daughter, Lilibet, to the world. Archie made us a 'Mama' and a 'Papa,' and Lili made us a family" (via People). And over and over again since that time, Harry has made it clear that Lilibet is a cherished member of that family.  
In 2022, while Prince Harry was talking with one of the winners of the WellChild Awards that year, he said that while his son Archie was "very, very busy," his daughter Lili "is learning to use her voice, which is great." We love a girl dad who wants his daughter to grow up with a strong command of her own voice and an understanding of her own power.
And in his book "Spare," Harry recalled the last time his children met with his grandmother, the late Queen Elizabeth II, when little Lilibet had been "cuddling the monarch's shins." Harry recalled that his grandmother had called them, "the sweetest children." Harry went on to say that he thought his grandmother had expected Harry's children to be "more American," which in her mind would have meant, "more rambunctious."