Is Mike Holmes Married? What We Know About The HGTV Star's Relationship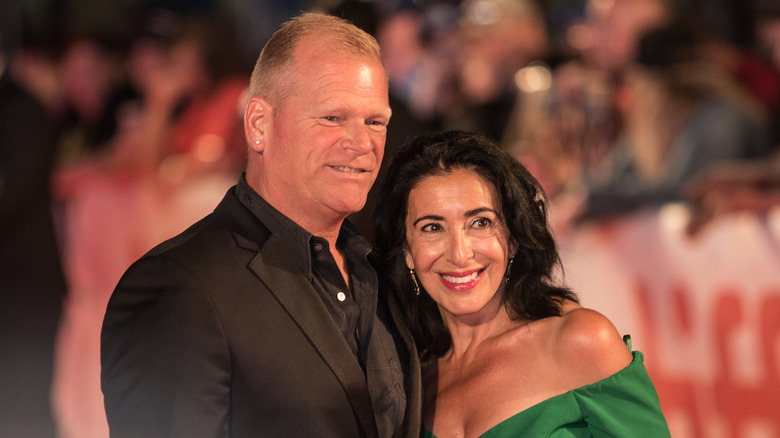 Trina Stewart/Shutterstock
Keeping your life (and relationship) out of the public eye when you're in the spotlight can be difficult but it would seem Canadian builder Mike Holmes has found the secret. The HGTV star, who is known for hosting "Holmes on Homes" and "Holmes Family Rescue" — the latter of which features Holmes and his two children, daughter Sherry and son Michael (he has another daughter called Amanda too) — hasn't said much about his love life but fans are curious about whether the TV personality is married or not. 
His current girlfriend, Anna Zappia, whom Holmes has been dating since 2000, might be referred to as his "wife" on the celebrity contractor's social media (and there might even be secret wedding rumors), but it appears the couple isn't actually married yet. Perhaps the term is a testament to how Holmes feels about his relationship. 
Zappia allegedly entered the HGTV personality's life after his divorce and business troubles, so it's safe to say he wasn't in good shape when they first met. The model reportedly remained by Holmes' side as he rebuilt his construction business and she also encouraged him to get into television when the opportunity presented itself. 
Mike Holmes was previously married to Alexandra Lorex
Alexandra Lorex was Mike Holmes' teenage romance turned wife, it would seem. They married when the "Home Free" star was just 19. No one really knows when and why they parted ways but there is some speculation that financial struggles brought on by the '90s recession may have negatively affected their relationship.
The couple had three children together — Amanda, Sherry, and Mike Jr. The divorce didn't seem to affect Holmes' close relationship with his kids, though. Far from it since the HGTV star has nothing but good things to say about working with his children, whom he posts about often on his social media. 
While discussing his show "Battle on The Beach" exclusively with The List in 2021, Holmes said, "Having my kids work with me in construction was one of the most wonderful things, because I get to teach them and better them. Sherry, representing women in skilled trades, and Michael, becoming the next best."
Mike Holmes is intensely private about his relationship
Suffice it to say, Mike Holmes keeps his love life firmly under wraps. Holmes' long-term girlfriend, Anna Zappia, appears just a few times on his social media, one of the more recent posts being a September 2022 shot of the couple holidaying in Italy. The "Holmes Inspection" star wrote in the post, which featured Zappia and himself smiling at the camera while sitting outdoors in a love seat: "Enjoying time in Casale Del Mare. This trip has been one of the best things I've done for myself. I am so calm and relaxed."
When it comes to his children, however, the HGTV star has always been candid and open. In an interview for "George Stroumboulopoulos Tonight," Holmes acknowledged that he didn't really want his children on TV at first. "I knew what it did to me ... I can't go anywhere. I can't do anything. If anything, it changes your life," he pointed out. 
The lovable reality star continued, "You'll pick a couple of restaurants [where] you get to hide in the back. It's not that you want to be away from people. It's just that I want to be away from everything once in a while." But all of that changed when Holmes saw the natural talent his kids had to be on TV. And the rest, as they say, is history.