Outrageous Celeb Outfits Seen At Paris Haute Couture Fashion Week 2023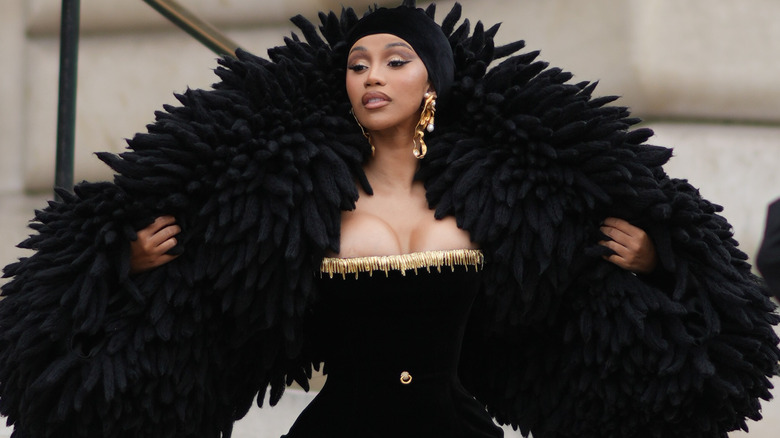 Edward Berthelot/Getty Images
There are a seemingly unending amount of fashion weeks. Every major city — New York, Milan, and London, just to name a few — has its own dedicated week for designers to show off their newest collections, and most cities have multiple weeks. Since Paris is the fashion capital of the world, it's only fitting that it has almost back-to-back fashion weeks in the summer, the first for menswear and the second for haute couture (custom pieces that are expensive as hell).
No matter where the fashion week takes place, celebrities from around the world gather to watch the shows, usually arriving in an ensemble from the mind of the show's designer. But no fashion week looks are quite as notable as those that come from Haute Couture Week. After dozens of shows and even more celebrity guests, the entertainers of the world proved that they were put on this earth to, in fact, entertain, which, in this case, means simply showing up to a fashion show in a memorable outfit.
Maisie Williams at Iris van Herpen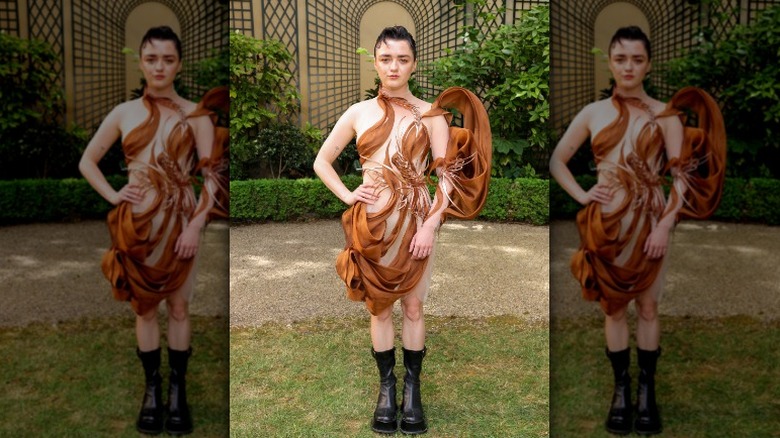 Pierre Suu/Getty Images
"Game of Thrones" star Maisie Williams turned up at Paris Haute Couture Fashion Week in multiple ensembles, the most outrageous of all coming from Dutch designer Iris van Herpen. Williams attended the van Herpen show in a rust and silver trompe l'oeil dress, black boots, a pixie cut, and dewy makeup. The actor posted about her time in Paris on Instagram, showcasing her most notable events through a carousel of photos. "My first Iris van Herpen show ... first time seeing CGI in real life ... Thom's first Haute Couture show ... a big week for fashion," Williams said.
Williams has long been interested in fashion, but her style has evolved since she first stepped out on the scene. Many things have impacted her fashion sense, but playing Jordan in the 2022 mini-series "Pistol" was particularly influential. "It was really exciting to me — every day was like dress-up, getting locked into these rubber outfits and materials that I've never worn before. It felt like I was becoming someone new," Williams told Vogue of her wardrobe for the show. "I was inspired by the way Jordan mixes form and structure with flesh and her own body," she added.
Florence Pugh at Valentino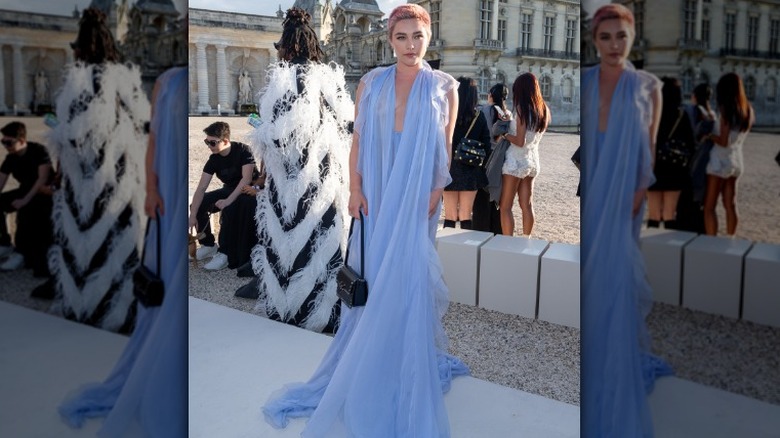 Marc Piasecki/Getty Images
Florence Pugh has repeatedly proven that she doesn't give a damn about other people's opinions, particularly regarding what she wears. Pugh arrived at the Valentino show at Paris Haute Couture Fashion Week in a sheer gown by the designer that bared much of her body. She further surprised onlookers by debuting a pink pixie cut. "I'm always so inspired. So grateful that we got to see the art that you and your creators and makers worked and continue to work so hard on," she wrote to the designer via Instagram.
This was by no means the first time Pugh has made headlines for an outfit she's worn, nor is it the first time she's created buzz by wearing a sheer Valentino dress. In 2022, Pugh arrived at a Valentino show in Rome in a sheer gown, and both media and fans alike shared their thoughts on her nipple-bearing dress. "Listen, I knew when I wore that incredible Valentino dress that there was no way there wouldn't be a commentary on it. Whether it be negative or positive, we all knew what we were doing," Pugh shared on Instagram, also admonishing the public's comfort with body shaming. "Grow up. Respect people. Respect bodies. Respect all women. Respect humans. Life will get a whole lot easier, I promise," she added.
Emma Chamberlain at Valentino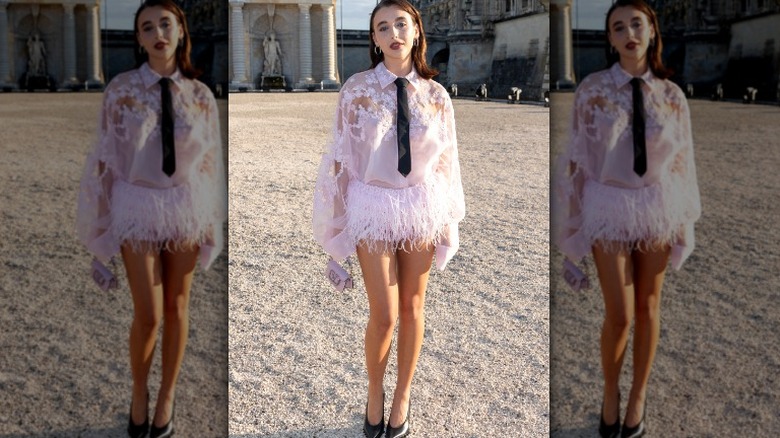 Marc Piasecki/Getty Images
Vlogger Emma Chamberlain has ascended to the highest heights in the fashion world. She went viral the first time she attended the Met Gala, she's been sponsored by major fashion houses, and she's been invited to numerous major shows during multiple fashion weeks. For the 2023 Paris Haute Couture Fashion Week, Chamberlain was spotted at a few different shows, including the Valentino show where she wore a sheer blouse and a black tie. To make the outfit fully fashionable, Chamberlain paired the top with feather briefs, sans pants, black pumps, and a pink purse.
Chamberlain has come a long way in her comfort in high fashion. As she said in an interview with V Magazine: "The fashion world, specifically, was the most intimidating to me and now I'm not intimidated by it at all," adding that while others might just be attending shows to socialize, she's there for the clothes. "I would tell you if I didn't really care about the fashion. But I actually really love that part. Even if I don't go to a show, I'm on Vogue Runway scrolling through. I'm curious about it all," she added. No matter what the reason, we selfishly hope Chamberlain continues snagging invites to all the major fashion events so we can get as many perfect viral moments from her as possible.
FKA Twigs at Viktor & Rolf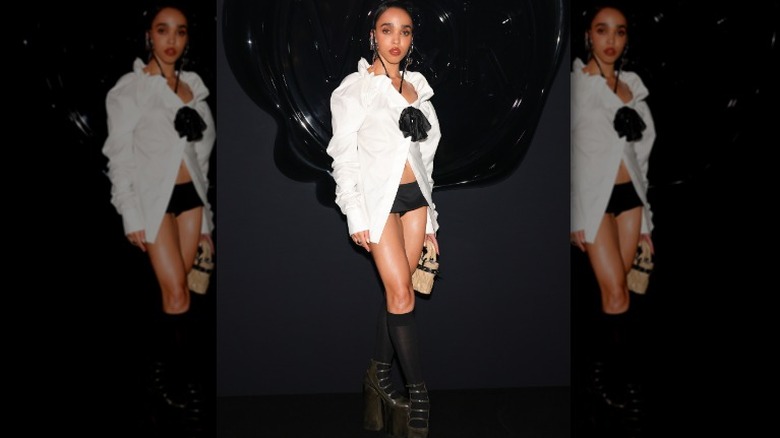 Pierre Suu/Getty Images
FKA Twigs didn't let the 2023 Paris Haute Couture Fashion Week go by without making a major fashion statement of her own. The English singer went to the Viktor & Rolf show in a white blouse and kept it simple by opting out of pants. She completed the look by wearing a pair of black platform heels and carrying a small purse. She rocked decidedly '90s glam, fashioned her hair into cascading braids, and adorned her ears with several silver earrings. Her glam and hair were not unlike her style for the 2023 Met Gala just months earlier.
The singer is quite taken with fashion, but as she told The Cut, it's not what matters most. "Fashion's important to me, but beauty fades," she said. "All that stuff is fun while it lasts, but anything can happen tomorrow. You've got to have so much more about you than the way you look or your clothes. If someone said to me, 'When you go home, all of your wardrobe and all of the nice things you have would be gone,' I wouldn't care. That's the truth, I wouldn't care!"
Lisa Rinna at Viktor & Rolf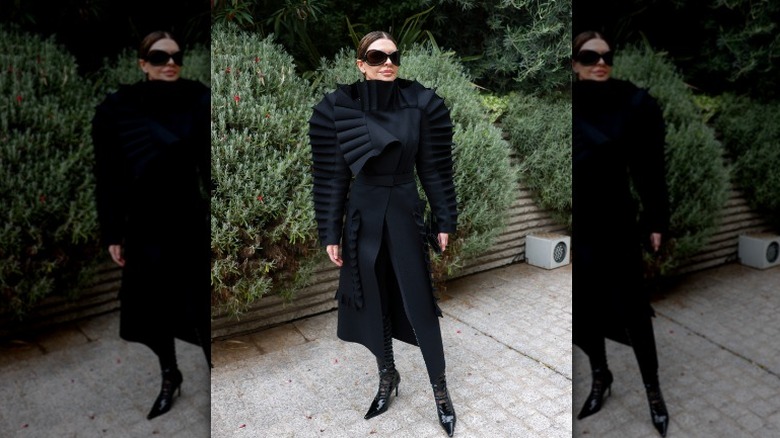 Arnold Jerocki/Getty Images
Lisa Rinna has been in the public eye for decades, but she had a career renaissance when she joined the cast of "The Real Housewives of Beverly Hills." Rinna stayed with the show for eight years, creating some of the best moments in Bravo history. Viewers of the show also saw Rinna's style evolve. While she's always been into fashion and glam, Rinna became more daring with her fashion choices over the course of her time on Bravo, eventually becoming a fashion icon in her own right. And now that she's no longer a cast member, Rinna has the freedom to explore the fashion world as she pleases.
"It has been heaven, absolute heaven. I mean, I've been to Paris and London and I've been able to travel and go to fashion shows. I'm having really the time of my life," Rinna told Us Weekly of her life since quitting "The Real Housewives of Beverly Hills." One such fashion show that Rinna attended was the Viktor & Rolf show in Paris during Haute Couture Fashion Week in 2023. Rinna appeared in an all-black ensemble with a very futuristic vibe thanks to the large embellishments and goggle-like sunglasses. "Oh she went there," Rinna said of her outfit on Instagram.
Camila Cabello at Iris van Herpen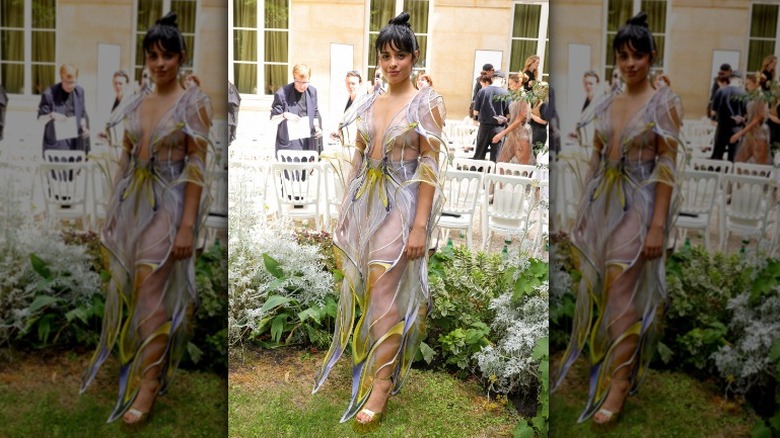 Pierre Suu/Getty Images
Of all the stars at Parish Haute Couture Fashion Week 2023, Camila Cabello was one of the most visible. The former Fifth Harmony singer made an appearance at several shows, each time showing up in an eye-catching ensemble. One outfit, however, stood out among the rest. Cabello arrived at the Iris van Herpen show wearing a dress made by the Dutch designer. The gown was constructed of various pieces of sheer fabric layered over one another and outlined with bold strips of purple and yellow. The singer styled the frock with an updo complete with shaggy bangs and a pair of chunky gold heels.  
"I love your passion for nature and biophilic design, we might be kindred spirits in that way," Cabello said praising the designer on Instagram. "Thank you for making beautiful things including this dress of yours, I feel like a [butterfly]."
While in Paris for fashion week, Cabello stunned in a pale pink full-length gown and tumbling curls at the Giambattista Valli show. Later, at the Stéphane Rolland show, she re-wore her gold heels with a white asymmetric dress that featured prominent gold embellishments and a long train. The singer went all black for the Alexandre Vauthier show, opted for a multi-colored gown for the Jean Paul Gaultier, and appeared at the Viktor & Rolf show in a black mini dress with puffy sleeves and details for days.
Big Latto at Iris van Herpen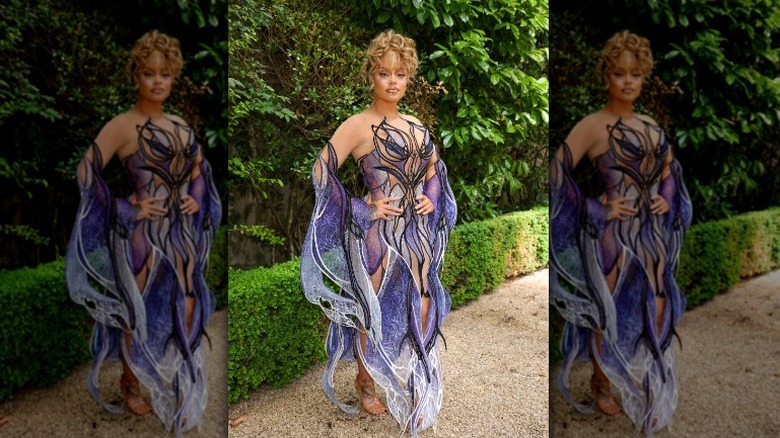 Pierre Suu/Getty Images
Each year, Paris Haute Couture Fashion Week sees young musicians and actors attending some of their first fashion shows, and in 2023, one of those up-and-coming stars was Big Latto. The rapper attended the Iris van Herpen show in a daring look designed by van Herpen. Like the dresses worn by other celebrities at the show, Latto's was marked by lots of layers of sheer fabric, though hers was a bit darker than others thanks to black outlines. Latto wore her hair in an updo and accentuated some of her facial features with unique pieces of jewelry.
Though Latto isn't a designer herself, she, like the fashion icons showing their designs at fashion week, intimately knows the pressures of running a clothing store. Before her music gained widespread popularity, Latto was running her own apparel business, Pittstop, in Atlanta, and it was quite successful. "I was 17 running a whole store, and I was making bank. I bought my Benz cash," she told Flaunt magazine of her success as a business owner. "My rap started outgrowing it, so I had to, say, okay, I'm making too much money."
Shakira at Viktor & Rolf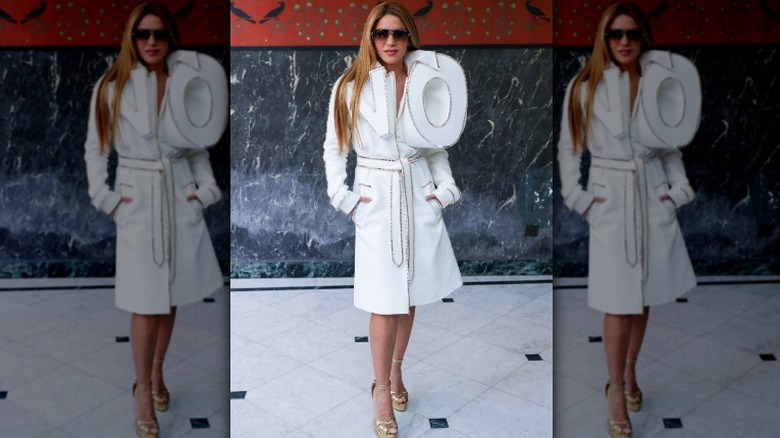 Pierre Suu/Getty Images
Fashion can be used to make a statement, but it's usually subtle. For Shakira at the Viktor & Rolf show during the 2023 Paris Haute Couture Fashion Week, the statement was quite literal. And brief. But bold. The Colombian singer arrived at the show wearing a white mid-length dress with gold pumps and sunglasses, and she kept her long hair down and straight. But all of that was secondary to the most prominent feature of her outfit — two bold letters affixed to her dress to spell the word "no." In keeping with the concise nature of her dress, the singer left a short message on Instagram regarding her outfit. "Yes is overrated," she said.
Shakira has always exuded a major sense of confidence in herself and her work, and she seems to have found even more since splitting with her long-term partner and father of her children, Gerard Piqué. The singer has plenty of other sources of confidence, though. "Being a parent and mother, knowing that my kids need me, that I would do anything for them and that whatever it takes I will do for them, it gives me a tremendous sense of power," she told Glamour.
Cardi B at Balenciaga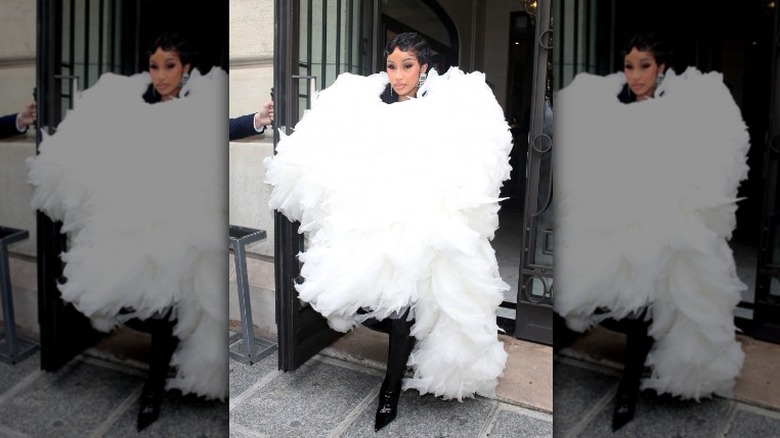 Mega/Getty Images
Cardi B has proven time and time again that she's not afraid to don an outrageous outfit, and she wore several for the 2023 Paris Haute Couture Fashion Week. The rapper attended the Schiaparelli show in a form-fitting black gown with a majorly oversized coat. At Jean Paul Gaultier, Cardi appeared in a sleek printed dress with giant jewelry and slit eyebrows. At Thom Browne, she showed up in a custom skirt suit featuring a unique gold headpiece, which she posted photos of her to Instagram, writing: "I'm a very blessed girl ... I'm thankful everyday that my work and my lord have me living my dreams."
Perhaps her most daring outfit was worn to the Balenciaga show. Cardi wore a black latex jumpsuit with an oversized bow and paired it with a white coat made of billowing fabric. The rapper posted photos of the outfit to Instagram along with a quick video from the show, however, it had followers wondering why she attended the show after the designer was involved in a major scandal in late 2022. "Cardi I'm genuinely curious why do you still support Balenciaga after the child bondage scandal?" one user commented on Instagram. "The amount of people willing to overlook & co-sign this bs brand that preys on children because it's just Cardi getting her bag is mind blowing," another wrote.
Christine Quinn at Georges Hobeika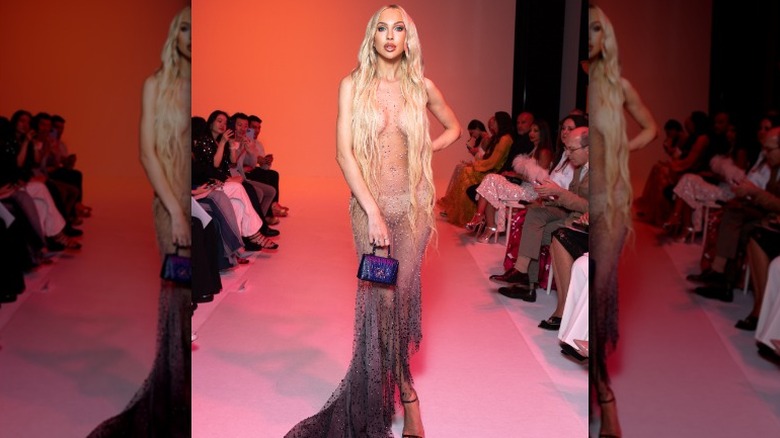 Arnold Jerocki/Getty Images
If Christine Quinn's goal in leaving "Selling Sunset" was to prove to everyone that she doesn't need a spot on a reality show to snag invitations to major fashion shows, she achieved it. Quinn was spotted at the Georges Hobeika show during the 2023 Paris Haute Couture Fashion Week wearing a striking gown. The dress was made of sheer fabric adorned with jewels and featured an ombré train. She wore a pair of nude briefs and carefully placed her long blonde locks over her breasts. "Thank you for having me be part of such a huge custom couture moment. I am beyond grateful for everyone who made this all possible!" the former reality star wrote on Instagram after the show.
Quinn has been very open about her love of all things fashion and beauty, and she's particularly fond of dressing like Barbie. "It's always some variation of a Barbie, you know, whether it's golf Barbie, or it's Sharon Stone Barbie, whatever Barbie it may be at that point in time. It has just this flawless aesthetic that I always strive to," she told Allure in an interview. We're not positive Barbie has a dress like Quinn's from the Georges Hobeika show to wear, but Quinn definitely looked flawless.
Rita Ora at Azzedine Alaïa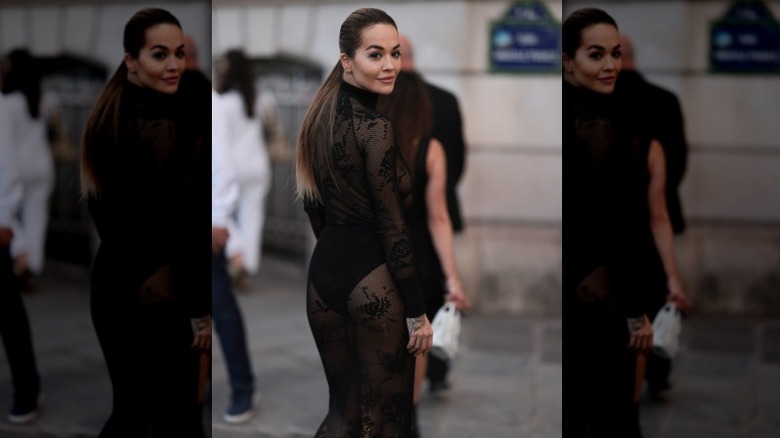 Jeremy Moeller/Getty Images
Rita Ora was also sure to get in on the sheer dress trend at the Paris Haute Couture Fashion Week. The British singer stunned at the Azzedine Alaïa show in a black see-through gown that she wore with a pair of high-waisted black lace briefs in a successful free-the-nipple display. The fashion enthusiast sat next to Vogue legend Anna Wintour at the show and opted not to comment on her dress but rather thank and praise the designers for their work. "Such a beautiful show I can not wait to wear every single item! So beautiful congratulations," she wrote on Instagram. Sheer black gowns must be Ora's go-to for 2023 as she wore a dress of similar fabric to the 2023 Met Gala, as well.
Ora sees fashion as a way to tell the world more about herself as she does with her other creative media. As she told L'Officiel Austria: "Having the freedom to express myself creatively, be it through music, acting, or fashion, is the greatest gift and I will never stop being grateful for it."