Rare Moments Of PDA Witnessed Between King Charles And Camilla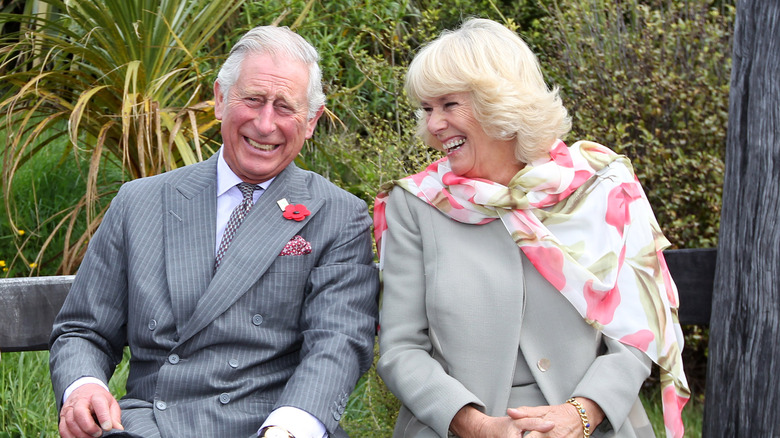 Rob Jefferies/Getty Images
Of all the royal courtships, few rival the intricate story that is Camilla, Queen Consort, and King Charles III's relationship. Having crossed paths all the way back in the 1970s, the two went their separate ways — many believing that the royal family did not approve of Camilla — and both married other people.
Camilla tied the knot with Andrew Parker Bowles, seemingly solidifying her path in life, and Charles famously married Princess Diana. Both marriages were fraught with difficulty, however, as Charles and Camilla never quelled their friendship, much less their romance. By 1986, the two had rekindled their love (if it had ever gone away) for one another and both of their marriages subsequently devolved. 
Though Charles and Camilla's love story was masked in drama, the queen consort has seemingly won over at least some of the public in the years following her launch into royal society. Marrying in 2005, Charles and Camilla have made it clear that their focus is on the crown, and Camilla's down-to-earth personality has been seen as refreshing by many. Surprisingly, given their history, Charles and Camilla rarely show affection toward one another in public, often standing side by side and maintaining professional decorum. But there are some rare moments of PDA, and luckily they've been caught on camera.
Camilla and Charles were seen sharing a rare kiss in 2005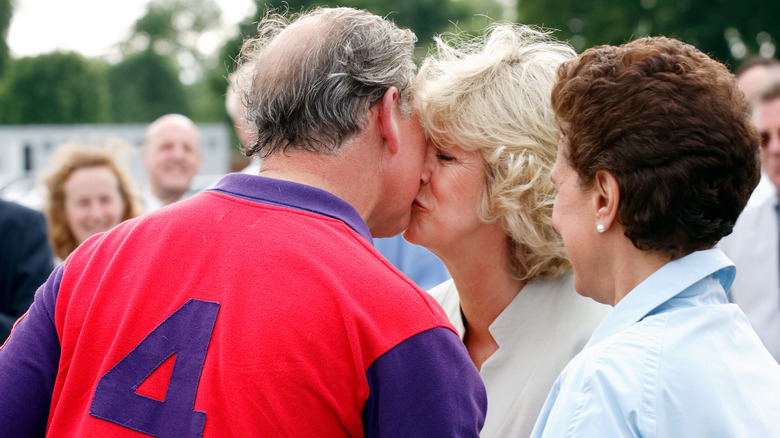 Max Mumby/indigo/Getty Images
The royal family members are known for keeping PDAs to an absolute minimum — except on the polo field. On many occasions surrounding the favored sport of the royals, married couples have been known to exchange a kiss during the trophy presentation, with Prince William and Princess Catherine's most publicly affectionate moments playing out on the field, too. King Charles III and Camilla, Queen Consort, were not an exception to this unspoken rule, and the two exchanged a kiss when she presented her husband with his trophy during the Burberry Cup match held at Cirencester Park Polo Club in 2005. Blink and you'll miss it, but the couple gave each other a quick kiss, which was right on cue for their wedding, too!
The rare moment of PDA marked the second time that Charles and Camilla had been spotted kissing in public. The first photo captured of them locking lips was taken in 2001 during a reception held at Somerset House, and the second was the polo match. Their third public kiss came in 2017 if you can believe it when they traveled to Singapore to launch their India and Southeast Asia tour. At this rate, it'll be another eight years before we see a public kiss exchanged between them again.
Charles sweetly helped Camilla with her mask during a PDA moment in 2021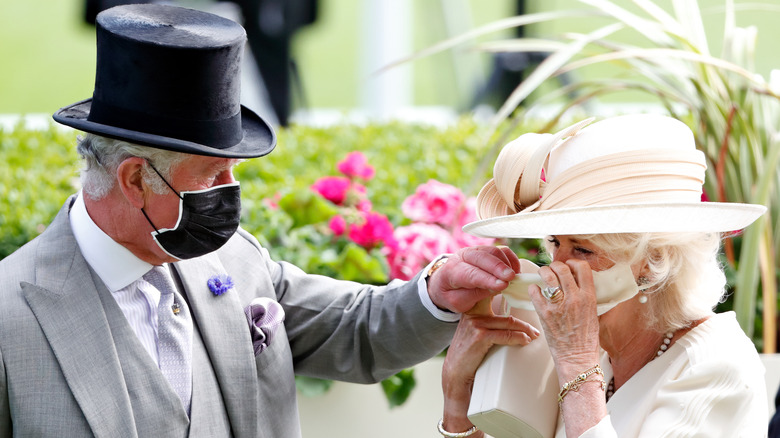 Max Mumby/indigo/Getty Images
At the height of COVID-19, face masks were a must. King Charles III and Camilla, Queen Consort, definitely took the pandemic seriously and sported masks as they attended the Royal Ascot horse-racing event in June 2021. Just about a year into the pandemic, masks were still required for most public gatherings as an extra layer of precaution, and while royal watchers didn't get to see a smooch between these two, Charles and Camilla exchanged a very tender PDA moment nevertheless.
Helping his wife stay safe against the virus, Charles helped Camilla readjust her mask — that perfectly matched her outfit, we should add — in a sweet exchange caught on-camera. Holding her mask in one hand and her purse in the other, Camilla struggled to get the other ear loop on, prompting her husband to help her out on the other side. It was a subtle gesture as far as PDA moments go, but the element of care between the two did not go unnoticed. Unfortunately, both Charles and Camilla tested positive for the virus twice over the course of the pandemic, despite being fully vaccinated.
The duo got closer than usual during an appearance in 2018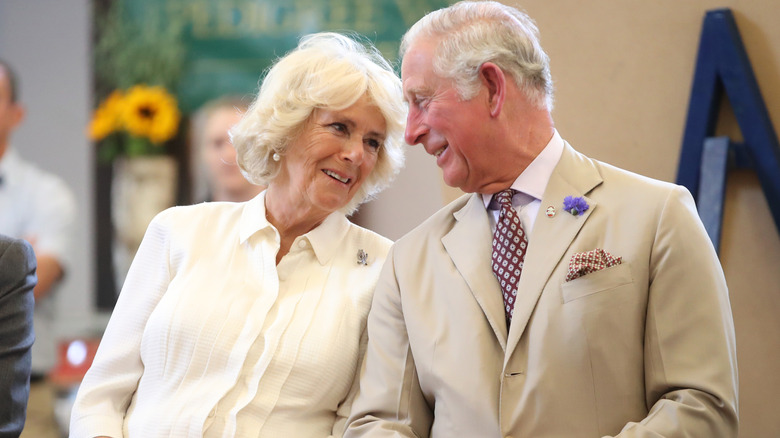 Chris Jackson/Getty Images
When it comes to royal PDA, watchers definitely have to take what they can get. From Prince William and Princess Catherine to Prince Edward and Sophie, Duchess of Edinburgh, the senior couples of the firm rarely interact with one another in any fashion other than professionally — at least in public. When King Charles III and Camilla, Queen Consort, closed in on one another during an official event in 2018, royal fans quickly picked up on the more intimate body language shared between them.
Appearing at The Stand Hall amid their July 2018 trip to Wales, Camilla and Charles descended on the newly-refurbished community hall to mark its reopening. Sharing a rather tender moment with one another, the two leaned in and smiled during their official appearance, offering the cameras a sweet interaction that is hard to come by.
Body language expert Darren Stanton, meanwhile, told the New York Post that Charles and Camilla don't have to be locking lips or holding hands to express their affection for one another in public. Praising the queen consort's "strength and reassurance," Stanton asserted that of the two, "[Camilla] has become his rock who he depends on in social settings. Camilla doesn't have to be joined at the hip."
Camilla and Charles held hands while making a memory together in 2010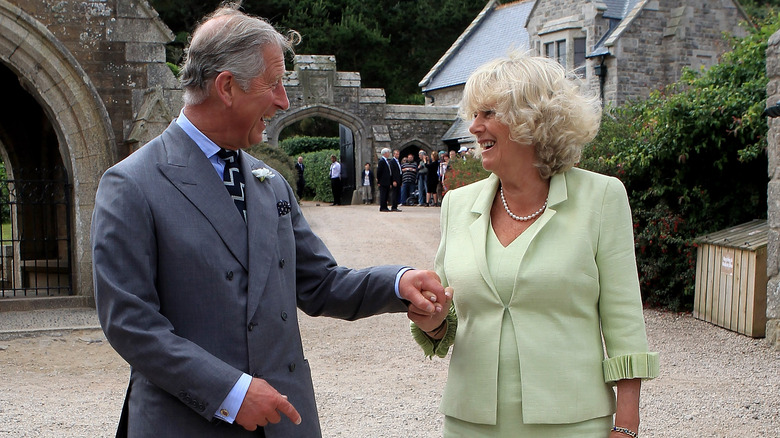 Chris Jackson/Getty Images
Though Camilla, Queen Consort, had been involved in King Charles III's life for decades, she essentially had to be reintroduced to the public. Charles and Princess Diana's divorce allowed the long-standing lovers to finally be together, but the Princess of Wales' shocking death in 1997 changed things dramatically. Any plans to relaunch Camilla and improve her reputation were put on hold given Diana's passing.
All that history certainly meant that Charles and Camilla had to tread lightly, surely prompting them to keep their PDA to a minimum in order to appease the palates of the public. However, in a 2010 appearance in Marazion, the duo clasped hands in a surprising display of affection, marking a shift in their interactions with one another and their comfortability in public. While appearing in the British region, Charles and Camilla visited St. Michael's Mount, a stop on their annual trip to Cornwall. No doubt due to their then-designated titles of the Duke and Duchess of Cornwall — titles that now belong to Prince William and Princess Catherine — the royals made their way to the historic English region and made imprints of their feet for a cast. In order to stabilize one another — and give royal fans a little PDA moment — Charles and Camilla sweetly held hands for the camera.
Charles surprisingly made contact with his wife during an official royal portrait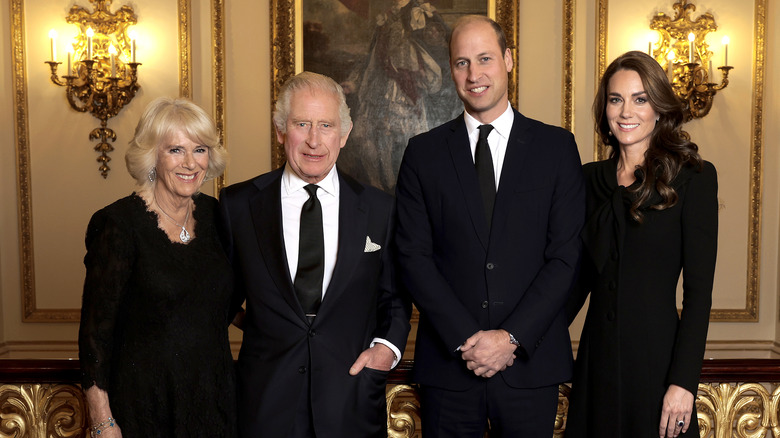 Chris Jackson/Getty Images
In the wake of Queen Elizabeth II's death in September 2022, King Charles III immediately assumed the throne. Just a few days later, the new monarch, Camilla, Queen Consort, Prince William, and Princess Catherine posed for a new portrait, showing the foursome as the future of the monarchy. While a new portrait was certainly not out of the ordinary, Charles and Camilla's body language was far more intimate than expected. Wrapping their arms around one another's backs, the new king and queen consort showed a level of PDA that did not go unnoticed, and body language expert Judi James asserted that the queen consort specifically was very comfortable in her new position.
"The joint portrait did appear to show Camilla at her most relaxed. She is smiling in a way to suggest genuine happiness and with the arm around her husband's back reciprocated as a gesture by Charles placing an arm around her back," James told Express of the portrait. "This was an unusual public display of affection from a couple who seem to avoid much contact or even eye contact in public. The fact that it was performed for an official portrait could have hinted at a sea change in the way the couple behave together now they are king and queen consort."
The pair walked arm and arm during a high-profile royal event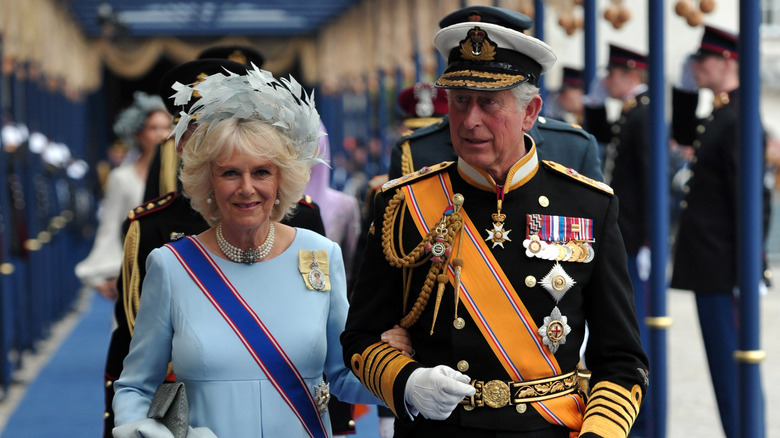 Pool/Getty Images
It's not unusual to see members of different royal families support each other amid major events, and that was certainly the case when King Charles III and Camilla, Queen Consort, traveled to Amsterdam for King Willem Alexander of the Netherlands' inauguration ceremony in 2013. While the pair looked lovely, it was their PDA moment of walking arm and arm that caught attention, as was Camilla's gown for the occasion. Arriving at New Church, Charles and Camilla walked side by side, representing the United Kingdom on the big day. Charles — who was still the Prince of Wales at the time — was in full military attire, adorned with medals and royal insignia.
Camilla, meanwhile, looked ever so regal in a powder blue gown from designer Bruce Oldfield, a favorite of hers who has dressed the queen consort on many occasions. Instead of wearing a tiara, Camilla opted for a Philip Treacy headpiece that featured feather-like designs, giving her hair and overall appearance a heightened look. She topped off the occasion with a string of pearls belonging to the Parker Bowles family, coordinated earrings, and her own royal regalia. The two certainly put on a great show amid the inauguration, but it was equally lovely to see them walking arm in arm — rather than side by side — as they usually do in public.
Charles placed his arm around Camilla during her birthday celebration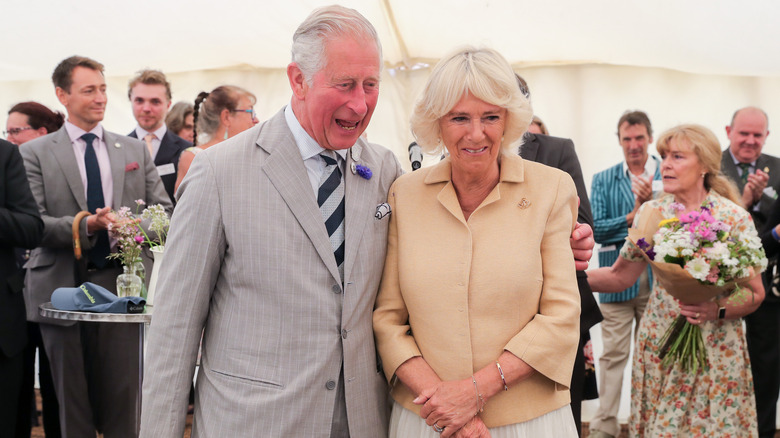 Chris Jackson/Getty Images
Even though they were on the job, King Charles III wanted to make sure that Camilla, Queen Consort, felt special when she turned 72 in 2019. Celebrating Britain's national parks as part of their official visit to Cornwall and Devon, Charles and Camilla took part in the "Big Picnic" celebration, commemorating the 70-year anniversary of the National Parks and Access to the Countryside Act. Though they were on official duty on the queen consort's birthday, Charles didn't let that stop him from making his wife feel special. Cue the rare PDA, which royal watchers couldn't get enough of.
Prompting those around him, Charles led the crowd gathered in a rendition of "Happy Birthday," singing to the clearly chuffed then-Duchess of Cornwall. Charles next placed an arm around Camilla and gave her a tight hug. From there, Camilla cut the cake — though it should be noted that the dessert was technically to mark the national park event, not the royal's birthday. Nevertheless, the public got to see a sweet and intimate moment shared between Camilla and Charles, a sight that is definitely rare.
The couple's 2005 wedding was a longtime coming and full of PDA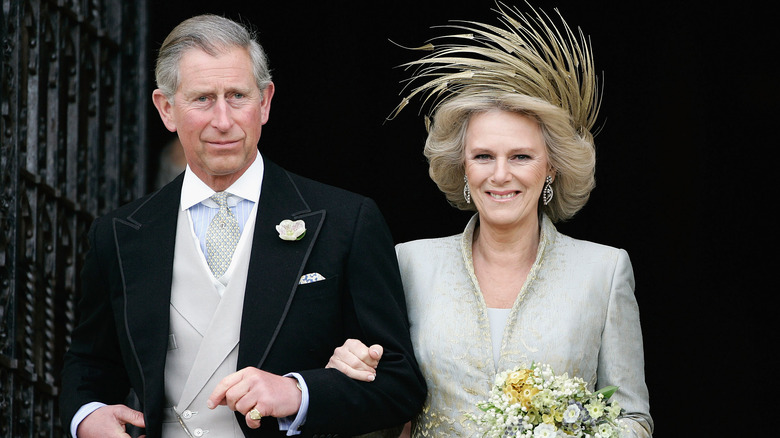 Tim Graham/Getty Images
When King Charles III and Camilla, Queen Consort, got married in 2005, they had already been in love for four decades. No matter the public's opinion about their love story, Camilla and Charles made it through two divorces, intense media scrutiny, reported doubt from the royal family, and so many other trials and tribulations. But, on April 9, 2005, the two got married, with the blessing taking place at Windsor Castle. The two were absolutely smitten on the day, linking arms and looking at each other with huge smiles. Camilla looked stunning in a silk gown from designer Robinson Valentine, and Charles appeared radiant with joy.
Speaking of their dynamic and giving further insight into the wedding, royal photographer Arthur Edwards — who has worked alongside the royals for years — told People that Camilla always brought a sense of calmness and relatability to Charles. The two, in his estimations, were very much each other's yin and yang.
"She was different. And she brought a whole new meaning for Prince Charles," Edwards said. "He's now a much happier person. He's contented. And he always refers to her as 'my darling wife.' ... The thing about Camilla, which is I think her strongest point, she never lost the common touch, and she makes him laugh. I've got pictures of them ... just laughing together. She's just always there to support him, and that's her way."
Charles and Camilla got cozy during a trip to Egypt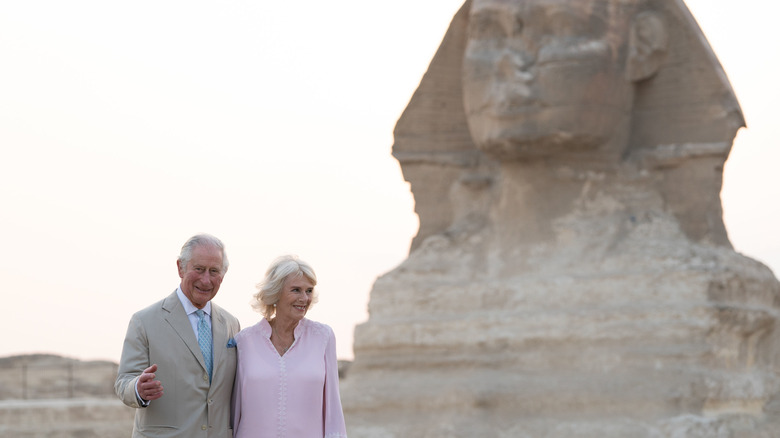 Pool/Getty Images
All eyes follow the royals when they take trips, and that was the case when King Charles III and Camilla, Queen Consort, traveled to the Middle East in 2021. Traveling to Giza to see the Great Sphinx and the Great Pyramids, the pair looked cozy and in love as they posed for the camera. With Charles in tan and Camilla in light pink, the two wore appropriate clothes for the sun, and the sunset cast in the background of their photo op made their appearance that much more special. With Camilla and Charles, PDA moments are few and far between, but this shared experience was intimate in its own way.
Of course, it's interesting to see Charles and Camilla taking in one of the world's great wonders without remembering Princess Diana's tragic appearance in 1992 at the Taj Mahal. Touring the grounds with Professor Mukund Rawat, Diana was alone for the occasion, telling him: "It would have been better if both of us had been here. But my husband has to be in Delhi" (via the Mirror). Diana proceeded to pose for one of the most famous pictures taken of her, sitting in front of the symbol of love without her husband present.
Rawat later said of her visit: "It would have been better if both the prince and princess had come to the Taj Mahal. This is a monument that should have been felt and experienced by both."
Charles put his arm around Camilla in the wake of Queen Elizabeth II's death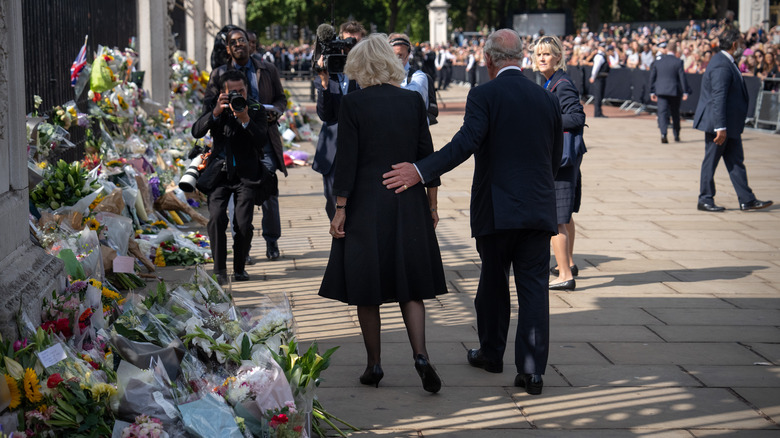 Carl Court/Getty Images
Sadly, nothing brings couples together more than a shared loss, and Camilla, Queen Consort, and King Charles III united in grief when Queen Elizabeth II died in 2022. The queen had been a staple for decades — losing her was expected, yet still incredibly monumental.
Charles and Camilla walked to the gates of Buckingham Palace, greeting mourners and thanking them for their support. As they did so, Charles placed his arm around Camilla, holding her waist as they navigated the crowds and the cameras. Both in black, the pair were clearly emotional as they maneuvered the situation, relying on one another in a supportive PDA moment.
Charles went on to speak of the queen's dedication, as well as her important role in his life as a monarch and mother. "The death of my beloved Mother, Her Majesty The Queen, is a moment of the greatest sadness for me and all members of my family," he and Camilla issued in a statement (via Twitter). "We mourn profoundly the passing of a cherished Sovereign and a much-loved Mother. I know her loss will be deeply felt throughout the country, the Realms and the Commonwealth, and by countless people around the world. ... My family and I will be comforted and sustained by our knowledge of the respect and deep affection in which The Queen was so widely held."
Camilla had to give Charles a helping hand during a cake-cutting PDA moment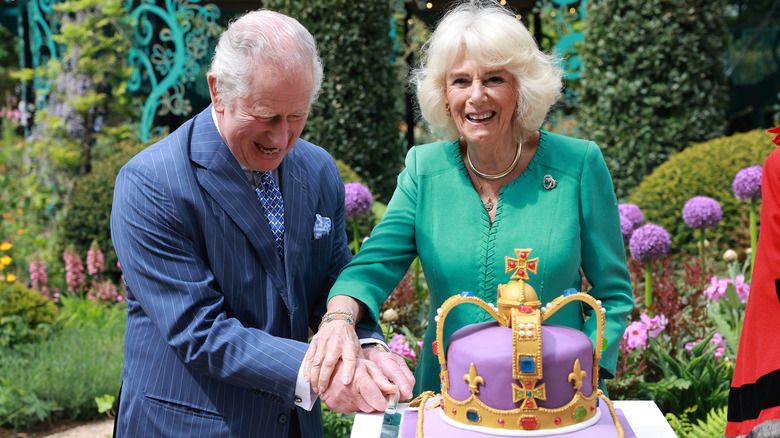 Chris Jackson/Getty Images
There is no such thing as too much cake, but King Charles III needed a bit of a helping hand from Camilla, Queen Consort, in May 2023. Visiting Northern Ireland at the time, the royals were in the country to mark the opening of the Coronation Garden. Not only did they meet with the designers behind the new open space, but they chatted with nonprofits and community organizers about environmentally friendly initiatives being implemented in the area. Everything was well and good until Charles needed a helping hand for the cake cutting, providing a great PDA moment for royal watchers. Grabbing her husband's hand, Camilla helped Charles push the knife through what we can only imagine was a very dense cake, and their expressions were pretty much priceless.
Marking such an occasion definitely didn't come as a shock, given Charles' dedication to environmental causes throughout his time as a royal. Though members of the firm are discouraged from making political statements, Charles has frequently made his thoughts about the environment clear, writing an opinion column for Newsweek about the need to act. "What is clear is that our actions matter," the then-Prince of Wales wrote for the outlet. "Ultimately, the cost of inaction will far outweigh the cost of action." 
Charles sweetly greeted Camilla during an official appearance in 2001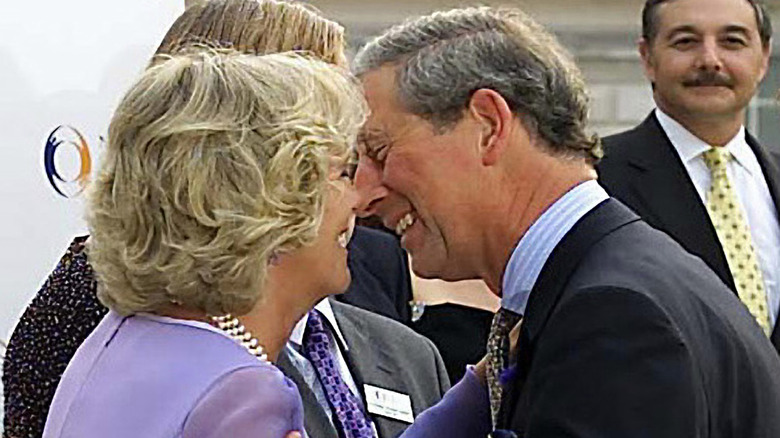 Tim Graham/Getty Images
Charity and advocacy work are two of the most vital aspects of being a working member of the royal family, and Camilla, Queen Consort, found her calling as she started working alongside King Charles III. Spurred on by her own mother's tragic battle with the disease, Camilla became the patron of The National Osteoporosis Society, working closely to advocate for those suffering from the condition. Not only is her work incredibly meaningful, but an event hosted by the society in 2001 allowed royal fans to witness a sweet moment of PDA between her and Charles. Arriving at Somerset House to support Camilla — who he wasn't married to at the time — Charles leaned in and kissed his future wife on the cheek, holding her shoulder sweetly while doing so. 
The queen consort has frequently talked about her work advocating for those battling osteoporosis, telling the BBC how the disease affected her own mother. "We just watched her shrinking before our eyes," she once said. "It was terrible, because we didn't know anything about it, so at some point we thought 'Well, is she making a great fuss about all this?'" Camilla said. "Occasionally when she moved or you touched her she literally screamed. I remember when a friend of hers came in one day just to give her a hug, her rib broke. It was as bad as that."