Angelina Jolie's Kids Inherited A Hefty Amount Of Money From Her Mom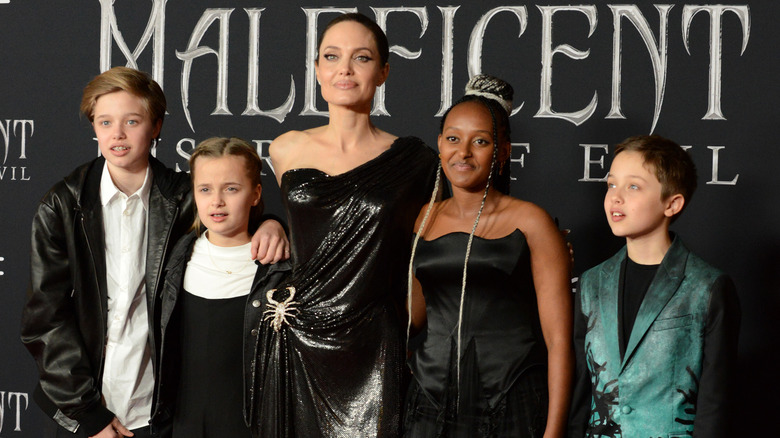 Featureflash Photo Agency/Shutterstock
Three of Brad Pitt and Angelina Jolie's six kids, Maddox Jolie-Pitt, Zahara Jolie-Pitt, and Shiloh Jolie-Pitt, were named beneficiaries in Jolie's mother's will and they ended up with quite a bit of money as a result. After Marcheline Bertrand died in 2007, TMZ obtained court documents that revealed that she set up three separate trust funds — for each of the three Jolie-Pitt kids — with $100,000 in each one. The report indicates that Bertrand's will wasn't updated after Pax, Vivienne, and Knox joined the family, which is why they weren't included. 
Jolie was very close to her mom, who died at the age of 56 following a battle with ovarian cancer. In an essay she wrote for The New York Times, the "Tomb Raider" star opened up about the tragic loss. "I lost my mother in my thirties. When I look back to that time, I can see how much her death changed me. It was not sudden, but so much shifted inside. Losing a mother's love and warm, soft embrace is like having someone rip away a protective blanket," she shared in honor of Mother's Day in 2020. This was one of the reasons that Jolie decided to make important health decisions that could ultimately change the course of her life — and allow her to spend more time with her six kids.
Angelina Jolie has made important decisions about her health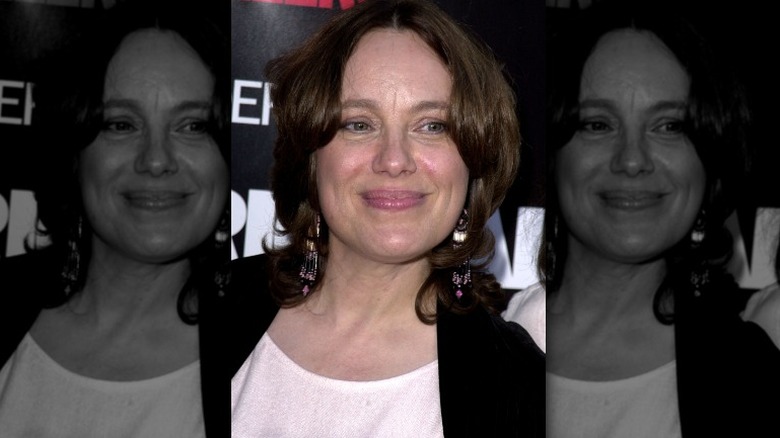 Steve Granitz/Getty Images
Following Marcheline Bertrand's death, Angelina Jolie took her health into her own hands, taking steps to ensure that she could live a long, healthy life after testing positive for a gene that made her more likely to face the same type of cancer that her mom had. In 2015, Jolie underwent a laparoscopic bilateral salpingo-oophorectomy — that is, she had her ovaries and her Fallopian tubes removed — she wrote in an op-ed published in the New York Times. Two years earlier, Jolie revealed that she had undergone an elective mastectomy. These decisions will hopefully allow her to live a longer, healthier life with her family. However, even if something were to happen to her, Jolie's children will be well cared for, financially speaking.
While a trust fund from their maternal grandmother may be a nice nest egg, the whole Jolie-Pitt clan is expected to inherit some serious cash when their parents die. According to Electric Ride on Cars, twins Vivienne Jolie-Pitt and Knox Jolie-Pitt are some of the richest kids in the world and are set to inherit about $148 million. Jolie and Pitt have amassed millions throughout their respective careers, thus ensuring that all six Jolie-Pitt offspring are well taken care of in the future. 
Angelina Jolie and Brad Pitt's kids are likely to be successful on their own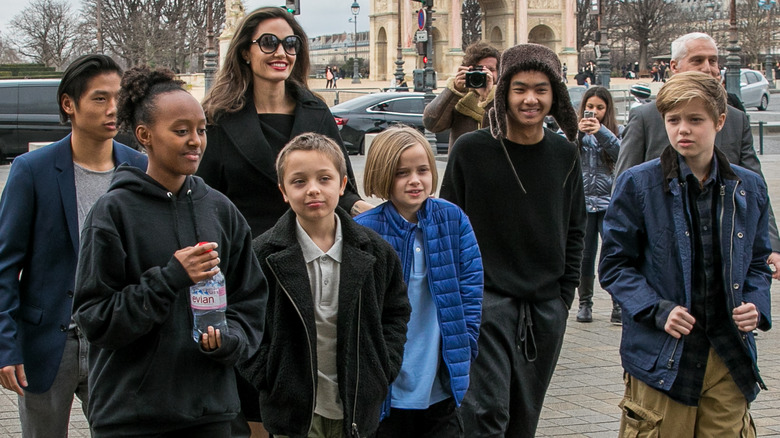 Marc Piasecki/Getty Images
Nepotism aside, Angelina Jolie and Brad Pitt's kids will undoubtedly earn decent livings on their own. In fact, some of them have already found passions that could lead to lucrative careers in the not-so-distant future. One example would be Pax Jolie-Pitt, who may have become an artist using a pseudonym, according to a report from Page Six in January 2023. Sources tell the outlet that Pax is using the name "Embtto" for his "digital and mixed media" creations. Meanwhile, Shiloh Jolie-Pitt has picked up dance as a hobby. In 2022, People magazine shared a video of the then-16-year-old doing a choreographed routine to "Vegas" by Doja Cat. 
Of course, there's always Vivienne Jolie-Pitt's acting career, which hasn't really taken off since her appearance in "Maleficent" but earned her an impressive paycheck of $3000 plus per diem pay, per TMZ. Pretty impressive for a 4-year-old. Either way, we're sure that Pax, Zahara, and Shiloh will put their trust fund money to good use — though they can't touch it until they turn 25.