Hillary Clinton Wishes She Could Ask Queen Elizabeth This Insightful Question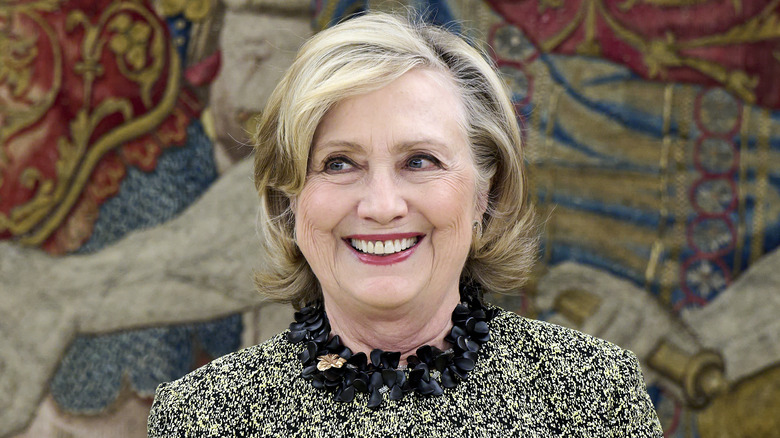 Carlos Alvarez/Getty Images
In the wake of Queen Elizabeth II's death, Hillary Clinton praised the remarkable British monarch for her achievements during an Entertainment Weekly interview for her Apple TV+ original docuseries, "Gutsy." Hosted by Clinton and her daughter, Chelsea, the show premiered in 2022, and is based on the book they co-wrote together in 2019, "The Book of Gutsy Women: Favorite Stories of Courage and Resilience."
"Gutsy" aimed to center the stories of powerful, inspiring women who have made an impact in their respective fields, such as rapper Megan Thee Stallion, reality TV star Kim Kardashian, and feminist activist Gloria Steinem. The queen, if anything, was one gutsy woman. Her life before she was queen was still remarkable, just like she was. Among all the royal family's scandalous romances and political drama, Queen Elizabeth remained collected, a pillar of unity.
It's hard to think of a single question that you'd ask the queen, but Clinton seemed to have one on hand. Although they unfortunately never got the opportunity to interview Queen Elizabeth, Clinton revealed a desire to ask her about her own gutsiness, resilience, and courage.
Did Clinton and the queen ever meet?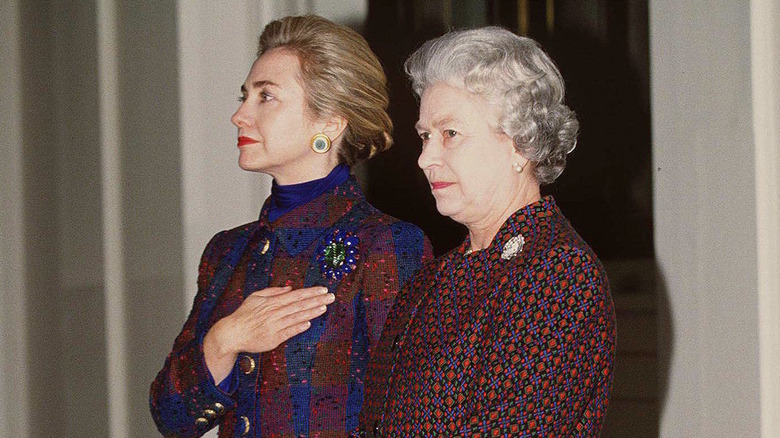 Tim Graham/Getty Images
Clinton met with the queen during her time as First Lady, first in 1995, then again in 2000. She also had the privilege of meeting her when she was the Secretary of State; her fondest memories with Queen Elizabeth II are from this time. "One of the highlights of my time in public service was when I was . . . staying in Buckingham Palace and talking with her about her gardens which were a great love of hers, and actually walking around the gardens with her gardener and going to a white-tie dinner in the grand dining room," she recalled to Variety. Sounds glamorous!
Of the queen, Clinton said that she was a "lively" woman with an inquisitive nature. As a female leader in the public eye, Clinton admired the queen's dedication to her duties, as well as her ability to remain calm under pressure. The former secretary of state told Entertainment Weekly: "I would say to her: Where did you find the continuing resilience, the courage, the gutsiness to do your duty every day?" 
The stories behind 'Gutsy'
The Clinton women have had the opportunity to speak with some powerful women for their show. Though Hillary was unable to ask the queen about her courage and resilience, we thankfully were able to hear other women share their perspectives.
In an interview with Variety, Clinton stressed the importance of female role models. "When I was a little girl, there really weren't a lot of women role models. Maybe Joan of Arc, Queen Elizabeth, but not very many. I had to seek that out." Luckily, she and her daughter were able to provide a platform for gutsy women to share their stories and inspire girls everywhere. The trailer shows women from all walks of life sharing their stories and what it means to be "gutsy."
While Queen Elizabeth was certainly a huge inspiration, the Clintons' answers were a lot more mundane when it came to their female role models. Chelsea said that she felt empowered by the female mayor of Little Rock, AR, her hometown, who showed her that it was possible for women to take on leadership roles. As for Hillary, she found strength from her mother, Dorothy Rodham: "I admired how she lived a very difficult life and came through it with resilience and gutsy-ness," she told The Sydney Herald Times.