Signs Brad Pitt And Angelina Jolie's Marriage Wasn't Going To Last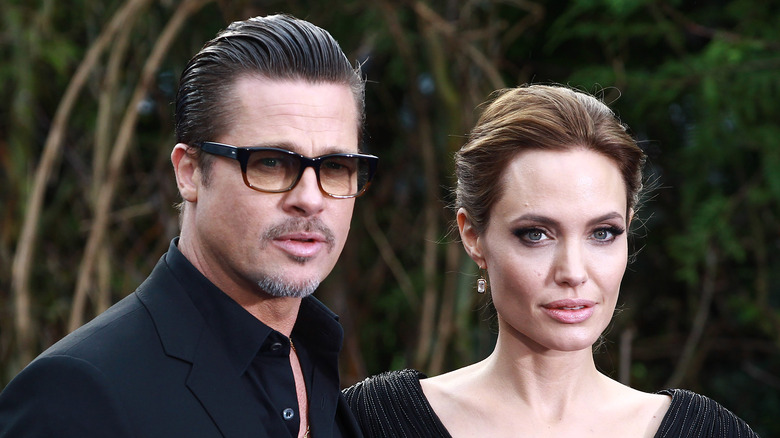 Fred Duval/Getty Images
Brad Pitt and Angelina Jolie had one of the most famous Hollywood relationships of all time. The pair were two of the biggest stars when they started dating, and eventually married. However, there were signs throughout their relationship that hinted that their marriage may not work. The worked together on the set of "Mr. & Mrs. Smith" in 2004, and after kicking off a friendship, they were later rumored to be romantically involved in 2005.
In 2012, Pitt and Jolie finally got engaged, and walked down the aisle in France just two years later. However, their marriage was short-lived as just two years later in 2016, Jolie shockingly filed for divorce from Pitt. The couple's split got messy with battles about their joint business ventures, custody of their children, and rumors that Pitt had allegedly gotten violent during a family flight.
Looking back at Brangelina's seemingly fairytale romance, there does appear to be signs that the relationship may have been doomed from the start, especially since Pitt was a married man at the time of their initial meeting.
Brad Pitt was married to Jennifer Aniston when he met Angelina Jolie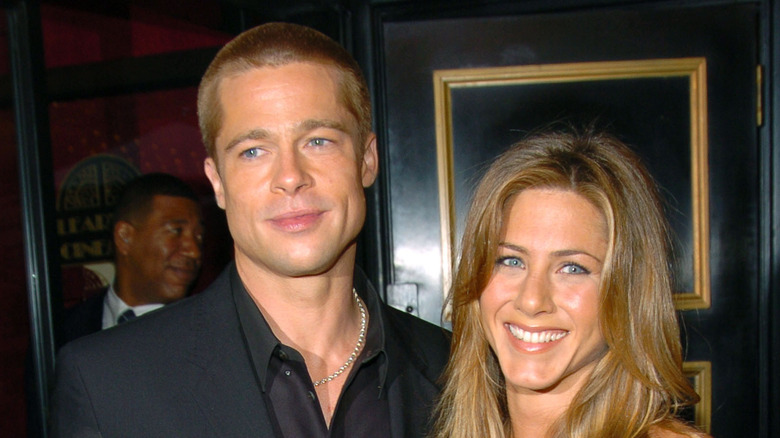 Kmazur/Getty Images
When Brad Pitt first met Angelina Jolie on the set of their film "Mr. and Mrs. Smith," he was married to "Friends" star Jennifer Aniston. Pitt and Aniston had become one of the most beloved celebrity couples in Hollywood, and fans couldn't get enough of the duo. However, upon working with Angelina Jolie, rumors began to fly that the co-stars were allegedly having an affair. After months of speculation about a Brangelina affair Pitt and Aniston announced their split, feeding the infidelity rumors. However, in their joint statement, Pitt and Aniston claimed that the media speculation had nothing to do with their divorce. "For those who follow these sorts of things, we would like to explain that our separation is not the result of any of the speculation reported by the tabloid media. This decision is the result of much thoughtful consideration," the statement read.
From there, Pitt and Jolie's romance seemed to move very quickly. However, Pitt's rep continued to deny that he and Jolie had a romance during his marriage to Aniston. In 2007, Pitt defended himself against the rumors during an interview on "Larry King Live," claiming that his relationship with Jolie "came after" his split from Aniston, per New Zealand Herald.
The drama that started Jolie and Pitt's relationship may have been a red flag right off the bat. However, there were other signs that the couple were on the rocks as well.
Rumors about Brad Pitt's drug use surfaced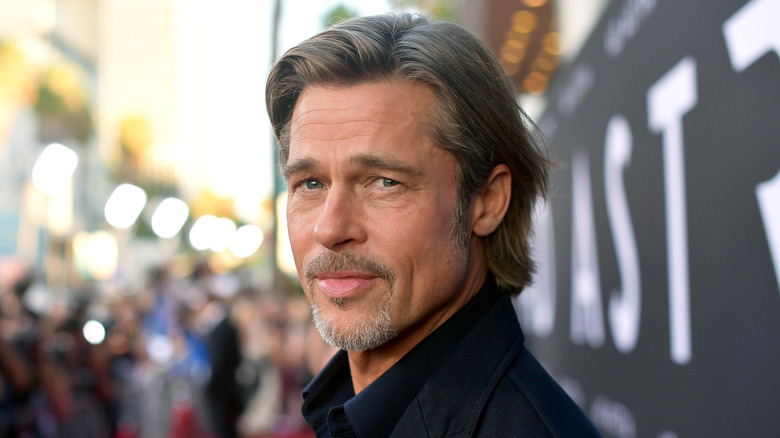 Matt Winkelmeyer/Getty Images
In 2009, author Ian Halperin released a book about Angelina Jolie and Brad Pitt, revealing that the pair had many issues in their relationship, per The New York Post. One issue touched on in the tell-all book was rumors that Pitt was using marijuana too much for Jolie's liking. A source told Halperin at the time that Pitt's alleged drug use would likely be a reason behind the couple's eventual split.
In the years that followed, there were more media stories about Pitt's love for drugs and alcohol, and he admitted publicly that he had a problem. "Truthfully I could drink a Russian under the table with his own vodka. I was a professional. I was good," he told GQ in 2017, adding that he always wanted to get high with the likes of Willie Nelson or Snoop Dogg. However, following his divorce from Jolie and the news that his alleged drunken behavior on a flight with his family led to Jolie's decision to divorce, he has gotten sober and has even attended AA meetings.
Pitt later credited actor Bradley Cooper for helping him get sober, which eventually helped him become more emotionally evolved. "I think that's part of the human challenge: You either deny [your feelings] all of your life or you answer them and evolve," he said.
If you or anyone you know needs help with addiction issues, help is available. Visit the Substance Abuse and Mental Health Services Administration website or contact SAMHSA's National Helpline at 1-800-662-HELP (4357).
Angelina Jolie was rumored to share a deep connection with British actor Jack O'Connell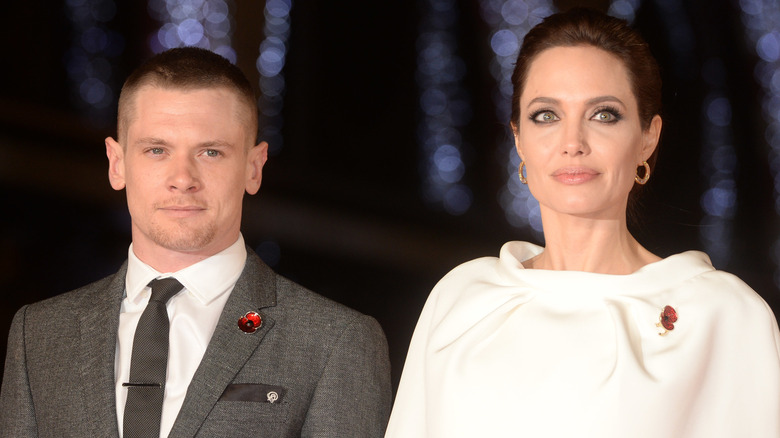 Rune Hellestad - Corbis/Getty Images
In 2014, Brad Pitt and Angelina Jolie made headlines again when Jolie began working with young actor Jack O'Connell on the film "Unbroken," which she directed. The pair appeared to share a connection, which the tabloids picked up on and began reporting about. "Their attraction is palpable," a source told In Touch Weekly at the time. "She's physically and emotionally drawn to Jack. Directing and bonding with him has felt dangerous, like he's reawakened her wild, out-of-control side."
Meanwhile, Pitt was said to be jealous of Jolie's relationship with the British actor. "He's super jealous," a source said of Pitt. "Brad confronted Angie, but Angie told him he was overreacting and pretty much blew it off. That really stung for Brad," the insider continued. "Brad is freaked out for the first time in their relationship. He's facing his fear that Angie could dump him."
Eventually, the rumors of Jolie's connection with O'Connell were debunked, but the rumors of infidelity in the couple's relationship didn't go away. Instead, Pitt was accused of being unfaithful to Jolie with two different leading ladies.
Brad Pitt was rumored to have feelings for two of his leading ladies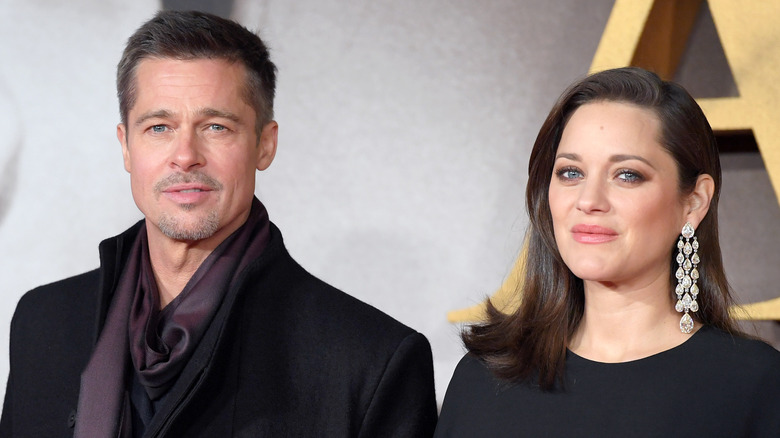 Karwai Tang/Getty Images
In 2016, rumors that Brad Pitt was falling for his co-star Marion Cotillard began to surface. To add fuel to the fire, Page Six reported that Angelina Jolie was worried about her husband's possible cheating so she allegedly hired a private investigator to get to the bottom of the speculation. "She hired a private eye because she felt that he was fooling around with her on the set, and it turns out, he was. And that was the final straw," a source told the outlet at the time. "He's in the throes of some insane midlife crisis, and Angie is fed up," the insider added. Shortly after rumors of an affair began to circulate, Cotillard took to Instagram to deny the rumors.
Meanwhile, the following year Pitt was back in the news again. Although he and Jolie were separated at the time, they were not divorced and rumors of the actor starting up a fling with his "The Lost City of Z" co-star Sienna Miller made headlines. When asked about the alleged romance, Miller shrugged off the rumors. "I'm not going to even dignify it with a response," she told the publication at a screening of her latest film. "It's predictable and silly," she told Page Six.
Brad Pitt and Angelina Jolie struggled to work together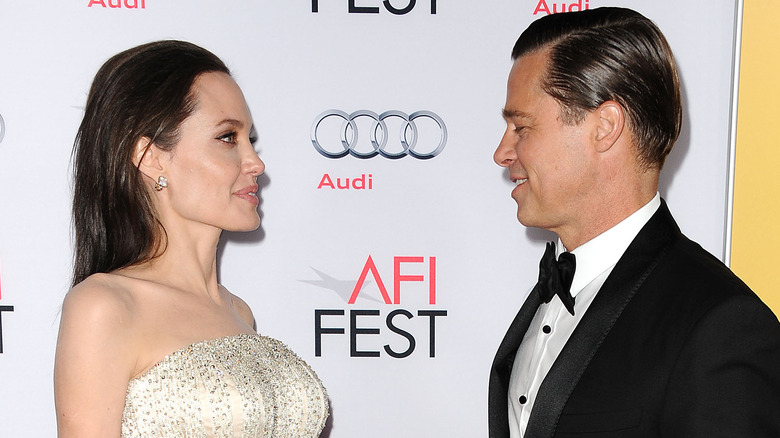 Jason Laveris/Getty Images
In 2015, Angelina Jolie and Brad Pitt worked together on the film "By The Sea." Jolie directed the movie, and admitted that it wasn't always easy to work with her husband on the project. "[W]e were going to try to be as open and honest and emotive as possible and give to each other as much as we could and, succeed or fail, we would just lay it bare," Jolie told The Telegraph about a pact they made. "There were days during filming last year when we were really worried and it was hard," she said.
Jolie added that she and Pitt considered the filming experience as a honeymoon of sorts following their 2014 wedding ceremony. The actor added that she believed the experience was good for the couple because they learned to roll with the punches and "stick together." However, it seems that the filming process was much harder than the couple realized. Jolie admitted that she and Pitt had fights and drove each other "mad" at times. Sadly for the couple, the movie was not well-reviewed by many.
Despite Pitt and Jolie's time in the spotlight as one of Hollywood's biggest couples, the pair's love story didn't end well. After filing for divorce, their split got messier as they battled over assets and time with their children. However, fans that looked closely at the hints and red flags in the couple's relationship likely weren't shocked by their split at all.