Tom Hardy's Life Changed After Meeting Wife Charlotte Riley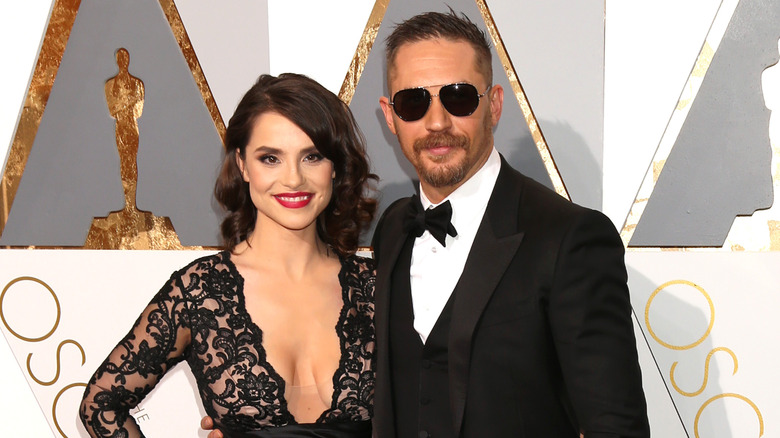 Kathy Hutchins/Shutterstock
True and everlasting love in Hollywood is quite rare, considering the long list of divorced couples that have once walked the red carpet together. But a love like that is undoubtedly possible — and once found, it can be truly life-changing. As far as life-changing experiences go, British actor Tom Hardy had his life turned around when he got together with his wife, fellow actor Charlotte Riley, who seemingly saved him from heartbreak and succumbing to his addictions.
Prior to meeting Riley, Hardy didn't have the best of luck when it came to relationships. He was previously married to Sarah Ward from 1999 to 2004. The whirlwind romance — the couple got married after knowing each other for just three weeks — only lasted for five years. While little is known about their marriage, it was said that the "Venom" star's alcohol and cocaine addiction prompted their divorce.
Riley couldn't have come at a better time. The couple first met while filming the television series "Wuthering Heights" in 2009. Hardy was a recovering addict at the time, having previously checked himself into rehab. In an interview with The Daily Mail, Riley noted that their love story didn't quite start as romantically as one would hope. "It wasn't love at first cup . . . I was a bit unnerved when he suddenly switched into the persona of Charles Bronson . . . After a few cups of tea I realized it was something he did mainly to make people laugh," she shared.
Fatherhood also changed Tom's life for the better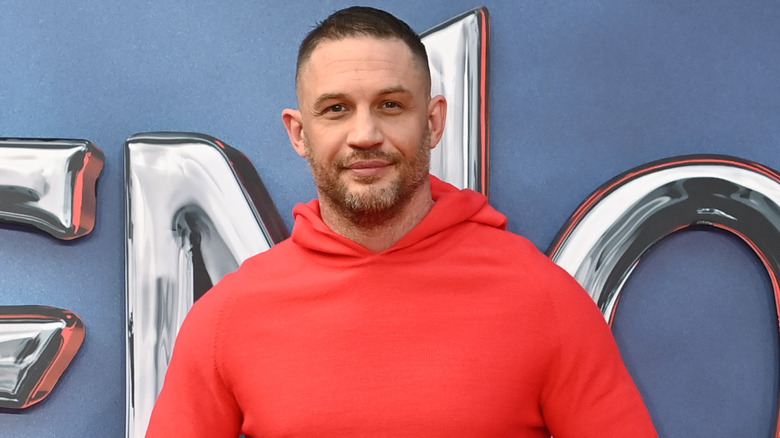 Dave J Hogan/Getty Images
Charlotte Riley and Tom Hardy got engaged in 2010. And after a long engagement, they tied the knot in 2014. In addition to the support of his wife, Hardy mentioned that being a father helped him keep his sobriety as undoubtedly, fatherhood proved to be a powerful force in his life. The actor has three children; his eldest, Louis Thomas Hardy, from his ex-partner Rachael Speed, and two kids from Riley — whose identities have never been made public by their parents. The couple is among celebrities who have kids nobody knows about. 
Despite this, the actor has been very vocal about his parenthood. "I wouldn't say it saved my life, but it definitely changed my life . . . There was no longer very much time for me to think about myself anymore . . . because there is somebody now on the planet who really needs me to get my act together and focus on something that is more important than me," Hardy told The Daily Mail. 
Meanwhile, in another interview with Esquire UK, the "Inception" star expressed he began taking a more active role in parenting because of the COVID-19 pandemic. The lockdown offered time for Hardy to reflect on life. The actor noted that as he gets older, he has a clearer understanding of what's important, such as one's family and the simple joys in life; which for him are jiu-jitsu and sourdough.
Not just lucky in love, but also lucky in life!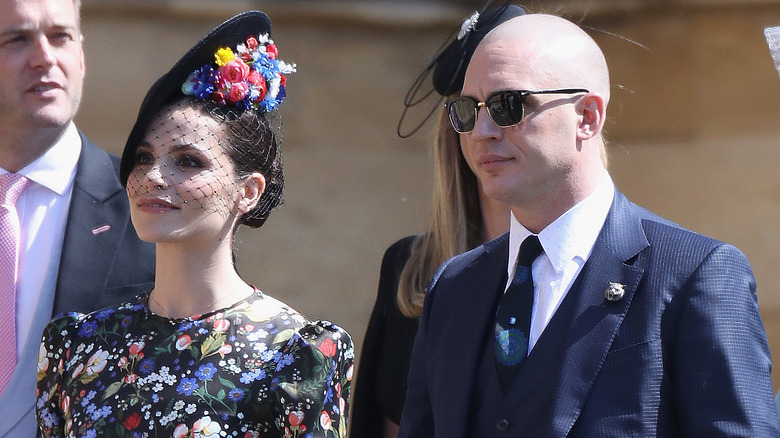 Chris Jackson/Getty Images
Hollywood doesn't always seem like the best birthing ground for long-lasting relationships, and some celebrities even choose to marry normal people. Tom Hardy and Charlotte Riley are lucky enough to have found each other. But they're not just lucky in love, the couple is fortunate enough to have thriving careers as well. As an actor, Hardy is best known for his roles as Bane in "The Dark Knight Rises," and as Venom in the Marvel Cinematic Universe. Other than that, Hardy has also starred in "Warrior," "The Revenant," and the titular character of Mad Max in "Mad Max: Fury Road."
With more than 20 years of acting experience under his belt, the actor, whose career began in 2001, once said there are only two types of acting. "There's convincing and not convincing. That's it, right? And so, if you are going to convince people, then put it in the real world," he explained to Esquire.
On the other hand, Riley is also an actor in her own right, appearing in movies such as "Edge of Tomorrow," "In the Heart of the Sea," and "London Has Fallen." The Durham native also boasts a degree from the London Academy of Music and Dramatic Art. Aside from the film "Wuthering Heights," Hardy and Riley have also been together in other projects such as the 2009 mini-series "The Take" and the crime drama series "Peaky Blinders."