Why HGTV's Christina Hall Paused Posting Her Son Online
Everyone on social media seems to have an opinion, especially when it comes to parenting styles. Some offer advice from a well-intentioned place, sharing their own experiences, while others may offer judgment despite having never been a parent before. And then there's every comment from people whose words fall somewhere in between that mix. Regardless, it can be exhausting sorting through it all and even take a toll on your emotional health.
HGTV star Christina Hall is all too familiar with unwarranted advice and endless comments critiquing her parenting style on her social media pages. Because of this, she decided to pause posting her youngest son Hudson online altogether. "Instagram was being used as a tool against me to judge the kind of mom I was and I was sick of it," she wrote on Instagram Stories last November, according to E! News. "Every photo I posted of Hudson on my story or main page was being screenshot and picked apart. So that is why I am choosing not to post Hudson." 
But what specifically happened for Hall to decide not to post her son online anymore? Read on to find out more.
Misinformation and a custody battle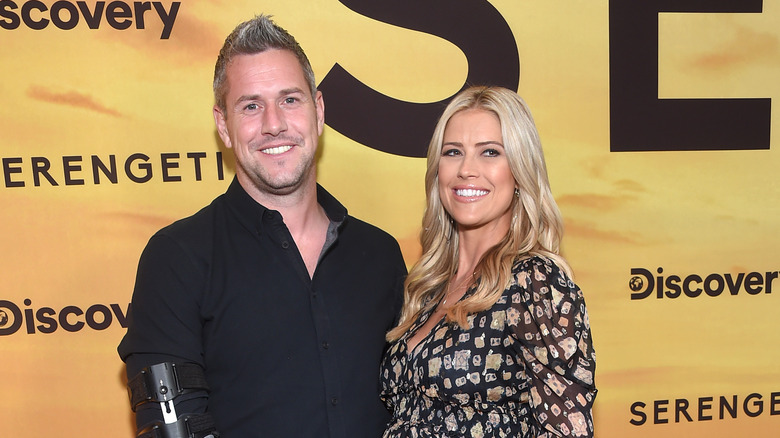 DFree/Shutterstock
Christina Hall's announcement to stop posting about her son online came after followers assumed that a judge ordered her not to post photos of Hudson due to a custody battle. Hall addressed this misinformation on her stories, according to E! News. "I was NOT told I could no longer post Hudson ... I was NOT told anything by a judge because I was never in front of a judge," she wrote. "I CHOSE and choose to not post Hudson because I was exhausted over Instagram being used as a tool against me. This has nothing to do with ads, people need to wrap their heads around the fact that none of this actually has to do with advertisements."
Last year, Hall and her ex-husband Ant Anstead, who wasn't the same since their divorce, were in a custody battle. Anstead claimed that Hall was exploiting Hudson by using him in photos for paid promotions and advertisements. He explained in a statement that he just wanted his child to grow up in a safe, healthy, and natural environment and didn't think Hall was providing that. Hall obviously disagreed with his claim that she had exploited her son and that the environment wasn't conducive.
Back online
Since Christina Hall took to Instagram to explain why she wouldn't be posting her son, E! News heard from an anonymous source. "Ant never asked Christina to stop posting Hudson on her social media," they said. "He only asked her to stop posting Hudson when it was an endorsement for a paid product, like child vitamins that Hudson cannot take." Following this time, Hall posted no more photos of Hudson.
In December 2022, their custody battle over Hudson was settled. The two would have joint custody of all of their children.
Since then, Hudson hasn't appeared in any posts featuring just him, but he is present in the family photos Hall has posted since her Instagram story last year. The most recent one is from May 2023, as of this writing, where she features herself and all three of her children and, in the caption, describes an aspect of what she calls "mom life."