George Clooney And Matt Damon Are BFF Goals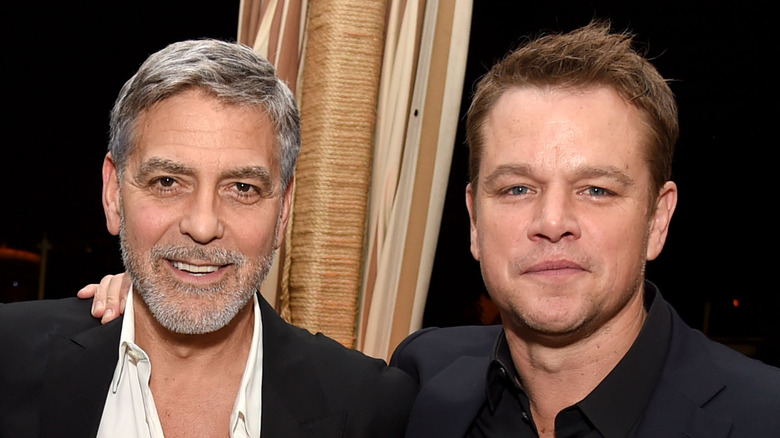 Kevin Winter/Getty Images
Hollywood BFFs make us believe in friendships. You'd think in a world filled with glitz and glamor, celebrities might struggle to have meaningful friendships with others in the business, but star friendship duos like Kate Hudson and Liv Tyler, Nicole Kidman and Naomi Watts, and Jada Pinkett Smith and Queen Latifah have us believing otherwise. 
Yet another duo topping the BFF goals list is George Clooney and Matt Damon. Often prone to pranking each other on set, the two actors have had a long-standing friendship that goes beyond awards and celebrity status. Damon, in an interview with The Hollywood Reporter, shared that the first movie he ever worked on with Clooney was "Ocean's Eleven" in 2001, but the pair met in 1999. "When I met him, he was just coming off 'ER'; he was known as this massive TV star. People didn't understand how talented he was; they just thought he was this really handsome, matinee-idol TV star," shared Damon. 
Since then, their relationship has traversed the length of more jobs together, marriages, and children. In fact, Clooney and his wife Amal (who have twins Ella and Alexander together) have been spotted hanging out with Damon and his wife Luciana Barroso (who have four daughters — Alexia, Isabella, Gia, and Stella — together) on a number of occasions. 
Matt Damon says George Clooney has 'a huge heart'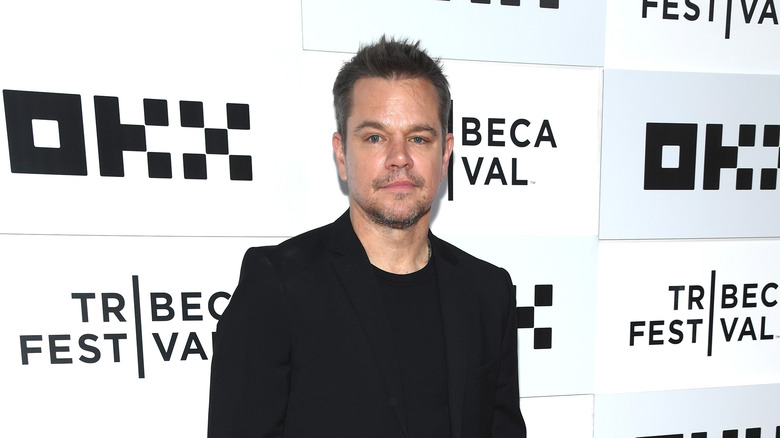 Gary Gershoff/Getty Images
If you were to listen to Matt Damon's speech while honoring his BFF at the Kennedy Center Honors in 2022, you might think the friends were only about playing practical jokes on one another. But there's a lot of depth to their relationship. 
Damon told The Hollywood Reporter while discussing his movie "Suburbicon" (which was directed by Clooney), that his friend has grown since he first met him but in all the right ways. "Sure, he's changed. He's evolved, but he's the same in a lot of critical ways. In all the important ways, he's the same; he's got a huge heart, he's incredibly loyal, and he's really, really smart." 
Damon's speech at the Kennedy Center Honors may have started off light-hearted but "The Martian" star soon brought it together to share some heartfelt words directed at his dear pal. "George, I would never call you the last true movie star because that would diminish you. You are one of the most talented people I have ever met across multiple disciplines ... It has been a privilege to work with you on the hits and the misses and it's a privilege to call you my friend," he said.  
George Clooney thinks Matt Damon is the greatest actor he's worked with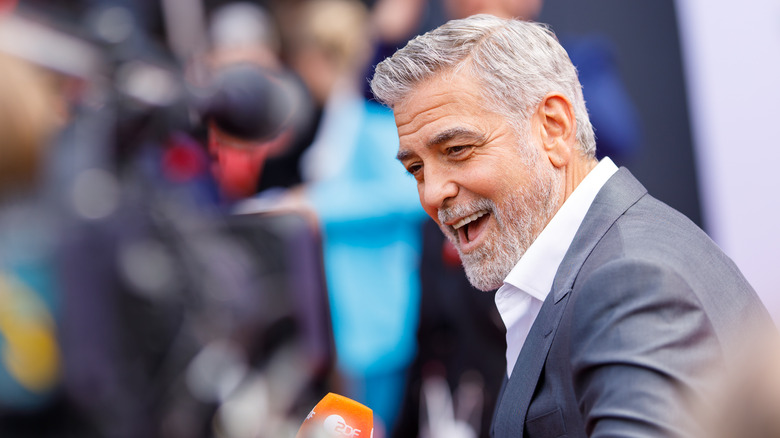 Joshua Sammer/Getty Images
"Suburbicon" (2017) and "Ocean's Eleven" (2001) aren't the only movies Matt Damon and George Clooney have worked on together. Perhaps it's a testament to their friendship that the two have starred in more than five movies together, including "The Monuments Men" (2014), "Ocean's Thirteen" (2007), and "Syriana" (2005).
For Clooney, working with his friend has been an absolutely memorable experience. While promoting "Suburbicon" at the Venice Film Festival, the "Up in the Air" star told Entertainment Tonight, "Matt's the greatest actor I've ever worked with. In fact, I don't know a better actor I've seen in my life. I'm trying to think if there's a better actor. Nope, there's not a better actor. No, there is not."
In a world where it's hard to tell for sure if your BFF is toxic, Damon and Clooney seem to have found the secret to lasting bromance. Working together often becomes a point of contention in most relationships but not for these two. Damon shared that he goes to his friend for notes whenever he's working on a script. "He's somebody whose opinion I really value," the star told The Hollywood Reporter. "If I'm working on a script, I'm sending it to him for notes; if I'm doing a movie I'm showing him a cut and asking for suggestions. In baseball, they would call it a five-tool athlete — just somebody who can do everything."