Are Elton John And David Furnish Still Married? What We Know About Their Relationship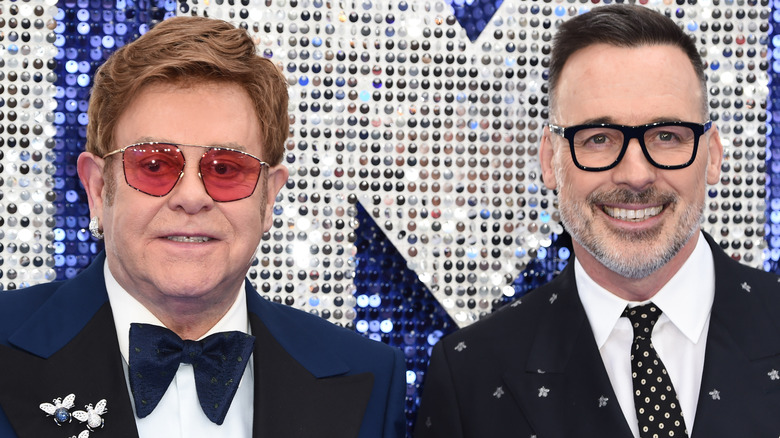 Featureflash Photo Agency/Shutterstock
The love life of singer Elton John has long been under a microscope. In 1976, he came out as bisexual in a Rolling Stone cover story. Despite being attracted to both genders, he married sound technician Renate Blauel on Valentine's Day, 1984. Unfortunately, by 1988, the two were divorced. A few years later, he met former advertising exec David Furnish, who he would go on to spend the next three decades with, despite a 16-year age difference.
In 1993, Furnish accompanied a friend to a dinner party hosted by John. At the singer's mansion, the two immediately became inseparable. After leaving his corporate job, Furnish began a flourishing career in filmmaking, including a 1997 documentary on his partner titled "Elton John: Tantrums & Tiaras." With a career of his own in entertainment, Furnish and John emerged as an unlikely power couple, pushing for gay rights while solidifying their own union and building a family together. With so much time invested, their inspiring marriage is still going strong.
Elton John and David Furnish have technically wed twice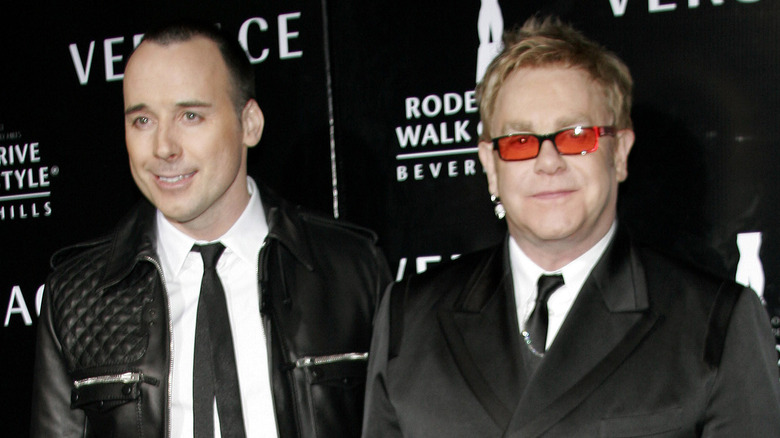 Tinseltown/Shutterstock
When the couple met in the early '90s, same-sex marriage was still illegal in the United Kingdom. That did not stop them from openly expressing their love for one another. In March 2005, the "Rocketman" finally proposed to his longtime lover. Despite same-sex weddings not being legal in the U.K., civil partnerships for gay couples had newly been implemented. Then, on December 21, 2005, Elton John and documentarian David Furnish became the first gay couple in the U.K. to legalize their relationship with a civil partnership, though it wasn't the last time they'd walk down the aisle.
By 2014, the U.K. justice system had ruled in favor of same-sex marriage. John and Furnish wasted no time saying "I do" once more in a December 21, 2014 ceremony. That star-studded service was attended by celebrity friends, including Ed Sheeran and David and Victoria Beckham. Shortly after he wed Furnish, John shared that he and his hubby would indeed commemorate the new pro-LGBTQIA+ laws by obtaining their marriage certificate.
"For this legislation to come through is joyous, and we should celebrate it. We shouldn't just say, 'Oh, well, we have a civil partnership. We're not going to bother to get married.' We will get married," he said in a statement to BBC.
The couple welcomed two children via surrogate
Elton John and David Furnish welcomed two children together, spreading their love for one another to their adored little ones. Their first son, Zachary, was born via surrogate on December 25, 2010. Three years later, on January 11, 2013, the couple utilized the same surrogate to give birth to their second son, Elijah. Though her identity is unknown, John told People that they remained close to their surrogate. "She is a wonderful, kind, and loving woman," John revealed, calling her a "part of our family."
Even though they have 30 years of love between them, Furnish and John are entering a new chapter in their relationship. John has officially retired from touring, playing his final live show at the Tele2 Arena in Stockholm, Sweden, on July 8, 2023. "Finally off the road and into the sunset. So excited for the next chapter together," Furnish wrote in the caption of an Instagram video showing John waving farewell to his fans on stage. With some free time on his hands, John is turning his focus to raising his children alongside Furnish in marital bliss.