The HGTV Show That Was Cancelled Before It Even Aired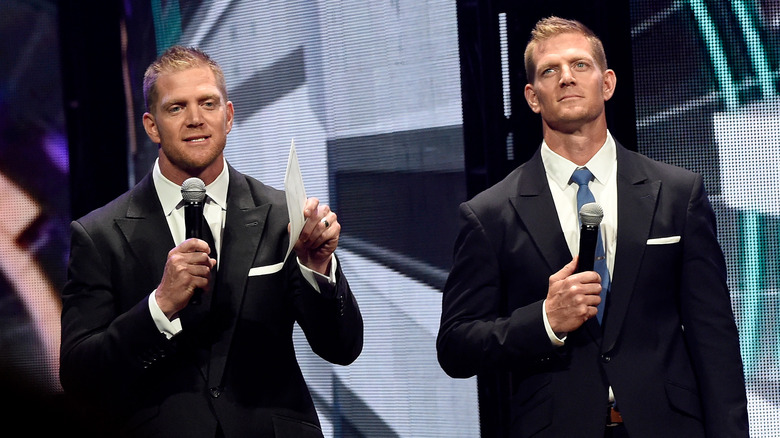 Rick Diamond/Getty Images
If you're an HGTV fanatic, you've probably binged every episode of "Property Brothers," looked into the details of Joanna Gaines' relationship with Chip Gaines, or know everything there is to know about flipping houses. But did you know about the HGTV show that was canceled before it even aired?
The Benham twins, David and Jason, had hopes of becoming the next Property Brothers, who are among the richest HGTV stars — before inflammatory political comments made it all come tumbling down. David and Jason Benham, the would-be hosts of "Flip It Forward," which was slated to premiere in 2014, came under fire for homophobic and discriminatory statements made in 2012.
This wasn't exactly out of character for them — they are the sons of Flip Benham, an evangelical Christian minister and prominent anti-abortion, anti-gay, and anti-divorce activist. The brothers themselves are devout members of a nondenominational Christian church and are outspoken about their political beliefs. So, how did it all go down?
The rise and fall of Flip it Forward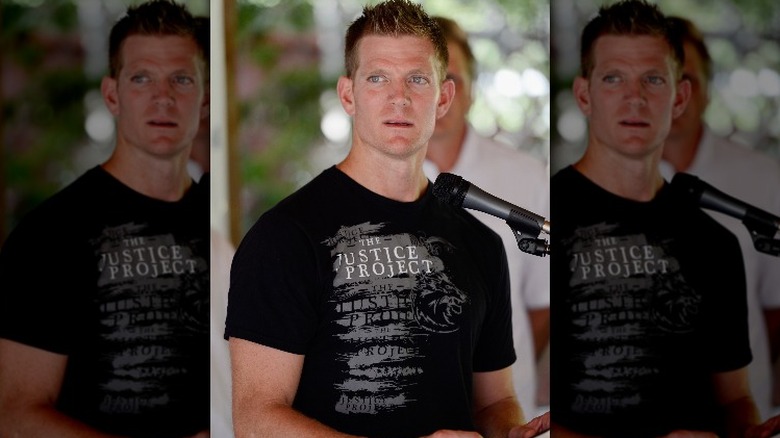 Kevork Djansezian/Getty Images
The Benhams rose to fame through their entrepreneurial success in real estate. Their show, "Flip it Forward," would have featured the brothers renovating fixer-uppers into dream homes for different families. According to an HGTV press release, their selling point was the good-natured competition between the twins they'd include in each episode (via TV by the Numbers). David Benham, however, made homophobic comments at a prayer rally he organized in Charlotte, NC, the night before the Democratic National Convention in 2012. According to Right Wing Watch, He claimed that the gay agenda was spreading Satanic ideologies throughout American school systems and ruining the nation.
Just because Jason Benham's name isn't attached to that quote doesn't mean he gets a pass. Though Jason was not reported to have made comments at that particular rally, he wholeheartedly supports and agrees with his brother. He views him and his brother as martyrs, once saying, "When God gives you a platform, it's not just to stand on, but sometimes to burn on," per The Guardian. HGTV was seemingly willing to look the other way so long as the twins promised to keep quiet about their political and religious views. However, the brothers refused, deciding to instead embark on a career of capitalizing off of their failed pilot.
Where are they now?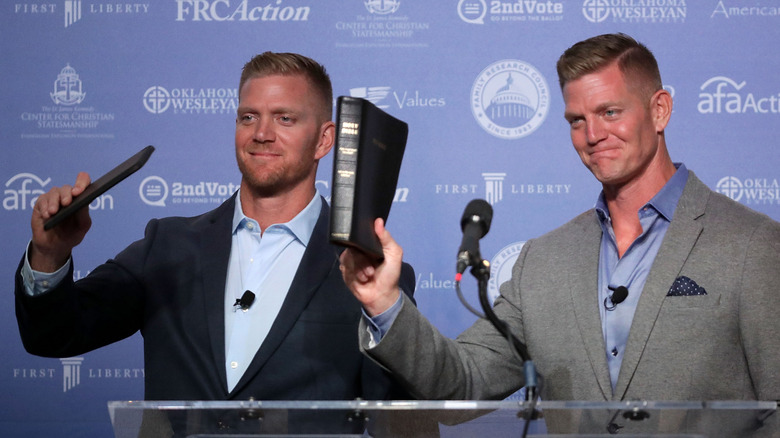 Chip Somodevilla/Getty Images
Though the Benhams lost their show, they remain influential public figures. The cancellation shot them to popularity within right-wing, evangelical circles. Their HGTV failure actually made them more money, though whether or not they lost more, in the long run, remains to be seen. Since real estate could no longer be their brand, they pivoted to what got them fired in the first place: right-wing politics.
About a year after the cancellation, the twins co-wrote a memoir called "Whatever the Cost: Facing Your Fears, Dying to Your Dreams, and Living Powerfully," which covers the details of their high-profile HGTV show cancellation and the homophobic comments that fueled it. They also speak at Christian events, like Life Surge, a conference combining faith and finance. There, they joined the ranks of other popular prosperity gospel preachers and speakers, like many other celebrities, public figures, and televangelists. So, while you might not see the Benham twins on your TV screen any time soon, one thing's for sure: they've still found a way to be famous.