Gone With The Wind Actors Who Met Tragic Fates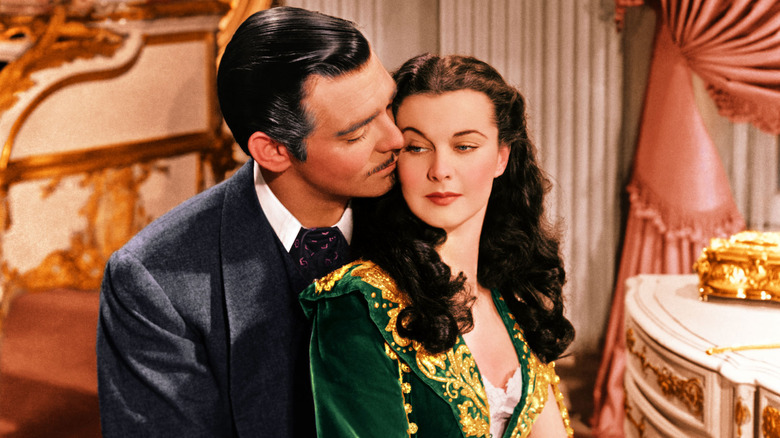 Silver Screen Collection/Getty Images
The following article contains references to suicide.
In 1936, "Gone with the Wind," a groundbreaking novel that would make an everlasting impression on the literary world, was published. Written by Margaret Mitchell, the dramatic story set during in Georgia the Civil War follows Southern belle Scarlett O'Hara as she navigates her torrid love affairs with Rhett Butler and Ashley Wilkes. Mitchell's meticulous attention to accurate historical accounts and in-depth character arcs made for a 1,000-plus page-turner that won a Pulitzer Prize and caught the attention of Hollywood producers.
Mitchell wanted little to do with the 1939 film adaptation, which was a lengthy four-hour epic; nevertheless, it went on to be widely considered one of the greatest films in cinematic history. However, "Gone with the Wind" is also largely a product of its time and has since been pulled from several streaming catalogs due to its racial insensitivity. Still, the star-studded cast gave the performances of their lives, and many landed Oscar wins and nominations. Unfortunately, though, a significant number of these stars would go on to meet tragic ends following the success of "Gone with the Wind." 
Clark Gable died from a heart attack at 59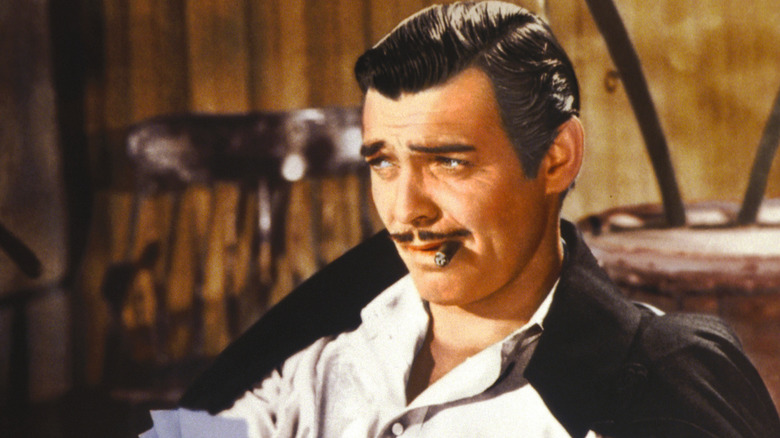 Silver Screen Collection/Getty Images
The tall, dark, and scandalous character of Rhett Butler was played by none other than Clark Gable, aka The King of Hollywood. He was already one of old Hollywood's leading men when he appeared in "Gone with the Wind," with his first film credit in 1923. Although he starred in films like "It Happened One Night" and "Mutiny on the Bounty," his portrayal as Rhett Butler, Scarlett O'Hara's husband, is Gable's most recognized role, partly because he delivered the most devastating breakup line in cinematic history: "Frankly my dear, I don't give a damn."
At age 59, Gable's health had notably declined after suffering a heart attack some years earlier; however, he still went on to deliver what was widely perceived as his best performance. Gable starred in "The Misfits," which was written by Marilyn Monroe's husband, Arthur Miller. Monroe starred alongside Gable in what was to be both her and Gable's last film. To play the character of Gay Langland, Gable dropped 35 pounds with the help of amphetamines and it was reported that he was adamant about performing many of his own stunts for the film, which were shot in the desert, likely putting significant strain on the actor's heart.
Two days before the film wrapped, Gable suffered a heart attack that landed him in the hospital. Eleven days later, while recovering in his hospital bed on November 17, 1960, he suffered his third and final heart attack, which ended his life.
George Reeves died under mysterious circumstances at 45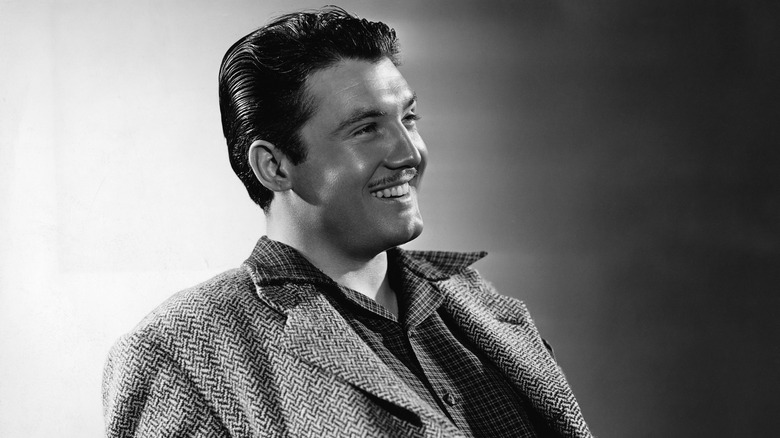 John Springer Collection/Getty Images
One of Scarlett O'Hara's suitors in "Gone With the Wind," Stuart Tarleton, was played by George Reeves. He became recognized years later for popularizing the comic book superhero, Superman, on the screen with 1951's "Superman and the Mole-Men," and the subsequent television series, "Adventures of Superman," from 1952 until 1958. Not long after the show wrapped, Reeves was discovered dead in his home at age 45 from an apparent suicide.
However, there were aspects of the actor's death on June 16, 1959, that didn't make sense. While some speculated that Reeves' disdain for his Superman role and meager salary had made him deeply unhappy, others, including his mother, had differing opinions. "It's not like my George to do a thing like that," she had told the Times Daily.
Reeves and Leonore Lemmon were due to be married just a few days before the actor's death, but their relationship was on the rocks. After returning home from a night of drinking, Reeves and Lemmon had a few friends over. As she told the police, he'd wanted their guests to leave but ultimately went upstairs. "He's going upstairs to shoot himself," Lemmon had said. They reportedly heard sounds from the bedroom and she continued, "See, he's opening the drawer to get the gun." A gunshot sounded and Lemmon declared, "See there, I told you; he's shot himself." Following her recounting of the events, many deemed it suspicious that she and the guests had waited close to an hour before they called the police.
Leslie Howard was in a fatal plane crash at 50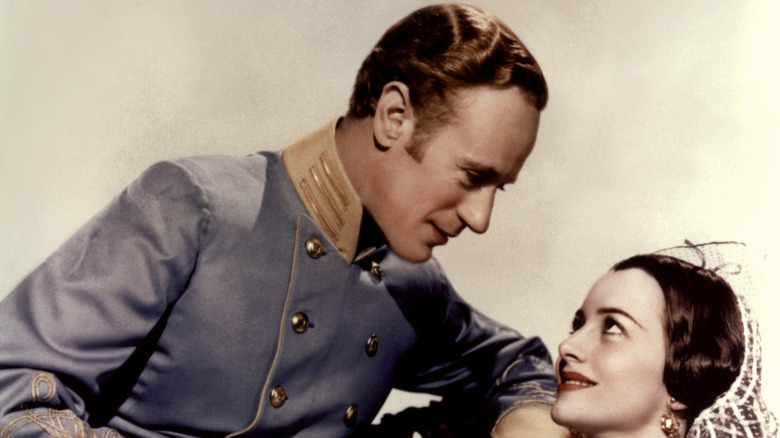 Sunset Boulevard/Getty Images
Tall, blonde, and handsome, Leslie Howard had been the perfect choice to play Ashley Wilkes, Scarlett O'Hara's first love, in "Gone with the Wind." It became one of his most recognized roles, but as a Londoner of Hungarian Jewish descent, Howard felt he had more to offer and returned to England in 1940. In an attempt to aid in Britain's World War II fight, he worked with the Ministry of Information and continued his career in film by directing, producing, and starring in several war films.
In April 1943, Howard traveled to Lisbon, Portugal to deliver a series of lectures on his work; however, some believed he was actually going to aid in the Allied effort with anti-fascist work. Before he left, Howard reportedly told his wife that he had "a queer feeling about this whole trip, but — what the hell! — you know that I'm a fatalist anyway." On his trip back, on June 1, 1943, Howard was accompanied by Tyrrel Shervington, Lisbon's Shell Oil director, and Alfred Chenhalls, Howard's manager who coincidentally resembled Winston Churchill. 
Unfortunately, his eerie premonition about his trip had merit, as their plane was gunned down by German fighter planes and crashed into the ocean. There are countless theories about the incident, but some — including Churchill himself — believed the Nazis had intended to assassinate the prime minister and it was just a tragic case of mistaken identity. "The regular commercial aircraft was about to start from the Lisbon airfield when a thickset man smoking a cigar walked up and was thought to be a passenger on it," Churchill was quoted as saying in 1950. "The German agents therefore signalled that I was on board."
Vivien Leigh died from tuberculosis at 53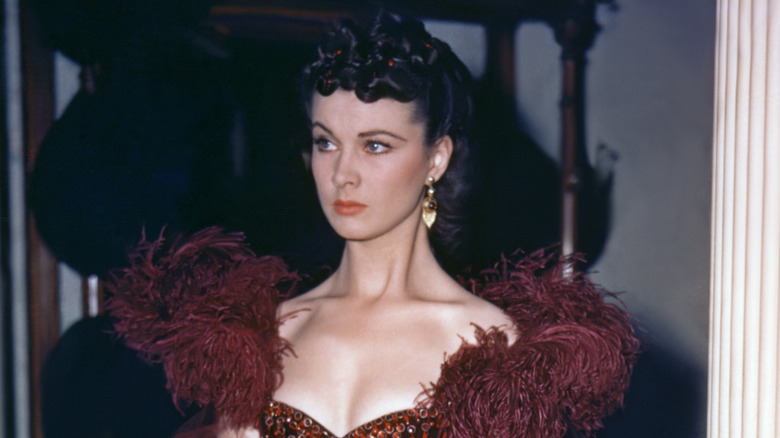 Sunset Boulevard/Getty Images
Prior to meeting Vivien Leigh, David O. Selznick, the producer of "Gone with the Wind," spent years searching for the perfect Scarlett O'Hara. Approximately 1,400 actors tried out for the role of the cunning, selfish, and incredibly beautiful female lead. However, it was Leigh who ended up being the best fit, beating out many other top-billed actors like Lucille Ball, Joan Crawford, Katharine Hepburn, and Bette Davis. After starring in "Gone with the Wind," Leigh was cast to play the lead in several more classics, including "Caesar and Cleopatra," "Anna Karenina," and of course, as Blanche DuBois in 1951's "A Streetcar Named Desire."
However, Leigh's mental health began to decline in the midst of her career; in 1937, she started exhibiting symptoms of bipolar disorder. Treatment at the time was far less progressive, involving sedatives and electroshock therapy, which caused difficulties in her career. As the author of the 2013 book "Vivien Leigh: an Intimate Portrait" Kendra Bean pointed out, "Today, actors like Catherine Zeta Jones and Carrie Fisher can talk openly about their bipolar disorder without fear it will ruin their careers, but Leigh was terrified of revealing the truth."
In the mid-1940s, Leigh was also diagnosed with tuberculosis. Although she took a year from work to recover, she, unfortunately, remained at risk of developing further complications, and in 1967, she experienced a severe recurrence of TB. On July 18, 1967, Leigh died in bed at her London apartment at the age of 53.
Hattie McDaniel died from breast cancer at 59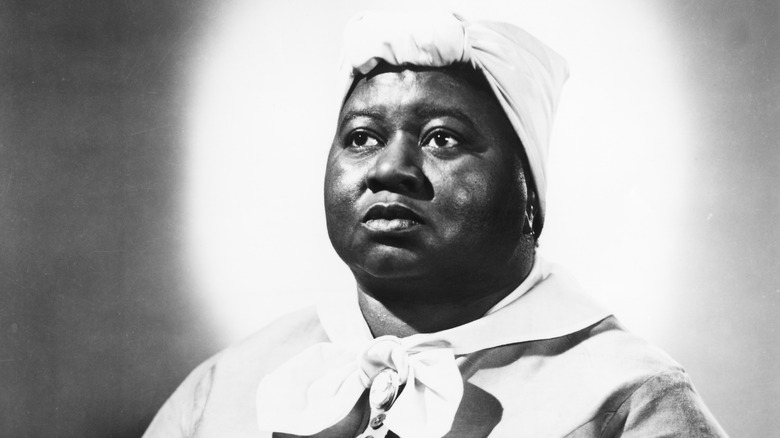 Pictorial Parade/Getty Images
As many cringey and misogynistic moments there are in "Gone with the Wind," there are even more racist remarks and cliches used in the film. Actor Hattie McDaniel was cast as Mammy, a maid with a stereotypical sass and attitude to match. It was a role she had played many times in her career, which consisted of nearly 100 credited parts. Although some viewed McDaniel's willingness to play these stereotypical characters as damaging toward racial advancement, she felt it was the right move for her. Jill Watts, author of the biography "Hattie McDaniel: Black Ambition, White Hollywood," told Vanity Fair that the actress had said, "I can be a maid for $7 a week, or I can play a maid for $700 a week."
In 1940, at the 12th Academy Awards, McDaniel became the very first Black actor to ever win an Oscar. When she was presented with the award for Best Actress in a Supporting Role, she gave a heartfelt and teary-eyed acceptance speech. "I sincerely hope that I shall always be a credit to my race and the motion picture industry. My heart is too full to tell you just how I feel," she said.
Some 12 years later on October 26, 1952, following a series of complications from diabetes and breast cancer, McDaniel sadly fell into a coma and died. Her last wish was to be buried at the Hollywood Forever Cemetery, but at the time it was designated as a whites-only resting place — her final request was tragically denied. While she was buried elsewhere, the cemetery erected a monument in her honor many years later, in 1999. 
Ona Munson died by suicide at 51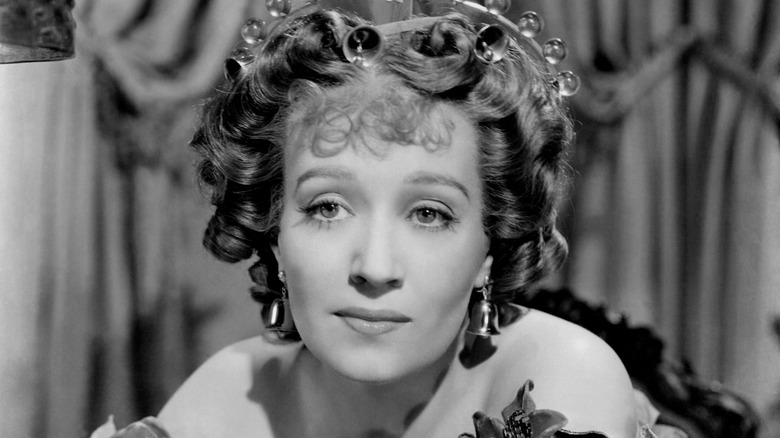 De Carvalho Collection/Getty Images
Ona Munson had a knack for musical theater and comedies when she made her acting debut. Over a decade into her career, she played Belle Watling in "Gone with the Wind," the sex worker in Atlanta with whom Rhett Butler has an affair. Although her role wasn't a particularly large one in the film, the part certainly aided in Munson's continued work in Hollywood, including roles in "The Shanghai Gesture," "The Cheaters," and "The Red House."
It was speculated that Munson was a part of Hollywood's "sewing circle," a social group for lesbians at the time. Although she had married a few men, the relationships she had were considered a cover-up so she could continue to conceal her sexuality. Throughout her time with the "sewing circle," Munson reportedly had several affairs with female writers, filmmakers, and fellow actors like Greta Garbo, Tallulah Bankhead, and Alla Nazimova, the founder of the group.
Like many people who hid their sexual orientation at the time out of fear of persecution, Munson reportedly suffered from depression. The pride movement was still decades away when she tragically overdosed on barbiturates on February 11, 1955. Munson died in her apartment in New York at the age of 51 and, according to The Legacy Project, she left behind a note that read, "This is the only way I know to be free again ... Please don't follow me."
Oscar Polk was fatally struck by a taxi at 49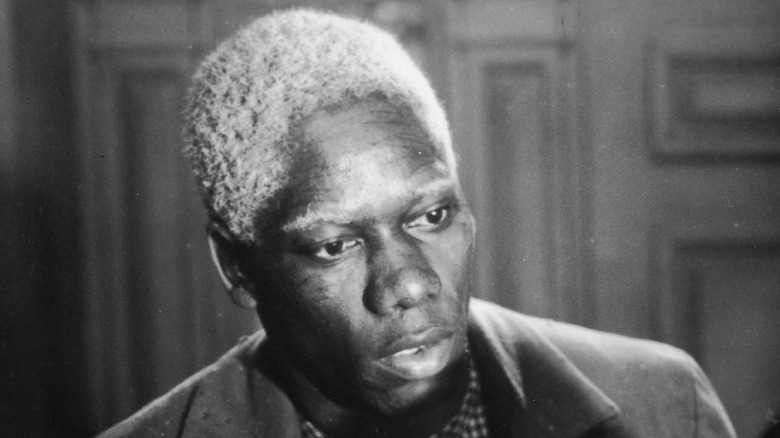 United Archives/Getty Images
Pork, the house slave of Gerald O'Hara, husband of Dilcey, and stepfather to Prissy, was played by Oscar Polk in "Gone with the Wind." The actor got his start on stage in musical theater and became a tap dance instructor after studying at Jack Blue's Dance Studio. Polk first appeared on screen in the 1935 film "It's a Great Life" and continued to land minor roles in movies throughout the rest of the '30s and early '40s. His final appearance in film was in 1943's "Cabin in the Sky," a folk musical film with an all-Black cast. Ultimately, Polk wound up back on stage after World War II, as his passion had clearly been for theater from the start.
Sadly, Polk never achieved the level of fame that many of his co-stars did, as his career was short-lived. After appearing on stage in "You Can't Take It With You," he booked a leading role in "Leading Lady" on Broadway. Tragically, Polk would never appear in the play, as he was struck by a taxi in New York City's Time Square as he was stepping off a curb. His injuries were so severe that, on January 4, 1949, a decade after his appearance in "Gone With the Wind," he died at just 49 years old.
Butterfly McQueen died from burns sustained in an accident at 84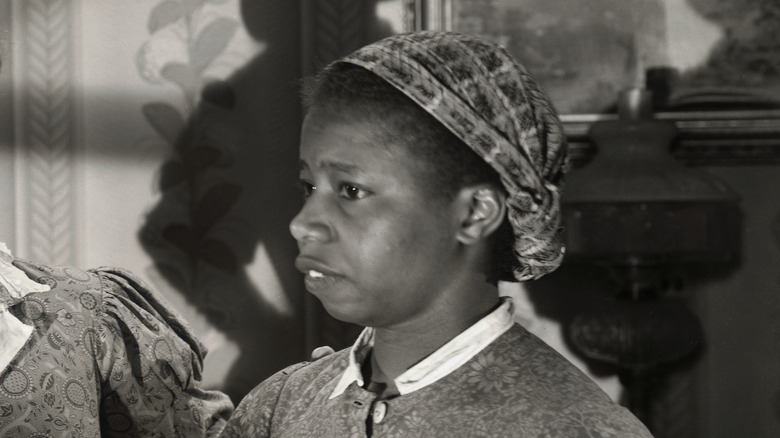 George Rinhart/Getty Images
Like her colleague Hattie McDaniel, playing a stereotypical maid was one of the few roles for Black women when "Gone with the Wind" was made. Butterfly McQueen played the part of Prissy, one of Scarlett O'Hara's house servants who became known for the line, "I don't know nothin' 'bout birthin' babies, Miss Scarlett," and it was her first credited role on screen. McQueen at one time disliked how her character was portrayed; however, she informed The Washington Post in 1989 that she eventually changed her view. "Now I'm happy I did 'Gone With the Wind.' I wasn't when I was 28, but it's part of black history. You have no idea how hard it is for black actors, but things change, things blossom with time," she said.
Although she lived much longer than many of her fellow "Gone with the Wind" co-stars, McQueen's death was incredibly tragic. She had been attempting to light kerosene heaters in her Augusta home when it went up in flames. McQueen's clothes reportedly caught on fire, leading the actress to sustain numerous second- and third-degree burns on nearly her entire body. When emergency services arrived, McQueen was found lying on the sidewalk and was taken to the hospital. There, doctors assessed her injuries and considered her to be in critical condition before her death on December 22, 1995.