All The HGTV Stars Tapped For Barbie Dreamhouse Challenge
One of the most anticipated films of the summer is "Barbie," director Greta Gerwig's hilarious take on Mattel's iconic plastic doll, with Barbie and her beau Ken played by Margot Robbie and Ryan Gosling. HGTV is getting in on the action with a brilliant television tie-in featuring a gaggle of the network's most popular personalities, "Barbie Dreamhouse Challenge."
That titular challenge tasks the HGTV stars with transforming a regular old house into a whimsical, real-life version of Barbie's iconic abode. The new event series, unfolding over the course of four episodes, features model, podcaster, and activist Ashley Graham as host, with HGTV stars partnering up and each team of two tackling a specific part of the home. These include such Barbie-esque features as a '70s-style disco dance floor, an aquarium that also functions as a desk, and a phone booth that also serves as an elevator for pets. "The pressure is on for the teams to unleash their creativity far beyond their usual design parameters to dream up a place that Barbie would be proud to call home," said Graham in HGTV's press release. 
The show promises to be a fun viewing experience for fans of HGTV, the "Barbie" movie, or anyone who's ever played with Ken and Barbie dolls in the now-iconic Malibu House playset. Here are the stars that will be taking on the network's wildest home-renovation challenge yet on "Barbie Dreamhouse Challenge."
The show marks HGTV's biggest assemblage of stars ever
"Barbie Dreamhouse Challenge" is a natural extension for HGTV, borrowing elements from some of its other shows. One of these is the hit competition series "Rock the Block." In that show, two-person teams of HGTV personalities compete to remodel an entire house, but in "Dreamhouse Challenge" they'll only be tackling one room each. "Barbie Dreamhouse Challenge" was also inspired by the success of "A Very Brady Renovation," HGTV's massively successful limited series from a few years back in which various HGTV stars teamed up with cast members of "The Brady Bunch" to renovate the actual Los Angeles house that was featured in the beloved sitcom. However, while the original home's exterior was used in establishing shots, the rooms within the Brady house viewers saw on television were actually sets on a Hollywood soundstage. The series chronicled the massive renovation that transformed the structure's interior into a carbon copy of the TV show's sets.
"Barbie Dreamhouse Challenge" follows a similar format, but with a big twist: The participating HGTV stars need to throw all their conventional ideas about design and decor out the window in order to create wild, over-the-top spaces to suit the crazy and colorful world of Barbie and completely transform a 4,400-square-foot home.  
"To pull this off, we've assembled the biggest group of renovation stars ever on HGTV to create a real-life fully functioning Barbie Dreamhouse," explained host Ashley Graham in HGTV's press release for the show.
HGTV's Barbie Dreamhouse Challenge is the pinnacle of showbiz synergy
It's no coincidence that HGTV's "Barbie Dreamhouse Challenge" arrives on television within days of the premiere of "Barbie," the massively anticipated movie based on the Mattel doll. 
In fact, "Barbie Dreamhouse Challenge" is actually part of the synergistic promotional push behind the movie's launch, with the show aimed at popularizing the film, and vice versa. That's because HGTV and Warner Bros., the studio behind "Barbie," are part of the same parent company, with both entities under the corporate umbrella of Warner Bros. Discovery, which also owns HBO (and its streaming service, Max), Food Network, and the TLC and CNN cable channels, among other assets. For "Barbie," the company partnered with Mattel, the toy manufacturer that has been producing Barbie dolls for decades. 
Warner Bros. Discovery's strategy is to pull out all the stops to promote the movie across its other media platforms. "We are now part of the bigger Warner Bros. Discovery world and the 'Barbie' movie has got such buzz already that we thought, what can we do to really amplify that on one of our networks?" company exec Kathleen Finch told Variety, noting some other planned promotional tie-ins with Food Network. "And we're just going to spend the summer being all things Barbie across, not only Food Network and HGTV, but the entire Warner Bros. portfolio with the movie coming out."
HGTV offered fans some special sneak peeks
While the buzz for "Barbie" has been building for months thanks to a relentless promotional campaign in advance of the film's release, HGTV embarked on similar efforts to stir up viewer interest in "Barbie Dreamhouse Challenge." One way HGTV attempted to accomplish that goal was by releasing a zippy trailer showcasing highlights from the series, along with a sneak peek at all the HGTV stars pitching in to create Barbie's pastel-hued abode. Introduced by the show's host Ashley Graham, the promo features the stars during various stages of the renovation, from demolishing walls to inspecting the finished spaces.
That wasn't the only way that HGTV drummed up advanced interest in the series. HGTV invited a number of social media influencers on a tour of the Barbie Dreamhouse as the renovation was in progress, allowing them to share photos with their followers. Among those influencers was Dani Dazey, who shared shots of the home's vibrant pink entrance on Instagram. "Got to preview the @hgtv @barbie dream house yesterday and OH MY GOD," she wrote in the caption accompanying the pics. Allen Waiserman also shared a video of himself (costumed as a "Barbie" character, no less), leaning on the front door and then stumbling inside upon realizing the door wasn't closed.
Ashley Graham makes her HGTV debut as host
Ashley Graham is making her HGTV debut as host of "Barbie Dreamhouse Challenge," and while she may be a new face on the network, she's by no means unfamiliar to viewers. As the first-ever plus-size model to appear on the cover of Sports Illustrated's famed swimsuit edition, Graham has gone on to become one of the world's highest-paid models, as well as use her platform as a celebrity to advocate for body positivity. She's also expanded her reach into the podcasting arena, interviewing an array of A-list celebs — ranging from Kim Kardashian to Serena Williams — on her podcast, "Pretty Big Deal with Ashley Graham."
"I cannot wait to see Barbie's signature style get the life-sized treatment in an actual home," Graham told People. "She holds such a special place in my heart, especially since Mattel created a one-of-a-kind doll of me back in 2016. It feels like such a full circle moment now that I have a hand in the creation of her real-life Dreamhouse."
Interestingly, Graham wasn't the show's original host. Allison Holker was initially set to host, but she pulled out following the tragic death of her husband, Stephen "tWitch" Boss, of "The Ellen DeGeneres Show" fame.
Egypt Sherrod and Mike Jackson tackle the foyer and living room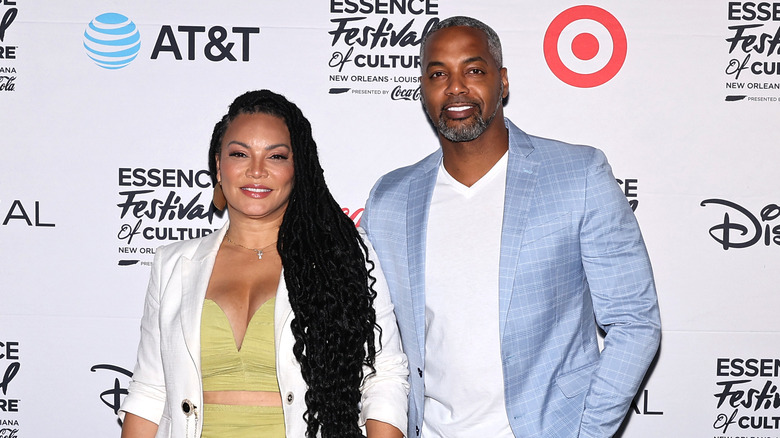 Arturo Holmes/Getty Images
HGTV viewers may know Egypt Sherrod and Mike Jackson from their hit series "Married to Real Estate," and now they're lending their talents to another of the network's series, "Barbie Dreamhouse Challenge." 
The series' 90-minute premiere features host Ashley Graham bringing all the show's competitors to Mattel's headquarters in order to steep themselves in all things Barbie and gain inspiration for the challenge ahead. For Sherrod and Jackson, that challenge is redesigning the home's foyer, a crucial area of the house since it provides guests with a first impression the second they walk through the neon-pink front door. The couple will also be reimagining the home's living room and dining room, transforming the open-concept space into an "over-the-top pink paradise," according to HGTV Magazine. The network revealed in a sneak preview that their project is heavily inspired by the vibrant colors of 1990s-era Barbie. In service of that concept, the pair custom-built a snazzy banquette for the dining room. 
"I remember getting multiple 1986 Barbie Dreamhouses for Christmas because I'd told everyone I wanted it!" said Sherrod, sharing one of her favorite Barbie memories. "I exchanged the extras for the Barbie Camper and a ton of Barbies and clothes. Dream holiday!"
Jasmine Roth and Antonia Lofaso will create a Barbie-fied kitchen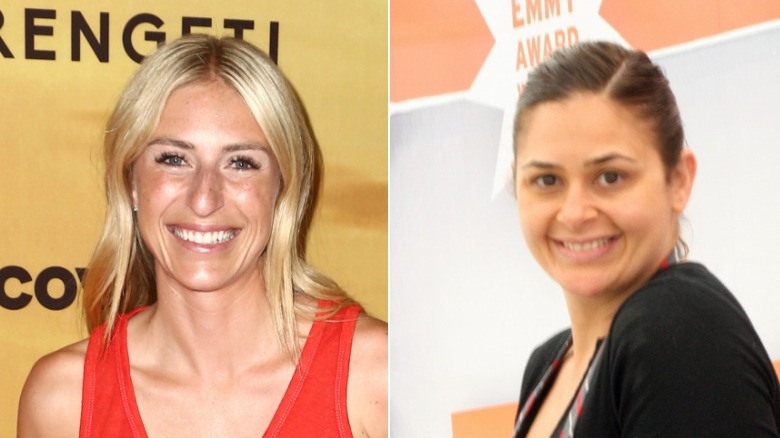 Tommaso Boddi/Getty & RoidRanger/Shutterstock
HGTV's Jasmine Roth (who's appeared in the series "Hidden Potential" and "Help! I Wrecked My House") is joined by celebrity chef Antonia Lofaso, who's been seen in Food Network's "Beachside Brawl," along with series like "Top Chef," "Chopped," "Cutthroat Kitchen," and "Restaurant Startup." In the series, the duo is pitted against Egypt Sherrod and Mike Jackson. While Sherrod and Jackson tackle the living room, dining room, and entryway, Roth and Lofaso join forces to create Barbie's dream kitchen.
They'll be pulling their inspiration from a different decade, striving to create a 1960s-style Barbie look. "Jasmine and Antonia will create an awe-inspiring kitchen and family room from the 1960s, with space-age touches featuring appliances that appear with the touch of a button and sleek mid-century accents," notes HGTV Magazine.
Ahead of the series premiere, Roth posted a video preview on Instagram. "And just like that, I'm the coolest mom to an almost 3 yr old that ever existed," she wrote, joking about how her role in "Barbie Dreamhouse Challenge" has raised her coolness factor with her young daughter (who is apparently quite the Barbie fan).
Jonathan Knight and Kristina Crestin bring '80s glam to the primary suite
Jonathan Knight is something of a rarity, in that he boasts two very different and very distinct fanbases: Those who know him primarily for his singing and dancing as a member of the iconic boy band New Kids on the Block, and the viewers who watch him rescue dilapidated New England farmhouses on his HGTV series "Farmhouse Fixer." In "Barbie Dreamhouse Challenge," he's joined by his "Farmhouse Fixer" designer Kristina Krestin, and the two are tasked with redesigning the home's primary suite. 
As one might imagine, envisioning a bedroom fit for Barbie is no easy feat. Making the task even more challenging is the fact that the suite is guided by the Barbie style of the '80s, perhaps the most garish decade in the doll's history. 
While it's difficult to determine how much of an edge it gave him in his renovation efforts, Knight can boast about the experience of seeing himself recreated as a Barbie-style doll, thanks to Hasbro producing dolls of each member of New Kids on the Block back in their early-'90s heyday. While the NKOTB dolls are long out of production, they can still be found for sale second-hand on sites such as eBay and Etsy.
Brian and Mika Kleinschmidt create Barbie's backyard wonderland
Viewers of HGTV's "100 Day Dream Home" will certainly be familiar with Brian and Mika Kleinschmidt, the married couple who custom-designed and built homes for picky clients, all within the tight time frame spelled out in the show's title. They'll be putting their skills to the test on "Barbie Dreamhouse Challenge" when they're tasked with redesigning the home's backyard. Not only will the outside area need to be choc full of Barbie-style touches, but the project will also take on a Y2K feel, with the pair instructed to draw inspiration from Barbies of the 2000s.
Creating a wild and wacky backyard suitable for Barbie and Ken to host barbecues will certainly take some work. However, the couple's secret weapon may well be Mika, whose personal history as a serious devotee of all things Barbie could give her an extra edge. "Playing with Barbies was my after-school ritual for many years," she told HGTV. "I loved to rearrange the furniture, act out different storylines, cut their hair and dress them with spunk."
Christina Hall and designer James Bender dive into Barbie's closet
Christina Hall has gone through a lot of changes since HGTV viewers were first introduced to her in 2013 with "Flip or Flop." Back then, of course, she was known as Christina El Moussa, and starred alongside her then-husband, Tarek El Moussa. When they divorced, the exes continued to renovate houses together on the show, although she began going by her maiden name, Christina Haack. After marrying TV personality Ant Anstead in 2018, she was then known as Christina Anstead — until they divorced in 2021. The following year, she married her third husband Joshua Hall, changing her name to "Christina Hall." In the midst of all that marrying and divorcing, she also launched her own solo show on HGTV, "Christina on the Coast." 
Now, she and her "Christina on the Coast" design associate James Bender are bringing their talents to "Barbie Dreamhouse Challenge," tasked with designing a closet worthy of a woman with a truly massive wardrobe,,including haute couture collaborations with the likes of Vera Wang, Diane von Fürstenberg, and Karl Lagerfeld. Unlike the other participants, Hall and Bender aren't bound to a specific decade, but are instructed to give the massive walk-in closet a futuristic feel.
"I grew up playing with my own Barbie dolls, plus ones that belonged to my mom when she was a kid," Hall told HGTV. "I still have them all!"
Ty Pennington and Alison Victoria create a groovy disco-themed den
HGTV viewers certainly need no introduction to Ty Pennington and Allison Victoria. Pennington was first introduced in TLC's "Trading Spaces," and then segued into hosting ABC's "Extreme Makeover: Home Edition" before winding up on HTGV in the network's revival, going on to star in his own competition series, "Ty Breaker," in addition to HGTV hits "Rock the Block" and "Battle on the Beach." Victoria, on the other hand, first arrived on TV in 2011 via DIY Network's "Kitchen Crashers." She came to HGTV in 2019 with "Windy City Rehab," appearing in the first season of "Rock the Block," then in "Ty Breaker," "Battle on the Beach," "Windy City Flip," and more. To call these two HGTV veterans is putting it mildly.
That's why it's kind of a no-brainer that they were tapped for "Barbie Dreamhouse Challenge," and they were given what has to be the coolest challenge of the whole show: Building a super-groovy disco-themed den, firmly rooted in the design ethos of the 1970s. After all, Ken needs to shake his booty on an illuminated dance floor that bears more than a passing resemblance that the one John Travolta danced on in "Saturday Night Fever."
Pennington also has a personal connection to Barbie's classic dreamhouse. "The first time I ever moved furniture around was in Barbie's A-frame Dreamhouse," he told HGTV. "It made me realize my imagination could become a reality. Life-changing stuff!"
Keith Bynum and Evan Thomas take on the front yard and exterior
With backyard duties on "Barbie Dreamhouse Challenge" going to Brian and Mika Kleinschmidt, it's up to "Bargain Block" stars (and real-life couple) Keith Bynum and Evan Thomas to tackle the front yard. According to HGTV, their assigned era is the '90s, a truly fantastic decade in the life of Barbie. As a result, viewers can expect to see a wild, wonderful, and oh-so-colorful yard that promises maximum curb appeal. 
The pair, who typically perform their "Bargain Block" renovations in Detroit, took to social media to share their excitement at joining their fellow HGTV stars in sunny Los Angeles to work on "Barbie Dreamhouse Challenge." 
"We had the best time helping with Barbie!!!! Can't believe we were there!!" Bynum wrote in an Instagram post, accompanying a photo of himself and Thomas posing with host Ashley Graham, "Farmhouse Fixer" star Jonathan Knight, and the Kleinschmidts.
Michel Smith Boyd and Anthony Elle create an over-the-top office
Michel Smith Boyd is a fairly recent addition to HGTV, but he's certainly made an impression on viewers in a short period of time. Since making his HGTV debut in late 2022 with "Luxe for Less," the interior designer saw his TV cred grow even stronger when he and his onscreen sidekick, creativity guru Anthony Elle, were tapped to compete in the fourth season of "Rock the Block." Despite being HGTV rookies, the pair won the whole competition, cementing their HGTV stardom in just a few months. 
You can catch the pair making an even bigger impact on "Barbie Dreamhouse Challenge," where they'll be tackling a somewhat unusual space within the Barbie universe: Her office. "Michel Smith Boyd and Anthony Elle will design a chic office worthy of Barbie's storied resume," noted HGTV's release about the show. 
For Boyd, a self-proclaimed Barbie fan, perhaps the most exciting moment in the entire competition came when he and his fellow HGTV stars were presented with Barbie dolls created in their own likenesses. "This can't be real life. From a kid secretly obsessed with @barbie ... to being a part of @hgtv's #barbiedreamhousechallenge AND having a doll that looks like me?! Speechless," he gushed in a post on Instagram. 
Design Star alums Jonathan Adler and Tiffany Brooks head up the judging panel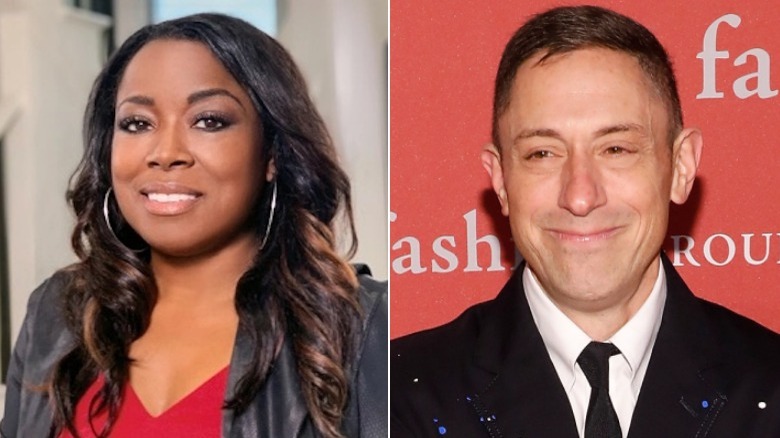 HGTV / Taylor Hill/Getty
HGTV personalities TIffany Brooks and Jonathan Adler both became stars via the network's talent-search series "Design Star." Brooks, of course, won the series' eighth season back in 2013. Adler, as viewers will recall, made his HGTV debut as head judge on "Design Star: Next Gen," the reboot of "Design Star."
Both Brooks and Adler are top interior designers, although it's fair to say that their aesthetic sensibilities are somewhat different. However, that should stand them in good stead as they head up the judging panel on "Barbie Dreamhouse Challenge." And in each episode, the pair will be joined by a different guest judge to evaluate the challengers' work. 
Viewers who've watched Brooks in her HGTV series "$50K Three Ways" and witnessed Adler's judging skills on "Design Star: Next Gen" should have an inkling of the kind of design authority they'll bring to their roles as judges. Although how that translates to a Barbie design aesthetic is anyone's guess.  
Expect some celebrity guest judges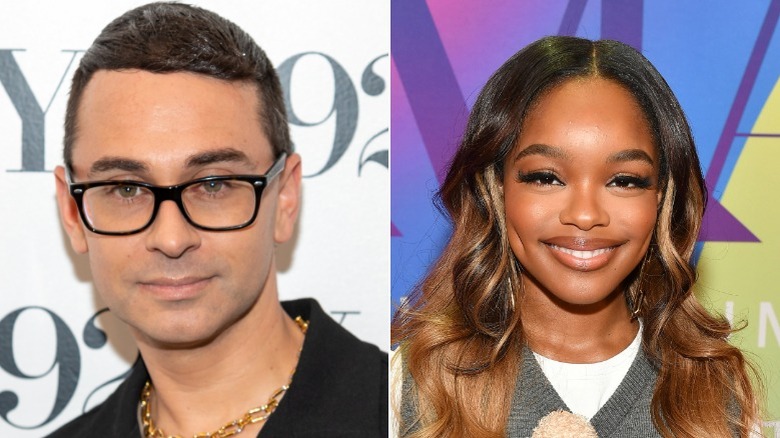 Paras Griffin & Mark Sagliocco/Getty
While Tiffany Brooks and Jonathan Adler are handling the judging duties on "Barbie Dreamhouse Challenge," they won't be doing it alone. In the series' episodes, different guest judges will bring their own unique sensibilities to the table to determine winners in various stages of the competition. 
The guest judges for the series include "Black-ish" star Marsai Martin, who's been enlisted to help Brooks and Aldler evaluate the exterior work on the home in both the front and backyard areas. Then, "Project Runway" winner and acclaimed fashion designer Christian Siriano will join the judging panel to weigh in on the Barbie home's closet and office areas. Finally, "Entertainment Tonight" co-host Nischelle Turner will assist the judges in determining a winner between projects like Ty Pennington and Alison Victoria's disco-themed Ken den and Jonathan Knight and Kristina Krestin's work on the primary suite. May the best Barbie-ready room win!