What We Know About Joe Biden's Seventh Grandchild Navy Joan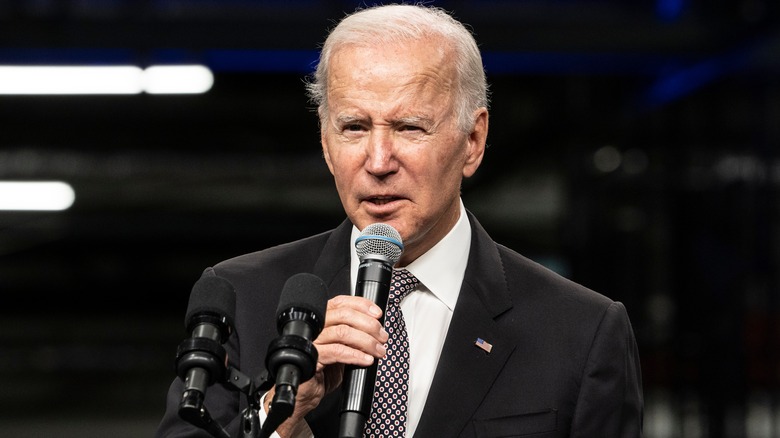 lev radin/Shutterstock
We may receive a commission on purchases made from links.
President Joe Biden has long been a doting grandfather to his six grandchildren. His wife, First Lady Dr. Jill Biden, has even penned a children's book dedicated to the kiddos titled, "Joey: The Story of Joe Biden." On the dedication page, Mrs. Biden made sure to acknowledge the lively brood, which appears to be a huge part of the couple's life. Unfortunately, there is one grandchild that is left out of the holiday celebrations and family photos. In fact, her name is usually never aligned with the rest of the Biden children, something that has been called out by many critics of the presidential family.
Navy Joan Biden is the child of former exotic dancer Lunden Roberts and Hunter Biden, the president's second oldest son. She was born out of wedlock in August 2018 following a short fling between Roberts and Hunter. The two battled it out in court over paternity and child support. While the dust has seemingly settled on their legal disputes, the little girl is distanced from her famous family members, including her father and four siblings: Naomi, Finnegan, Maisy, and Beau Jr. 
Hunter Biden initially denied fathering Navy Joan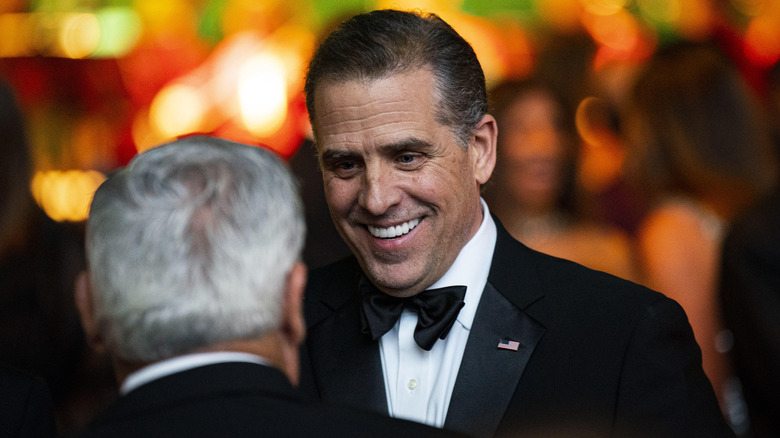 Bloomberg/Getty Images
When Navy Joan was born, the controversial Hunter Biden denied that he was her father of the little girl. Her mother, Lunden Roberts, never swayed from her story that the two had a brief sexual encounter during her employment as an adult entertainer at a strip club in Washington, D.C., which resulted in her pregnancy. In late 2019, a paternity test confirmed that he was indeed the father. As a result, Hunter was forced to fork over an estimated $20,000 in child support, as well as retroactive payments dating back to the time Navy was born. As of May 2023, he'd reportedly already paid Roberts $750,000 but argued that he should have to pay a much lower monthly bill for the girl. While it has been reported that the payments were bumped down to $20,000 a month, his team has not confirmed this figure.
As part of the settlement, Roberts was also given costly paintings from Hunter that could be sold for the child's benefit. However, the mother also agreed to drop her petition to have Navy Joan use her father's last name. In his 2021 biography, "Beautiful Things," he admitted that due to his heavy drug use, he had no recollection of having sex with Roberts, which is why he challenged her over the paternity of their daughter.
President Joe Biden has never publicly acknowledged the child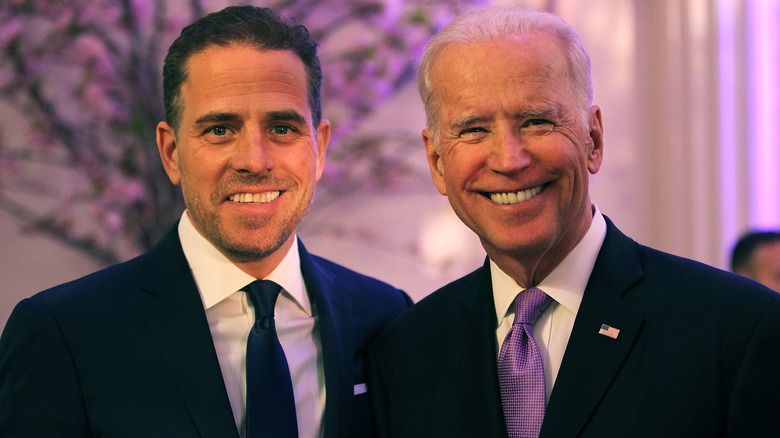 Teresa Kroeger/Getty Images
Before reaching a settlement with Hunter Biden, Lunden Roberts pointed out that he had never met Navy Joan. She also noted that President Joe Biden nor First Lady Dr. Jill Biden have ever accepted her daughter, Navy Joan, into their family. The president has always referred to his six grandchildren in speeches, never including the 4-year-old. Even more disheartening, it appears that his staff has also been given strict orders not to mention Navy. Recently, White House press secretary Karine Jean-Pierre dodged press questions about the little girl. The loving grandfather, who the children refer to as "Pop," says he speaks to them every day, yet another way in which the seventh Biden grandchild remains excluded.
Thankfully, it appears that Roberts is providing her daughter with all the love and affection she needs. She often uploads photos on social media of her child and fiance, MMA fighter Princeton Foster. It appears the mom is moving on with her life and raising Navy in a loving home. Hopefully, the two sides can come together one day for the sake of Navy.