Everything We Know About Denzel Washington's Wife, Pauletta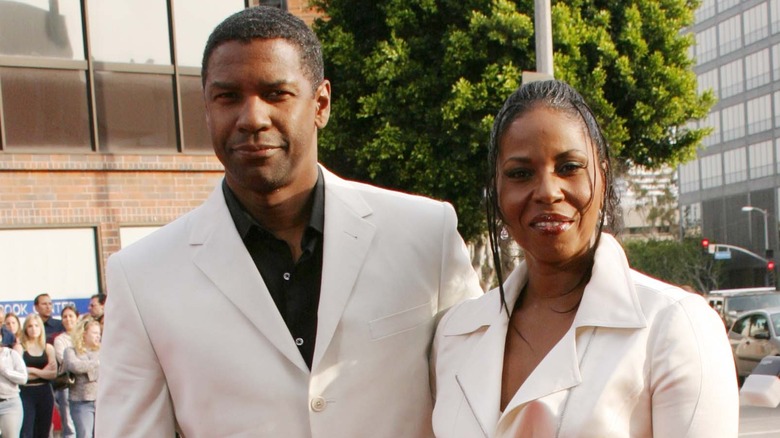 Joe Seer/Shutterstock
Denzel Washington is no stranger to the spotlight. He's starred in movies across genres and appeared on magazine covers for the past couple of decades, making him a household name. His wife Pauletta is not as well recognized, though she is very much so accomplished.
Pauletta, like Denzel, is an actor. She's been in the movies "Beloved" and "Tell it Like a Woman," amongst others, as well as shows like the adaptation of "She's Gotta Have It," and even on Chicago's Broadway. In addition to her roles behind the camera on the stage, Pauletta is a musician. While Denzel studied journalism and drama in school, Pauletta took a different route. She studied piano at Juilliard and is featured as a vocalist in the song "It's In Your Eyes," which appeared on the soundtrack of one of her husband's most famous films, "Philadelphia."
Pauletta and Denzel met on set for the film "Wilma," although they didn't interact at this time. It wasn't until they met again at a mutual friend's house party, and then ran into each other at a play, that they began talking.
A creative and loving mother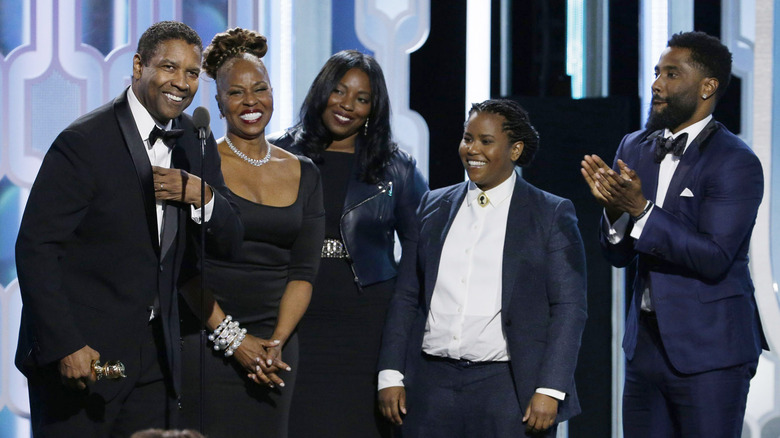 Handout/Getty Images
Pauletta and Denzel Washington got married in 1983. They went on to have four children, all of whom work in the film industry, two as actors and two as producers. Before any of this could happen though, Pauletta had to say yes to Denzel's proposal. He proposed twice, each of which she said no to. On the third attempt, she said yes. "You heard it here first," Denzel told Access Hollywood. "She turned me down, she said no. And since it was three times, that means she turned me down twice."
Since the two married, Denzel made it very clear that he values his wife and is grateful for her. He acknowledged the way she created a safe and thriving environment for him and their family. "You can buy a house, but that doesn't make it a home," Denzel told People. "And not to say a man can't make a home a home, but my wife has made our house a home, and raised these beautiful kids and protected them and sacrificed for them, she did the heavy lifting."
Playing important roles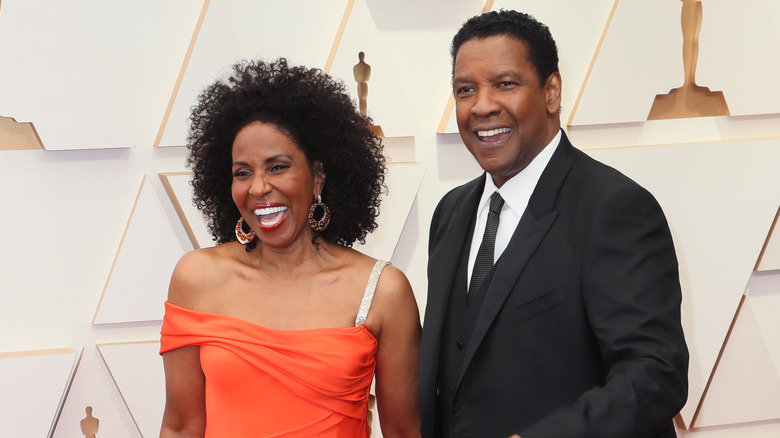 David Livingston/Getty Images
Denzel Washington described Pauletta as the "most important person" in his life during his acceptance speech for the AFI Life Achievement Award in 2019. "She taught me about faith, spirituality, love, real love, unwavering love, in spite of myself," he said during his speech, according to People. "I would not be alive without Pauletta Washington," he added. "I wouldn't survive."
In addition to being a foundation in her home, Pauletta Washington is a philanthropist. It's clear that she cares about public health given her involvement in sharing important messages about COVID-19 during the pandemic, and she also donates a great deal of time and money to her most treasured causes. She's on the board of trustees at Spelman College; she and Denzel created the Pauletta and Denzel Washington Gifted Scholars Program in Neurosciences to help enable university students of all years to get involved in research; and she's a founding and executive member of The Brain Trust of Cedars-Sinai. "I grew up in a family that was very active in and dedicated to educational pursuits and I have always been interested in helping and using my talents in ways that will serve others," she told Spelman College.