What We Know About Donald Trump And Hillary Clinton's Relationship Before Politics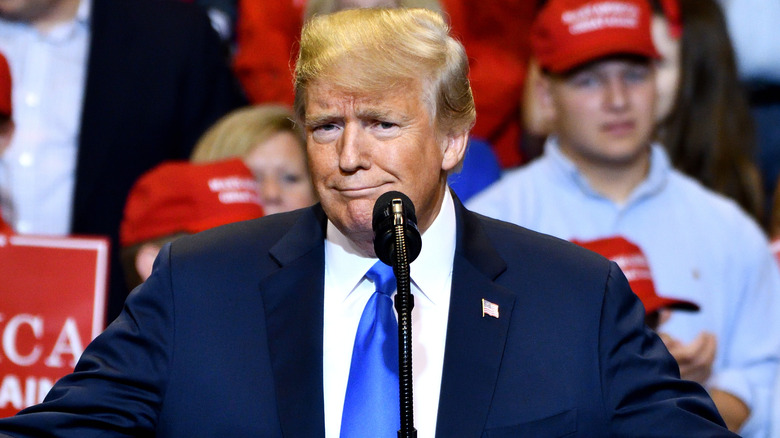 Evan El-Amin/Shutterstock
Donald Trump is well-known for a lot of things. His most impressive accomplishment was becoming the 45th President of the United States. In addition, he is an entertainer and businessman. However, what could arguably be his most recognizable trait is his uncouthness. Trump is notorious for his controversial statements and social media outbursts, which didn't subside even during his stint as President. His infamous derogatory remarks about women and his abject denial of the dangers of the coronavirus pandemic were definitely some for the history books.
A Republican hero, he especially seemed to have a thing for denigrating his Democratic opponents, like when he famously insisted that President Barack Obama should bring out his birth certificate as proof of his "alleged" U.S. citizenship or his constant demeaning of the Clinton clan, particularly former U.S. Secretary of State Hillary Clinton. So far, the "Apprentice" star has threatened to throw Clinton in prison and labeled her a "nasty, mean enabler" of her husband, former President Bill Clinton's alleged affairs, just to name a few. What would be considered impossible is thinking of actual kind words Trump has uttered. However, believe it or not, the former POTUS once used to have nice things to say about Senator Clinton what seems like a lifetime ago.
Trump thought Hillary was terrific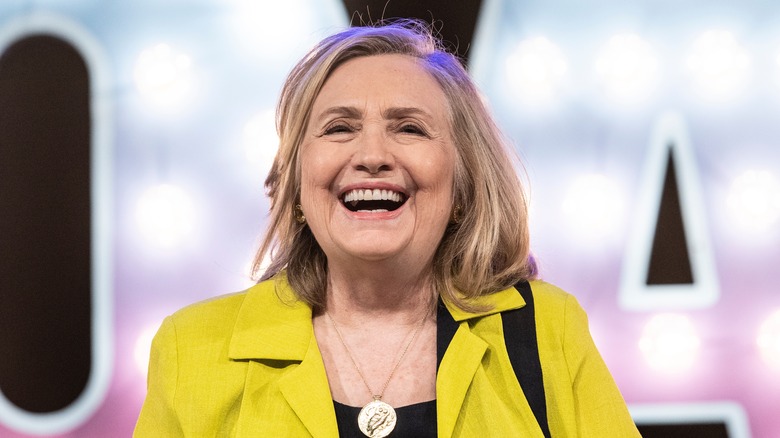 lev radin/Shutterstock
The 2016 presidential elections were an interesting time to be alive with the farcical debate session where Donald Trump seemed to have it out for his opponent, Senator Hillary Clinton. To the best of everyone's knowledge, the former reality television star has never had anything kind to say about her. Ironically, however, this wasn't always the case. Once upon a time, Trump held Clinton in high regard.
The former President was quoted during a Fox News interview showering the former Secretary of State in praise and saying that he was on good terms with her and her husband, former President Bill Clinton, as recently as 2012 (via Time). "Hillary Clinton, I think, is a terrific woman," gushed Trump. "I am biased because I have known her for years. I live in New York. She lives in New York. I really like her and her husband both a lot. I think she really works hard, and I think she does a good job. I like her."
When Clinton ran for President in the 2008 campaign, Trump told CNN that he was rooting for her as a great potential candidate. "She's very talented," he said to anchor Wolf Blitzer. "I think she's going to get the nomination rather easily." The billionaire businessman even donated to her campaign. Clearly, Trump was cozy with the Clintons before all the bad blood. However, the senator remembers things with a lot less fondness.
Hilary maintains that she and Trump were never chums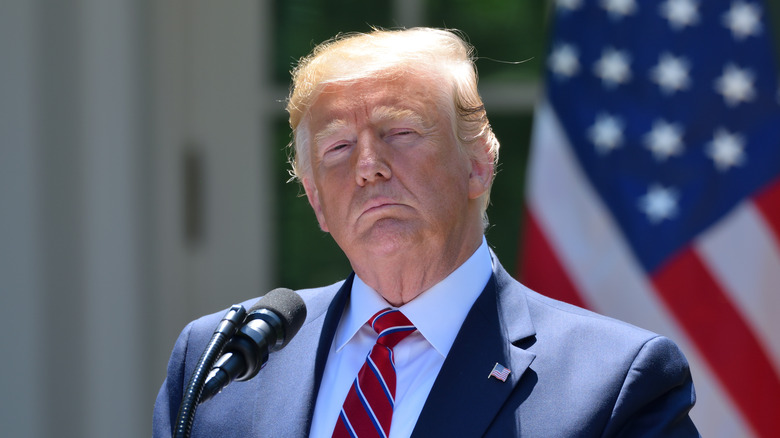 Evan El-Amin/Shutterstock
It may be a surprise to learn that Donald Trump, the opposer of all things Hillary Clinton-related, used to be a loyal supporter. The former Secretary of State even attended his 2005 wedding to Melania Trump. Things took a turn after the presidential debate of 2016, where both Clinton and Trump — who has begun his 2024 Presidential campaign – were running mates. After Trump's lewd comments about Bill Clinton's famously scandalous affairs, it's safe to say that that bridge has been burned to ashes.
Clinton made it clear to People that Trump's fond recollections of their relationship were grossly overstated. "We were not friends," she stated. "We knew each other, obviously, in New York. I knew a lot of people." The mother of one also explained that the businessman's insults rolled right off her back. "I don't really care that much about what he says about me because I do see that as, you know, politics — not particularly the brand I approve of." Unfortunately, whatever pleasant sentiments once existed between the Trump and Clinton houses are long gone.