The Complete Evolution Of Deborah Norville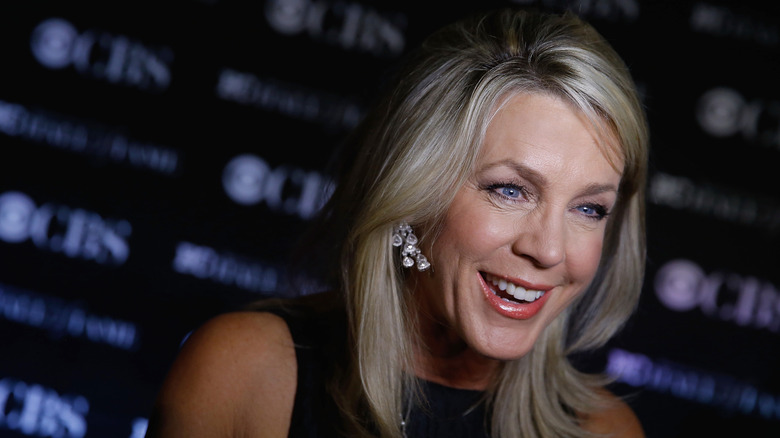 John Lamparski/Getty Images
"Inside Edition" has long been the top daily newsmagazine in America. A huge part of its success is longtime anchor Deborah Norville. After gaining fame as co-host of NBC's "Today" show and "News at Sunrise," Norville first joined "Inside Edition" in 1995. Almost 30 years later, the magnetic television personality remains at the helm, and "Inside Edition" continues to rake in almost 5 million viewers on a daily basis. 
Though she is now a nightly presence in many Americans' homes, Norville's beginnings are far from the privileged upbringings enjoyed by other television personalities like former "The View" co-host Meghan McCain and current "Today" co-host Jenna Bush Hager. While McCain and Hager grew up in the limelight as daughters of high-profile politicians (Republican senator John McCain and former President George W. Bush), Norville had a relatively normal upbringing in small-town Georgia. 
With no family connections in politics or entertainment, Norville found her own way in the world of broadcast television. Starting out as a reporter for local Georgia television stations in the late 1970s, she has come a long way in the past four decades. Alongside her legacy-making run with "Inside Edition," Norville has also enjoyed a robust literary career, launched a yarn empire, and is a two-time Emmy Award winner. Norville was named to the Broadcasting + Cable Hall of Fame in 2016, and it's safe to call her verifiable journalism royalty. Let's take a look back at how Norville got to where she is today.
Deborah Norville began her career as a student journalist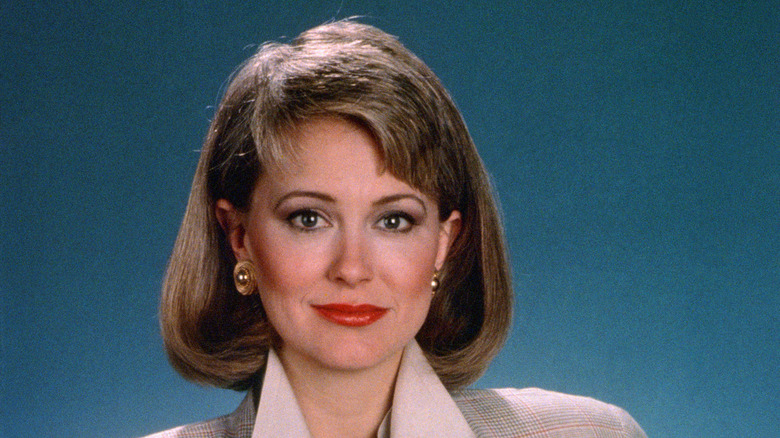 Bettmann/Getty Images
Deborah Norville first began her journey in the town of Athens, Georgia, where she was studying at the University of Georgia's Grady School of Journalism. Media and communications was not the expected path for the Georgia native, who was a beauty queen in her small town of Dalton. 
Norville entered the Whitfield County Junior Miss Pageant in her senior year of high school, and her performance was so successful that she then went on to win both the Georgia Junior Miss Pageant and the America Junior Miss Pageant. While she originally considered studying law, Norville says that the technicians "and the other production staff seemed to have so much fun working the long hours they did that I decided to get into television."
During her time at UGA, Norville excelled as a student journalist. She cut her teeth on a program titled "The Lawmakers," which aired on Georgia Public Broadcasting. As an intern reporter, Norville recapped two sessions of the Georgia General Assembly, establishing herself as a woman with a taste for serious stories from the get-go. In addition to the General Assembly meetings, she was also able to interview significant state political figures such as Paul Broun Sr. The former beauty queen graduated summa cum laude in 1979.
She covered the Atlanta child murders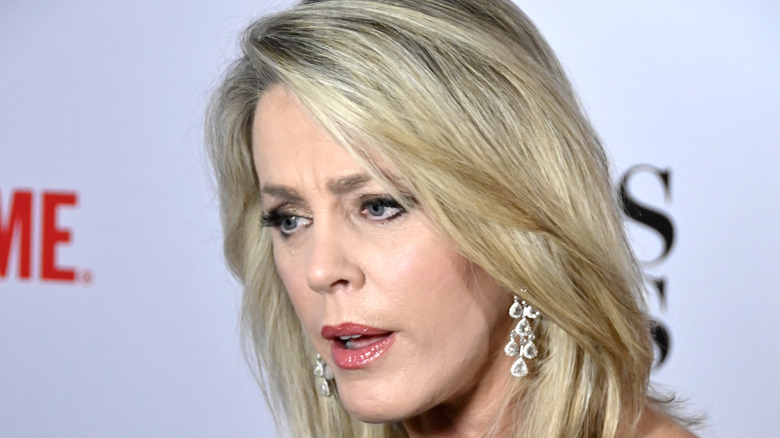 Gary Gershoff/Getty Images
Deborah Norville's talent was so evident that she scored a gig with WAGA-TV 5 in Atlanta when she was still a student. However, balancing her studies and burgeoning television career was an exhausting ordeal. In a 1990 interview, the famous reporter told Larry B. Dendy in an interview with the Georgia Alumni Record that constantly commuting between the cities of Athens and Atlanta nearly broke her. "I'd leave the university on Friday afternoon and drive to Atlanta," she said, "and sometimes I had a place to stay and sometimes I slept in my car in the parking lot."
Despite these early challenges, Norville never gave up on her dream of achieving greatness. Not long after graduating from the University of Georgia, WAGA-TV promoted her to the position of weekend anchor. This was a significant move for the aspiring television personality, whose work would then reach significantly more people across the state of Georgia. While working for WAGA-TV, the new graduate covered many Georgia-specific stories, such as a Civil War reenactment and the notorious Atlanta child murders.
Like the political interviews she conducted as a student, Norville's involvement in the coverage of the Atlanta child murders signaled to viewers that she was not just a pretty blonde content with covering pop culture. Instead, the gravity of this news story helped to portray Norville as an astute and sensitive presence while also preparing her to take on hard-hitting stories. 
The Southern girl headed north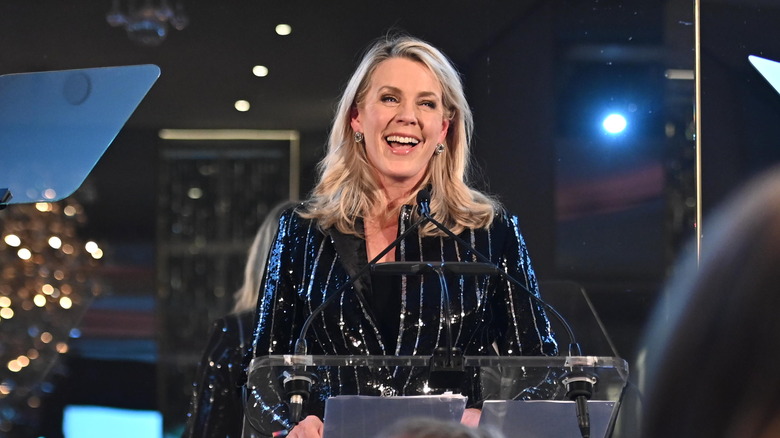 Noam Galai/Getty Images
Deborah Norville was only 23 when she made a huge jump in her career by moving from Atlanta to Chicago. While she had been making headway in the Peach State, the Windy City offered her bigger and newer opportunities. In addition to working as a contributing editor for Inside Sports and the popular women's magazine McCall's, Norville was also hired as an on-screen anchor and reporter for the television station WMAQ-TV.
Looking back on this pivotal time in her career, Norville recalls that her boss was shocked that she scored such a high-profile reporting gig at her age. In fact, in the middle of signing her contract, Norville's new boss stopped her to ask, "How old are you anyway?" The self-proclaimed feminist was unafraid to respond with her real age. As Norville recalls, her boss answered, "That's about the same age Jane Pauley was when she came here," foreshadowing just how closely Norville's career would resemble the "Today" show alum's.
As a leading member of WMAQ-TV's Channel 5 news team, Norville had a front row seat to some of the most compelling news stories of the 1980s. In 1985, she and the team covered the hijacking of TWA Flight 847, in which many American passengers — including some from the state of Illinois — were transported across the Middle East for nearly two weeks. Channel 5's coverage was so unrelenting that Norville and her team won a local Emmy award for their work.
Deborah Norville joined the NBC team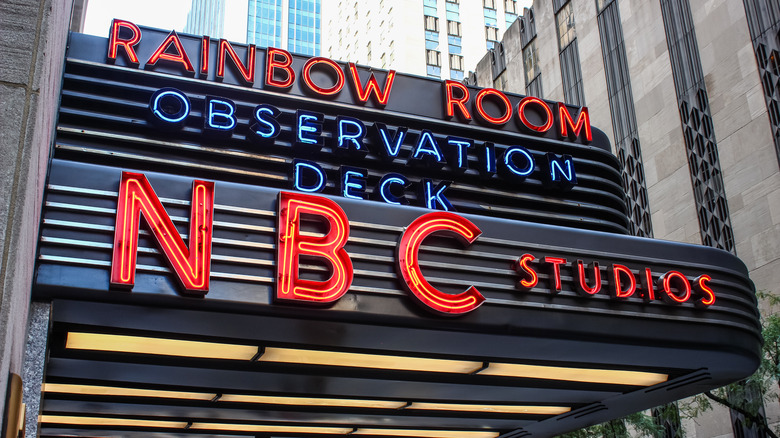 OldskoolDesign/Shutterstock
Although Deborah Norville won praise and awards as a member of the Channel 5 team, Chicago wouldn't be her final stop. In 1987, the reporter made another big transition by moving from the Windy City to the Big Apple. And though a lot may have changed since she got her start, Norville was still operating behind the news table, as NBC hired her to anchor their morning show titled "News at Sunrise." 
"I was only 28," Norville writes, "but I think I was trying to look older and 'fiercer' judging by the publicity photo they took back then!" Her attempt at a fiercer look was a resounding success: The bosses at NBC would eventually tap Norville to step in as the new co-host of the "Today" show after the program's longtime female co-host, Jane Pauley, decided to step down.
The bubbly blonde was then seen by a larger audience than ever before. As co-host of one of the most popular news programs in America, Norville's star began to rise. Like many other "Today" show stars, Norville was able to mingle with some of the country's most influential people, including President Richard Nixon. Her stint on the "Today" show also marked a turning point in her personal life when she became pregnant with her first child. One behind-the-scenes photo shows her rocking her growing belly in the iconic "Today" show broadcasting studio. 
While at NBC, she was labeled the other woman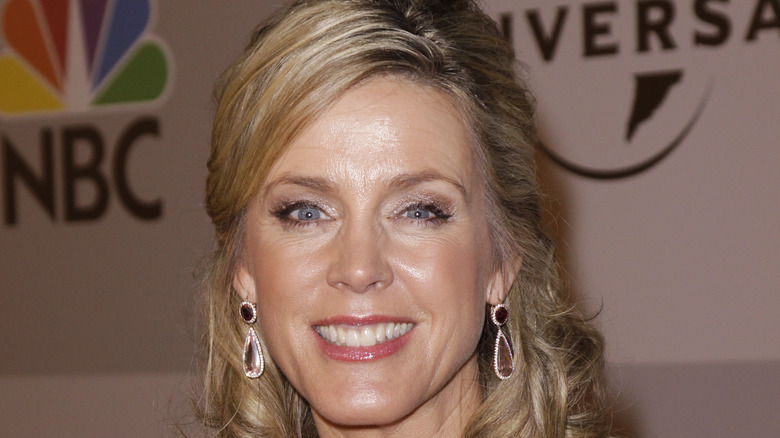 Paul Mounce - Corbis/Getty Images
Not long after a year on the "Today" show, Deborah Norville was given what the Los Angeles Times called a "graceful" exit from the show. Though her tenure on the widely watched program skyrocketed Norville's career into a higher stratosphere of celebrity, her time behind the iconic news desk was also plagued with poor ratings and public drama. The root of these troubles caused the abrupt and less-than-amicable departure of the much-loved Jane Pauley. 
When Jane Pauley co-hosted alongside Bryant Gumbel, the "Today" show regularly came first in the weekly television ratings. However, after Pauley passed her seat to Norville, the show's ratings dropped and never regained their position at No. 1. Many loyal fans of "Today" felt that Pauley had been unfairly pushed out of her position to make room for the younger, blonder, and less experienced Norville. Because she was perceived as having separated the iconic duo of Pauley and Gumbel, Norville was sometimes referred to as "the other woman."
In light of the poor public treatment and low ratings, Norville left the "Today" show after only 14 months. However, this wasn't the only reason — Norville also had personal reasons for walking away from such a demanding job. On February 27, 1991, Norville and her husband Karl Wellner welcomed their first child, a son named Karl Nikolai (Niki) Wellner. Citing motherhood as her main focus, Norville officially left "Today" just two months later.
Deborah Norville had a radio show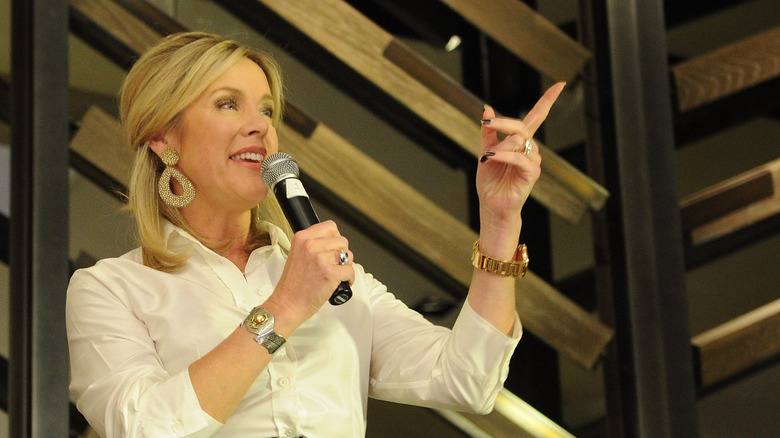 Bryan Bedder/Getty Images
After a controversial time on the "Today" show, Deborah Norville decided to step away from television for a while. Not only was the young reporter recovering from the public backlash that followed her replacement of Jane Pauley, but she had also just become a mother. Norville's talent, however, was too undeniable for her to stay completely out of the spotlight for too long. In an exciting departure from television, ABC Radio approached Norville to offer her own radio show. 
Norville decided to accept their offer and "The Deborah Norville Show" debuted in 1992. Broadcasting live from her own home, the radio show made Norville an early pioneer of work from home culture. Far from the soundstages, bright lights, and makeup teams of the television world, "The Deborah Norville Show" marked a turning point for the star, challenging her in new ways and showing audiences that her interviewing talents were all homegrown. 
As with NBC, Norville's new media venture was part of the network's attempt to find a worthy predecessor to their top female broadcaster. This time, ABC had tapped Norville to replace Sally Jessy Raphael, who had recently retired from the network's evening interview show. Throughout the course of her new show, Norville also interviewed noteworthy subjects and answered various questions from listeners. However, the world of radio was simply one stop in Norville's long journey, and "The Deborah Norville Show" called it quits after only a year on the air. 
She became a published author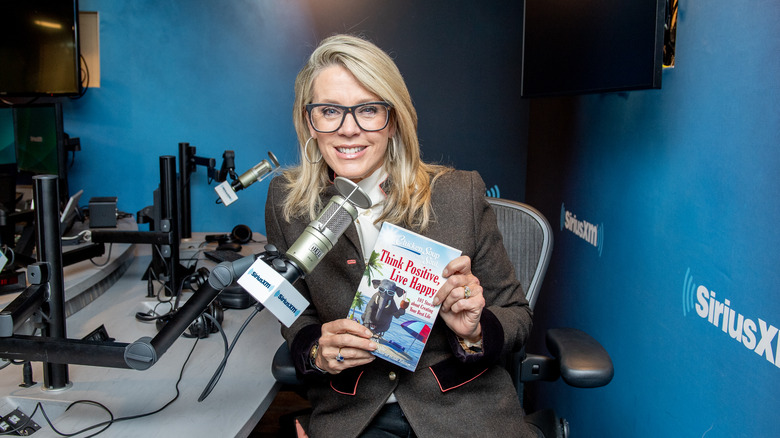 Roy Rochlin/Getty Images
In 1993, CBS hired Deborah Norville as a correspondent for "Street Stories,"  a "prime-time newsmagazine" primarily hosted by fellow Emmy winner Ed Bradley. Simultaneously, Norville also scored a role as the Sunday night anchor for CBS Evening News. In this role, she earned her second Emmy for a piece that explored the great flood that wreaked havoc in Mississippi in 1993. 
However, despite these successes, Norville was still recovering from her negative experience on the "Today" show. This desire to heal resulted in Norville's first ever book, "Back on Track: How to Straighten Out Your Life When It Throws You a Curve." Intended as a self-help book for women, Norville not only recounts her own harrowing experience in the public eye, but she also features the stories of other women who have undergone painful and problematic experiences and come out stronger for them. From heart-wrenching divorces to breast cancer diagnoses, the women interviewed in Norville's debut book represent a wide range of female strength. 
After the success of "Back on Track," Norville decided to remain in the literary world. Ten years later, she penned her second motivational piece, titled "Thank You Power: Making the Science of Gratitude Work for You." Imbued with the same feminine, encouraging energy as "Back on Track," "Thank You Power" made it to the New York Times Best Seller List. In addition to this, Norville has also published two children's books and a craft book titled "Knit With Deborah Norville."
Deborah Norville is the host of Inside Edition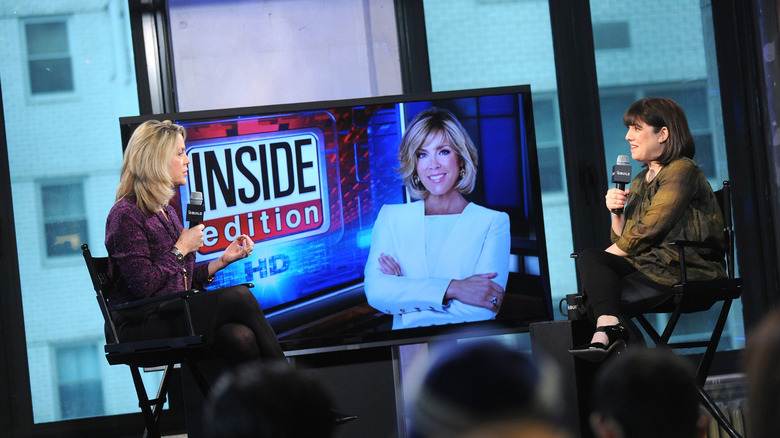 Desiree Navarro/Getty Images
In 1995, Deborah Norville received the most lucrative job offer of her career when CBS tapped her to take over as the host of "Inside Edition." Citing "investigation, inspiration, and offbeat stories" as their corner of the broadcast market, "Inside Edition" is a syndicated daily news program that covers true crime stories as well as the entertainment and political news other traditional daily programs cover. 
Norville became host of "Inside Edition" after conservative commentator Bill O'Reilly stepped down from the role. The position was highly attractive to the then-mother of two, who was desperately trying to find a way to remain in broadcasting but also spend more time with her family. Looking back on her choice to sign on with "Inside Edition," Norville said on her website that "the chance to anchor a daily broadcast based in New York meant I'd be home most of the time," giving her the best of both worlds. 
Though she is based in New York, Norville has not lost her hunger for chasing down a good story. Some special assignments have called for her to travel out of town, such as her masterful coverage of an American Airlines jet crash in Cali, Colombia, or her conversation with Paula Jones in the first sit-down interview Jones gave following her scandalous lawsuit against President Bill Clinton. Today, Norville remains in the hosting gig at "Inside Edition" and celebrated her 25th anniversary with the program in January 2020. 
Deborah Norville welcomed her third child on the air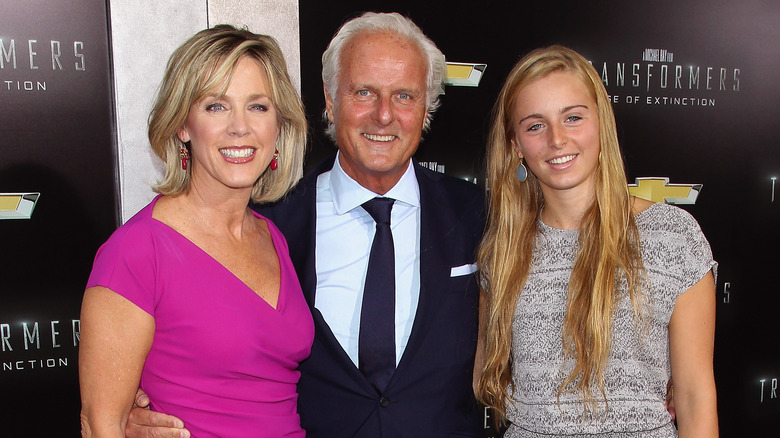 Jim Spellman/Getty Images
Deborah Norville's commitment to "Inside Edition" was on full display during one very special broadcast in 1998. Appearing to audiences clothed in a beautiful silk gown and surrounded by elaborate bouquets of flowers, the veteran anchor shocked audiences by hosting that night's broadcast of "Inside Edition" directly from the maternity ward just nine hours after delivering her third child and only daughter, Mikaela Wellner. 
"My husband thinks I'm crazy to be doing this," the new mother of three announced to her viewers, "but as they say," she continued, "the show must go on!" In 2023, Norville looked back on this standout moment from her career with the team at CBS Mornings, recalling that a female producer behind the scenes at "Inside Edition" convinced her to go through with the post-birth broadcast. While Norville was originally reluctant, the promise that a hair and makeup team would pay her a visit before cameras started rolling eventually persuaded her. 
Not only does this 1998 broadcast contain one of the most unique home videos of all time, but it also marked a watershed moment in American talk television. Speaking with Gayle King, Norville claims that her post-birth broadcast opened the doors to showing viewers at home a much more personal — and human — side of their media figures. This change, she says, is a "healthy" one for both viewers and hosts alike. 
She was inducted into the Broadcasting + Cable Hall of Fame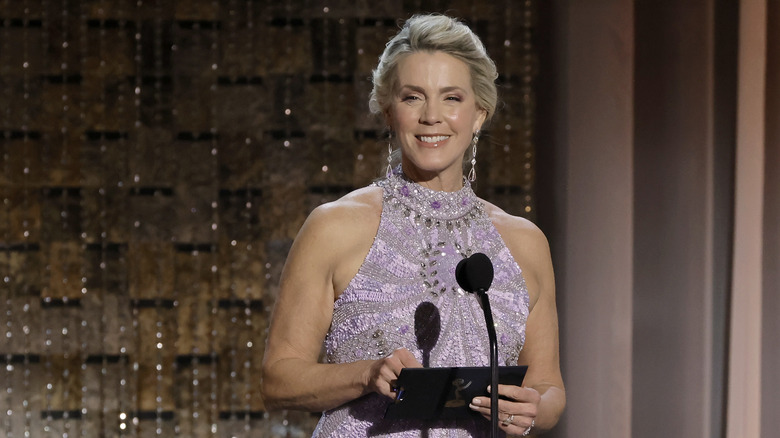 Kevin Winter/Getty Images
As the longest-serving anchor on American television, Deborah Norville's contributions to journalism and television history were recognized in 2016 with her induction into the Broadcasting + Cable Hall of Fame. Other notable inductees include Oprah Winfrey, Dr. Phil McGraw, and Michael Powell. Joining the Broadcasting + Cable Hall of Fame is an outstanding honor that not only formally includes Norville among other television luminaries, but it also celebrates the way Norville's unique career has personally impacted the cable landscape. 
Her career has been defined not only by stellar reporting and hosting, but also by dogged feminist efforts at showing American viewers that women are capable of leading teams, taking charge, and navigating the toughest and trickiest news stories out there. From dealing with older male bosses who underestimated her capabilities to demystifying the experience of childbirth for millions across the country, Norville's career is defined by her position as a strong woman in a male-dominated culture. 
With 28 years at "Inside Edition" and multiple Emmys under her belt, broadcasting and cable is only one corner of the verifiable empire Norville has managed to create. In addition to her television work, Norville has also succeeded at book writing, radio hosting, and endless charity work and fundraising. Forever showing us what a true strong woman looks like, Norville's career is far from over.