What Really Happened Between Savannah Chrisley And Tim Tebow? We Revisit The Fling Rumors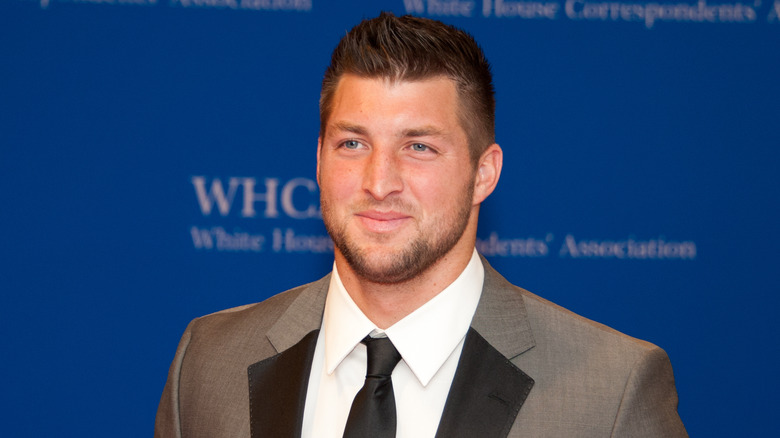 Rena Schild/Shutterstock
When talks began to swirl several years ago that former NFL top prospect Tim Tebow was the lucky man in Savannah Chrisley's life, many outlets dubbed the two a couple before they could confirm or deny their dating status. Unfortunately, Chrisley garnered an unfavorable reputation around this time as being a woman who jumps from athlete to athlete. The alleged Tebow relationship came shortly after she split from her former basketball star boyfriend, Luke Kennard. Though that relationship was short-lived, ending due to suspected infidelity, this left some to assume that the reality star only dated famous men in the sports world. She has never confirmed whether or not this was her preference.
It didn't take long for both Tebow and Chrisley to catch wind of the hearsay, quickly shooting a potential romance down as nothing more than gossip. Nevertheless, that did not stop the rumor mill from churning. Luckily, the pair seemingly moved on amicably from the claims.
The rumors began after the two were spotted at a concert together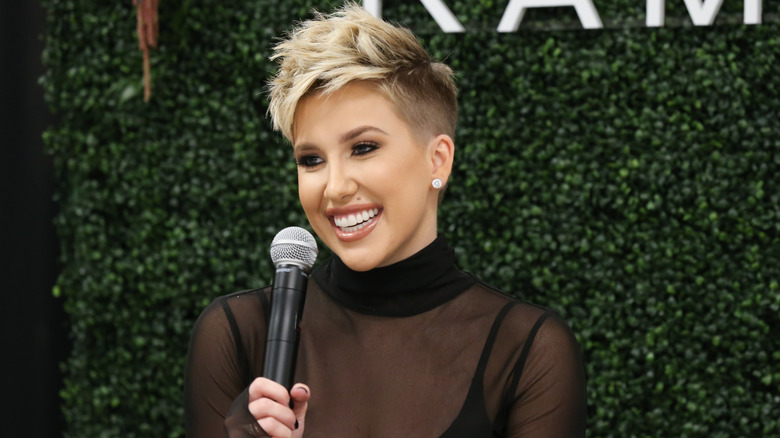 Terry Wyatt/Getty Images
While it may seem that reports of Tim Tebow dating "Chrisley Knows Best" star Savannah Chrisley came out of nowhere, a social media post is what sparked fans' interest. The now-deleted photo showed the adored daughter of Todd and Julie Chrisley posing affectionately next to Tebow. The flick was captured after a Sam Hunt show in Nashville, Tennessee, that they both attended. At the time, Chrisley captioned the picture, "What a great night last night!! @timtebow, so sweet! #15ina30tour."
The picture sent fans swooning, hoping that the two were the newest "it" famous couple. However, no other photos surfaced after this one, which should have been an indication that there were no romantic ties between them. Tebow soon began dating his now-wife, Demi-Leigh, after meeting at a charity event for his foundation in 2018. Therefore, if there were any sparks between Chrisley and Tebow during that time, they likely fizzled fairly quickly.
Both Tim Tebow and Savannah Chrisley have said they're just friends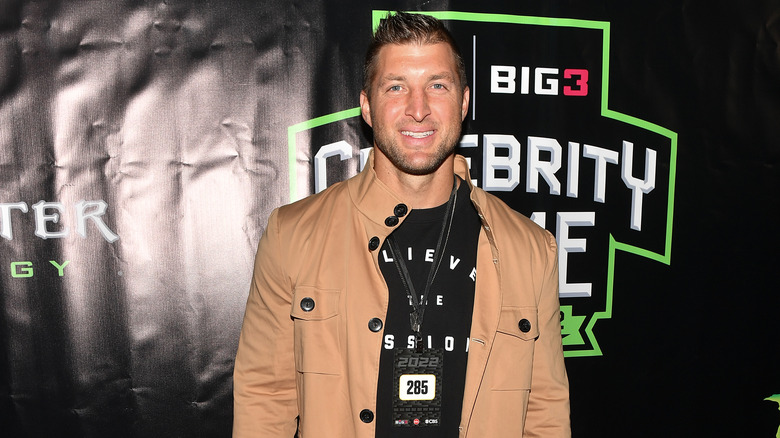 Paras Griffin/Getty Images
Heisman winner Tim Tebow and podcaster Savannah Chrisley did not allow the chatter about them to fester for too long. In September 2017, Chrisley confirmed to TMZ that their photo opp was nothing more than two friends catching up.
​​"There is no couple to it. We just have a bunch of mutual friends, so it was fun," she told the outlet.
Tebow himself did not comment on the matter, but it looks like things have since cooled down. The former quarterback married Demi-Leigh in June 2023, and Chrisley is dating again following her failed engagement to hockey player Nic Kerdiles. She made the revelation during a March episode of the "Off The Vine with Kaitlyn Bristowe" podcast.
"I am dating someone," the "Chrisley Knows Best" alum revealed on the podcast. For now, she is choosing to keep that blossoming union private as she focuses on her new normal as guardian of her younger siblings and niece while her parents complete their prison terms. In addition to marriage, Tebow is also focusing on bringing a minor league hockey team to Lake Tahoe, seemingly unbothered by tabloids.