What We Know About Tiffany Trump's Childhood Connection To The Kardashians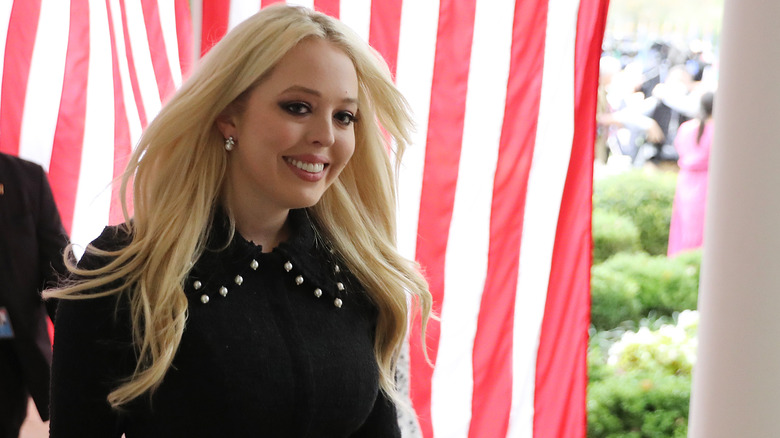 Chip Somodevilla/Getty Images
Among the former president's children, Tiffany Trump is an outsider, having grown up at a distance from her famous father and half-siblings. Yet she's still connected to celebrated and wealthy people, including the Kardashians. Essentially, she was their girl next door, having grown up in Calabasas, California, the site of numerous early episodes of "Keeping Up with the Kardashians."
Tiffany explained to People that she and her mother, Marla Maples, lived in the exclusive community "before the show even started" and so they knew the Kardashians "A little bit. My mom was friends with Kris [Jenner], of course, and she's amazing." Though Tiffany is around the same age as Kendall Jenner, she attended the Viewpoint School, according to Vanity Fair, while Kendall was at Sierra Canyon. Still, an association existed: Kendall and Kylie Jenner "were best friends with a friend of mine from my high school," Tiffany noted.
While she and the Kardashians may not have been besties themselves, Tiffany shares at least one similarity with the famous clan in that her Instagram feed is filled with pics of extravagant friends enjoying an existence most of us will never experience. Vanity Fair lists Gaïa Matisse (great-great-granddaughter of artist Henri Matisse), E. J. Johnson (son of basketball great Magic Johnson), and Peter Brant Jr. (son of model Stephanie Seymour) as members of her inner circle. 
What it meant to live in California and not her father's home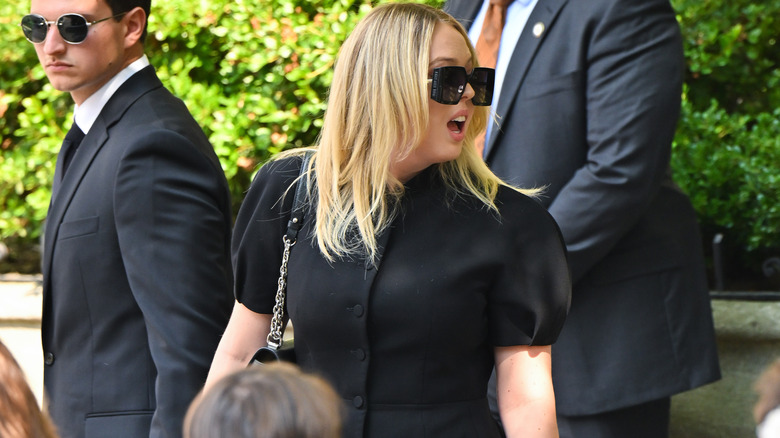 James Devaney/Getty Images
Tiffany Trump told People that her mother, Marla Maples, made a conscious decision to help her avoid the downside of growing up with a famous name. "She moved us out of New York to get out of the spotlight and let me grow up and find my own identity versus being in the shadow of a name, or growing up very young with all that pressure," Tiffany said. 
Her mother's desire for her to have a normal childhood led Tiffany to become a studious pupil with a healthy interest in sports — she played volleyball, basketball, and soccer — while cultivating her artistic abilities with fashion sketches, which even led to an internship at Vogue, courtesy of her half-sister Ivanka Trump, per Vanity Fair. 
Eventually, she decided on a legal career and graduated from Georgetown Law School, where Tiffany currently works as a legal research assistant (via Page Six). In 2022, she married Michael Boulos, Lebanese-American billionaire heir, in a stunning wedding at Mar-a-Lago. Born into fame and linked to other rich kids, including the Kardashians, Tiffany's marriage signals she's firmly embraced her family's fame.
The unknown heart of a famous daughter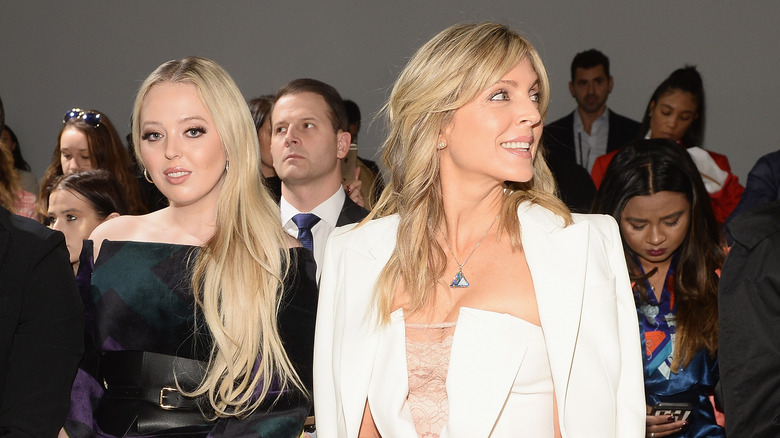 Noam Galai/Getty Images
Tiffany Trump selected Mar-a-Lago as her wedding venue because it was her childhood home, as Marla Maples informed People, adding that her daughter also requested a replica of the custom Sylvia Weinstock wedding cake served at her own 1993 nuptials to Donald Trump. In deference to her husband's heritage, Tiffany chose a Lebanese designer, Elie Saab, to create her dress, per Palm Beach Daily News. She also selected Toni Briess, who is based in Beirut and Paris, to help plan her wedding. 
Despite a stunning transformation over time, Tiffany's character is difficult to define, though some insight is provided by Ivanka Trump in her book, "The Trump Card: Playing to Win in Work and Life." An anecdote recorded in Vanity Fair describes how an awkward 15-year-old Tiffany approached her then 27-year-old half-sister to inquire about how she might (delicately) ask their father for money. 
Ivanka wrote: "All she wanted, really, was a way to enjoy some of the privileges her friends got to enjoy, in the same way she would have enjoyed them if she'd lived under our father's roof." Ivanka herself "went to our father and suggested he think about surprising Tiffany with a credit card for Christmas, with a small monthly allowance on it. Sure enough, he did just that. Tiffany was thrilled and relieved."