Why Missy Elliott Took A Break From Music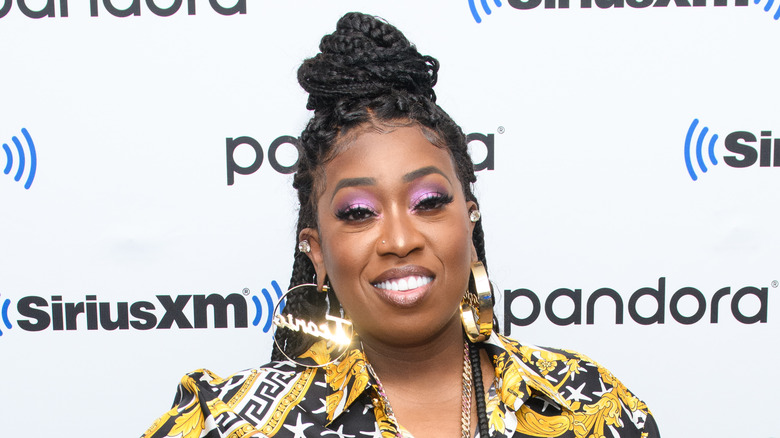 Noam Galai/Getty Images
Melissa, Misdemeanor, Ms. Supa Dupa Fly — no matter what she goes by, Missy Elliott is a household name known best for her multi-decade success in the music industry. However, the Grammy award winner shocked fans when she stepped away from her fire-hot career and took a break from churning out hits.
Elliott's start in the music industry unfolded mostly behind the scenes, with Elliott writing and producing tracks for other artists, often alongside friend Tim "Timbaland" Mosley. However, all eyes (and ears) quickly turned on her once she released her album "Supa Dupa Fly" in 1997. The album showcased Elliott's rapping skills and helped solidify her as one of the biggest female rappers during an era when men overwhelmingly dominated the genre. The artist followed up her debut album with the release of "Da Real World" in 1999, followed by "Miss E... So Addictive" in 2001. Then, in 2002, Elliott stunned both fans and critics with her album "Under Construction," spawning the mega-hit "Work It," which peaked at number two on the Billboard Hot 100 chart.
The rapper-slash-producer kept busy, continuing to collaborate with artists such as Christina Aguilera and Ciara, while also pumping out two more albums of her own. Despite her fast-paced rise, Elliott stopped releasing her own music for a decade following the release of "The Cookbook" in 2005, largely prompted by a scary medical diagnosis.
Missy Elliott's Graves' disease diagnosis kept her out of the spotlight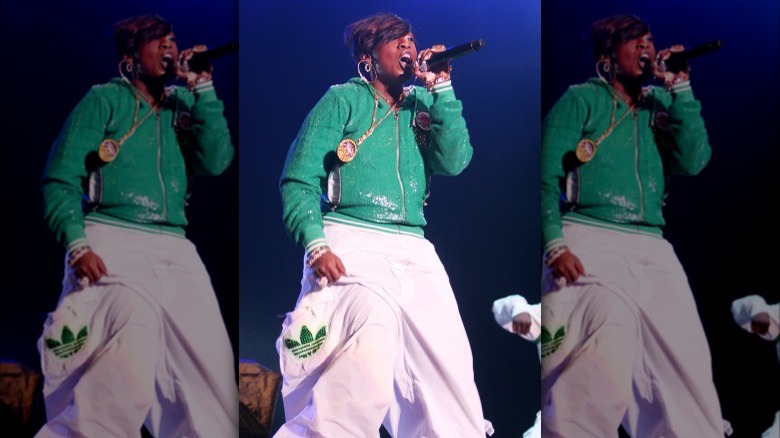 Marcin Kadziolka/Shutterstock
Missy Elliott might be a bit of a musical perfectionist. "When I create something, it's gotta be special, and it can't just be to throw something out there because I feel like I'm Missy," she said in a 2014 interview on "The Yo Show" addressing her long hiatus. "I gotta feel like what I'm giving the fans is 100% and that it's game-changing. I don't just throw out microwave records."
However, Elliott's break from music was driven by more than perfectionism — burnout at work and her health played a pivotal role. "I needed a break," she told i-D in 2015, just after ending her hiatus with the single "WTF." "But in that break I felt like I lost time. Then I ended up getting sick." Previously, the rapper revealed to People that she had been diagnosed with Graves' disease in 2008, an autoimmune condition that affected her motor skills and made it difficult to function in everyday life — let alone in front of millions of fans.
At the time of her comeback, Elliott credited Pharrell with helping her bust out of her shell. "He said 'I'm not trying to push you, but people miss you," she explained. His encouragement would lead the two to release "WTF" together, officially ending the rap queen's decade of laying low.
Missy Elliott's comeback proved she still had it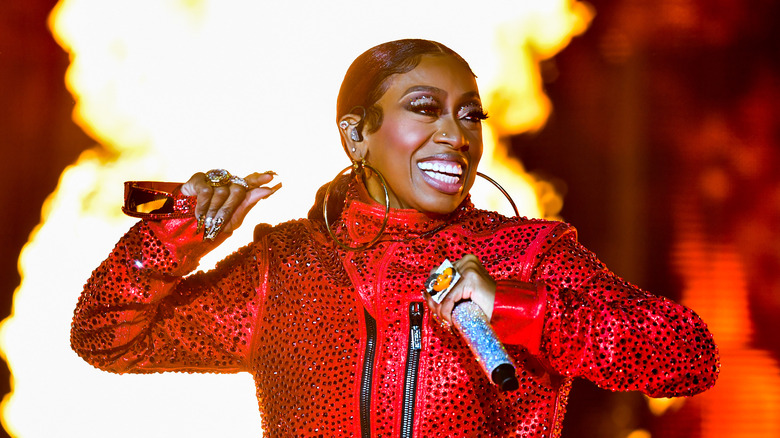 Aaron J. Thornton/Getty Images
Missy Elliott stepped away from music long enough for a whole new class of rappers to hit the scene, but that didn't mean her comeback fell on deaf ears. Fans eagerly welcomed the release of Elliott's single "WTF," helping its music video go viral (to date, it's racked up over 70 million views) and propelling the song to number one on the Billboard + Twitter Trending 140 list. In response to the warm reception, Elliott told i-D, "I'm so humbly grateful. The night before ['WTF'] came out, I felt like a child waiting for Santa Claus to come down the chimney."
Despite the success of her 2015 single, the rapper would hold off on releasing another new album until 2019, when she dropped the EP "Iconology." Even if she's slowed down considerably compared to her early-aughts trajectory, the "Get Ur Freak On" singer has continued receiving praise and recognition. In 2022, Chart Data announced on Twitter that all six of Elliott's studio albums had been certified platinum or higher, setting a new record among female rappers. A year later in 2023, the music icon was inducted into the Rock & Roll Hall of Fame, making her the first female rapper to receive the honor.