How Brad Pitt Got Tricked Over His French Mansion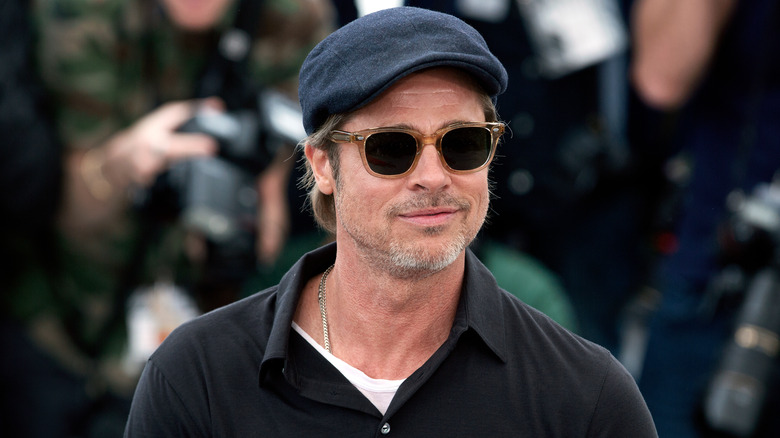 Andrea Raffin/Shutterstock
Brad Pitt revealed his secret passion project that's left the world all buzzing with intrigue. The A-lister apparently spent an entire year hunting for medieval treasure, beneath his estate! It turns out that Pitt's expeditious foray into viticulture has evolved, trying to unearth far more than just luxurious wines. The said expedition took place at the Chateau Miraval, the wondrous estate he bought with his ex-wife, Angelina Jolie, back in 2008. It's worth noting that Chateau Miraval has produced and distributed luxurious, and expert-approved wines since 2012 in partnership with Famille Perrin. So, the villa itself is already a goldmine for its owners. 
While the world has seen the stunning transformation of Pitt in Hollywood, no one expected he'd transform into a treasure hunter behind the scenes. The "Bullet Train" star came clean in a GQ interview that he was elated at the potential riches in his property. He mentioned how an unnamed man convinced him that there was a secret cache of 13th-century treasure buried underneath his property. The former power couple bought the vineyard for the astonishing price of $60 million.
However, according to Pitt, the secret treasure in the property was estimated to be worth more than that. It was allegedly a huge trove of gold, worth millions of dollars, left and buried there back in the day.
Brad Pitt got obsessed with hunting for alleged buried treasure for an entire year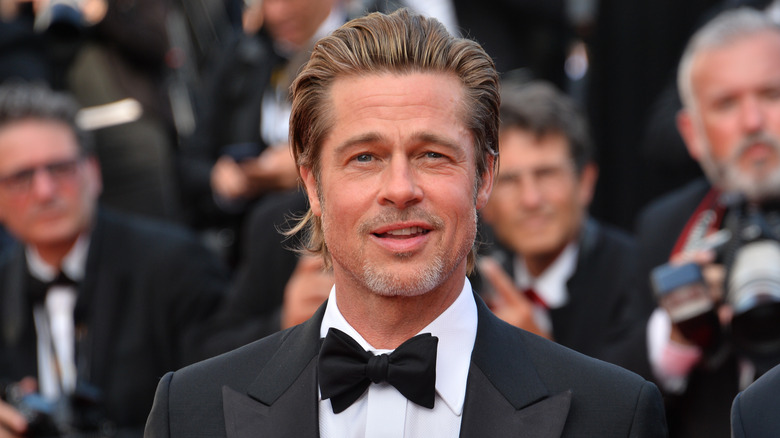 Featureflash Photo Agency/Shutterstock
The "Fight Club" actor found himself on an all-consuming, relentless quest for gold at his vineyard villa. He even collected treasure-hunting tools, such as cutting-edge radar equipment, to boost his search for loot. Speaking about this "Indiana Jones"-like experience, Brad Pitt recounted that he was obsessed to the highest degree. "Like for a year, this was all I could think about, just the excitement of it all," he told GQ.
After all, it can't be helped. Treasure-hunting can activate the inner child in all of us, as it did with him. Pitt related how he used to hear crazy loot stories back when he was young in the Ozark mountains, which is close to his old childhood home in Missouri. The villa's history itself is also pretty convincing for treasure hunters. Chateau Miraval is nestled in Correns, along an ancient Roman location. But despite his year-long excitement, Pitt's loot-seeking adventure was futile. Since the beginning, there was not a penny of gold underneath Chateau Miraval. This was apparently just a ploy for him to invest in a radar company. 
He further told GQ, that the experience was "pretty foolish in the end." While the entire ordeal left him feeling silly, the hunt itself was full of fun and excitement, making it a worthy experience.
Legal battle that involves the goldmine property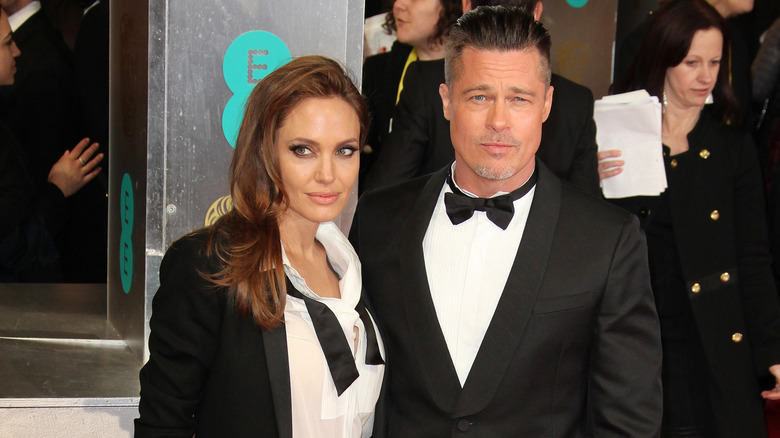 BAKOUNINE/Shutterstock
While Brad Pitt seemingly had silly stories about the property, it has become the source of a legal dispute with his ex-wife, Angelina Jolie. Following the highly publicized divorce between the pair, they continued their relationship as business partners for their wine company. It wasn't long until the estate of the former Hollywood power couple became a focal point of a legal battle after it was revealed that Jolie sold her entire stake in the property to Tenute del Mondo, a wine group controlled by the Russian billionaire Yuri Shefler. 
After Pitt found out about said purchase, he and his legal team sued Jolie for selling shares without permission. Pitt's camp claimed that he and his ex-wife agreed they'd need permission from each other when it comes to their stake in the property. However, Jolie countered that no permission nor agreement existed. According to legal documents obtained by The Wall Street Journal, Pitt also claimed that  "Jolie seeks to recover unearned windfall profits for herself while inflicting gratuitous harm on Pitt. Jolie long ago stopped contributing to Miraval — while Pitt poured money and sweat equity into the wine business. Jolie seeks to seize profits she has not earned and returns on an investment she did not make," (per Vanity Fair).
This is probably one of Pitt and Jolie's messiest moments after their split. As of this writing, the former couple are still in a legal battle over Chateau Miraval.