The GMA Anchor Who Set Erin Andrews Up With Her Husband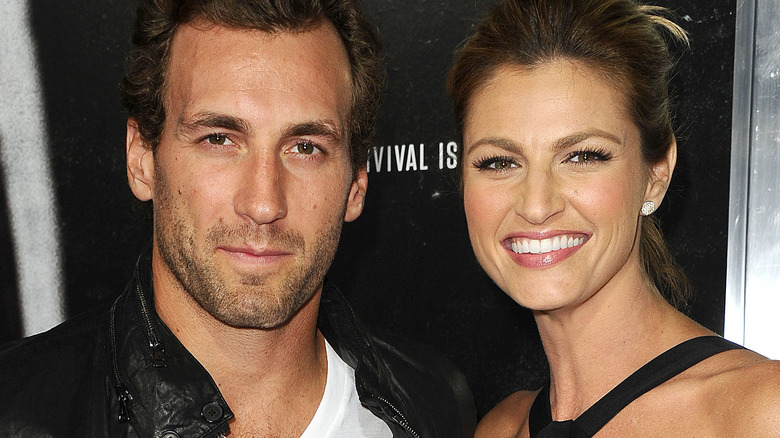 Jason Laveris/Getty Images
Erin Andrews and her husband Jarret Stoll have been married since 2017. The two tied the knot in Montana five years after they first met — and the way they met is a pretty unique story. Stoll noticed Andrews while she was covering the 2012 World Series, and he sent a text to a mutual friend, "Good Morning America" anchor, Michael Strahan. As the story goes, Stoll asked Strahan to set him up with Andrews, but she really wasn't interested. Determined, Stoll decided to take things into his own hands and approached Andrews at another game. She agreed to go out with him, and that was that. Andrews recounted the story while filling in for Kelly Ripa on a 2013 episode of "Live with Kelly & Michael."
After Stoll proposed to Andrews, the former "Dancing With the Stars" co-host went on "Good Morning America" to tell Strahan how it all happened. "Finally! I'm only 100 years old so it's nice he did that ... well, I'm one foot in the grave," she joked, high-fiving Strahan. She went on to share that Stoll got down on one knee at Disneyland. "We went there for Christmas to see the Christmas decorations, and we had a lovely dinner there, and he did it right there at dinner at Disneyland," she said, adding, "I was bawling like a child." It makes sense that Andrews would share this exciting news with Strahan; the two go way back, after all.
Michael Strahan and Erin Andrews have been friends for years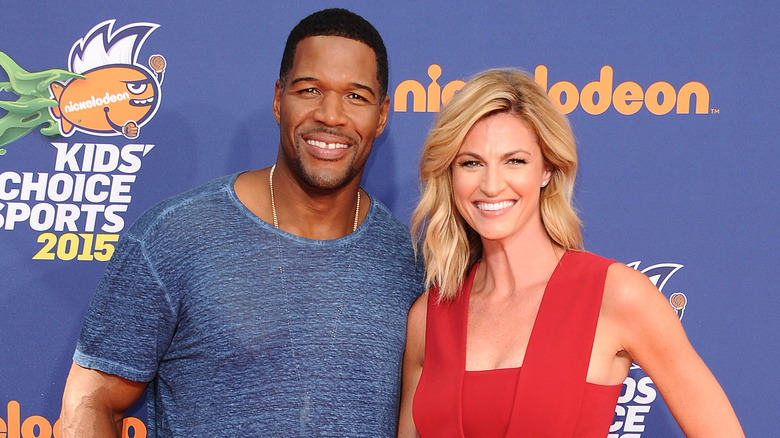 Jason Laveris/Getty Images
Erin Andrews and Michael Strahan became fast friends many years ago. The two have worked together on various projects and have made joint appearances together, too. For example, back in 2013, the two hosted the Don Julio dinner at the Audi Forum in New Orleans. Of course, the two have also crossed paths working in sports broadcasting; Andrews has worked with Fox Sports since 2012, while Strahan has been an analyst for the network since 2008. Andrews co-hosted "Live! With Kelly & Michael" a few times, filling in for Kelly Ripa during Strahan's eight years on the morning talk show. 
Strahan is such good friends with Andrews and Jarret Stoll that they asked him to speak at their wedding, according to Harper's Bazaar. "We kept the wedding very small and intimate. That was very important to us. It paid off — our group all got along, danced together, and laughed all night. It was exactly what we wanted — with the people we wanted there," Andrews told the outlet on her wedding day. Flash forward to 2023, and Andrews is entering a new chapter of her life — and we can only imagine how excited Strahan is for his pal.
Erin Andrews and Jarret Stoll welcomed their first child together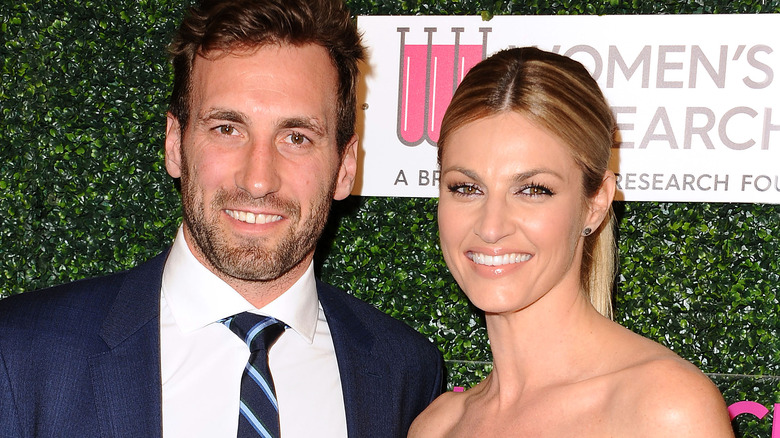 Jason Laveris/Getty Images
In July, Erin Andrews shared some exciting news with the world: She's a mom. Back in January, Andrews spoke to Us Weekly about her infertility journey. "It's not easy. It's been one of the most challenging things in my life, and I know in my husband's life, as well," she shared. Six months later, Andrews' rep confirmed that she and Jarret Stoll had recently become parents. The couple welcomed a baby boy by surrogacy, Andrews' rep confirmed to Today.
There were certainly times when Andrews, who was diagnosed with cervical cancer in 2016, didn't know if she'd ever get pregnant. In an interview with Entertainment Tonight, she shared that everything she had gone through really brought her closer to her husband. "I think if anything, it got us stronger. He went to a lot of doctors' meetings, saw a lot of diagrams, and sat there. And this is a guy who cares about winning face-offs and winning penalty kills and so forth, and he was like, 'We got this, we got this.' It made conversations about having babies very real and candid for him and our life and everything. So he was amazing," she said. Now, the two have new roles as mom and dad — and we can't wait to see the first photo of baby Stolly with his Uncle Mike.