Robert Redford's Grandson Has Grown Up To Be His Twin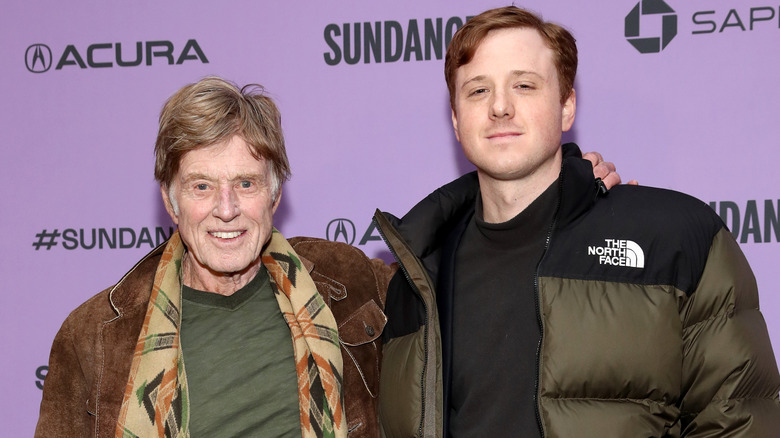 Cindy Ord/Getty Images
Robert Redford is one of the biggest names in cinematic history. The multi-hyphenate's career in Hollywood dates back to the 1960s, and his starring roles include memorable films such as "Butch Cassidy and the Sundance Kid" and "The Way We Were." 
As a director, he's been the visionary behind films like "Ordinary People," "A River Runs Through It," and "The Legend of Bagger Vance." He's tried his hand at producing, with EP credits including "Love in the Time of Money," "People I Know," and "The Adderall Diaries." He's also helped provide a platform for emerging filmmakers, co-founding the Sundance Film Festival.
While his career has kept him very busy, Redford still found time to raise a family. He has four children: James Redford, Amy Redford, Shauna Redford, and Scott Anthony Redford. Through them, he has several grandchildren, including one who has grown up to look like he could be his twin. Dylan Redford is following in his famous grandfather's footsteps in more ways than one, and fans of the legendary actor will be excited to see his grandson's star continue to rise.
Dylan Redford is filmmaker James Redford's only son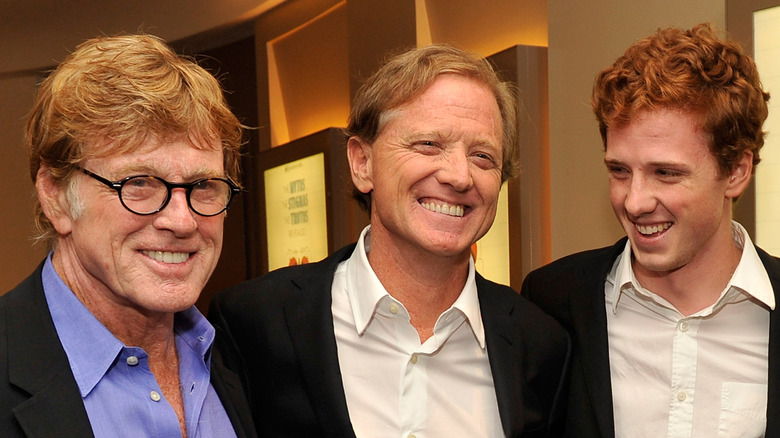 Stephen Lovekin/Getty Images
Like his dad, Robert Redford, James Redford showed a talent for the arts, studying creative writing and film at the University of Colorado Boulder before heading to Northwestern University for a master's degree in literature. James also entered show business, serving as producer, writer, or director of several films including "The Kindness of Strangers," "California Typewriter," "The Acting Thing," and "Quality Time."
While at the University of Colorado Boulder, the filmmaker also met the woman he would marry, Kyle Boulder. The couple tied the knot in 1998 and had two children, Dylan and Lena. Dylan Redford was born to the couple on February 12, 1991, and is their only son.
Sadly, James died in 2020 from cancer. Kyle announced the heartbreaking death of Robert Redford's son on Twitter and mentioned the strength the couple got from Dylan and Lena in James' final years. "He lived a beautiful, impactful life & was loved by many," she wrote. "He will be deeply missed. As his wife of 32 yrs, I'm most grateful for the two spectacular children we raised together. I don't know what we would've done w/o them over the past 2yrs." Dylan also honored his father in a now-deleted social media post, sharing photos of the father and son together on Instagram. "[I] might have just been the luckiest son in the world," he wrote.
He didn't understand his grandfather's fame when he was growing up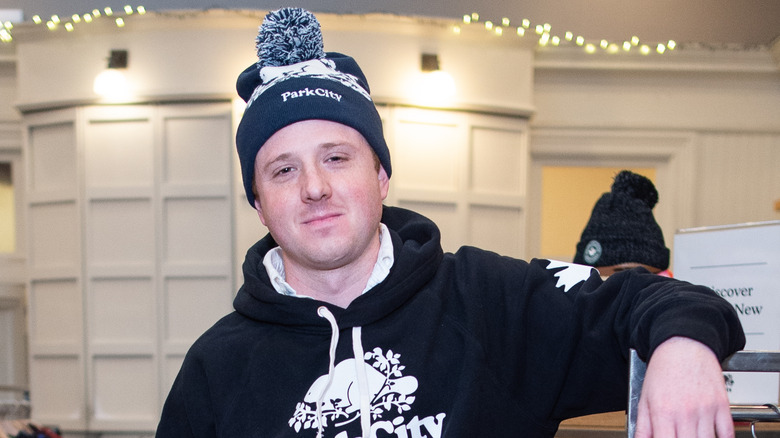 Mark Sagliocco/Getty Images
Dylan Redford may have grown up to look like he's practically his grandfather's twin, but as a kid, he didn't understand the magnitude of his fame. To Dylan, the celebrated actor was just his grandpa, not the Robert Redford. In 2016, Dylan interviewed his grandfather for the Walker Art Center's magazine, Crosscuts. 
He recounted bringing his grandfather to school for Grandparents' Day and was overwhelmed by how excited everyone was to meet the famous actor. He was especially baffled after a schoolmate gave him a note from her grandmother to give to his grandpa, not understanding that it was fan mail. "It was like, 'What is going on here?. ... Is there some sort of communication between grandparents that's going on that I don't know about?'" he told Robert. "It's remained a pretty wild thing to me."
Dylan emphasized, though, that he's proud to be Robert's grandson — as are his cousins. He said that they all look up to him not because of his fame but because of what a great person he is and how hard he's worked to build strong family connections. "It's always felt to us that you are first and foremost our grandfather," he said. "Maybe that's not the case for other celebrity families. It's always felt like there's the outside world that has its own thing and then there's our family, which feels really special."
Dylan Redford has dyslexia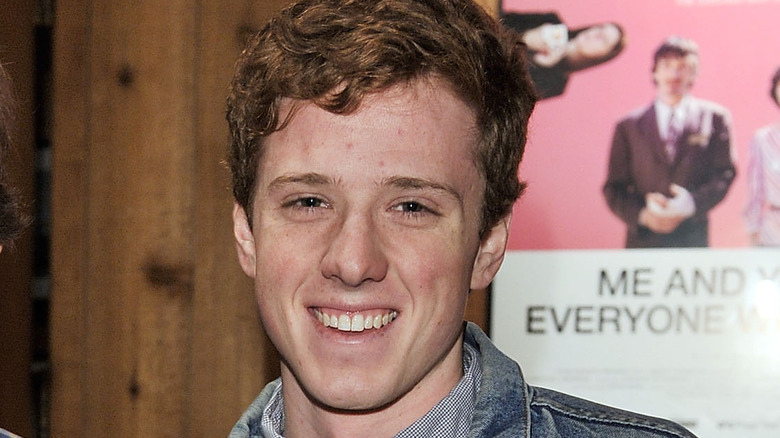 George Pimentel/Getty Images
Dylan Redford struggled to learn to read and write as a child and was still unable to do either by the age of 10. He was eventually diagnosed with dyslexia. James Redford opened up to Sky News about his son's condition and how difficult it was for the family when they were trying to figure out how to help him. "Luckily, I was married to an educator, and she was able to do a lot of hard work to come to understand the dyslexia that caused his problem," he said.
After his diagnosis, Dylan received the support he needed to thrive academically. He spoke about his experience in the preface of the book "From High School to College: Steps to Success for Students With Disabilities," in which he talked about the pressure that "underdog" stories placed on him. While he went on to become quite successful, he also experienced a lot of pressure to do so. "I felt the tug of wanting to do certain things that matched the 'underdog' narratives that are so often a feature of the stories of successful individuals with disabilities," he said.
His mother, Kyle Redford, elaborated on her son's views in a piece for Understood, cautioning against setting an "unrealistic standard" for kids with dyslexia by always highlighting people who have gone on to become wildly successful. "[W]e can and should share more stories of people with learning and thinking differences who are flourishing outside the spotlight," she said.
His dad directed a documentary inspired by him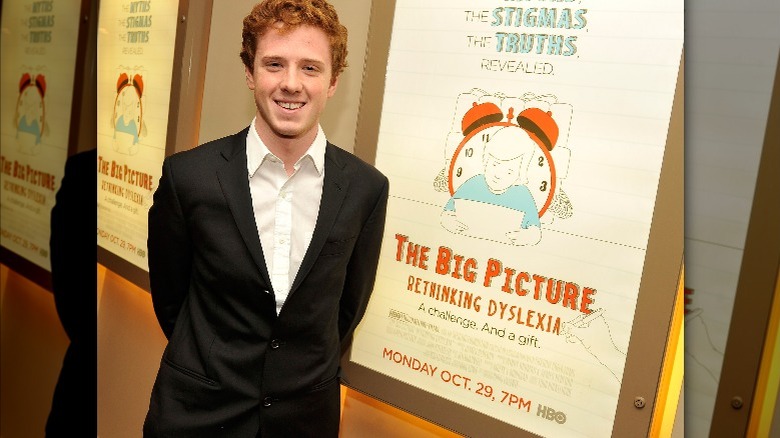 Stephen Lovekin/Getty Images
Dylan Redford's journey with dyslexia inspired his father, James Redford, to direct a documentary about the condition and his son's experiences with it called "The Big Picture: Rethinking Dyslexia." James spoke to Realscreen about the project, explaining that he wanted to educate audiences on the myths about dyslexia and break down the stigmas surrounding it. "One in five people out there in the world have dyslexia ... and yet most people think it is just a mere matter of reading backwards or being slow and difficult," he said. "And certainly being 'stupid' is the No. 1 stereotype that a lot of dyslexics have to face."
The documentary interviews other people with dyslexia, including Virgin Group founder Sir Richard Branson, who discussed his own experience with the condition. He recalled that his school headmaster told him, "You're either going to go to prison or you're going to become a millionaire."
James told The Guardian that, like Branson, many people with dyslexia have untapped potential because their strengths are often overlooked by the school system. This, he emphasized, is something that needs to change. "Dyslexics process information in a different way. ... If you give them support, they really have the potential to excel, but if they aren't given support, it just becomes yet another thing to put them down," he said.
Robert Redford's grandson attended Middlebury College
Dylan Redford overcame his early academic struggles and, after graduating from high school, went on to attend Middlebury College. He was nervous starting college, telling Middlebury College magazine, "When I got here, I felt like Middlebury had taken a risk with me; I was a risky investment. I mean, I knew what I could do, but how could they know for sure? I had bad SAT scores, and I probably spelled some stuff wrong on the application. So I put pressure on myself to prove that kids with learning disabilities, kids who don't do well on the SATs, can contribute a lot to the community — they can be creators, innovators."
Redford shouldn't have had to feel like he needed to prove himself, but he did just that — and then some. He earned a BFA in studio art in 2015 and explored other artistic media in college as well, directing his first short film, "How's Everything," which premiered at the Brooklyn Film Festival in 2013. He also branched out to radio, managing his school's radio station.
According to Redford's resume on Squarespace, he also did a semester abroad at The Glasgow School of Art. While in college, his art was exhibited many times, and he also received some impressive awards, including an Intern Sculpture Fellowship at Franconia Sculpture Park and an Artist on the Verge Fellowship.
Dylan Redford is following in his famous grandfather's footsteps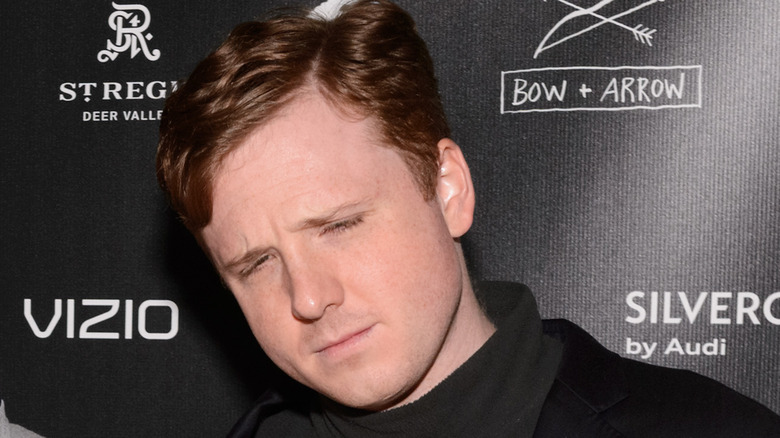 Daniel Boczarski/Getty Images
Like Robert Redford, Dylan Redford is a creative visionary and has worked on several films in various roles. Some of the projects he has produced are the shorts "Fairchild," "The Big Parade," and "Carmen." Directing credits include "My Trip to Miami" and "Emergency Action Plan (EAP)." Redford is also credited as a writer for many of the projects he's worked on in other capacities, including "Emergency Action Plan (EAP)" and "The Big Parade." In addition to producing, writing, and directing, Redford has experience editing some of his films and has even worked on film crews.
Clearly, he knows the ins and outs of the film industry, just like his granddad. He's passionate about filmmaking, saying in an interview with the Associated Press, "It almost feels like I didn't really have a choice. I was born into it. I've always felt so supported by my grandfather, my dad, my mom. This is where I want to be."
Redford's films have been screened at several film festivals, such as Fantastic Fest and the Maryland Film Festival.
Like Robert Redford, Dylan has tried his hand at acting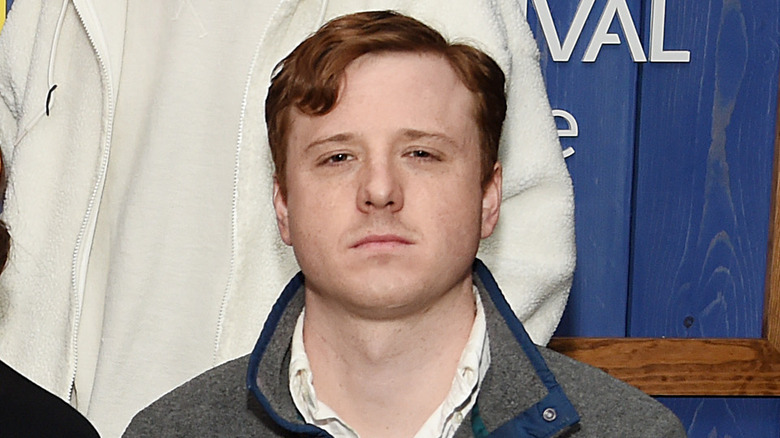 Michael Kovac/Getty Images
In addition to his work as a filmmaker, Dylan Redford has also taken after his grandfather as an actor. While he doesn't have a lot of films under his belt — yet — it's clear that talent runs in his family. Redford's first film role was in a 2008 short called "Zombie High School," when he was still a teenager. He appeared in another short a few years later, titled "Happy Birthday Charlotte Prince." 
Some of Redford's acting credits are in his own productions. He had an acting role in "Omniboat: A Fast Boat Fantasia" alongside his grandfather, in addition to co-producing, co-writing, and co-directing the project. He also appeared in "The Big Parade," which he also co-produced and co-wrote. Another project that brought members of the Redford family together was "And Back Again," a short film he produced, co-wrote, co-directed, and starred in alongside his sister, Lena Redford.
With his talent and his grandfather's good looks, who knows? Perhaps we will see more of Dylan on the big screen in the future.
Dylan Redford (briefly) pulled his grandfather out of retirement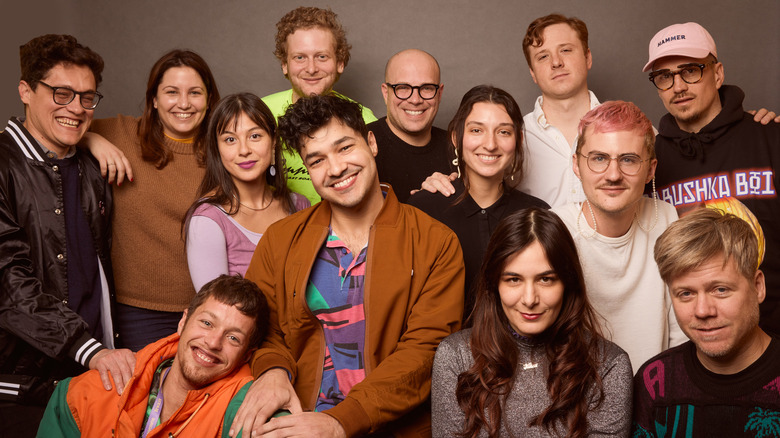 Emily Assiran/Getty Images
In 2016, Robert Redford revealed his plans to retire from acting soon during his interview with Dylan Redford for Crosscuts. "I'm an impatient person, so it's hard for me to sit around and do take after take after take," he told his grandson. Sure enough, two years later, at the age of 81, he told Entertainment Weekly that his role in "The Old Man & the Gun" would be his last, saying, "I thought, 'Well, that's enough.' And why not go out with something that's very upbeat and positive?"
While he has made a couple of appearances since then — notably in a brief cameo in 2019's "Avengers: Endgame" — there isn't much that's been able to pull him out of retirement. But one person who is able to sway him is Dylan, who got his famous granddad and lookalike to appear in his 2020 film "Omniboat: A Fast Boat Fantasia." Dylan co-directed and co-wrote the anthology film (a collaboration of more than a dozen filmmakers), in which his grandpa voiced Lokia the Dolphin Monster. "When they put the idea forward, I said, 'That sounds like a really interesting idea. Go do it and I'll play whatever role you want me to play,'" Robert said of taking on the role. "And they said, 'OK, you be the voice of the dolphin. At least I'm not a whale."
As of this writing, it remains Robert's most recent acting credit, though he's still producing.
He became the co-chair of The Redford Center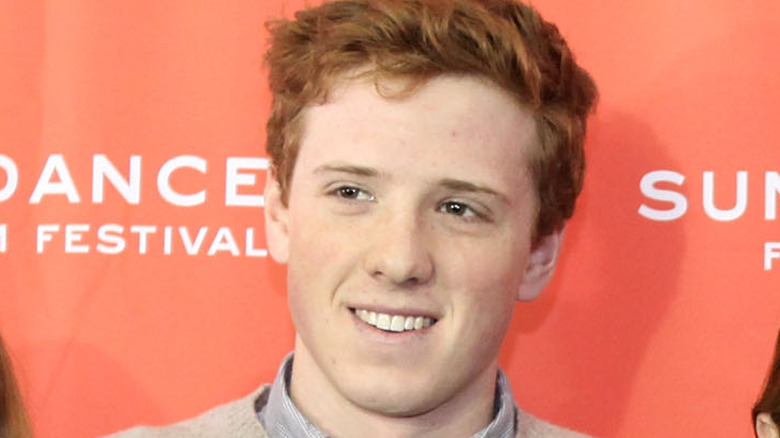 Robin Marchant/Getty Images
In 2020, Dylan Redford was voted in as the co-chair of the board of directors for The Redford Center, which was co-founded by his father and grandfather, James and Robert Redford. The organization works to advance environmentalism through filmmaking. "After years of working to advocate for sustainability and protect wild places, my son James and I recognized the power of storytelling to bring light and advance these issues," Robert said about the organization on its website. The Redford Center provides support for environmental filmmakers through grants and other resources and has produced several films and documentaries in line with its mission. 
The Redford Center announced Dylan's new position in a Facebook post and mentioned some of the work he had previously done for the organization, writing, "In his time as a board member, he has made significant programmatic contributions as part of the review team for the organization's Redford Center Stories and granting programs, and was a critical part of our recent #PowerTheVote campaign."
Dylan, who was elected alongside co-chair Jannat Gargi, a film producer, expressed his excitement to step into the role and to carry on the Redford family legacy. "As a young filmmaker, my goal is to inspire the next generation of storytellers and drive the immediate action needed to protect the environment," he said in a statement shared by Broadway World.
Dylan Redford co-founded an art gallery called Yeah, Maybe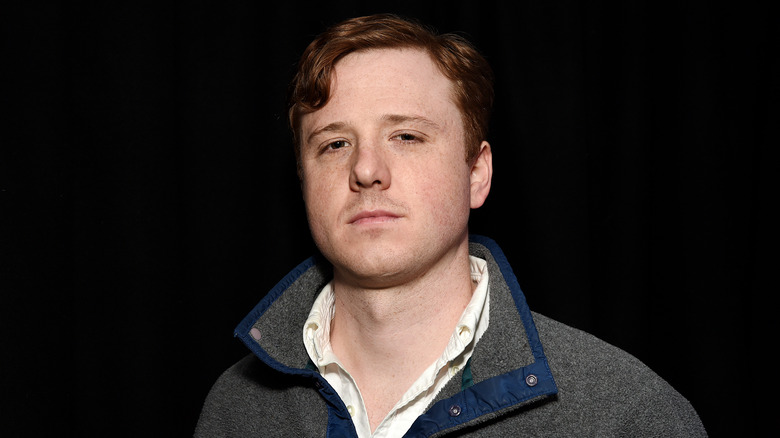 Michael Kovac/Getty Images
Robert Redford's grandson, Dylan Redford, has talents across the artistic spectrum. Aside from his clear passion for film, he's also one of the creative minds behind Yeah Maybe. Redford co-founded the art gallery, described on its Facebook page as "a place where young artists can find a community of interested and engaged people who want to have critical conversations about their work."
A review of Yeah Maybe on In Review describes the unusual setting of the art gallery in "an average-looking South Minneapolis house. ... [which] offers an unusual context for the objects it fleetingly holds."
Sadly, the art gallery doesn't seem to be active any longer; its Facebook page doesn't show any events since 2017. From its Instagram page, though — last updated in 2020 — fans can see the kinds of events the gallery has hosted, such as exhibitions and performances.
He's pretty quiet on social media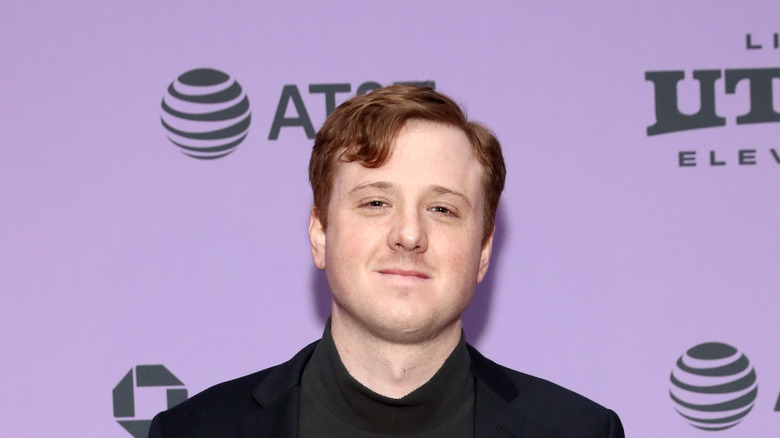 Cindy Ord/Getty Images
Dylan Redford was born in 1991, which makes him a millennial, but he's not as entrenched in social media as many of his peers. According to the Pew Research Center, a whopping 86% of millennials describe themselves as social media users, but Redford is pretty quiet on the apps that so many people of his generation tune into religiously. 
While he does have an Instagram account, his posts are few and far between and typically promote one of his projects. He hasn't posted an update in years and has just over a dozen posts on the account. He doesn't appear to have active verified profiles on any other major social media sites, either, although it's possible he's got secret accounts away from the prying eyes of anyone who wants to catch a glimpse of Robert Redford's grandson's personal life.
In an era in which celebrities and aspiring celebrities often keep active social media pages in order to engage with their fans, Redford doesn't seem to be too bothered with informing the world of what's going on in his life. This is yet another thing he has in common with his grandfather, who also doesn't bother with social media. "All these avenues of going public with yourself, that doesn't appeal to me," the Hollywood icon once told Extra TV.