Princess Charlotte Is Kate Middleton's Twin In Her Wimbledon Debut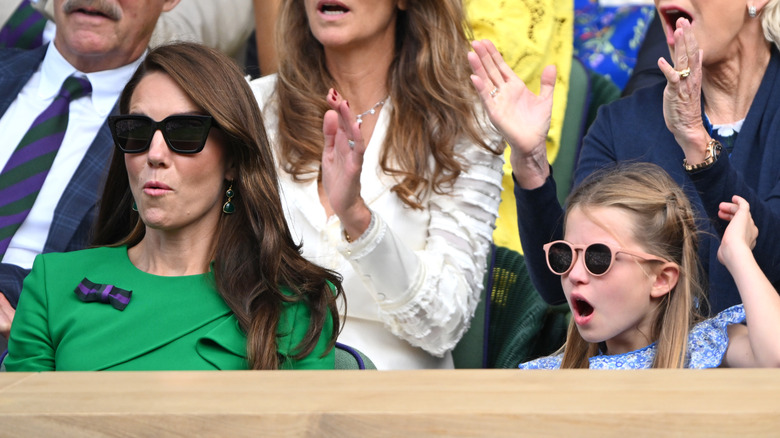 Karwai Tang/Getty Images
Princess Charlotte is taking after her parents when it comes to her love of tennis. On July 16, 2023, the young royal made her Wimbledon debut, sitting alongside the Prince and Princess of Wales and her older brother, Prince George. Charlotte was dressed in a blue floral frock and a pair of white closed-toe shoes. She put on a pair of nude-rimmed sunglasses after making her way to the royal box. As Charlotte kept her eyes glued to the action on the court, she displayed plenty of facial expressions in anticipation of what might happen next. 
Royal watchers can easily draw a comparison between Charlotte and her mom, Kate Middleton, who has also been known to show a lot of emotion during various matches over the years. Indeed, the Princess of Wales is a huge tennis fan — and her love of the sport started long before she became a senior member of the royal family. During a chat with former US Open winner Emma Raducanu, Princess Kate reminisced on attending Wimbledon with her father and her sister. 
"We would be there at the crack of dawn, maybe not overnight but at the crack of dawn," she recalled, according to Hello! magazine. Kate is, of course, very athletic, and has been known to play tennis herself, albeit not professionally. Given this, it's really no surprise that she and Prince William have got their kids involved — and for George and Charlotte, tennis isn't just a spectator sport.
Prince George and Princess Charlotte both play tennis too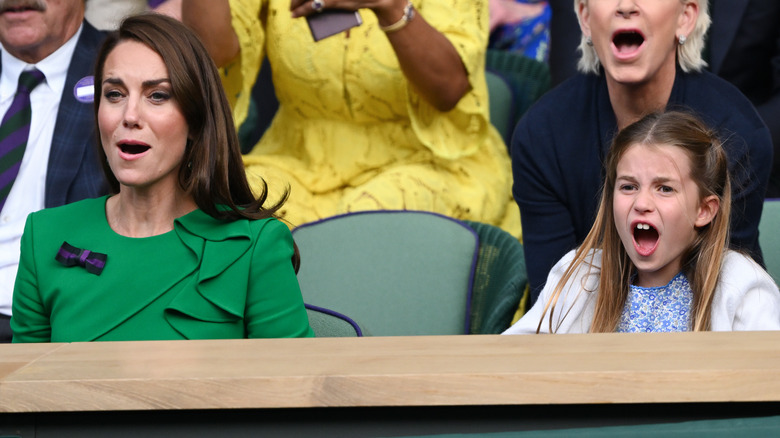 Karwai Tang/Getty Images
Both Prince George and Princess Charlotte enjoy the game of tennis beyond watching from the stands, too. In fact, Charlotte began taking tennis lessons when she was just 2 years old, according to Us Weekly. As for her older brother, he's been taking lessons from none other than eight-time Wimbledon champion Roger Federer himself. In 2019, Marie Claire reported that Federer was going to the Cambridges' home for private lessons with the future king of England. 
As for their family outing to Wimbledon, the Associated Press reports that the Cambridges were on-hand to watch Novak Djokovic and Carlos Alcaraz compete. At the end of the match, the Princess of Wales, a patron of the All-England Club, presented Alcaraz with the coveted gold trophy. "What a match! Congratulations @carlosalcaraz," read a tweet from the couple's official Twitter account. 
Although Charlotte's day at Wimbledon has come and gone, we certainly won't be surprised to see her in attendance next year. With any luck, she'll be twinning with her mom once again, both in fashion and while reacting to the action.