Tragic Details About Jackie Kennedy's Life
Bettmann/Getty Images
We may receive a commission on purchases made from links.
The following article includes discussions of suicide and child death.
Jackie Kennedy was undoubtedly one of America's favorite first ladies, as well as one of the most iconic. Famous worldwide for her style and poise, Jackie captured the attention of the public like no other. Unfortunately, her life was riddled with tragedy.
Born into a wealthy family in 1929, Jacqueline Bouvier grew up in New York. She studied history, literature, art, and French in college, and spent her third year of studies in Paris, France. Afterward, she got herself a job as a columnist for the Washington Times-Herald publication and was known as the "Inquiring Camera Girl". During the time of her employment, Jackie met then-Congressman John F. Kennedy, who would later become her first husband. Jackie, the woman of many nicknames, went on to become the 35th First Lady of the United States when JFK was elected president in 1960. The pair shared two children, but tragically also lost three. After JFK's assassination in 1963, Jackie admitted to never recovering from the dire ordeal. She went on to marry again, but the union was far from ideal. Widowed for the second time, Jackie lived until her early 60s, when she passed away from cancer.
Jackie suffered two losses before giving birth to her children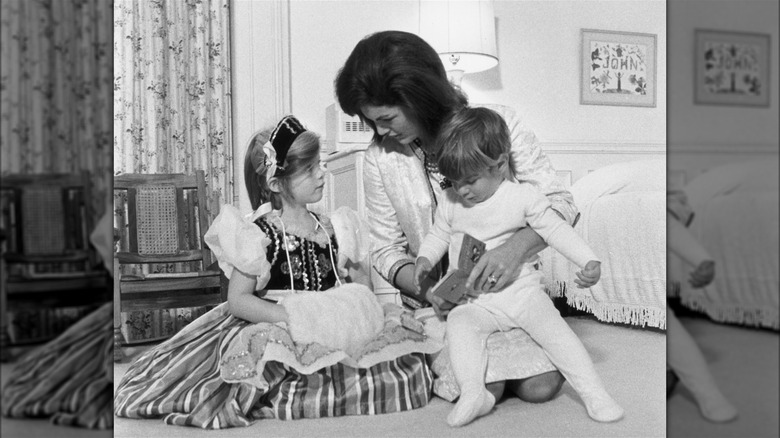 John F. Kennedy Library/Getty Images
Jacqueline Bouvier famously married former U.S. president John Fitzgerald Kennedy in what many consider to be the most beautiful wedding ever, making her the future first lady of the United States at 31. However, before embarking on their White House journey in 1961, Jackie and JFK suffered two tremendous losses. As per the e-book "The Kennedy Baby" by Steven Levingston, the couple were expecting their first child in 1955, two years after tying the knot. According to Ken O'Donnell, who was JFK's friend and advisor, Jackie suffered a miscarriage three months into the pregnancy, via HuffPost.
Jackie fell pregnant again soon after, but just a month before she was due, she gave birth to a stillborn infant in 1956. Despite the horrendous circumstances, the couple didn't give up their dream of having children, and they welcomed a daughter in 1957, named Caroline. Three years later, just after JFK won the presidential race against Richard Nixon in 1960, Jackie delivered the couple's second child, son John Fitzgerald Kennedy Jr.
Her second son passed away hours after being born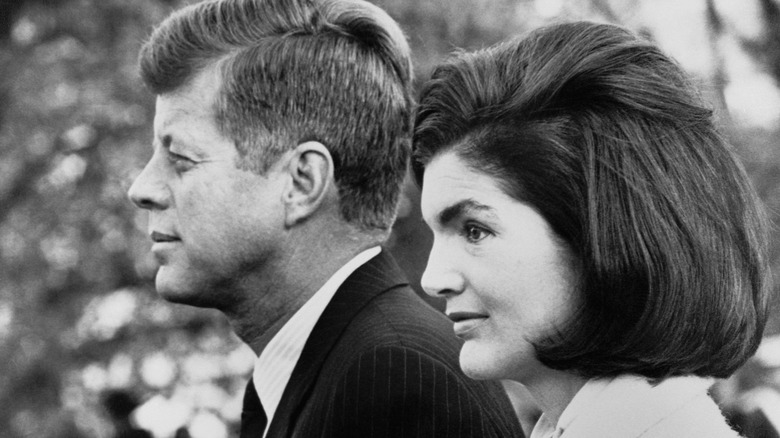 Historical/Getty Images
One of America's most legendary couples, Jackie Kennedy and President John F. Kennedy welcomed their third and last child into the world in 1963, but tragically, not for long. Patrick Kennedy was born about five weeks prematurely and ultimately passed away from complications due to hyaline membrane disease just 39 hours after his delivery. "The death of the infant was one of the hardest moments in the lives of both President and Mrs. Kennedy," Pierre Salinger, JFK's press secretary, recalled for "The Kennedy Baby."
Numerous employees of the White House who worked with the presidential family shared that Jackie and JFK seemed much closer after Patrick's death. "Prior to this, they were much more restrained and less willing to express their close, loving relationship while out in public. The loss of Patrick seemed to be the catalyst to change all that," Secret Service agent Clint Hill stated in the e-book.
The former first lady contemplated suicide after her husband's death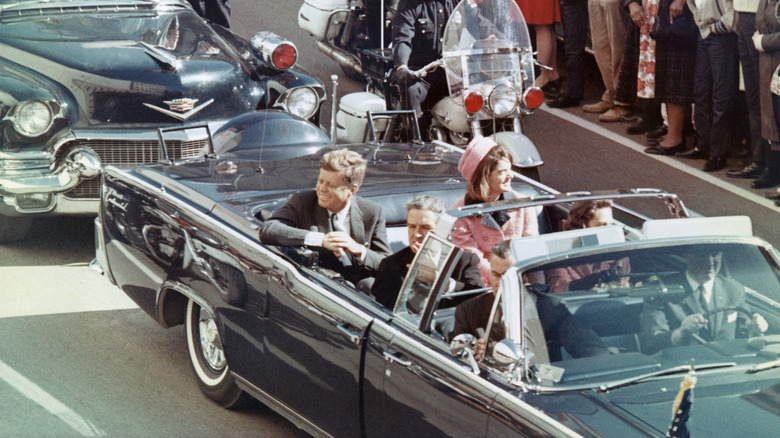 Bettmann/Getty Images
Less than four months after the loss of her third child, Jackie Kennedy suffered yet another tragic casualty, that of her husband. President John F. Kennedy was infamously assassinated in November 1963. As a part of his presidential tour that was supposed to precede his official presidential campaign, JFK and Jackie touched down in Dallas, Texas. They were participating in a motorcade, which is why they were driving quite slowly and greeting all the lone-star state well-wishers. This enabled the assassin to open fire at the presidential couple, fatally striking JFK in the head and neck.
Jackie's suffering post-assassination was documented in the memoir "The Archbishop Wore Combat Boots." According to her secretary, Mary Gallagher, the former FLOTUS had a hard time coping with everything that had happened and was feeling angry, which led to her drinking and mostly residing in her room, as per Vanity Fair. She was so deeply troubled by the incident that she couldn't bear looking at photos of her late husband and felt guilty for not saving his life in one way or another. Months after JFK's death, Jackie was even contemplating suicide, but she never acted on the dark thoughts.
If you or someone you know is struggling or in crisis, help is available. Call or text 988 or chat 988lifeline.org
Her second marriage was ridden with betrayal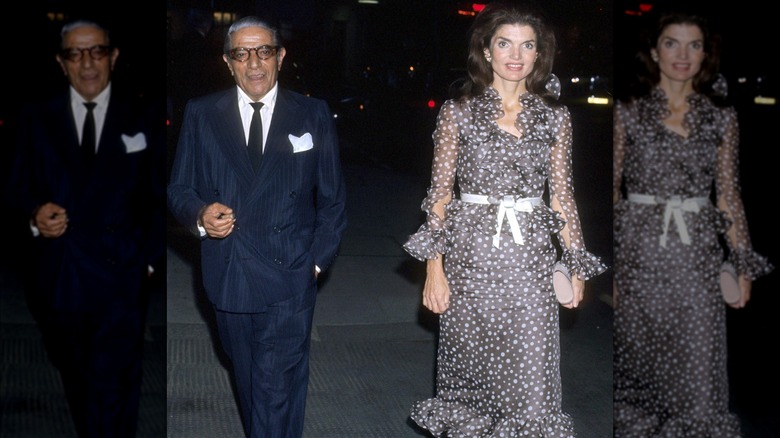 Tom Wargacki/Getty Images
After being widowed at 34, Jackie Kennedy was never the same. She did, however, manage to move on with her young life. Five years after John F. Kennedy's death, Jackie remarried and took on her second famous moniker, Jackie O. Her second husband was Aristotle Onassis, a Greek oil tycoon who was at one point the richest man in the world. From then on, she was known as Jacqueline Kennedy Onassis until her death.
Onassis was a controversial figure in business and in life in general. He was investigated by the FBI for his suspicious commerce practices and also had a very publicized affair while married to Jackie. His romance with opera singer Maria Callas started during Onassis' first marriage and continued into his relationship with Jackie. The magnate was seen with the performer on his arm on multiple occasions and had allegedly been emotionally neglectful of Jackie for years. Their marriage turned sour over time, and Onassis was openly referring to Jackie as "the widow" and "the witch."
In 1972, after Onassis tipped photographers off on where to get nude photos of Jackie sunbathing, a series of the controversial images surfaced and caused a global media frenzy. The couple ultimately filed for divorce in 1972, but Onassis passed away three years later without it being finalized.
Jackie was diagnosed with cancer in 1994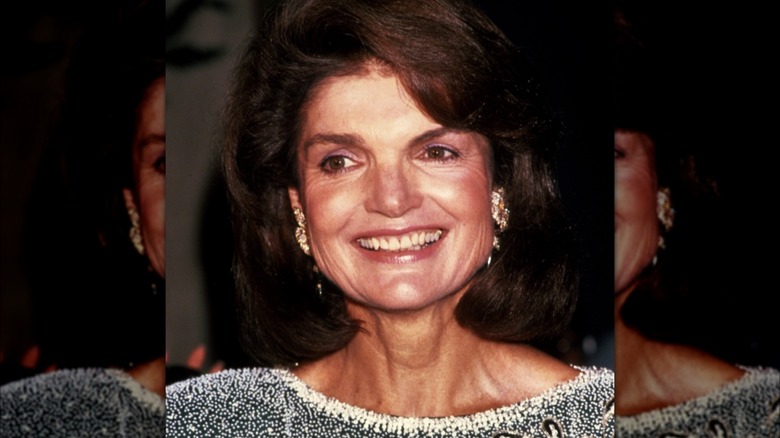 Images Press/Getty Images
At the age of 64, Jackie Kennedy was diagnosed with non-Hodgkin's lymphoma that mostly affected her neck, chest, and abdomen. At first, her prognosis was good, and the former first lady started treatment immediately. However, her health rapidly declined, and she passed away a short while later. "Jacqueline Kennedy Onassis was a model of courage and dignity for all Americans and all the world. Even in the face of impossible tragedy, she carried the grief of her family and our entire nation with a calm power that somehow reassured all of us who mourned," President Bill Clinton said after her passing, as per The Washington Post.
In the biography titled "Jackie: Public, Private, Secret," author J. Randy Taraborrelli shared Jackie's last moments with her former lover, architect Jack Warnecke. According to People, the pair had a three-year relationship shortly after John F. Kennedy's assassination, but they never took it to the next level despite Warnecke's wishes.
When Jackie was battling cancer, she called Warnecke. He revealed to Taraborrelli that she thought she had beaten the illness, as well as that she never got over JFK's death. "I got past it, maybe, but never over it," Jackie told Warnecke. The former lovers burned some of Jackie's old letters in the fireplace of her Fifth Avenue home, including notes from both of her late husbands. Jackie succumbed to cancer two months later.