Why Andy Cohen Accused James Corden Of Stealing His Late-Night Talk Show Ideas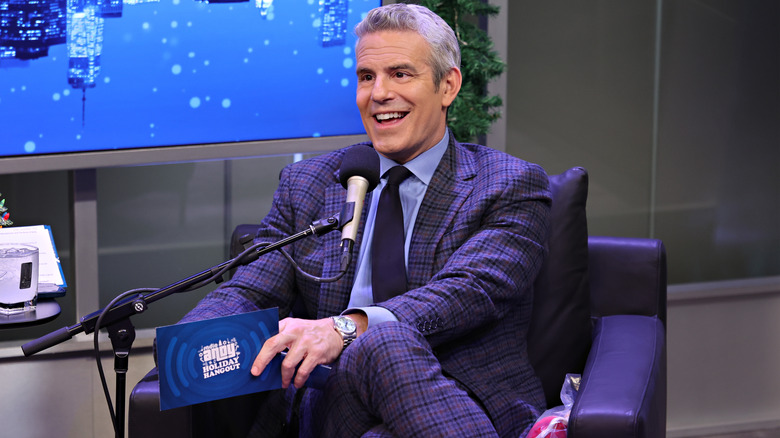 Cindy Ord/Getty Images
The world of celebrities is often portrayed as glamorous and harmonious, but conflicts among famous individuals are not uncommon. With the constant scrutiny, media attention, and high stakes of their careers, Hollywood can create an environment filled with pressure. Due to the competitiveness in show business, it's not surprising that Bravo TV star Andy Cohen thought James Corden was copying his ideas — especially since the format of their shows was so similar.
In a "Table For Two" interview with celebrity restaurateur Bruce Bozzi, Cohen claimed he has revolutionized the late-night scene for this era through his show "Watch What Happens Live." He said, "I'm not a comedian [and] I think [WWHL is] a different type of talk show. I think there has been a traditional idea of what a late-night talk show is, and I would argue that 'Watch What Happens Live' redefined what the late-night talk show is." 
Soon after, the well-known host of "The Real Housewives" franchise talked about how Corden seemed to have copied some of the things they used on the show "WWHL." He explained, "[WWHL] was the first bar on late-night [and] then James Corden got a bar. James Corden kind of wound up [copying our set]. It is what it is."
Similarities that are too obvious to miss
After Andy Cohen called out the late-night show hosted by the "Gavin & Stacey" star, "Table for Two" host Bruce Bozzi chimed in and said, "Ripping off your set." Cohen didn't hold back and agreed, but still, he was just happy his show is still on air. He added, "There you go. I am so glad we're still going. That [the show] is, like, great, copy my set . . . go with God."
Both "Watch What Happens Live," which premiered in 2009, and "The Late Late Show with James Corden," which premiered in 2015, have a bar set up next to the main stage. Some of the similarities are actually hard to miss. It can be seen that wooden walls and carpet accents were included in the design formula. The two sets also give off the same lounge aesthetic: with blue and purple-colored mood lighting, cushioned couches and seats in hues of teal, and retro-inspired displays such as vinyl records, framed photos, and toy memorabilia.
To be fair, Cohen confessed that late-night shows — or any other talk show, in general — naturally mirror each other in a way. In a 2023 interview with The New Yorker, he said, "['WWHL'] owes a great deal to 'The Graham Norton Show,'" the program hosted by the award-winning actor and author Graham Norton, which premiered in 2007. Cohen further added that he used to feel jealousy and insecurity but now has a different attitude towards it and chooses to stay in his lane.
Andy also opened up about feeling left out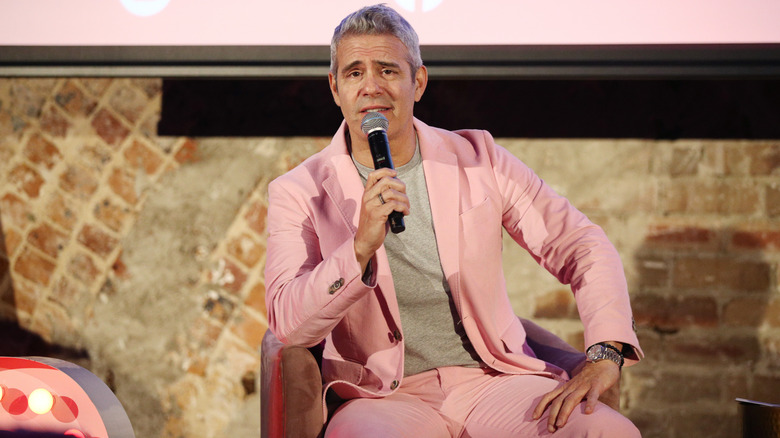 Don Arnold/Getty Images
In addition to being copied, Andy Cohen also aired his resentments about being left out. For more than 10 years, he has worked in the late-night space, but he felt as if he wasn't even recognized as part of the late-night group. "Watch What Happens Live" has aired over 2000 episodes as of July 2023 and has already reached its 20th season with prominent names in the industry like Meryl Streep, Jennifer Lawrence, and even Oprah Winfrey appearing on the show. Cohen obviously no longer needs to prove himself, but he admitted he felt disheartened.
"I don't feel totally part of the [late-night television] group and I have been on late-night TV for 13 years. Years ago, there was a big photoshoot that Vanity Fair did of all of the late-night talk show hosts and they left me out of it, but they added in James Corden who wasn't even on the air yet and Trevor Noah who had just started," he explained on the podcast.
Cohen was referring to the 2015 issue of Vanity Fair where 10 men were put in the spotlight. These men were expected to shake up the late-night television scene and follow in the footsteps of Johnny Carson, David Letterman, and Jon Stewart. The list only included Stephen Colbert, Conan O'Brien, Jimmy Fallon, Jimmy Kimmel, Seth Meyers, John Oliver, Larry Wilmore, Bill Maher, Trevor Noah, and James Corden. Editor Graydon Carter already apologized to Cohen.