Kelly Ripa's Son's Godmother Is One Of Her Former Soap Co-Stars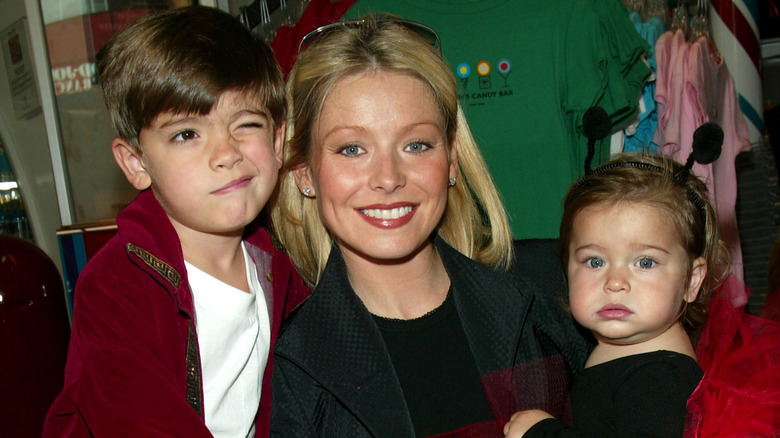 Evan Agostini/Getty Images
Between 1970-2011, thousands of fans tuned in religiously to watch the award-winning soap opera, "All My Children." The show kickstarted some of Hollywood's most successful careers and, in the process, some of its most successful friendships. Kelly Ripa, who began acting in "All of My Children" at 19, went from soap opera darling to talk show royalty. Looking back on her experience with "AMC," Ripa told E! News, "I still consider my dear friends from the show my family, and I miss every single one of them." Not only did Ripa meet some of her very best friends on the show, but she also met her husband, Mark Consuelos.
After well over two decades, Kelly Ripa's marriage appears stronger than ever. Together, Consuelos and Ripa share three kids. With all of the changes and challenges that come with building a family, Ripa and Consuelos continue to value and cherish the "AMC" cast. They even made one of their co-stars, Eva LaRue, the godmother of their first son, Michael.
Eva LaRue and Kelly Ripa's friendship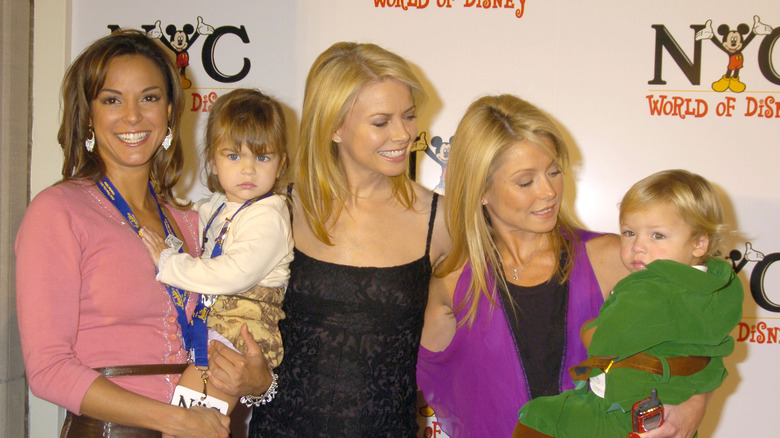 Robin Platzer/ Getty Images
In 1990, Kelly Ripa began playing the role of Hayley Vaughan on "All My Children." Three years later, in 1993, Eva LaRue walked on set as the character Dr. Maria Santos Grey. LaRue and Ripa worked side-by-side for 17 years before Ripa left the show in 2010. LaRue shared with E! News that she and Ripa clicked from the very start of their time together, remarking, "Kelly started on the show about three years before I got there but the second we met, it was kindred spirits. It was game-on friendship."
Per E! News, LaRue hosted a reunion for her "AMC" cast members at her home in Los Angeles in 2021, a decade after she left the show. LaRue has been tremendously supportive of Ripa as their careers have gone in different directions. In her interview with E! News, LaRue added, "She was the sweetest girl, so to see her catapulted into stardom, I think everybody was excited."
Eva LaRue's relationship to Kelly Ripa's son, Michael Consuelos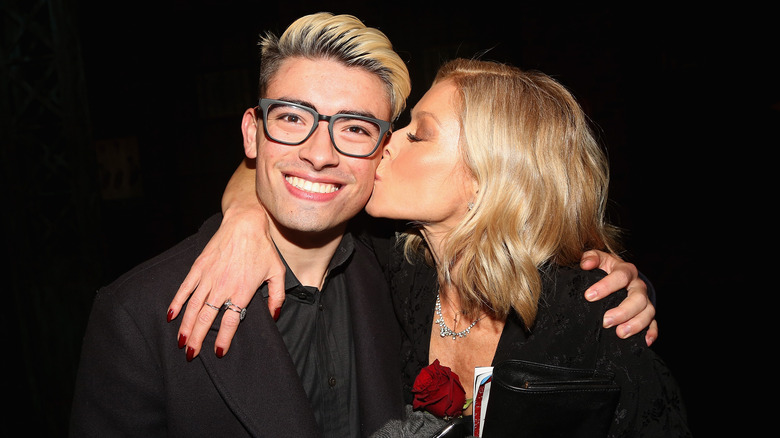 Bruce Glikas/ Getty Images
In 1997, Kelly Ripa and Mark Consuelos had their first-born son, Michael Consuelos. At the time, the couple was still playing regular parts in "All My Children." According to People, the soap opera did all that it could to hide the fact that Ripa had a pregnant belly so that she could continue to appear on the series. Ripa remarked that the directors made it so Hayley would have to conveniently carry large objects around to cover up her baby bump. Once Michael was born, he was immediately welcomed by the "AMC" family. People reported that his parents would have a nanny babysit him on the set "All My Children" until having their second child.
Much like Ripa, LaRue married an "AMC" co-star, the late John Callahan. In 2001, the two became parents, having their daughter, Kaya McKenna Callahan. As young moms, Ripa and LaRue would go on vacation with one another. Over the years, LaRue got to know her godson on and off set. In an interview with Variety, LaRue commented, "He's a great kid. All three of her kids are great."