The Main Reason Angelina Jolie Felt Broken After Her Split From Brad Pitt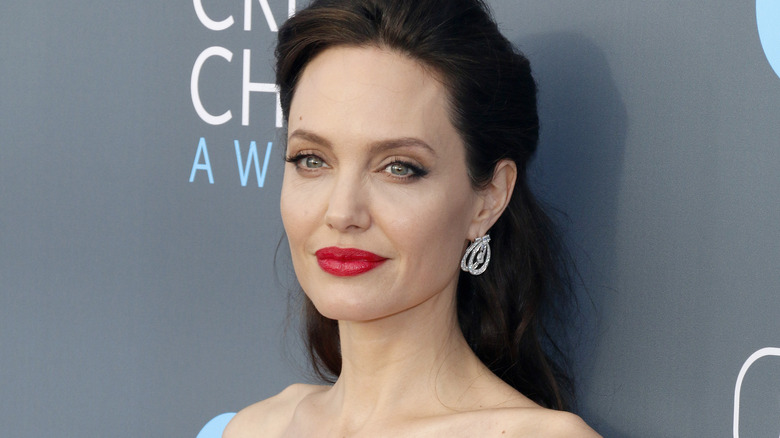 Tinseltown/Shutterstock
Angelina Jolie and Brad Pitt's relationship was once the talk of the town. Although they were together for more than a decade, the two ended their marriage in 2016, two years after they tied the knot. The split wasn't an easy decision for Jolie, however. "I'm not the kind of person who makes decisions like the decisions I had to make lightly. It took a lot for me to be in a position where I felt I had to separate from the father of my children," she told The Guardian in 2021. She went on to say that she truly wanted her kids to be healthy and to heal from the divorce, which was a priority for her. When things got nasty, Jolie couldn't help but feel "broken."
"You want to make sure there is support for the children in your life," she said. Jolie has always stressed the importance of family and has been determined to ensure that her kids have felt loved and nurtured, even if her marriage to their father didn't work out. Additionally, Jolie has done her best to heal from the past and to shield her six kids — Maddox, Pax, Zahara, Shiloh, Knox, and Vivienne — from the public eye and to allow them to foster a zest for life. "I have six very individual human beings in my home. I am so excited about all the different stages and feelings and curiosities that they go through," Jolie told People magazine in 2021.
Brad Pitt and Angelina Jolie met on a movie set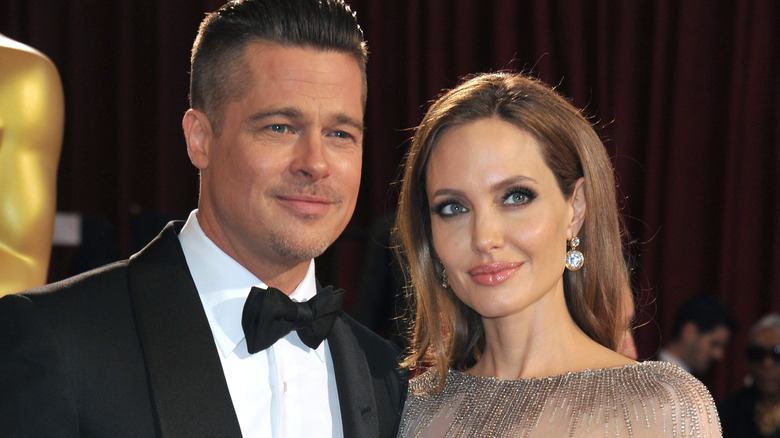 Featureflash Photo Agency/Shutterstock
Brad Pitt and Angelina Jolie met on the set of "Mr. & Mrs. Smith" and quickly realized they liked one another. "Because of the film, we ended up being brought together to do all these crazy things, and I think we found this strange friendship and partnership that kind of just suddenly happened. I think a few months in I realized, God, I can't wait to get to work," Jolie said in an interview with Vogue in 2007. "Whether it was shooting a scene or arguing about a scene or gun practice or dance class or doing stunts — anything we had to do with each other, we just found a lot of joy in it together and a lot of real teamwork. We just became kind of a pair," she shared. Of course, at that time, Pitt was married to "Friends" actor Jennifer Aniston.
In 2005, Pitt and Aniston ended their marriage, according to People magazine, and Pitt and Jolie took their relationship public months later. As the years went by, Jolie and Pitt added children into the mix. Jolie had already adopted Maddox and Zahara, whose last names were changed to Jolie-Pitt in 2006. She gave birth to Shiloh a few months later. About a year later, Jolie adopted Pax, and in 2008, Jolie gave birth to twins Knox and Vivienne. All six kids were present when their parents exchanged vows at Château Miraval in 2014, per People.
Angelina Jolie & Brad Pitt continue to focus on the well-being of their kids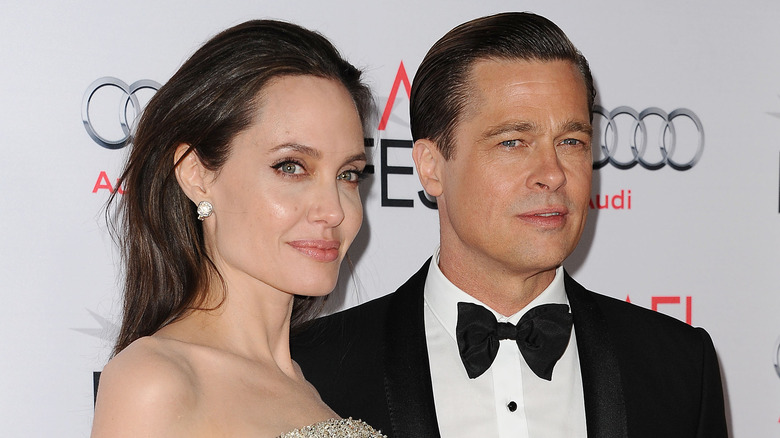 Jason Laveris/Getty Images
Though Angelina Jolie and Brad Pitt have gone through their fair share of legal issues since their 2016 split, Jolie has been very mindful of her children and does her best to show them love and support. "Like most parents, I focus on staying calm so my children don't feel anxiety from me on top of all they are worrying about," she told People magazine in 2020. "I put all my energy into them," she continued. 
Custody has been a relatively serious issue for Pitt and Jolie, though sources say that Pitt does the best he can when it comes to continuing to build relationships with his kids. "Brad has dinner with his younger kids when they are all in L.A. Since the kids are older now, they have their own life and friends. Brad still has a pretty good relationship with them," a source told People in a different interview. As Pitt and Jolie continue on living their separate lives, they both seem to be on the same page when it comes to giving their kids support in whichever way they need. That does change as the kids get older, but having the support of two parents is key.