Unforgettable Moments From The Johnny Depp V. Amber Heard Trial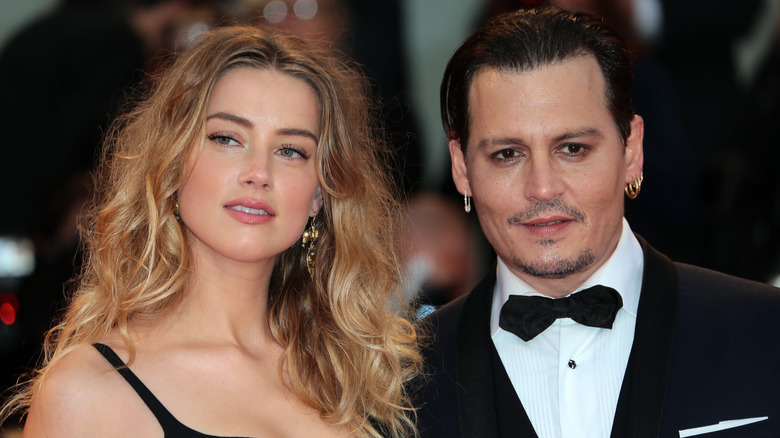 Matteo Chinellato/Shutterstock
This post contains allegations of domestic abuse.
Few celebrity trials have received as much media attention as Johnny Depp and Amber Heard's. It all began in 2018 when Heard wrote an op-ed for The Washington Post describing the effects of the domestic abuse she had endured. Although her ex-husband's name wasn't in the piece, it was easy to assume she was referring to Depp because Heard previously filed for a temporary restraining order against him for domestic abuse in 2016, after she filed for divorce. 
According to the complaint filings obtained by People, Heard alleged that Depp had thrown a phone at her, violently grabbed her arm, and held her down. She believed substance abuse had driven Depp to a violent breakdown. The court ultimately granted the restraining order. But, in March 2019, Depp filed a $50 million defamation lawsuit against Heard for her statements in the op-ed. His lawyers accused Heard of falsifying the abuse claims as a means to improve her reputation and obtain better job opportunities. 
In August 2020, Heard countersued Depp for $100 million, accusing him of trying to tarnish her reputation and attempting to silence a victim. Although she initially tried to get the case dismissed in 2021, it went to trial in 2022, and with it came a media frenzy. People stood outside the court to meet Depp and boo Heard, made memes about a trial with domestic abuse at its core, celebs reacted, and we couldn't stop talking about the jaw-dropping court moments.
Johnny Depp's disturbing texts about Amber Heard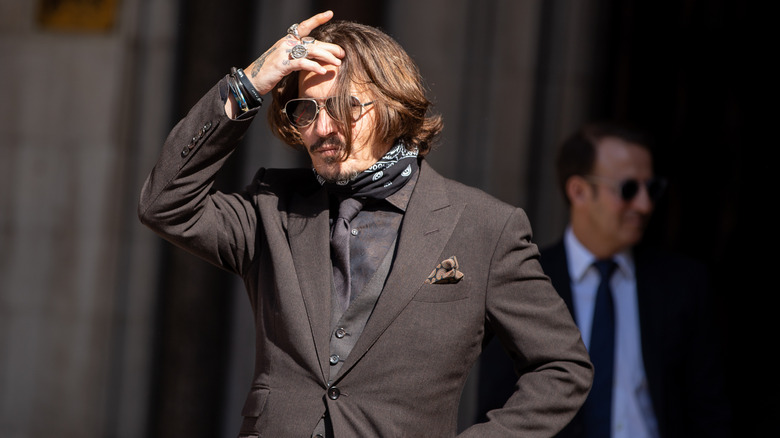 Tom Rose/Shutterstock
Amber Heard's team presented shocking texts between Johnny Depp and British actor Paul Bettany as a part of the cross-examination. They featured a violent conversation where Depp wrote, "Let's burn Amber!!!" In response, Bettany said they shouldn't do that, and Depp replied, "Let's drown her before we burn her!!! I will f*** her burnt corpse afterwards to make sure she's dead." In another text exchange between Depp and his long-term friend Isaac Baruch, he wrote, "I hope Amber's rotting corpse is decomposing in the f****** trunk of a Honda Civic." 
In other texts, Depp asserted, "I can only hope that karma kicks in and takes the gift of breath from her." Baruch also took the stand, and despite these messages, he vehemently stood by Depp and labeled Heard's narrative as false. Baruch also claimed that Heard's stories had caused Depp and his loved ones tremendous turmoil.
Camille Vasquez, from Depp's team, addressed the violent texts: "As I told you at the start of this trial, Mr. Depp has a unique style of writing. He uses words I don't use and you probably don't use either." She added, "Mr. Depp writes that way, in part, because he models his writings on literary giants like Hunter S. Thompson." She ended her statement by chalking these messages up to his dark humor, and later said, "But using bad language and colorful humor does not mean you are a violent abuser." 
Johnny Depp's severed finger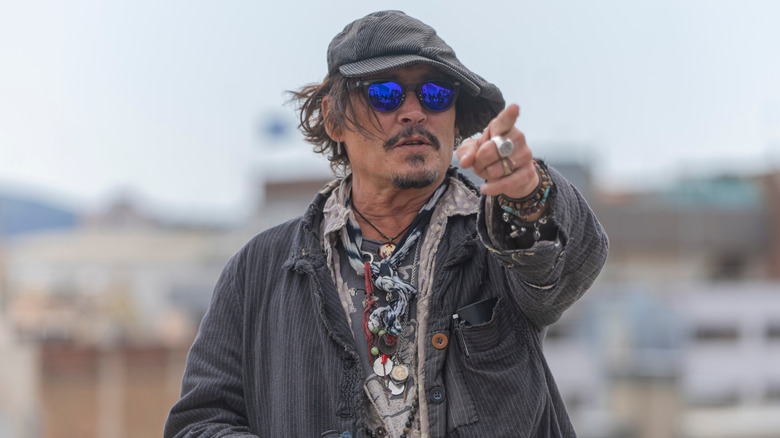 Lorena Sopena/Shutterstock
Johnny Depp began by explaining that he got into a heated discussion about postnuptial agreements with Amber Heard. When things spiraled, Depp broke his period of sobriety, poured himself a drink, and deeply angered Heard. He alleged she threw the bottle against a cabinet close to his head. According to his account, he proceeded to pour himself another drink, but Heard grabbed the bottle and threw it directly at Depp, and it severed the tip of his finger.
At the time, Depp told the doctor that he had sustained the injury after a heavy pair of doors slammed shut on his finger. But later, he admitted to lying to protect his then-partner. Heard denied that the injury was her doing and instead posited that Depp severed his finger whilst angrily smashing a wall-mounted phone with his hands. Heard's team called in Dr. Richard Moore, an orthopedic surgeon, who testified that the injuries were inconsistent with Depp's version of events. 
He also acknowledged that it was hard to determine the true cause of the injury, adding that it could be anything from a door to a knife. Heard's team later shared text messages where Depp claimed to have cut his finger off. Depp's team brought orthopedic surgeon Dr. Richard Gilbert to the stand, who testified that Depp's injury was consistent with Depp's account, and discredited Heard's story. Depp's house manager, Ben King, testified that he found parts of Depp's finger in the bar area. 
Amber Heard's tell-all testimony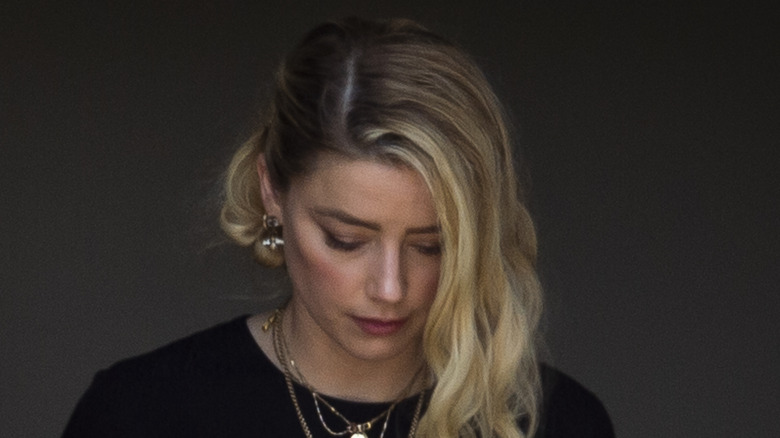 Consolidated News Pictures/Getty Images
Amber Heard claimed that Johnny Depp's substance abuse issues gravely affected their relationship. She alleged that he would often pass out in his own vomit, have incontinence issues, and others (herself included) would be left to clean up the mess. The actor also recalled that Depp performed an involuntarily "cavity search" on her because he believed Heard had hidden his drugs. The "Aquaman" star also had a different recollection of the night when Depp alleged she threw the vodka bottles at him.
She believed the fight began because Depp thought she was having an affair with Eddie Redmayne or director Tom Hooper whilst filming "The Danish Girl". According to Heard, Depp threw her on a ping-pong table and struck her repeatedly after physically overpowering her. House manager Ben King testified that he found the ping-pong table collapsed after the fight. Heard also alleged that Depp had stripped her naked by tearing her nightgown. Further, she claimed that Depp had sexually assaulted her with a broken bottle while she stood there frozen and terrified among a sea of broken glass.
Per her account, Depp threw bottles and screamed obscenities at her. Throughout her testimony, Heard recalled several occasions when Depp physically and verbally abused her. Her former makeup artist, Melanie Inglessis, confirmed that she helped Heard conceal the facial marks caused by an altercation with Depp, including before her appearance on "The Late Late Show with James Corden." 
Johnny Depp's explosive testimony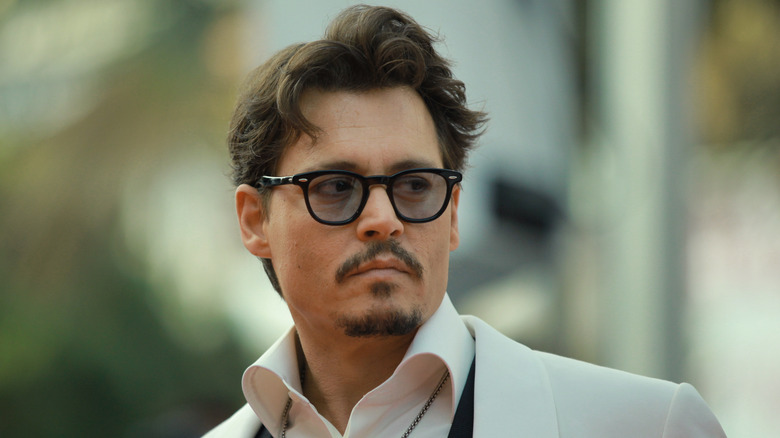 Vahan Stepanyan/Shutterstock
Johnny Depp strongly denied ever physically abusing Amber Heard. Instead, he claimed that she often humiliated him, to aggravate the actor enough to fight. He said, "It could begin with a slap. It could begin with a shove. It could begin with throwing a TV remote at my head, throwing a glass of wine in my face." Depp alleged that Heard hit him as early as their honeymoon, and his team presented two photographs that showed Depp with bruising around his eyes after she allegedly struck him. Depp, too, claimed that Heard had hit him several times and been verbally abusive.
His bodyguard, Travis McGivern, testified that he witnessed Heard punch Depp, and he feared for his client's safety so he took him away. He claimed to have overheard several fights where Heard degraded her then-husband. Heard admitted to hitting Depp once in an act of self-defense because he allegedly tried to harm her sister. She claimed her actions were partly triggered by an incident where Depp pushed Kate Moss down the stairs, which made his lawyers happy. 
However, Moss testified that Depp never pushed her. In a weird turn of events, Depp asserted that Heard had defecated on their bed on her 30th birthday, after a heated argument. However, Heard denied it, saying, "I don't think that's funny. I don't know what grown woman does that." She elaborated that the previous day's physical altercation with Depp hadn't left her in a playful mood.
The audio recordings and the video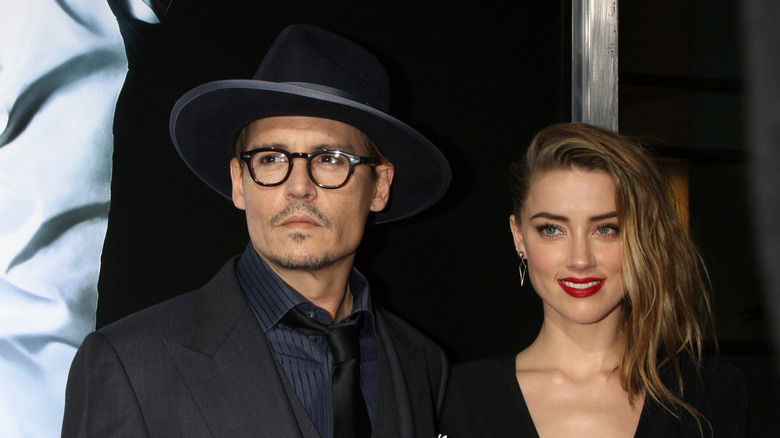 Kathy Hutchins/Shutterstock
During their relationship, Johnny Depp gathered several audio recordings of fights with Amber Heard. In one recording presented in court, Heard says, "You didn't get punched. You got hit. I'm sorry I hit you like this, I didn't punch you. I did not f******* deck you. I f****** was hitting you." She continued. "I don't know what the motion of my actual hand was. You're fine. I did not hurt you, I did not punch you, I was hitting you. I'm not sitting here b******* about it. That's the difference between me and you. You're a f****** baby." 
She also admitted to starting a physical fight. Heard was heard ridiculing Depp by talking down to him. In another recording, she belittled Depp: "See what the jury and judge thinks. Tell the world, Johnny. Tell them, Johnny Depp, a man, I am a victim too of domestic violence." The actor added, "I know it's a fair fight. See how many people believe or side with you."
Heard also secretly recorded a video of Depp where he's enraged as he smashes cabinets. He momentarily pauses to pour himself a big glass of wine, and Heard asks him if he's drunk an entire bottle since the morning. But by then, Depp notices the camera and disposes of it. He also shamed Heard in a recording, chiding, "Figure out what you have to offer as opposed to going and getting your t**s out." 
If you or someone you know is dealing with domestic abuse, you can call the National Domestic Violence Hotline at 1−800−799−7233. You can also find more information, resources, and support at their website.