TRL Fashion Moments That Made Us Cringe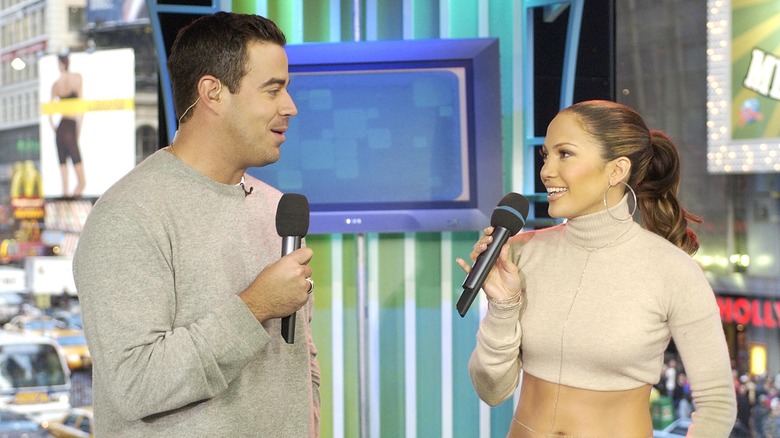 Kmazur/Getty Images
These days, MTV's programming is mostly episodes of "Ridiculousness" and "Catfish," but in the 2000s, its lineup of television shows was unmatched. If you weren't watching someone inexplicably having a chandelier installed in their car on "Pimp My Ride," you were watching parents hand-picking potential suitors to get their kids out of their current relationship on "Parental Control." Or you might've been watching "Total Request Live," or "TRL" for short, a daily show that played music videos and had celebrities — mostly musicians — come on to promote their work. The show was a major hit and gave us some of the most memorable TV moments of the era.
It also gave us some of the most memorable outfits of the era. Unfortunately, memorable has a negative connotation here. The over-the-top fashion of the aughts was unlike any other decade, and it was on full display on the "TRL" stage. Here are some of the fashion moments that made us cringe the hardest.
Taryn Manning forgot her shirt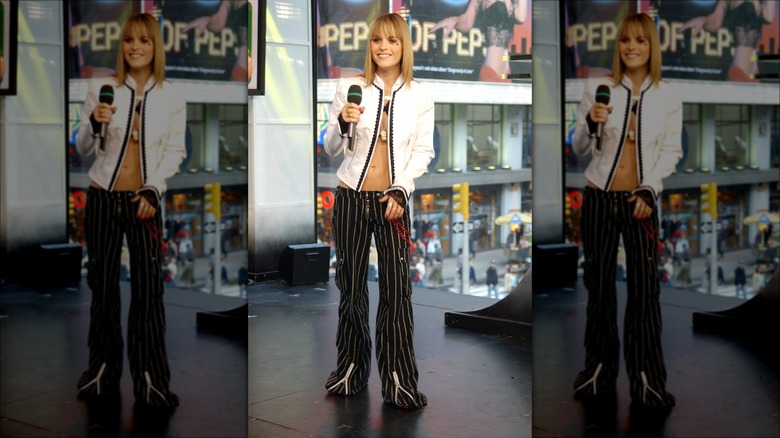 Dimitrios Kambouris/Getty
If you've forgotten about Taryn Manning, you're not alone. If you haven't forgotten about her, you've either been binge-watching "Orange Is the New Black" or you're a serious cinephile, because Manning's recent entries on IMDb haven't gotten a lot of buzz outside the film community. But long ago, when she was running in the same circles as Nicole Richie and Paris Hilton, Manning was part of the duo Boomkat (technically, she still is, but the group hasn't released an album since 2009), and her status as a burgeoning pop star warranted her an appearance on the hottest daytime music news program, "TRL." Boomkat was never a huge hit, so their appearance on the show was more notable for Manning's outfit than whatever music news the band was sharing in 2003.
And boy was her outfit a doozie. Manning wore a pair of lowrise pinstripe cargo trousers that zipped at the feet and covered her shoes entirely. She left her midriff bare and wore what appeared to be a black bra of some sort. She threw a white moto jacket with black stitching on the top and called it an outfit. We're not sure what style Manning was aiming for, and we'll probably never know for sure. What we do know is that it sends shivers down our spines to this day.
Fergie experimented with khaki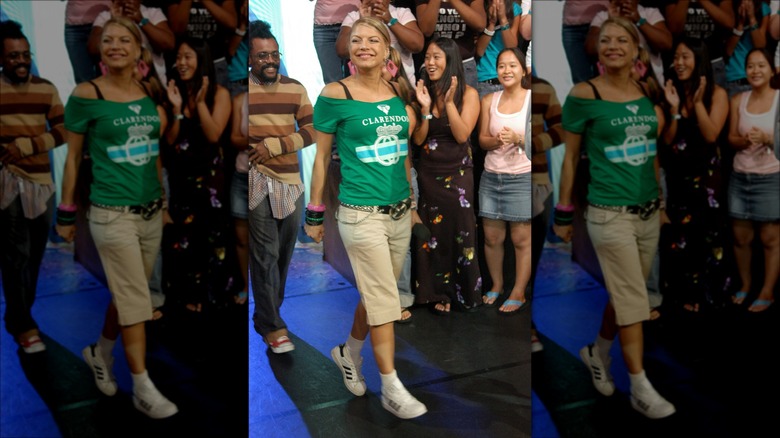 Stephen Lovekin/Getty
We spend far too much time ragging on Fergie and not enough time appreciating her for the aughts icon she is. Her contributions include "London Bridge," "Fergalicious," and "Glamorous!" to only name a few (Imagine thinking Jack Harlow is solely responsible for his hit, "First Class"). "The Dutchess" was the soundtrack to many of our lives in 2006, and pop music wouldn't be the same without Fergie's influence. Still, we have to spend some time ragging on her — or at least the outfit she wore for a "TRL" appearance in 2004.
Prior to her solo success, Fergie's main musical work was with the Black Eyed Peas. When the group visited the MTV stage, as so many popular musicians did in 2004, Fergie strutted in wearing a green off-the-shoulder graphic t-shirt, knee-length khaki pants, and white Adidas sneakers. Her hair was in a side ponytail, and she might have been wearing an actual wheel as a belt buckle (it's hard to know what exactly was going on). And her jewelry was certainly ... chunky. Fergie has been criticized for numerous reasons, including her infamous rendition of America's national anthem at an NBA All-Star game and her impressive number of cartwheels while performing on "Today." Criticism of those performances is certainly warranted — both were absolutely bananas moments in culture — but this dialogue is tired. Let's focus any future Fergie criticism where it's been lacking: Her 2004 "TRL" outfit.
Christina Aguilera didn't check the weather that morning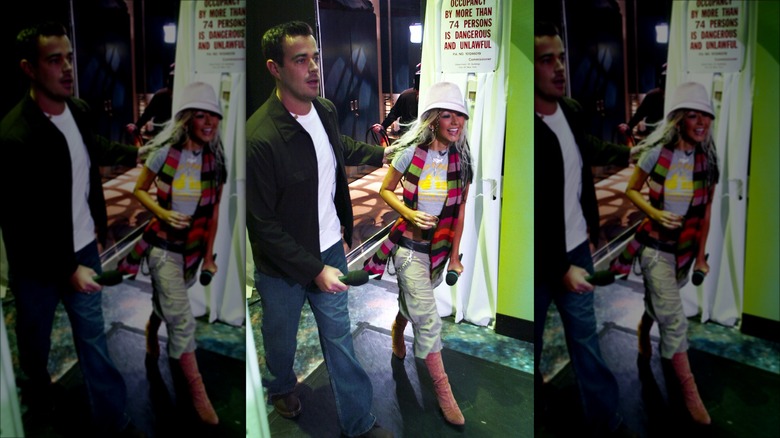 Scott Gries/Getty
If the outfits musicians wore for their "TRL" appearances in the 2000s tell us anything, it's that if you're talented and good-looking enough, you can wear whatever you want and no one will tell you otherwise. Or maybe there was an industry-wide crisis among Hollywood stylists and artists were left to fend for themselves, sifting through bins at department stores and throwing together anything that sort of fit. If neither of those possibilities is true, we have absolutely no explanation for Christina Aguilera's outfit on one of her early-2000s "TRL" visits.
The pop star wore a grey cropped t-shirt, oversized cargo shorts, pink suede boots, a scarf, and a pink fedora. It's an overwhelming look to think about, let alone witness. What time of year was it? Where was she going afterward? We can extrapolate approximately zero answers by looking at this photo. The only thing we know is that it was taken in 2002, because at no other time in history would a famous person dress this way. Aguilera is most certainly talented enough for us to forgive this fashion gaffe, but we can no longer sit idly by and ignore the atrocity that was this outfit.
Ludacris was swimming in his clothes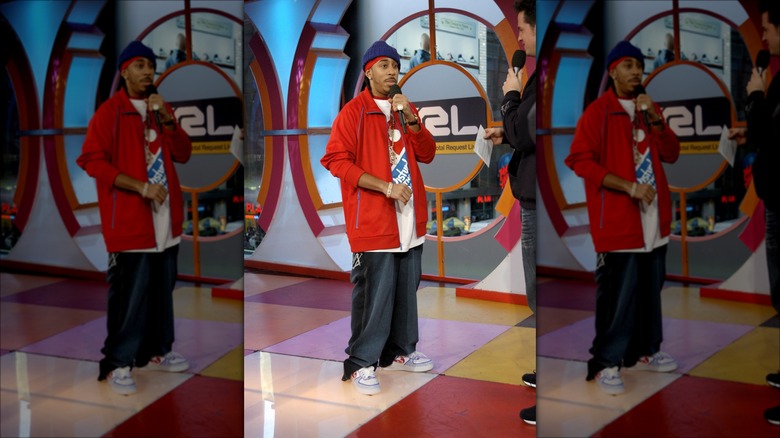 Stephen Lovekin/Getty
When it comes to worst-dressed lists, men typically come out unscathed. Men's fashion doesn't seem to evolve and change as quickly as women's, and a fitted suit seems to always help a man look well-dressed. But we need to acknowledge the lunacy of men's fashion in the 2000s. We're constantly talking about the absurd clothes women wore in the aughts (and, yes, they were absurd), but we fail to mention that men were walking around in some of the most oversized ensembles in fashion history and getting away with looking generally disheveled every day. 
We're here to right that wrong today. We won't be rioting in the streets, but we will be discussing the outfit Ludacris wore on "TRL" in 2005, which was certainly protest-worthy. The rapper's ensemble was, frankly, (forgive us) ludicrous. He wore a pair of oversized jeans with an oversized graphic t-shirt and an oversized red jacket. Sick of the word oversized yet? We certainly are. Luda's accessory game was on point, but the clothing made him look like he was drowning in his own wardrobe. But oversized clothing might just be his thing. He does own what we can only guess is the world's largest pair of sneakers. 
John Mayer wore brown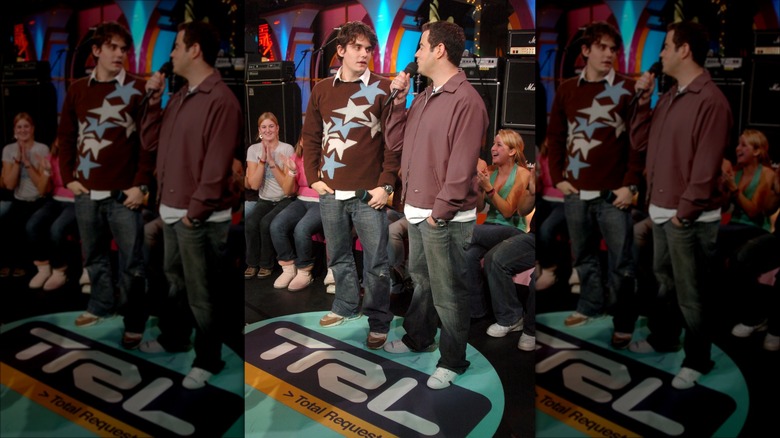 Theo Wargo/Getty
John Mayer has received his fair share of criticism throughout the years. But we're not here to settle any debates about his past controversies. We're just here to say that perhaps we've spent too much time worrying about his former relationship with Taylor Swift and not nearly enough time judging him for the outfit he wore for a 2004 "TRL" appearance. We don't condone bullying, but extreme measures should've been taken to have prevented him from stepping onto that stage wearing what he wore: Baggy jeans in that awful blue-gray wash that was more prevalent in the 2000s than iPod Nanos, a brown sweater with blue and gray stars, and a collared shirt underneath.
Who dressed Mayer that day? All signs point to the star himself, since no self-respecting stylist would send their client out into the world wearing that outfit. We also need to take a moment to talk about the chokehold the color brown had on all of us in the 2000s. We paired it with colors like blue, pink, and lime green and really thought we were looking good. We should've listened to our instincts when we saw Mayer's sweater on that fateful day in 2004. At least we know better now.
Jewel's look cannot be explained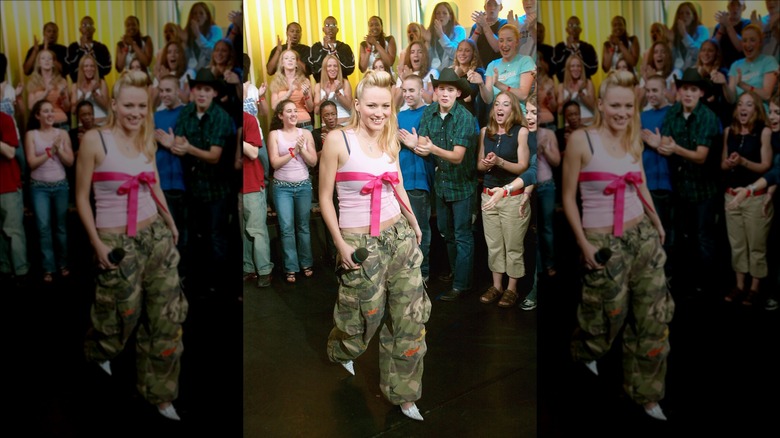 Scott Gries/Getty
Next time you think someone who criticizes 2000s fashion trends is being harsh, remember Jewel's outfit for "TRL" in 2003. You'll realize that whoever is spewing those critiques is not being harsh at all — if anything, they could likely afford to be harsher. The singer's ensemble for the day consisted of camouflage cargo pants (lowrise, of course) and a pink tank top with a pink ribbon tied in a bow around her chest. She left her bangs in what looked to be a makeshift roller and wore white heels. Take a moment to let that all sink in.
Our only question is: Why, Jewel? If you're reading this, why did you wear that outfit? The early 2000s in New York City were certainly a chaotic time, but we can't fathom an event that would've called for wrapping a ribbon around your chest and calling it fashion. We've accepted that we may never know the true reason why Jewel donned this 'fit for "TRL," and we've made our peace — we just hope Jewel has made hers with the fashion gods.
JoJo caused a jump scare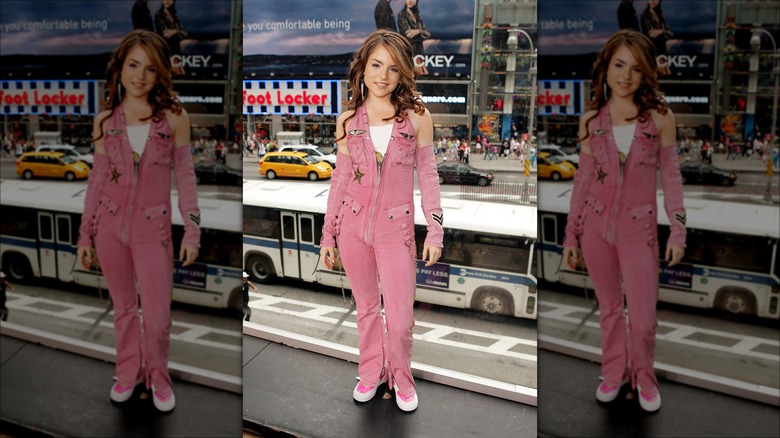 Scott Gries/Getty
JoJo had multiple memorable appearances on MTV in the early 2000s, including her "Cribs" episode featuring a beach house that turned out wasn't actually her house, as well as a 2004 "TRL" appearance, the latter of which made a major impression for all the wrong reasons. Well, not all the wrong reasons — she just wore a really bad outfit. The pop star had on a pink acid-wash jumpsuit that had military appliques, chains, buttons, pockets, and zippers. Everything about this piece of clothing was confusing, so we think it's best to give up trying to make sense of it.
Though we're happy we didn't get any more weird jumpsuit moments, it's clear that JoJo's mainstream singing career did not last long enough. The girl can sing, and her songs still hit just right. JoJo's career took a new turn in 2023 when she joined the cast of the Broadway production of "Moulin Rogue! The Musical" as Satine. We already know she can act because of her iconic performances in 2000s movies like "RV" and "Aquamarine," and, as previously stated, she's an insanely talented singer, so we're certain she makes for a fabulous Satine.
Beyoncé and Jay-Z wore too much of the same fabric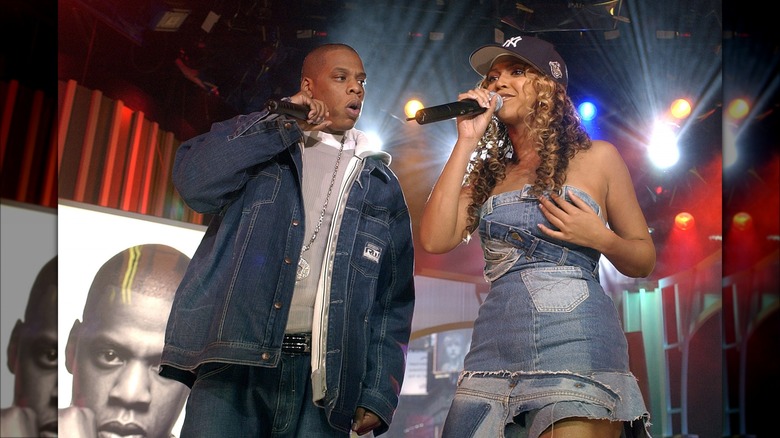 Kmazur/Getty
Beyoncé is one of the world's greatest living fashion icons now, but at a different time in history, 2002 to be specific, she was making style choices that would make CFDA consider revoking her Fashion Icon Award. But Beyoncé wasn't the only offender — Jay-Z was just as guilty. The couple, who were only publicly known as collaborators at the time, appeared on "TRL" to promote their song "'03 Bonnie & Clyde," and they wore coordinated denim looks, with Jay-Z wearing a Canadian tuxedo and Beyoncé in a dress. While they probably didn't use the same stylist as Justin Timberlake and Britney Spears did for their equally denim-dense looks for the 2001 American Music Awards, it's almost impossible to say Jay and Bey weren't at partially least inspired by the former pop music royal couple. After all, even for the time period, their denim looks were considered cringe-worthy.
During their "TRL" appearance, Beyoncé and Jay-Z performed "'03 Bonnie & Clyde" for the crowd and chatted with host Carson Daly about how their collaboration came to be. "You know how people, you see each other and you respect each other's music," Jay-Z said. "There's always that conversation, 'We gotta do something.' ... When that time filler turns into something real, then it's music." Of course, this "TRL" fashion collaboration was less successful than their jointly-released music would go on to be.
B2K matched in the wrong way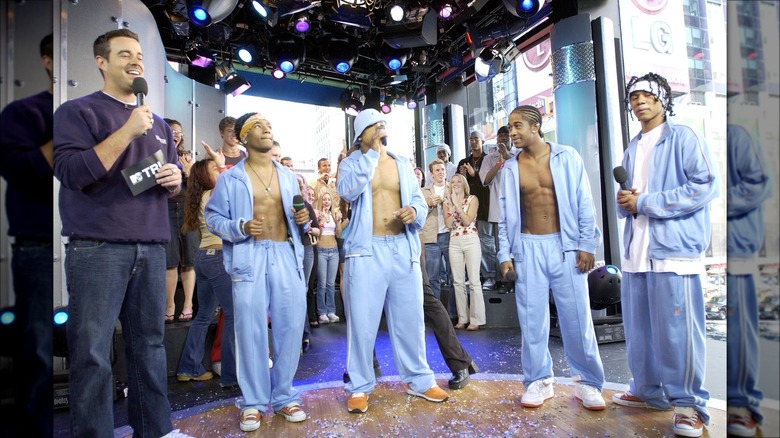 Theo Wargo/Getty
Anyone who knows more B2K songs than "Bump, Bump, Bump" is a more well-rounded music listener than we are. Or they just haven't moved on from the Boys of the New Millenium to R&B from this decade (or the last). B2K — made up of Omarion, J-Boog, Raz-B, and Lil' Fizz — was the hottest boy band on the planet for a hot minute, with an emphasis on hot. They attempted to play up that sex appeal for a visit to "TRL" in 2002. The band wore matching powder blue velour tracksuits, and three of the four members went shirtless underneath. The fourth, Lil' Fizz, (wisely) kept his shirt on, making him look far less absurd than his bandmates.
B2K has a rich history with "TRL." Not only did the band wear these bizarre matching outfits on the show, but it's also the stage where Omarion later told fans why the band broke up. "Basically, it wasn't just one thing ... It was definitely a series of situations that happened amongst us, and I think right now it's just, you know, at that time in our relationship where we are growing up and just wanting to do different things," the singer told host Sway Calloway of the band's split in 2004. The band remained separated until a brief reunion in 2018 to go on The Millennium Tour.
Jennifer Lopez confused us all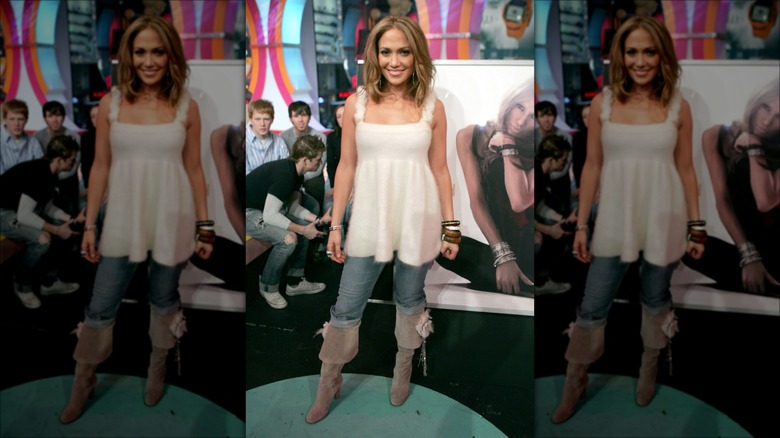 Kmazur/Getty
We know, we know — someday, we'll look back at the clothes we're wearing today and wonder why we wore them. Such is life when you dress according to popular trends. But looking back at some of the outfits of the 2000s makes us seriously question our sanity, more so than most other decades. Today, many of us consider Jennifer Lopez to be one of the most well-dressed women on the planet — but if she put on anything remotely similar to the outfit she wore for a 2006 appearance on "TRL," we'd all question that consensus.
For this television appearance, J.Lo put on a pair of denim capri pants that she cuffed to sit just above the calf-high boots she was wearing, paired with a white sleeveless fuzzy sweater. We're not sure whether the top or the bottom half is worse, but the outfit as a whole is truly confounding. Once again, we're uncertain what time of year it could have been from looking at the photo. It was likely hot under the studio lights, but who on earth wears a tank top during winter in New York City? But who wears boots in the summer anywhere? This look is still a lot to process, and we won't be moving on from it anytime soon.
Raven-Symoné had too much going on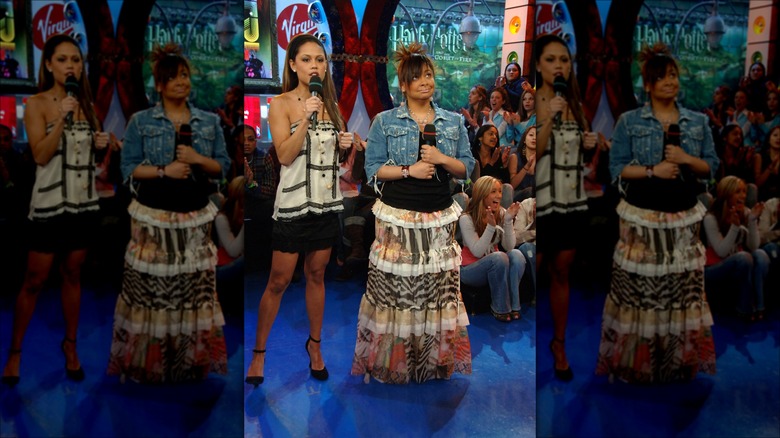 Theo Wargo/Getty
Once upon a time, there would've been nothing cooler than dressing like Raven-Symoné. The matching sweatsuit she wore in "The Cheetah Girls"? Amazing. Everything she wore in "That's So Raven"? Perfection. She was a veritable fashion icon in her day. And don't get us wrong, Symoné's still a well-dressed individual. The actor just isn't as widely recognized for her fashion choices as she was when she was a virtually inescapable presence on Disney Channel. 
Of course, not every stylistic choice Symoné made back in the aughts was a good one, and that's much easier to see through our 2020s lenses. Symoné visited the "TRL" stage in 2006 wearing an outfit you'd expect a free-spirited art teacher to rock, not a famous young singer and actor. The ensemble consisted of a ruffled maxi skirt made of sheer material and featuring competing patterns. Paired with the skirt was a plain black T-shirt that she left untucked and a cropped denim jacket. She finished the look with a statement necklace and matching earrings because, well, it was the 2000s. The only redeeming part of this outfit is knowing that it was as bad as things got fashion-wise for Symoné in that decade.
Hilary Duff chose the wrong brand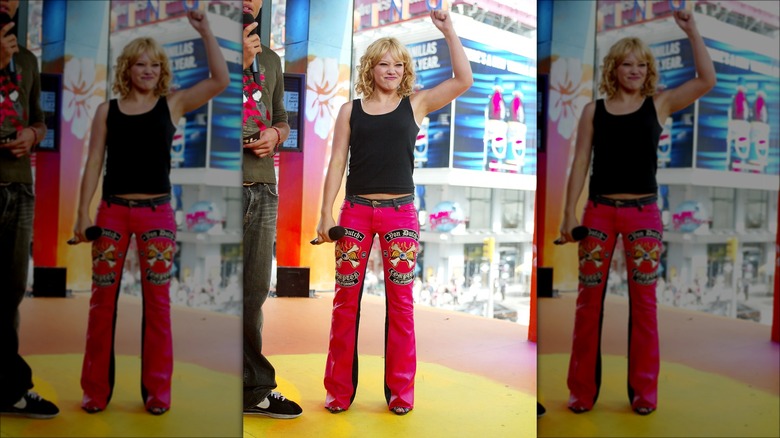 Scott Gries/Getty
2003 was arguably Hilary Duff's year. "Lizzie McGuire" was at the height of its popularity. Her now-classic album "Metamorphosis" had just dropped. She had yet to engage in her infamous feud with Lindsay Lohan. Duff was on top of the world. And apparently being on top of the world gives you unbridled confidence, leading you to make questionable fashion choices. The Disney darling showed up for "TRL" in a black tank top and low-rise hot pink Von Dutch pants. Though the singular issue is the pants, they're a big enough distraction that they sully the entire ensemble. These pants were straight-up not cute, and we wish for Duff's sake that she'd been steered in a different direction.
Amazingly, Von Dutch is still in business as of 2023. The clothing company continues to sell its wares, most notably its infamous trucker hats for unexpectedly high prices. If dressing like a celebrity on "TRL" in the early 2000s is your thing, then Von Dutch's latest pieces just might pique your interest.