The Andy Cohen And Jillian Michaels Drama, Explained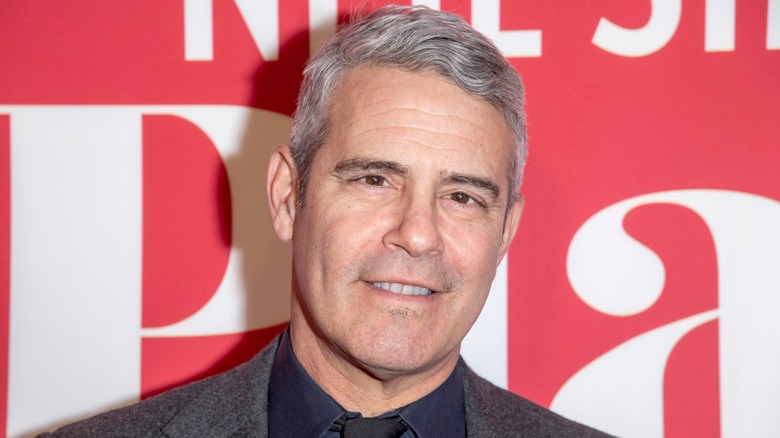 Ron Adar/Shutterstock
Andy Cohen and Jillian Michaels may both seem like fairly likable people, so it doesn't make sense that they don't get along, but here we are. Back in 2013, the fitness guru appeared on Cohen's "Watch What Happens Live." Things appeared fine while the cameras were rolling, but it's what happened behind the scenes that rubbed Cohen — and Michaels — the wrong way. "She freaked out after the show and she was so mean to my staff," Cohen said during an "Ask Andy" segment of his show. "She was yelling at them like they were on 'The Biggest Loser,' and we watched the episode like it was the freakin' Zapruder film, like trying to figure out what set her off or what she was unhappy with. We never figured it out, but I never want to see her again," he added. But Michaels has a totally different take.
In 2019, Michaels told Us Weekly that Cohen was "extremely rude" to her during her "Watch What Happens Live" appearance. "He was explaining [the shotski] to me and I was a little bit out of it and I nodded like, 'Yeah I got it. So you drink the shot or whatever. He turns around again over his shoulder and looks at me and goes, 'Do ... you ... understand?'" she explained. Needless to say, these two didn't hit it off right away — and they haven't been able to find any common ground since. In fact, their feud has actually gotten way worse.
Jillian Michaels once said that Andy Cohen 'hates women'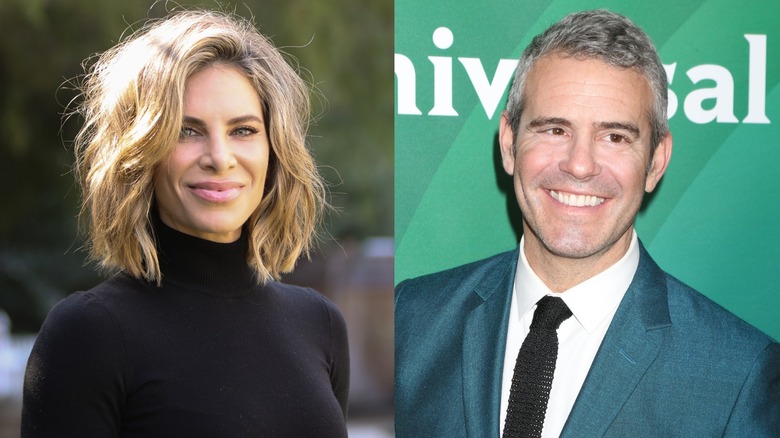 Paul Archuleta/Getty & Kathy Hutchins/Shutterstock
In an interview with Life & Style in 2018, Jillian Michaels was asked her opinion of the "Real Housewives" franchise, she didn't hold back. "I hate that s***. I never watch it. I hate watching women tear each other apart. Anybody who watches it, shame on you," she said. But Michaels didn't stop there. "It's like [the franchise] was created by someone that hates women! I mean, the guy hates them. He's an a**hole," she added. Of course, Cohen heard Michaels' not-so-nice reaction to the show he created — and to him — and he responded when given an opportunity to do so to The Hollywood Reporter.
"I love women," Cohen told the outlet, going on to defend the franchise. Cohen has been involved with "The Real Housewives" from the very beginning, creating the first franchise in Orange County in 2006. At the time, Cohen served as the vice president of original programming at Bravo. Cohen has been behind 11 different shows within the franchise and is heavily involved in many aspects, including casting. And while not every series has been a huge success for the network, there's definitely a winning formula that has made Cohen millions. In speaking with The Hollywood Reporter, Cohen assumed that Michaels never even watched an episode of the "Real Housewives" and he suggested that she "stay in her own lane." Yikes.
Andy Cohen and Jillian Michaels reignited their feud in 2019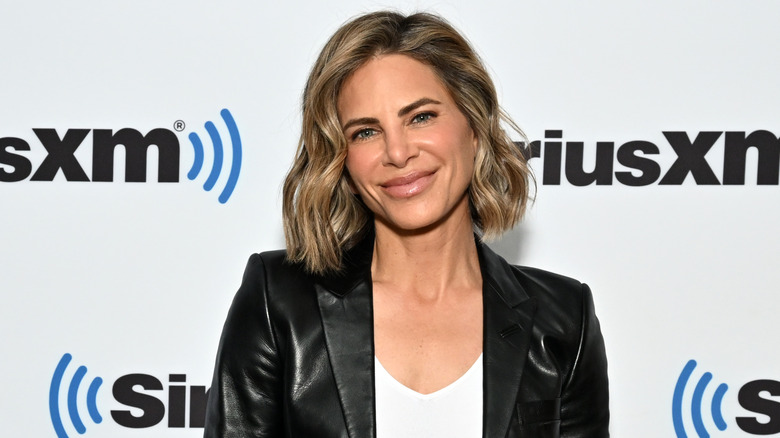 Slaven Vlasic/Getty Images
But wait, there's more. A few years ago, Jillian Michaels went on a rant against the keto diet, which "Today's" Al Roker — who had followed the diet — wasn't too happy about. "So @JillianMichaels says #Keto is a bad idea. This from a woman who promoted on camera bullying, deprivation, manipulation, and more weekly in the name of weight loss. Now those sound like bad ideas," Roker tweeted at the time. Then, Andy Cohen jumped in, naming Michaels as the "Jackhole of the Day" on "Watch What Happens Live." As part of the segment, Cohen said, "Don't feel bad, keto diet, a lot of people think Jillian Michaels is a bad idea." Michaels would go on to invite Cohen and Roker to have a debate on the diet, but neither took her up on the offer.
As one could probably have guessed, Michaels hasn't returned to the clubhouse since her appearance in 2013. To be fair, she isn't the only celeb who won't be invited back on the show. In an interview with AOL Lifestyle, Cohen admitted that he's actually blacklisted a few people from "Watch What Happens Live." Although he wouldn't name any names, we're positive Michaels is on his list.