What We Know About Noah Cyrus' Fiance, Pinkus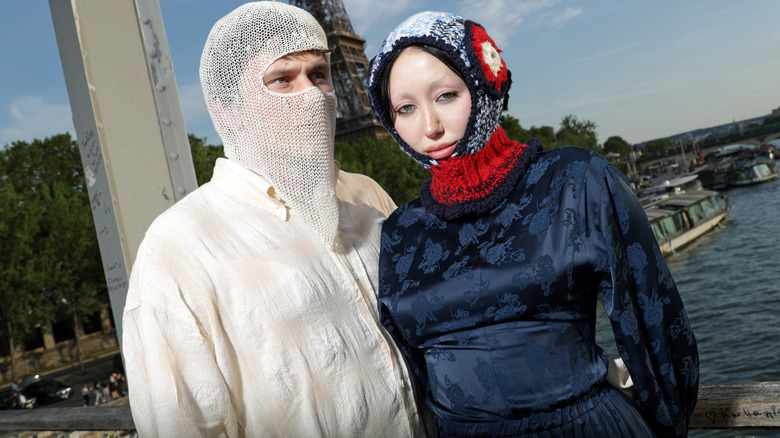 Pascal Le Segretain/Getty Images
Grammy-nominated country and pop artist Noah Cyrus is deeply in love with her fiance, Pinkus. The couple first went public with their relationship in April 2023 when Cyrus posted a TikTok of them kissing while her own romantic tune, "Everybody Needs Someone," played. "For once... my happiness is leaking into my music," she captioned the adorable video, as the artist is known for heartbreaking hits like "Lonely" and "Make Me Cry." 
Although it's unknown exactly when they started dating, Pinkus and Cyrus got engaged a few months after that video in June 2023. Ever since, they've been very open about how happy they are online, posting each other all the time and leaving sweet comments. 
Like Cyrus, Pinkus is a creative. Though Cyrus has a history of dating musicians, Pinkus channels his passion into fashion and has his own streetwear clothing line called COLORS. Cyrus is the brand's biggest fan and enjoys wearing clothes from the line and showing them off on Instagram often. She captioned a video of herself modeling several of Pinkus' designs, "You're so talented and special it's insane."
Pinkus is a fashion designer and an entrepreneur
Noah Cyrus' fiance is a German fashion designer. In November 2022, Pinkus announced his latest line, COLORS, which is based in his home country and features a variety of streetwear. Per its site, COLORS consists of vests, puffer zip-hoodies, and cozy-looking sweaters, sweatshirts, and sweatpants. The items come in 11 colors, including red, royal blue, anthracite, mint, and more. So far, the brand has 24 thousand followers on Instagram, slightly more than Pinkus' own following of about 21 thousand. 
The lovebirds have attended several fashion shows together, and Cyrus frequently models her partner's clothes — she even rocked a Pinkus original at Paris Fashion Week in 2023. In May 2023, the singer posted a video on Instagram of her trying on several of Pinkus' designs, and the two can be seen play-fighting and sharing a kiss during the process. She wrote in the video, "My boyfriend styling me in his designs and some one-pieces he made just for me." Cyrus has been featured on the COLORS Instagram account several times, sporting tan, green, and black pieces by the brand. Pinkus also likes to share snapshots of Cyrus modeling some of the ensembles on his personal account.
Cyrus and Pinkus couldn't be more in love
Noah Cyrus and Pinkus are not afraid to show off their love for each other on social media. When Cyrus announced their engagement in a June 26, 2023, Instagram post, she gushed about her fiancé in a lengthy caption. "The greatest moment of my entire life was saying 'yes' to spending the rest of ours together," the singer wrote. She continued, "I never thought I would ever meet a man like you or someone so selfless and filled with so much love to give. You're the least judgmental human being I've ever met. the most talented, the most loyal, the kindest person. I've never felt more loved or in love." The musician concluded her note to her man with four "I love you"s. 
The fashion designer isn't quite as wordy on his Instagram page, but his posts still express his own feelings about Cyrus. He captioned his own engagement announcement with a simple "proudest fiance," sharing a collection of photos and video clips featuring the "July" performer modeling at Marine Serre's Spring 2024 Show in Paris, flashing her engagement ring, and posing with him. Cyrus lovingly commented, "The fiance collection." Pinkus has previously shared several snapshots of him and Cyrus holding hands, as well as pics of her posing by herself. Surely, they'll also share their gorgeous wedding photos when the special day arrives.