Lucille Ball's Heartbreaking Final Conversation With Ex Husband Desi Arnaz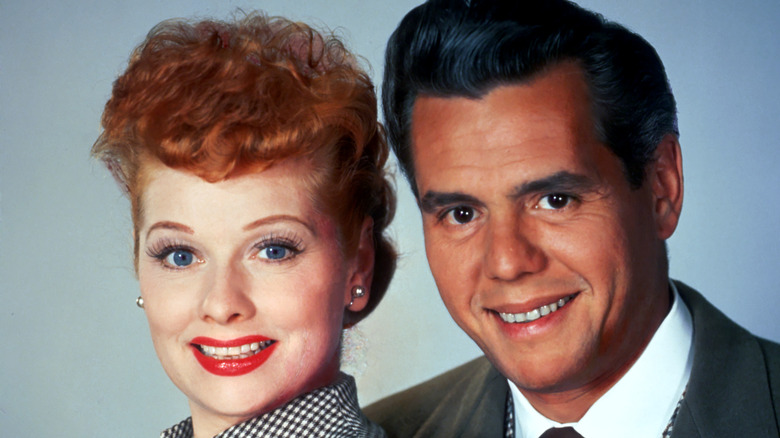 Michael Ochs Archives/Getty Images
Lucille Ball and Desi Arnaz were a couple both on-screen and off, and while their real-life marriage didn't stand the test of time, their love story most certainly did. The duo met in 1940 while working on the film, "Too Many Girls," and they tied the knot that same year, according to StyleCaster. Nearly a decade later, Ball starred in a radio comedy show called "My Favorite Husband" and had such wild success with it that CBS wanted a version for television. Ball agreed on one condition: she wanted Arnaz to play the role of her husband. Through some TV-related ups and downs, "I Love Lucy" was born. As the duo worked together on-screen, they also raised two daughters together in the 1950s, but ultimately, they separated in 1960.
News of Ball and Arnaz's split was heartbreaking to fans who had fallen in love with them as a couple. But Arnaz left Ball little choice in the matter. In her 1989 memoir, "Love, Lucy," Ball revealed that her ex's presumed infidelity was one of the main reasons she decided to end their marriage. "During the summer of 1944, Desi stopped coming home. One night I tossed sleeplessly until dawn wondering where our marriage had gone awry and what I had done wrong," she wrote, per the Los Angeles Times.
Ball and Arnaz remained friends following their divorce, and Ball got to have a conversation with her ex-husband just before he died.
Lucille Ball and Desi Arnaz spoke just days before he died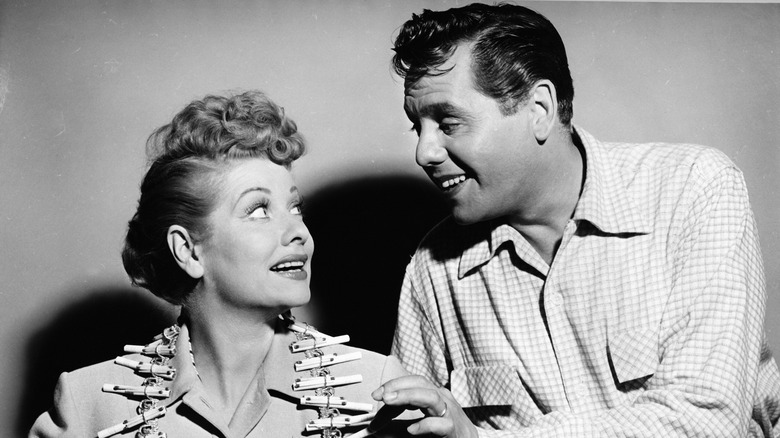 Archive Photos/Getty Images
Desi Arnaz died in December 1986 following a lung cancer diagnosis. In 2022, his and Lucile Ball's daughter Lucie Arnaz told People magazine about the last conversation that her parents had. "I could hear her say, 'I love you.' She said it five times in a row. And he was nodding and saying, 'I love you too, honey.' He died in my arms. None of us realized it at the time, but the day they last spoke was November 30, their wedding anniversary," Lucie told the outlet. She went on to explain that her parents did "I Love Lucy" as a couple because they wanted to spend time together. "They gave the country this wonderful creation, but they never got what they wanted — to stay together ... [But] they loved each other until the end," she added.
At the time of Arnaz's death, Ball was married to her second husband, Gary Morton. The two wed in 1961 and remained together until Ball's death in 1989. In a 2018 article published by Closer Weekly, love letters that the two had exchanged were revealed. Friends of the late actor told the outlet that Morton was a great guy who made Ball laugh. "He provided stability for her, and that was very important," Morton's pal, Lee Tannen, said. Meanwhile, Arnaz also found love again. He married his neighbor, Edith Hirsch, in 1963, and the two were together until she died in 1985.
Lucille Ball & Desi Arnaz may have been closer after their split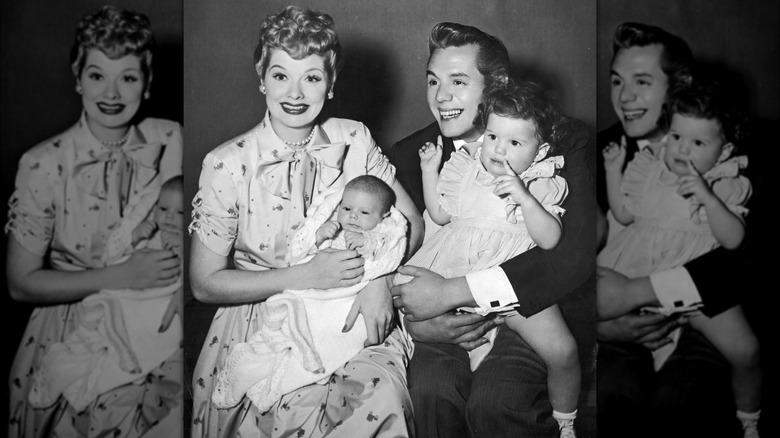 Hulton Archive/Getty & undefined
Many couples who get divorced can't stand each other, but that didn't seem to be the case for Lucille Ball and Desi Arnaz. In a 2020 interview with Closer Weekly, Lucie said that divorce was "the best thing that ever happened" to her parents. "They had a great divorce. They had a very successful divorce. It was fantastic," she said, adding that her parents were even "more passionate" after they parted ways. Following Arnaz's death, the Associated Press reported about 100 people gathered at a private memorial service (via Outsider). Sources say that Ball was extremely emotional at her ex-husband's funeral.
Ball died in April 1989 following a ruptured abdominal aorta, the Los Angeles Times reports. In 2016, Lucie Arnaz weighed in on her mother's tragic death. "The hardest part of it really was that I felt a tremendous responsibility to take care of everybody, the world, because everybody was so devastated. I never felt like I went to the funeral of my mother, you know what I mean? Or that my mother died and people came and took care of us. It's like we really had to take care of the world. And we did," she told the Television Academy Foundation.