Sophie Turner Once Made An Awkward Attempt To Date Matthew Perry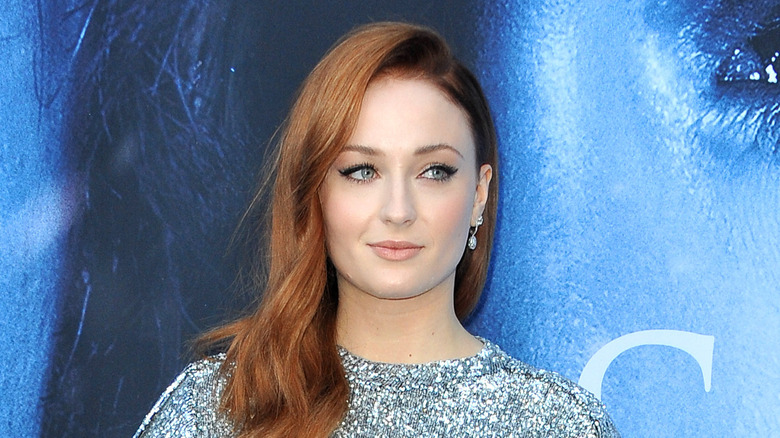 Tinseltown/Shutterstock
When it comes to celebrity crushes, we all have them. Even other celebrities have admitted to crushing on their favorite stars. Actors like Emma Stone have admitted to crushing on Leonardo DiCaprio, Dolly Parton says she has a thing for Jimmy Fallon, and Selena Gomez confessed to liking Marvel star Chris Evans in the past. Even the legendary Meryl Streep has a celebrity crush, and you may not believe it, but it's funnyman Will Ferrell. "I love him in every film he does," she previously revealed (via Yahoo). Another surprising celebrity crush moment came when "Game of Thrones" star Sophie Turner admitted that she once had a thing for the much-older "Friends" star Matthew Perry. Of course, Perry doesn't seem to be opposed to dating fellow celebrities and has a list of former A-list girlfriends such as Gwyneth Paltrow, Julia Roberts, Cameron Diaz, and Lizzy Caplan.
Meanwhile, Turner had a bit more than just a crush on Perry. She previously admitted that she tried to come up with a way to ask him out when she realized that he was rehearsing for a play near her home, and she purposely bumped into him with an entire scenario planned out in her head. However, her encounter with the star didn't go exactly how she wanted it to.
Sophie Turner's plan to meet Matthew Perry revealed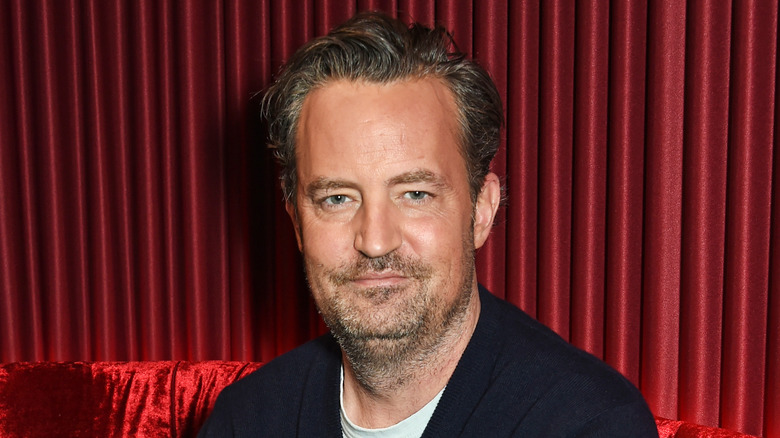 David M. Benett/Getty Images
Once Sophie Turner realized that she could easily approach Matthew Perry, she devised a plan to get his attention. The actor revealed her past feelings for Perry in a behind-the-tweets video and also admitted she got embarrassed when her plan failed.
"I would walk around the corner every day to go to my local Budgens, which is a great little supermarket, and I would walk around the corner every day, and I would see Matthew Perry smoking a cigarette," Turner explained. "And I bought a lighter from Budgens so that I could walk up to him and offer to light his cigarette." Sadly, Turner never got the chance to shoot her shot with Perry, as when she found him, he no longer needed a light. "It was already lit, so that was just embarrassing," she stated.
During that time, the actor also tweeted about being starstruck after seeing Perry near her home, but he never responded to her online fangirl moment. "I thought he might see this tweet and then, I don't know, reach out to me and ask me on a date or something, but he didn't," she added.
Sophie Turner is now happily married to Joe Jonas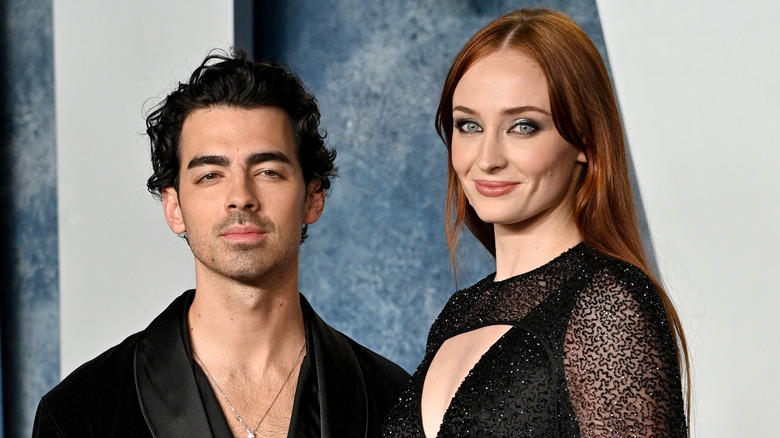 Lionel Hahn/Getty Images
Before trying to score a date with Matthew Perry, Sophie Turner dated James McVey, the guitarist for The Vamps, and was linked to her co-stars such as Thomas Mann and Tye Sheridan (via Ranker). Eventually, Turner met Joe Jonas in October 2016, and the two had a whirlwind romance. They were engaged a year later and held a surprise wedding in May 2019. A few weeks later, they held another, more traditional ceremony in France.
In 2020, the pair added to their family when they welcomed their first child, a daughter named Willa. The couple didn't wait long before expanding their family, and their second daughter was born in 2022. The couple have remained very private about their children and are trying to give them a normal, peaceful life. "I'm very protective of the life we've built," Turner previously told Elle. "My daughter never asked for any of this," Turner elaborated. "I know what it can do to your mental health to be in this industry and to be photographed every day and have the comments," she continued, adding, "I also feel quite strongly about my daughter not becoming a nepotism child.
While things with Perry may not have worked out, Turner has seemingly built a beautiful life with Jonas and their two children.